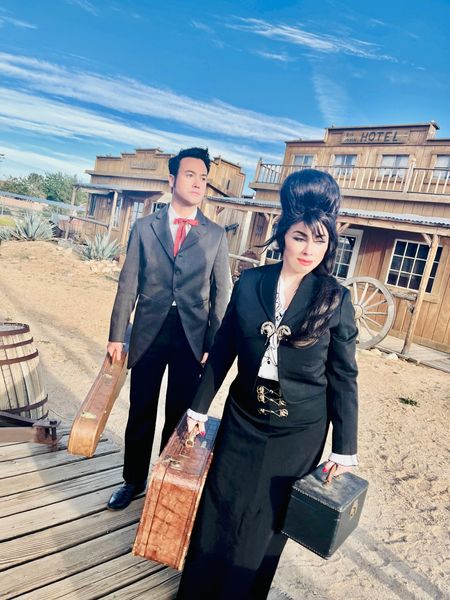 @skopemag news – thurday – june 30, 2022 @ 12 pm est
@skopemag HQ – http://smarturl.it/skope
BUZZHERD & PALE HORSEMAN To Release Split Album
The brutal Bethlehem, PA, based BUZZHERD and Chicago sludge lords PALE HORSEMAN are preparing to release a new Split album celebrating a wealth of fierce, heavy music on October 28th, 2022.
Emerging in the early 2010s with a sludgy/doomy sound, the BUZZHERD have evolved to create a death and sludge hybrid, with a dose of grind. During their career, the outfit have performed with the likes of EYEHATEGOD, TODAY IS THE DAY, HOODED MENACE, and SECRET CUTTER. With six full-length releases under their belts, PALE HORSEMAN have also shared stages with the likes of EYEHATEGOD, CROWBAR, BONGRIPPER and CORONER, and performed at several festivals including Doomed & Stoned Festival, Beard Metal Fest and Full Terror Assault.
Paul Wall + Termanology f. Kxng Crooked + Wais P "Clubber Lang" (VIDEO)
Classic DooWop & Dance Floor Ready Song "Upstairs" By Honey Made is Out Now
With the new single, the always playful and fun band asks the question that sits on everyone's tongues when chasing their crush … "What's going on Upstairs?" meaning "What are you thinking? What's going on in that head of yours?" But by the end of the song when the couple realizes each other's interest, it turns to "So, whatcha got going on upstairs"? as the couple makes their way to the bedroom.
TWÏNS Shares New LP via Raven Sings the Blues
TWÏNS (the musical project of Berlin-based artist Miro Denck) shares his long-awaited album, The Human Jazz, out today via Earth Libraries. The new record is a collection of home-produced, world-infused lo-fi soul/psychedelic pop tracks.
RYAN HURD'S VIDEO FOR "PASS IT ON" PREMIERES
Rising country powerhouse Ryan Hurd is releasing the new video for his latest single "Pass It On." The video was directed by Nicki Fletcher and Mason Allen, and features a guest appearance from his wife Maren Morris, who also co-wrote the song. "Pass It On" continues to climb at country radio and Hurd recently performed the track on "Jimmy Kimmel Live!"
Citadel return with anthemic & purgative single 'Parasyte'
With a debut show sharing stages with Redhook & The Dead Love under their belt, Brisbane progressive-metal prodigies Citadel have today unveiled their second single, 'Parasyte'. A cathartic and stirring track, detailing the harrowing slew of emotions guitarist Nat Patterson dealt with during the ending of his engagement, coinciding with the death of a close family member. Forced to return to his parent's home, it details the breadth of emotions he felt during this time period; ranging from deep sadness, to burning frustration. A moving track that begins with singer Russell Miller's musings atop a singular piano. Building alongside the story's despair, 'Parasyte' reaches a chorus crescendo with the driven guitars of Liam Kelly kicking in alongside drummer Dane Pulvirenti's syncopated rhythms.
BRUX teams up with Pat Lok on bold bop 'BADBOI'
Step inside the expansive universe of BRUX, as today the Australian-born, Brooklyn-based based producer returns with the energetic club track 'BADBOI', with collaborator Pat Lok.
After the release of her glowing Take EP, on which BRUX collaborated with Grammy Award winning Kimbra, the visionary delivers the assertive and energetic 'BADBOI'. Teaming up with long-term collaborator Pat Lok (Kitsunè, Fools Gold), The duo dive head first into the world of gritty techno conjuring up unbridled sonic mayhem. BRUX and Pat Lok take no prisoners as they expertly fire up what BRUX describes as a 'blowtorch to the face', resulting in a patchwork of sound that is equal parts loud, invigorating and confident.
Pop-Country Duo Broadtree Say "You Only Miss Me Cause I'm Gone" with Catchy New Single
Josie Cotton & Kevin Preston – New Single & Video "The Ballad of Elvis Presley"
Josie Cotton, best known for her iconic single, "Johnny Are You Queer?", has a new, twangy, rockabilly single with Kevin Preston (Prima Donna), "The Ballad of Elvis Presley" out now.
"My old producer, Larson Paine, had written the Elvis song for Brian Setzer, but Brian never recorded it. It was always a dream of mine to record it and now just seemed like the right time." says Josie.
New Track from Joe Holt
MEDIA ALERT: Austin Meade Is Checking In to "Red Roof Estates" — WATCH
JASON DERULO'S "SLIDIN' (FT. KODAK BLACK)" OFFICIAL MUSIC VIDEO OUT EVERYWHERE NOW
Directed by Michael Garcia, the visual is not far from Jason's usual formula – fun, captivating and high-spirited. "When me and Jason spoke, we both knew this song needed a video big enough to match the song. Something sleek, sexy and screams summer…We are both really excited with the result!"
ALICE D SHARES THE NEW SINGLE 'PASSION' – WATCH THE VIDEO HERE
Liz Cass releases rich glistening new single 'Shaken'
Liz Cass has released her brand new single 'Shaken', the latest song to be taken from her forthcoming debut album The Words out later this year via Ultra Records.
The Driver Era Release New Summer Anthem "Keep Moving Foward"
Today, alt-pop band THE DRIVER ERA releases their brand new single "Keep Moving Forward", featuring renowned artist Nikka Costa. "Keep Moving Forward is the first single the band has released since their sophomore album GIRLFRIEND came out in October 2021, and is a snapshot into the unique creative collaboration between the two brothers and their growth as a band since their debut album.
Toby Sebastian releases 'Real Kicks' video
LOSE YOUR MIND, the new Break Me Down official video!
Veronica, frontwoman of the band, says: "We all grew up with a happy ending: the prince who saves the princess from the evil witch or the evil queen. Many beautiful fairy tales have been written and many wonderful cartoons and films have been shot. But those stories are not true! We know very well that real life is not a fairy tale and there is rarely a happy ending. In a nutshell: in reality, the bad guys win. The whole process of writing our new songs started from this perspective. We wanted to give a voice to the villains of fairy tales and tell their stories, and their feelings. It is not true that we are only good or only bad. It depends on the situations we live in and which we are forced to face. Because in real life, when we are wronged, each of us can become bad and feel the desire to do evil, to take revenge. In these songs, our bad side wins ".
NANCY announces debut LP & unleashes lead single 'I Hate Rock & Roll' | out today via BLAME RECORDINGS
Bizarro-pop provocateur NANCY announces the forthcoming arrival of his debut LP, alongside rollicking lead single 'I Hate Rock & Roll', set for release June 30th via Blame Recordings.
DREAMER BOY RELEASES REFLECTIVE NEW SINGLE "HUES"
"Seeing your world change around you, being in and out of love, and seeing the good and bad from the person you are with is what HUES is about," says Dreamer Boy. "The actual idea of the walls changing colors as you are magnetically connected to a person but seeing how the good may be slipping away. This song represents the push and pull of that relationship, even after feeling used, and only being there for them, you end up back at their place falling into their world again."
Men Seni Suyemin shares video for "S.O.S." from new EP 'HOPE' out now on 2MR
Today Men Seni Suyemin (Kazakh for "I love you") the solo electronic project of St. Petersburg-based musician & producer Minona Volandova, shares the video for " S.O.S. " which appears on HOPE , a genre-defiant, multilingual EP of six irresistible tracks, released June 24th on 2MR , the Brooklyn-based electronic music record label founded by Mike Simonetti, Adam Gerrard and Mike Sniper (Lauren Flax, Kedr Livanskiy, etc).
Charlotte, NC's Faye announce their debut album, You're Better – )ut August 12th on Self Aware Records, listen to "No Vibes" now.
No Vibes was written on an actual sunny Sunday afternoon spent questioning every decision ever made and every decision waiting to be made. It's about feeling stuck and apathetic, putting too much weight on other people's opinions and figuring out how to trust yourself. This song fell completely into my lap out of thin air, and when Susan added guitar on the track it just came together seamlessly. The forward drive of the bass with the meandering in and out of the guitar is a perfect sonic parallel to the feeling of trying to get somewhere but not really knowing where or why – going full speed ahead and trying to figure it out on the fly.
Faye
Cj Pandit shares dreamy new tune 'I Wonder What You're Up To Now'
The self-produced slice of bedroom-pop-folk serves as a gorgeous moment of escapism. Dreamy vocals and reflective songwriting transport you to the land of 'what if'. Sharing a little more Cj explained: I wonder is a song about getting lost in the daydream of the melancholy of something that's out of reach or doesn't exist anymore.
DESIRE SHARES NEW VIDEO FOR "DAYS & NIGHTS" + PITCHFORK BERLIN & PITCHFORK LONDON ANNOUNCED
Desire returns with their new video "Days & Nights" – the seventh from their campy Escape saga, which came out earlier this year via Italians Do It Better. The band have also announced a run of European shows for this November.
Melodic Death Metal Force BRYMIR Announces New Studio Album "Voices In The Sky" + Reveals First Single!
Hailing from Helsinki, Finland, melodic death metal force BRYMIR take a stand with their most commanding full-length yet and Napalm Records debut, entitled Voices In The Sky, set for release on August 26, 2022. Formed in 2006, the five-piece – featuring lead guitarist Joona Björkroth (Battle Beast), frontman, writer and producer Viktor Storm Gullichsen, drummer Patrik Fält (Feastem, ex-Afgrund), guitarist Sean Haslam and bassist Jarkko Niemi – began to stir up the scene in 2011 with their debut Breathe Fire to the Sun, uniting folk metal influences with cinematic soundscapes and hard hitting, fast-paced melodic death impacts.
Artist BlackLip Releases New Single/Video for "WHAT HAVE I BECOME" – LISTEN!
BlackLip is a solo, genre-fluid artist hailing from Indiana, USA. Growing up in a small town as a kid, and feeling out of place in his roots of Indiana, it's become a mission to become bigger than where he came from. After splitting with previous rock group In The A.M. in 2020, BlackLip hit the studio focused on making music that counts; music that will last. Wanting to branch away from the stigma of his previous music endeavor, some really beautiful, catchy, and melodic songs were the result.