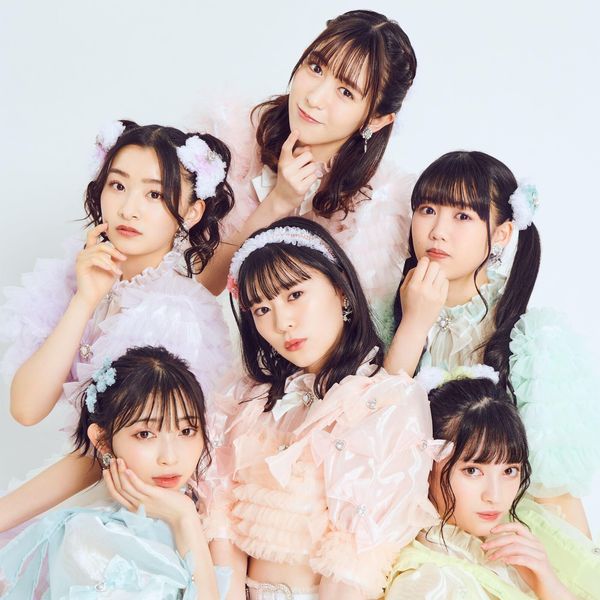 @skopemag news – wednesday – june 22, 2022 @ 12 pm est
@skopemag HQ – http://smarturl.it/skope
SANTA CRUZ Release 'Here Comes The Revolution' Music Video
PoInternationally acclaimed '80s-influenced hard rockers SANTA CRUZ have revealed the music video for "Here Comes The Revolution", the second single from the group's upcoming new album, "The Return of the Kings". Featuring performance footage from the world-famous Whisky-a-go-go gig, the new song showcases a heavier and more in-yer-face sound exemplifying the diversity of the band's new album. Watch the YouTube video here:
As global viral hit 'Suki! ~Cho ver~' passes 2 billion plays, Cho Tokimeki♡Sendenbu release long-awaited mini-album 'Heart Gyutto!'
Having surpassed 2 billion plays, the wild success of their single 'Suki! ~Cho ver~' has helped Cho Tokimeki♡Sendenbu find fans all around the world, uniting the globe with "suki" (love). Now, to make the most of all that "suki" power, the group have released a brand-new mini-album, 'Heart Gyutto!', along with a music video for lead track 'Gyutto!'.
SHEAFS Reveal New Single 'Monotonal Living' Released 22nd June 2022
Following a first spin from Steve Lamacq on BBC 6music, Sheffield post-punk quintet SHEAFS are pleased to reveal their new single 'Monotonal Living' which is released 22nd June 2022 via all good DSPs.
The Fur Shares New Single "The Light"
Hailing from Stockholm, The Fur is an exciting artist, songwriter and producer who has been going from strength to strength since bursting on the music scene in 2021. Despite only arriving a year ago, he's already managed to accumulate almost one million streams on Spotify alone as an independent artist, and he doesn't appear to be slowing down anytime soon. His brand-new single, "The Light", is out now.
Norway's dancepunk sons DATAROCK return with "Double Vision"
"We thought it was high time to take some inspiration from the Beastie Boys," says DATAROCK's mastermind and frontman Fredrik Saroea about "Double Vision," their new single and video which is now released. Combining old school party rap with Datarock's tongue-in-cheek electro-prankery, "Double Vision" is not only a rebirth of sorts for the band, but a somewhat new fun direction. Taken from their upcoming album Media Consumption Pyramid whose release on YAP Records is still far off in January 2023, "Double Vision" brings seven members of the core Datarock "collective" who have all been part of the band at one time or another, but never together at the same time. Convening at Over Oslo Festival this past weekend, Datarock's current line-up of seven members shared the stage for the very first time.
Thai pop superstar STAMP releases 'Ai no Sei de', the Japanese version of mega-hit love song 'It Could Be Love', with lyrics translated by rising solo artist Aile The Shota!
Bangkok-based Thai superstar singer STAMP released his sixth Japanese-language single today, June 22, titled 'Ai no Sei de'.
'Ai no Sei de' is the Japanese version of 'It Could Be Love', a smash hit that also featured in the hugely popular Thai drama 'Love By Chance'. It is a wholesome love song with a pure message of committing to loving somebody no matter the hardship, until they finally accept your affection.
BESSIE TURNER releases video for latest single 'It Was Nothing'
Suffolk songwriter Bessie Turner last week shared her first new music of 2022 in 'It Was Nothing' – today she drops the heart-warming video.
Tasman Keith enlists Jessica Mauboy for "HEAVEN WITH U", album coming 7/8
With Jessica by his side on 'HEAVEN WITH U', together they take the lore of Hip Hops most legendary collabs in their stride. Speaking to their friendship and second collaborative release, Tasman says "As soon as I had the song, I knew the one thing it needed was something only Jess could provide. Having a friendship with somebody who has been at the forefront of Australian Pop is one thing but having a shared respect and understanding for each other through our heritage is another, and then to have that same person on a record is something beyond. The studio session was one of the most wholesome sessions I've ever had, and I know it's a record in which she is super connected due to her own journey. So to be able to provide her with that is an honour."
JESSE JO STARK UNVEILS NEW SINGLE & VIDEO "MODERN LOVE"
Jesse Jo said, "'modern love' is a song that came in a moment, out in the world watching a new kind of love happen all around me. Something in my guts told me we've crept away from the pure love I have always wanted. People making friends as accessories. climbing people like ladders. it made me feel like a stranger in my own body."
JULIA BHATT Releases Insightful and Optimistic "Confetti," Debut Album 'it is what it is' out July 20
A song about gratiude and the power of positive thinking, "Confetti" follows the fresh and carefree indie-pop single "Karma" which she wrote it when she was sixteen, and though it's one of the oldest, it's also one of the songs she's the proudest of on this collection. Meanwhile, the previous album singles, the jangly indie pop "Cotton Candy" is about feeling "safe being on the edge and comfortable in foreign places… kind of like a rollercoaster" and the airy folk-pop single "On My Shoulder" depicts the shoulder angel/devil trope, the constant battle of conscience vs. temptation.
Rising Australian rapper TASMAN KEITH drops euphoric record "HEAVEN WITH U"
"HEAVEN WITH U" balances the grit of The Carters with the emotive, passionate features of Biggie and Faith alongside friend and mentor Jessica Mauboy. As with each release lifted from A Colour Undone so far, Tasman continues to exemplify his ability to seamlessly merge soundscapes with an infectious flair that lures you in with every spoken word. Showered with the delicate touch of fellow Australian gem Jessica Mauboy, "HEAVEN WITH U" takes the lore of hip hop's most legendary collaborations in stride, proving their position as a captivating answer to the genre's next biggest exports.
Drive Through Hazy release video for dreamy Trip-Hop single 'Critter'!
Denizen Records are excited to share the release of Drive Through Hazy's second single 'Critter'. The Norwich born duo have been creating electronic, trip-hop inspired music together now for a year. After making the move to Nottingham, it didn't take them long to get noticed by BBC Introducing and key figures in the Nottingham music scene, earning them a reputation as one to watch.
YOUR HIGHNESS: watch fun and sludgy new video "To Dust"!
Antwerp-based sludge rock pillars YOUR HIGHNESS return with their brand new EP 'The RagBag Vol.1' this June 30th on all digital streaming platforms, and present their caustic and fun "To Dust" video today!
Rubblebucket returns with "Morning In The Sun"
"We all need people whether we like it or not. But sometimes when we need people too much we sacrifice our own well being just to hold on. Morning in the Sun is about breaking from codependency and being there for yourself. Finding healthy pathways to human connection and love is what its all about. Sonically, there's a stereolab or broadcast meets soul/funk vibe going on. The horns and groove come out really drawing off of a soul/afrobeat vibe while the songwriting and soft vocals harken to a more 70s pop vibe." – Alex Toth
LAUNDER shares new single 'Intake'
sophie meiers SHARES GRITTY NEW SINGLE "untangle me"
Today multi-hyphenate creative sophie meiers (they/them) unveils their new single "untangle me." Taking cues from 90's alternative and grunge, the hazy lofi track features muddy guitar strumming and a humble bassline with gritty feedback slicing through towards the end. Channeling feelings of "deep emptiness" during a dark time in their past, sophie reflects,
LORNA SHORE RELEASES "INTO THE EARTH"
"'Into the Earth' is about the initial fear and acceptance of the subconscious whilst falling into a state of lucid dreaming", states the band about the new song and video.
Watch Kiwi Jr's "Unspeakable Things" Official Video
Jeremy Gaudet says of the video, "People are always trying to sign into my email. What do they think they're gonna find? The public appetite for dirty laundry is wild. Having moved the world online has not helped. Dan Boeckner had the idea to use the Moog sound for the hook, which was originally on guitar, and that sound brings the song into a sort of new-wave territory that was fun and different for us. We kept referencing the vibe of Michael Mann movies when recording the album, and then Morgan heard this and came up with the idea of making the video look like the movie Heat. Somehow TSN's Jay Onrait, Jonah from Fucked Up, and comedians Tom Henry and Rodrigo Fernandez-Stoll were convinced to cameo in it. We also were wearing these hockey masks filming all day next to a busy road getting a lot of car honks and didn't realize until much later that we filmed on an actual Friday the 13th."
FIRST AID KIT RETURNS WITH NEW TRACK "ANGEL"
In speaking about "Angel," First Aid Kit says: "It feels special to release a song after such a long hiatus. Today we're so thrilled to finally share our new track 'Angel' – a hopeful tune for these crazy times about accepting other people even if you don't always see eye to eye. It's also about being kinder to yourself. We wanted it to feel really big, but vulnerable at the same time, something you can cry to and dance to as well."
Toronto's Kiwi Jr. Share New Single/Video for "Unspeakable Things"
Djo (Joe Keery) releases new single 'Change' + announces forthcoming album 'DECIDE' | Out 16th September
Djo, the solo project of musician / producer / actor Joe Keery, is back with new music. Today, Djo announces his new album DECIDE out September 16th. Late last week, the Djo hotline went up allowing fans to dial (928)-8-DECIDE to hear a trippy 8-bit audio teaser. Today, he has released the first single from the forthcoming record – "Change." "Change" is a psych-funk journey with heavy synths and influences as wide reaching as Parliament Funkadelic and the 70's glam of T. Rex.
TALOS Shares New Song 'ALL OURS'
'All Ours' is his second single in quick succession following last month's mesmerizing 'Dance Against The Calm'. Once again recorded at his home studio with long-time partner Ross Dowling, 'All Ours' was completed with co-producer Brian Joseph in his Eaux Claire studio in late 2021. The Niall O'Brien-made video is the second in a three-parter story set in west Cork.
Loren Beri shares glimmering single "Genesis 2.0" ahead of debut EP
For over ten years, poring over a piano for hours on end, Berí struggled to find the right words to articulate such grave loss. "Genesis 2.0" is the result of processing the death of Berí's father, where he finds catharsis and realizes this process is never quite done, existing as a wound that never really closes–it's everlasting. What began as a caricature, larger-than-life, absurd tale about his family, turned into Berí coming to terms with this heartache, and discovering himself in ways he never thought possible. "By creating this song, I was letting go of trying to process his death, and accepting that on a deep level I'll never be able to fully do that. That grieving at this level of someone close to you, maybe especially from when you're young, doesn't completely end," shares Berí.
INNO: Italian dark metallers featuring current and former members of Fleshgod Apocalypse and Hour Of Penance release new single "The Seed" (Aurora cover)
Attia Taylor Shares New Song "Broad and Cherry" via FLOOD, Debut Album 'Space Ghost' Out July 8 on Lame-O Records
Taylor is a writer, musician and content producer who got her start in music through Girls Rock Philly. Her dream pop songs have a distinct lo-fi sound, influenced by musicians such as Melody's Echo Chamber, Broadcast, Mr. Twin Sister and Laurie Anderson. Space Ghost explores the loneliness of Taylor's childhood, chronicling her stages of growth and healing out of trauma from abandonment. With no one to monitor her, she found refuge in watching hours of cartoons during her youth, and was especially struck by the strangeness of Adult Swim's cartoon Space Ghost Coast to Coast.