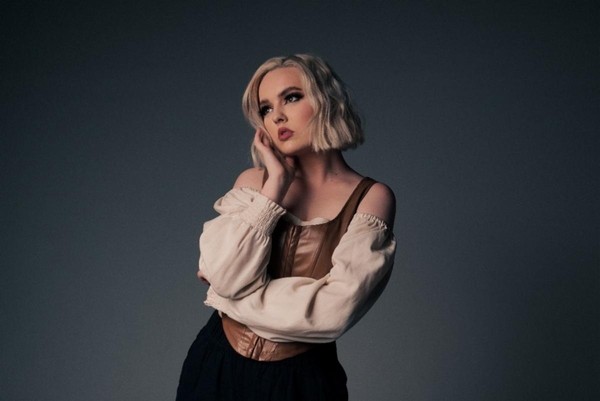 @skopemag news – tuesday – june 14, 2022 @ 12 pm est
@skopemag HQ – http://smarturl.it/skope
The Journey to THY VEILS' Upcoming Album Evolves with Haunting Single 'Lina Luna'
Thy Veils has a way of making genre distinctions look meaningless, as they produce a cosmic atmosphere around Maria Hojda's ethereal vocals. The band has always found new ways of using sounds as elemental and subtle forms of communication, accommodating many levels of listening attention without enforcing one in particular.
New video: British producer Indigo Eyes shares the romantically-charged official video today, for his latest new cut 'In My Head'
Filmed across numerous London landmarks, including the unmistakable Barbican Centre, the new visuals for 'In My Head' look to illustrate the broad energy running throughout his newest release. Directed by Oska Zaky alongside cinematographer Harry Steele, the video tells the story of a troubled relationship clinging onto the faintest glimmer of life and tapping into the raw emotion the song naturally holds.
Jimetta Rose & The Voices of Creation announce choir-based debut album produced by Mario Caldato on Day Dreamer + Share VIDEO (August 12)
Today, The Voices of Creation announces their debut album How Good It Is – a community-based choir led by vocalist, songwriter, arranger, producer and mainstay of the Los Angeles scene Jimetta Rose and produced by Mario Caldato Jr. The first lead single and video "Let The Sunshine In", out digitally today is a rearranged cover of the 1978 soul-jazz classic by Sons & Daughters of Lite. Released via UK-based Day Dreamer, a new subsidiary of the Night Dreamer label home to releases by Gary Bartz & Maisha, Seu Jorge and Etuk Ubong.
NEW // US hit-maker DDG shares latest single 'Storyteller'
What happens when you fuse space-age production quirks and trap-soaked drums with a ranged, melody-driven rap toolkit? You get DDG. After turning into 'Elon Musk' alongside YSL's Gunna and diving into the UK rap ether — via Notion — selecting a 10Trax-worth of UK rap anthems, DDG is back to govern the summer. The multi-platinum Pontiac native is back with his latest single, 'Storyteller', courtesy of Epic Records.
LOOSE ARTICLES Champion Women's Football On New Single 'Kick Like A Girl'
Following storming sets at Dot To Dot Festival recently, Manchester punk quartet Loose Articles are pleased to reveal the video for their new single 'Kick Like A Girl' which is released 14th June 2022 via Alcopop! Records.
Jah Digga teams up with Ghetts & Georgia Copeland for soulful ode to family – 'Grandma's Place'
Jah Digga's 'Grandma's Place' tells the story of Sundays spent at his grandma's home in St Ann's, Nottingham. It is a recollection of memories that will live with him forever – smells of Jamaican soul food on the pot and three generations eating it around the dinner table. Jah Digga paints a picture of the heartbeat of his family through powerful sounds and visuals. His love letter to his grandma is a nostalgic throwback to his childhood and the feelings of togetherness.
Historical Power Metal Unit CIVIL WAR Releases Third Single "Oblivion" + Lyric Video
Before dropping their fourth album, Swedish power metal outfit CIVIL WAR – featuring former members of Sabaton – invite listeners to join them in "Oblivion". The track features far Eastern sounds of another world, combined with strong vocals and guitar riffs. Packed with powerful, engaging guitars and drums, it will have the listener impatiently waiting for the release of the band's new album, Invaders, out June 17, 2022 via Napalm Records.
New Video: REZET (Germany) – Alien Noises (feat. Schmier of DESTRUCTION) – (Thrash Metal)
So there you have it: four smashers that sounds unpredictable and familiar alike, reflecting Ricky´s hands-on attitude. "In a way," he concludes, "I see New World Murder in the spirit of Metallica, who also keep setting new goals for themselves, shedding their skin on a constant basis. Eventually, we reclaimed our joy in what we do simply by doing what we love without fulfilling expectations." Old is the new New – so watch out and perk your ears for "The Great Rezet"!
HALLAN release 'Sich Übergeben' via Nice Swan Records
Portsmouth post-punks Hallan reveal pulsating new single 'Sich Übergeben' – out today via Nice Swan Records (English Teacher, Sports Team, Courting).
The track is a study in perpetual motion – caught between an exhilarating swagger and a drunken lurch. Built around a spiralling, infectious synth lead-line, rolling bass and drums, and skittish guitars, this all provides the backbone for Conor Celements' visceral vocal spitting.
SIMPLE MINDS ANNOUNCE THE RELEASE OF THEIR NEW ALBUM 'DIRECTION OF THE HEART'
Currently playing acclaimed shows throughout Europe ("Back in fashion and back on thrilling form." The Times), Direction Of The Heart is Simple Minds' first album of new material since 2018's outstanding UK Top 5 album Walk Between Worlds.
Art Moore share new single 'A Different Life' – Members of Boy Scouts and Ezra Furman's band | Debut S/T album out 5th August via ANTI- Records
Art Moore, a new group composed of Boy Scouts' Taylor Vick and Ezra Furman collaborators and bandmates Sam Duerkes and Trevor Brook, announced their debut self-titled LP last month which will be released via ANTI- on 5th August 2022. Their songs are composed like short stories, with each one functioning like a vignette, a window into an emotional circumstance. The electronic elements that guide Art Moore are subtle, but add distinctive shading to each story.
3hattrio's Hal Cannon Explores Southwestern Life In New Solo Single – "Thirty-Six Miles" Out Now
Today Western folklorist and songwriter Hal Cannon announces his first solo album release in over a decade, sharing the single "Thirty-Six Miles". This gentle gothic folk song, like a wide angle shot that opens a grand western epic film, scans a vast sky and red desert cliffs. Yet, inevitably the camera zooms in to the intimacy of life in this mythic place, the American southwest.
Press Release: MOTHS Release New Single "Unbound" – Premiering via Ghost Cult Magazine
Speaking about the new track, bassist Weslie Negrón comments:
"'Unbound' was one of the first tracks we wrote for this album. It's a strong song that delves into both the atmospheric and heavy sounds of the band. Lyrically, it speaks about being done pretending, done with the world and its demands, and overcoming the pains that this life brings."
CHICAGO ARTIST LYNYN DROPS FINAL SINGLE BEFORE DEBUT LP VIA SOOPER RECORDS
Chicago composer Conor Mackey who makes music under the moniker Lynyn has released the second and final single before his debut LP lexicon arrives July 15th via Sooper Records. Listen to "amund vise," an adventurous deconstructed-dance track drawing on acid / jungle / drum & bass that is deliberately obfuscated with highly syncopated irregular beats—climaxing in ecstatic breakbeat phantasmagoria—but whose prominent vocal sample throughout also makes it one of the poppiest and most accessible songs on the album. The track comes with a stunning visualizer created by digital artist Owen Blodgett who worked closely with Mackey across all of the album visuals to create a landscape highly representativeå of the novel sonic architecture of Lynyn's music. The song follows the first single from Lynyn "uja end," which also featured a world-building video from Blodgett.
Young Indie-rockers Rooted Debut Lively Single "Waiting"
Young Asian-American indie-rock band, Rooted has released their debut energetic single, "Waiting," an anthem about wanting something in life but not quite getting it. The middle-school rockers are composed of singer-songwriters Shalom Lim and Genevieve Thai, with Valen Shieh on bass guitar, Karissa Lee on guitar, and Selina Ye on keyboard and synth. This retro-modern song is infused with influences of eighties and nineties pop that can be heard throughout the track, as the band classifies it as "older music with more depth and meaning." "Waiting" is now available for streaming on Spotify. Visit the band at www.Rooted.Band.
Creature Canyon Share New Single 'Faded Fire', Announce Debut Album 'Remarks'
Serving as the latest in a string of single releases in anticipation of their upcoming debut album, 'Faded Fire' continues to capture the emotional conflicts of love and loss through a journey of self-discovery, highlighted in the driving 'Simulator', the soulful 'Mirrors' and propulsive 'Pressure', which have served as an introduction to the band's texturally rich and well-crafted sound. Reflecting on a relationship that is slowly burning out, in the band's own words "'Faded Fire' speaks to the dichotomy of a once-happy-couple struggling to find the desire to stay together". The breezy track effortlessly captures that lovesick feeling, weaving together soulful, three-part vocal harmonies through threads of intricate guitars, with subtle nods to funk set in a gloriously sun-drenched California soundscape.
HAILEY HAUS DEBUTS BOLD NEW SINGLE "FLAVOR OF THE MONTH" + SIGNS TO ARCADE/ELEKTRA
"It's a story about taking the power back in a sense," Haus revealed about the single. "At the time, I was single, and I was trying to find the right guy. I talked to a handful of boys over this one year. In my mind, I'm looking for my husband. Behind my back, some girl said, 'Oh my Gosh, Hailey always has a flavor of the month.' I was so bothered, because I'm not trying to talk to a million guys for no reason; I'm looking for the right person to commit my life to. One day, I thought what she said would be a hilarious concept for a song, so I made it my own."
Foals Share New Track "Crest Of The Wave"
Today, Foals share the new song 'Crest of the Wave' ahead of this Friday's release of their 7th studio album, Life Is Yours. The band – Yannis Philippakis, Jack Bevan and Jimmy Smith – have released a succession of euphoric singles so far, including "Wake Me Up" to "2001." The band yesterday announced their North American tour (full information and dates below), and are also confirmed headliners on Glastonbury's Second Stage and at Latitude, which adds to their recent high profile live moments that have included 'Later… with Jools Holland' (watch here), and a UK headline tour that saw them play to a combined audience of 40,000 people in London alone.
DUST PROPHET Release "When The Axe Falls" Via Decibel Magazine
Stoner rock band DUST PROPHET have released their new single "When the Axe Falls" via Decibel Magazine. The single is from their upcoming album One Last Look Upon the Sky which will be out later this year. The song will be on all streaming platforms June 10th,
CONSTELLATIA Drops New Music Video for "The Garden"
CONSTELLATIA comments: "'The Garden' is a dirge about revisitation, and how when coming back things could possibly and most likely change. It's an end and it's a beginning. It also talks about the power struggle and helplessness that sometimes comes with being in a relationship and how that fleeting romantic landscape shifts and distorts. Musically, The Garden was the most progressive track on our debut record, and revisiting it now it's easy to see where we left off, and the subsequent evolution to our new sound, which feels like an expansion on this song, whilst treading new ground."