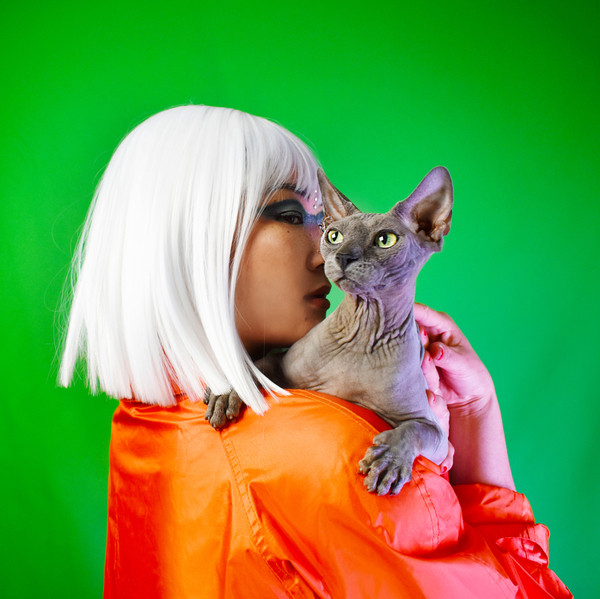 @skopemag news – friday – june 10, 2022 @ 7 pm est
@skopemag HQ – http://smarturl.it/skope
New Single And Video From Machine Gun Kelly 'more than life (with glaive)' Out Now On Bad Boy/Interscope Records
Fresh off his latest No. 1 album, Machine Gun Kelly has released his new song, "more than life," today via Bad Boy/Interscope Records. The crunching track features rising pop prodigy glaive and exhibits MGK's gift for relaying passionate pain as he weighs his fears of vulnerability with the acceptance of newfound love in the lyrics. The blistering new track will appear as the one new song on the vinyl edition of MGK's No. 1 album mainstream sellout, which will arrive June 24.
NEW // Scorcher ft Tion Wayne – 'Ops'
What more can we say at this point? Bush Hill Park legend Scorcher is almost two-decades deep into the UK rap dynasty; yet every time he pops up, he sounds as hungry he did on the dizzying, Y2K pirate radio stations. From acting in Top Boy's first season back in 2010 down to his latest LP, 'The Drama' — everything Scorcher touches is imbued with his meticulous work ethic and world-building anecdotes.
DUNEEATER share "Pleather Sex" video off split LP with Planet Of The 8s!
Ripple Music present the fifth installment of their 'Turned to Stone' split vinyl series, to be issued on August 5th and featuring the powerful desert riffing from Australian heavy rockers Duneeater and Planet of the 8s. Watch Duneeater's frantic cartoon video with the album's first single "Pleather Sex" now!
"Ocean and waves, land and the sky. These conjure images of power and resilience that our natural landscape holds, while also reminding us of the fragility of existence. One world, one self, just one time to love."
Duneeater Premiere "Pleather Sex" From Turned to Stone Chapter 5 Split with Planet of the 8s
Jazz punk outfit Joy on Fire release new LP, States of America
Out Now: Rufus Wainwright Feat. Kristin Chenoweth "Happy Days Are Here Again/Get Happy"
Joyce Manor Releases New Album '40 oz To Fresno' Today
Today, Joyce Manor unveil their 6th studio album, 40 oz. To Fresno. Seeing the band return to form after a brief hiatus, it will undoubtedly please fans who have been waiting four years since 2018's Million Dollars To Kill Me. The much anticipated record has songs that span over the last eight years, yet achieve a cohesion that marks the next chapter of Joyce Manor.
Timeless Classic — "Everlasting Love" by Brooks Forsyth — AVAILABLE NOW!
Downfall share vengeful new single "Scorn" ft. David Blom of Sanction
Emerging out of the hardcore-heavy Richmond, VA music scene, Downfall are bringing a new rage on their upcoming album, Behind The Curtain, out July 1st on DAZE and Triple B Records. Today, the band share second single "Scorn" which features guest vocals from Sanction's David Blom. The track plays out as a revenge fantasy, following your worst enemy to hell to torture them. Laced with snarling vocals, old-school drums, and a meaty breakdown, Downfall are demonstrating what they do best.
KAYE Resurrects as the Sacrilegious Rock Icon her Family Always Feared in "Neon God"
"This song has so many layers of meaning for me. I was raised in a conservative Christian household, and to my Chinese immigrant parents, becoming a rock star was the most Satanic thing I could possibly do. I had a promise ring! I went to church camp," laughs KAYE about today's release. "One day, I snuck out of the house and experienced my first punk show, and that was when I was TRULY evangelized. I found belonging with all these other misfits, and THAT became my church. Since then, I've been fascinated by this idea of how not just rock stars, but politicians, celebrities, actors, tech leaders, news anchors—all have their own cults of personality. It made me think about what I worship now, as opposed to back then—has one idol just been swapped for another?"
BIG TIME RUSH RELEASE NEW SINGLE + VIDEO "FALL"
Iyla Releases New Track and Music Video, '2LATE'
Lubalin Shares Genre-Bending EP "whose love"
OUT TODAY: Jordan Jones shines on summery new bop "Flawless"
Jones' latest song isn't about changing the world. "Flawless," with its chill R&B vibe, is simply for being in the moment and forgetting the daily bullshit.
Inimical Drive Release New Single And Video For "Back To Life"
Lil Baby Protégé Rylo Rodriguez Drops "Benz Truck"
For Skope: Spanish talent Low Blow releases a pure funky house single "She's Hot" on Protocol (out now)
Darla Jade shares her stunning new single 'Glitch In The Matrix'
Today rising singer-songwriter Darla Jade shares her shimmering new single 'Glitch In The Matrix'. The poignant new track is a snapshot into an impossibly difficult time.
Oscar and the Wolf Releases New EP, 'Afterglow' || Out On PIAS Recordings
Today Oscar and the Wolf releases the new EP, Afterglow, just 8 months after releasing his 3rd studio album The Shimmer. Afterglow is a new collection of tantalizing, yet melancholic pop songs out now on [PIAS] Recordings.
SECRETS release ferocious new album The Collapse
Today, CA based metalcore stalwarts SECRETS released their crushing new album The Collapse on Velocity Records. You can purchase and stream the album here. Garnering steady hype from a dynamic series of singles including titular track "The Collapse" and follow up "Get Outta My Head", the new album showcases the bands relentless creative drive and ability to craft heavy music that has solidified their place as one of the most exciting voices in their genre and beyond. The record was produced by long time collaborator Tom Denney (formerly of ADTR).
Out Now: ZILLION releases new single & music video "Potluck Lunch For The Cannibals" (RIYL: Don Broco, Sueco)
On the new track ZILLION shares, "Those of us who are naive to what truly fuels our perception of reality, unaware of our own damage and how it distorts our relationships are trapped in a purgatory like dream state. When we're unable to handle and manage our shit, emotions, and baggage, we continually hurt those around us. There's a golden door in this room. On the other side of that door is self actualization, self awareness, those who have become intimate with their own self enough to transcend to a healthier higher frequency/existence."
HolyRoller Releases New Video For "Swimming Witches"
North Carolina heavy rockers HOLYROLLER are now streaming their new video for "Swimming Witches". The song is the title track from their upcoming full-length which will be released on Black Doomba Records on July 8, 2022.
The band comments:
"Swimming Witches is a straightforward rock song about the feelings of being left behind or abandoned. Sometimes you gotta go through darkness to see the light."
Chris Garneau Shares "Ballard" Single via Brooklyn Vegan
Today, Brooklyn-based enigmatic singer-songwriter Chris Garneau shares a brand new single entitled "Ballard." 'Ballard' was written by Chris Garneau, produced & recorded by Patrick Higgins (solo eponymous project, Zs, Nicolas Jaar) at his studio in Upstate New York. Since 2018, Higgins has produced various dynamic singles for Garneau, as well as his fifth full-length, The Kind (2021).
Track Released Today from Fog Chaser
"Florescence" is an elegantly escalating track, produced by Chad Skinner (Alaskan Tapes, Sun Rain), who mixed and mastered the song from his studio, Half Moon Audio.
Listen to Ricky Lake's new single "Timba"
Today Oakland's Ricky Lake is sharing his new single titled "Timba." Stream the single HERE. "Timba" is the third single from his upcoming album Altered.
NARDO WICK DROPS "RIOT" TRACK AND VIDEO
METEORA Release Lyric Video "Danse Macabre" ft. Chris Harms (Lord Of The Lost)
SAYMYNAME and Nitti Gritti Launch New Project SAYMYNITTI With Festival-Ready Bass House Single "BING BONG!" on HARD Recs – Out Now
SAYMYNAME and Nitti Gritti are banding together to present their new side project SAYMYNITTI. "BING BONG!" is a hard-hitting bass house tune anchored by a viral and undeniably hilarious TikTok sample that rides on top of gritty low-end, massive horn stabs, and a screechy hard trap switch-up that showcases both of their styles superbly.
Artist: SAYMYNITTI (SAYMYNAME x Nitti Gritti)
Title: BING BONG!
Label: HARD Recs
Genre: Bass House
Release Date: June 10
gavn!'s New Video + Single "I'd Hate Me Too" Releasing Friday, June 10
"I'd Hate Me Too" paints a vivid picture of a feeling that is all too familiar to those who have experienced a toxic relationship – the feeling of self-hatred and doubt as you turn into someone you know longer recognize. The track juxtaposes a bright and poppy instrumental against harsh and spiteful lyrics, like a dead flower in a newly assembled garden. It's the perfect track to scream in the car after deciding to move on from the person (or thing) that's holding you back.
ARIZONA ZERVAS TEAMS UP WITH 24KGOLDN FOR "OH MY LORD"
Arizona Zervas has steadily been releasing music since 2016 and has played more than 50 shows across the U.S. The explosive "ROXANNE" took off meteorically in late 2019 and was topping Spotify's U.S. Top 50 chart just a few weeks after release, before Zervas joined the Columbia Records family. "ROXANNE" is the first track by an unsigned, fully independent artist to top the chart since the beginning of 2017 – the earliest date on Spotify's online archive.
Update: 5FDP Now Holds the Record for Most Consecutive #1s on Billboard's Mainstream Rock Chart, After Earning 13th #1 Single + Unveil New Track "Welcome To The Circus," Plus New Lyric Video
The new track has become available on the heels of the band celebrating their 13th #1 single at rock radio with the hit single "AfterLife," taken from their upcoming album of the same name. The song officially appears at the top of the Mediabase and Billboard charts, dated June 6, 2022. Already receiving critical acclaim with "IOU" and "AfterLife," the band is gearing up to release their most innovative body of work yet, as they began to reveal their Metaverse project with the release of "IOU" last month. The interactive virtual world will be a gamified fan club experience, developed on the near photorealistic Unreal Engine and providing an extension of the band's existing Fan Club app in the near future.