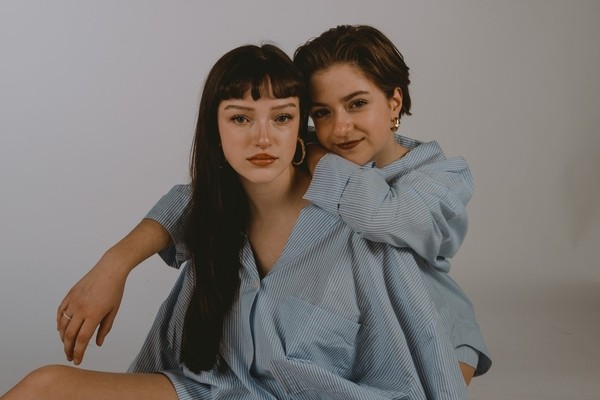 @skopemag news – friday – june 3, 2022 @ 7 pm est
@skopemag HQ – http://smarturl.it/skope
JOSIAH: new video "Let The Lambs See The Knife" available!
UK's legendary heavy psych rockers JOSIAH return this summer with their first album in over a decade, 'We Lay On Cold Stone', to be issued on July 15th through Blues Funeral Recordings. Feel galvanized with their new video "Let The Lambs See The Knife" now!
SIMON GOFF & KATIE MELUA ANNOUNCE NEW COLLABORATIVE ALBUM 'AERIAL OBJECTS'
Violinist, composer, and Grammy Award-winning sound engineer, Simon Goff, has teamed up with acclaimed, multi-platinum-selling singer-songwriter, Katie Melua, and announced their forthcoming collaborative album, Aerial Objects.
ANGELICA ROSS RELEASES NEW SINGLE "ONLY YOU" OUT NOW
Founder & CEO of TransTech, Actress, Singer Songwriter & Human Rights Advocate Angelica Ross released her latest single ONLY YOU today alongside an accompanying music video. The love anthem is a follow up to her debut single FIERCE and features Casey Dandridge as Angelica's love interest in the music video. Not only did Angelica executive produce the video, but she self-funded the project as well.
Out Now: Indie rock band Bonsai Trees & James MacPherson share new single "Not Better" (RIYL: The Strokes, Say Anything)
My Favorite Color Perfects His Palette in "Dead It" Video
My Favorite Color is a rapper's rapper, dropping bars that inspire rap hands and stank faces from all who hear. Floating above triumphant horns during his latest lyrical exercise, My Favorite Color shares "Dead It," a new video single. Produced by DV, "Dead It" finds the rapper born Anthony Willis ready to start fights with anyone who stands in his way of his goals: "N****s tryna take my notes, b*tch I might break ya nose." The high-energy track provides plenty of opportunity for MFC to flex his peerless facility with pop culture references: "Pullin' strings like I'm Thundercat/How I look in my Durag?"
Michael Franti & Spearhead Release 12th Studio Album 'Follow Your Heart'
"One thing I learned these last couple of years is that people need people," shares Franti. "I wrote many songs about connection, resilience and finding the light, even in the midst of all the crazy. Somewhere in there we find resilience.
"This album means so much to me. It's my favorite album that we've ever done," he adds. "It's about how we get through this crazy time that we're living in; how we find the optimism and the joy, but mainly to follow our hearts and listen to the voice inside you to find passion and purpose."
[OUT NOW] Rostrum's My Favorite Color needs no hook to bury the competition in "Dead It"
MOTIONLESS IN WHITE SHARE NEW SONG "SCORING THE END OF THE WORLD" FEAT. RENOWNED VIDEO GAME COMPOSER MICK GORDON
Roadrunner Records band Motionless In White have shared "Scoring The End Of The World," the title track and final new song to be released off their widely anticipated new album before its arrival on June 10th. Available today on all streaming platforms, the new song features renowned video game composer Mick Gordon whose credits include Doom, Wolfenstein, and Prey.
SYDNEY ROSE ANNOUNCES DEBUT EP "YOU NEVER MET ME" ARRIVING JULY 8
Sydney commented "Crafting an EP and shooting a music video was something I could never even dream about. I have never been so excited to show people this piece of art that I worked really hard on. I was really afraid of making both my EP and music video, but working on them and finally having them done, I can say it has been one of the most fun experiences I've ever had. And I am so so excited to make more."
REMI WOLF RETURNS WITH "JUNO" DELUXE ALBUM
Kat Graham Release New Album, LONG HOT SUMMER, Out Today
After experimenting with a variety of musical genres, from 2017's disco-tinged Love Music Funk Magic to the experimental NFT album Toro Gato, Kat is going back to her roots with LONG HOT SUMMER. Her love-letter to the LGBTQ+ community, the 11-track album is full of bangers with sweeping pop synths over aggressive 80's beats. Co-produced with Jean-Yves "Jeeve" Ducornet, Kat is ready to give the community that first embraced her a dance-pop album focusing on liberation, self-exploration, and acceptance.
Naira Marley Shares The Video for Off His Newly Released Album 'God's Timings The Best'
After years of solidifying his reputation as both the pioneer of Afro/Hip-Hop and a prominent voice of the streets, Marley has continued to develop his music, marrying the raw, unpolished tones of UK rap, the Yoruba language, and the sounds of the diaspora as seen on God's Timing's The Best for a debut that features an uncompromising and unpredictable sonic palette in stark contrast to the saccharine commerciality of the Nigerian AfroPop mainstream.
XANAKIN SKYWOK links with SXMPRA on "Shocker!"
Masked enigmatic aggressive phonk rapper XANAKIN SKYWOK returns with a brash new single "Shocker!" ft. New Zealand's SXMPRA on Boom.Records. Produced by frequent collaborator and fellow Saber Gang member AVGOTDRIP. The track features enraged bars, zany lyricism, and colliding rapid-fire flows between the two emcees. Take a listen below and stay tuned for more news to follow.
Near Beer (The Henry Clay People) Shares "Mixtape Generation" Single and Video via EARMILK
Los Angeles-based indie rock band Near Beer — Joey Siara (vocals, guitar), Brent Stranathan (drums), Jeremy Levy (bass, backup vocals) — have shared a brand new single entitled "Mixtape Generation," alongside an accompanying music video. It comes off their self-titled album, due Summer 2022 via Double Helix Records. The band describes the album as a set of "mini-anthems about insomnia, drinking, and human connection. Sometimes cynical. Sometimes romantic. Always with loud guitars."
[VIDEO] Near Beer drop nostalgic pop-punk track "Mixtape Generation"
BLACKTOP MOJO Releases Second Music Video in Animated Concept Series, "Darlin I Won't Tell"; FFO: Lynyrd Skynyrd, ZZ Top, Pantera, Blackberry Smoke, Soundgarden
Texas Rock Band BLACKTOP MOJO has released their second animated video for their two part compilation series, "Darlin I Won't Tell". Created by front-man MATT JAMES and bassist CATT MURTIS on the porch of the band's house in Palestine, TX, with an acoustic guitar, "Darlin I Won't Tell" unfolded in Nashville with the help of producer PHILIP MOSLEY. The animated video for "Darlin I Won't Tell" was preceded by "Jealousy / Make Believe" in April.
Elizabeth Wyld releases new single "How Am I Still Holding On"
Brooklyn-based indie-pop songstress Elizabeth Wyld has shared her newest single "How Am I Still Holding On", out now. The track, produced by Zach Jones and Oscar Albis Rodriguez, was the first track ever written by Wyld on a piano and marks a shift in the many sounds she has been exploring. Vocals, piano, and drums on "How Am I Still Holding On" were all recorded live in one take.
Rapper Fastmoney Ant Shares Melodic "War Cries" Single
"We're from a city where everyone pre judges us off the name," shares Fastmoney Ant. "If you really were born and raised here you would understand our pain and I think that's where the inspiration for War Cries came from."
Lil Baby Co-Signee Lil Kee Shows No Signs of Relenting on 'Letter 2 My Brother'
SWAE LEE & DIPLO RELEASE "TUPELO SHUFFLE" FEATURING GARY CLARK JR. AND AUSTIN BUTLER — FROM "ELVIS ORIGINAL MOTION PICTURE SOUNDTRACK" OUT JUNE 24TH
Named after Tupelo, Mississippi, "Tupelo Shuffle" holds great significance to both Swae Lee and Diplo as it's not only both of their hometowns, but the hometown of Elvis Presley as well. With that special connection, this single became a notable collaboration paying homage to a place both artists share with Elvis. Elvis always held Tupelo very dear to his heart, giving back to his community and returning to raise money for underprivileged children when he was 21 years old. Tupelo was also the first place Elvis saw Arthur "Big Boy" Crudup performing "That's All Right" as a kid and from that point forward, Elvis looked up to him and his artistry.
NEW Casey Møøn of Zookids shares dreamy pop single "home"
Over the course of 2022, Casey plans to release his trilogy of EPs: Fountains, Mirrors and Ashes. Each project varies in genre and draws thematic influence from a different film or TV series. Listened to sequentially, the projects tell a story about growing up, love, and loss.
Boasting a strong voice with an ear for pop melody, modern production and a dazzling live show, Casey shines on "home," crooning "if we can't talk about what it is we can't talk about, all that shit's got to come out somehow."
Screeching Weasel Announces "The Awful Disclosures of Screeching Weasel" and Releases First Track
Chicago's Screeching Weasel provides a fierce soundtrack for the apocalypse with their fourteenth studio album, out July 15 2022 on vinyl via Striped Records, CD via Rum Bar Records, and digitally via Monona Music. Relentlessly melodic and loaded with punishing hooks, The Awful Disclosures of Screeching Weasel reveals our deepest fears while encouraging listeners to twist and shout into the abyss. You can hear the first single, "Any Minute Now", below –
Slaine Releases New Video To Whom It May Concern
"One Day" is a complex tapestry that navigates listeners through a journey of pain, loss, reflection, and redemption. Throughout the album, Slaine finds strength and hope in his darkest moments. He rattles the cage of the past to find truth in the present with his trademark sharp delivery, masterful use of language and aggressive cadence. On the "One Day", Slaine is joined by his La Coka Nostra brethren ILL BILL, Vinnie Paz, Rite Hook, Apathy, Locksmith, and Statik Selektah.
Zsüd cooperated with Gorillaz/Blur's producer
Laura Bryna Introduces "Body First" ASL Music Video
Penned alongside Grammy award-winner Damon Sharpe (J Lo, Ariana Grande, Nelly, Pitbull and Anastacia), Emmy winning arranger-composer Christopher McDonald (Carrie Underwood, Amy Grant, Luis Fonsi) and Janelle Rodriguez, and produced by Sharpe (supported by Michael Carey), the soulful, saucy track is an uninhibited suggestive invitation that only two lovers can embrace with words unspoken.
[Single+Album Stream] Producer Krohme enlists Chino XL, Lord Goat & Sleep Sinatra for "Cursed Earth"
Veteran producer Krohme unleashes the post-apocalyptic "Cursed Earth" featuring Chino XL, Lord Goat & Sleep Sinatra, the second single from his forthcoming album "The Ceremony of Innocence" on Man Bites Dog Records.
RISING INDIE ROCKER ASPASIA RELEASES NEW SINGLE "RAINING"
With ominous lyrics like now I'm spilling all my guts, and I hope it's not too much, but I just can't find the words that I'm looking for, "Raining" foreshadows the beginning of the end.
"I kept running into my ex boyfriend 3 years after we broke up," Aspasia explains. "We would talk about our past relationship and I questioned whether we could still work things out. I romanticized our past and pictured myself running back to him like in the movies. He strung me along, but could never make up his mind about us. Every time we talked, without fail, it was raining. I figured that it had to mean something – maybe a bad omen or a sign to move on. The day I wrote this song was the last day we ever spoke."
The One Eighties Release "Dead Star Light" Today – Watch the Video on CMT Now
The duo, comprised of Autumn Brand and Daniel Cook, were part of the critically acclaimed band New Reveille, whose debut album The Keep earned praise from The New York Times, Rolling Stone's "10 Artists You Need To Know," and Billboard, to name a few. Despite their growing success and after a series of events, the band parted ways. So, after many contemplative months, the notoriously indecisive songwriters made a firm decision to move forward as a duo. They did a "180" and changed the course of their musical lives armed with an enormous desire to continue what was only just beginning. "What better way to memorialize our indecisiveness than to call ourselves The One Eighties" says Cook. But it's more than just an acknowledgement of a character flaw they both share. "We decided we wanted to reserve the right to change course at any time and do a complete 180 if we so choose. It's a statement that nobody is just one thing," says Cook.
Introducing // HAVET (Teenage Sisters' debut song; "Child")
German-Swedish Sisters Mimi (18) and Josy (16) together form the exciting new duo, HAVET, who today launch their impressive, sleek debut song "Child" along with an official video.
Speaking about today's release, the duo said "Child is an ode to your heritage. It's about being proud of your past and your roots and trusting the future because of it."
StormbounD Share Their Optimistic Love Song "Flying High" Off Upcoming "December"
Hailing from Israel, StormbounD are adding to the symphonic metal subgenre with their latest single "Flying High". This is the third single off their upcoming record "December", which is slated for summer release. The band coins the album as a "melodic prophecy of wrath" – a journey that will take the listener into new territory while staying firmly planted in symphonic roots.
Premiere: Symphonic Metallers StormbounD Will Have You "Flying High" with Their New Video
Astrologer Announce New EP, Share "Deténte" Single + Video (ft. The Germs) via Brooklyn Vegan
Today, Astrologer announce their sophomore EP, Legerdemain (R), due July 8 via Lolipop Records. To commemorate the announcement, they have shared the EP's first single, "Deténte," along with an accompanying video.
New Kamikaze Nurse Album "Stimuloso" Out Today via Mint Records!
Kamikaze Nurse release their sophomore album, Stimuloso, today via Mint Records. The rock band formed in Vancouver, BC, Canada in 2018 with KC Wei, Ethan Reyes, Sonya Eui, and John Brennan. Named after activist-philosopher Simone Weil's unfulfilled humanitarian death wish, the band released their debut LP, Bucky Fleur, on Agony Klub in June 2019. Their music has been described as "ethereal skronk," "Deleuzian rock," and "best of the '90s" by people on the internet and IRL.
LOST FREQUENCIES RELEASES NEW TRACK "QUESTIONS" WITH JAMES ARTHUR
Building on harmonic layers of barely-there keys and guitar twang notes that set a foundation for the brooding release, James Arthur's distinctive vocal loops on delivery of "how, where, when, why", bring the essence of the track title into the fold, before his raw, tone bursts out of the speakers. Establishing the main body of "Questions" with shimmering synths and deep, reverberating house beats, progressive-leaning touches then enforce a stylistic and sleek offering firmly in the pop-dance crossover realm. Uplifting and affecting in a stellar merger of variety, as James's vocal moulds into a delivery that encapsulates, "If you don't ask questions then you won't know why/ like how is it so easy when you say goodbye?", "Questions" connects both artists' signature touches with electricity, worthy earworm production and passionate vocals.
For Skope: Stafford Brothers return with "Rage" to Purple Fly – a new sinister bass-house single (out now)
Claire Khodara Releases Modern Lullaby Album In Support Of Autism Acceptance & Advocacy
Claire Khodara, former soprano soloist for two Vatican popes, American Idol contestant, entrepreneur and founder of STARROCK Productions, mother of three and Autism advocate as her son is on the spectrum, releases Modern Lullaby album in support of Autism Acceptance month.
In 2021, following her own mother's diagnosis of cancer, Claire was inspired to create a compilation album of lullabies for both parents and their children –– a throughline between Claire and her mother, and Claire's own experience as a mother to her three children.