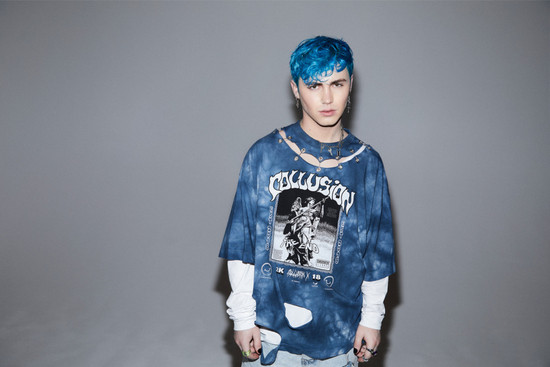 @skopemag news – friday – may 27, 2022 @ 8 am est
@skopemag HQ – http://smarturl.it/skope
Tilly Tjala Thomas returns with liberating anthem 'Mansion'
Fleurieu Peninsula born Nukunu singer-songwriter, Tilly Tjala Thomas (pron. 'Jala'), today releases her liberating new single 'Mansion'. Receiving its first play on triple j's Home and Hosed last night, the track provides the first taste of Tilly's soon to be announced debut EP.
Supathick make their return with the vibrant new single 'Love Back'
A new era has dawned for one of WA's most beloved fresh names; stepping back into the spotlight with their new single 'Love Back', SUPATHICK are here to remind fans and newcomers alike why their brand of sharp soul and funk music has earned them fans right around the country.
New Release from Various Artists "Top Gun: Maverick (Music From The Motion Picture)" On Interscope Records
Earlier this month Lady Gaga revealed "Hold My Hand" as the first single to be released from the soundtrack. Produced by Gaga and BloodPop© with additional production by Benjamin Rice, the soaring anthem received widespread critical acclaim right after its release with Billboard declaring "Lady Gaga soars with "Hold My Hand," and Vanity Fair raved the song "catapults her [Gaga] into next year's Oscar race."
MEMPHIS RAP STAR NLE CHOPPA RELEASES HOT NEW TRACK "SET UP STORY PT. 1"
WARNER CLASSICS RELEASE 'GOD SAVE THE QUEEN' TO GET HER MAJESTY TO THE TOP OF THE CHARTS FOR THE PLATINUM JUBILEE WEEKEND – OUT NOW!
Warner Classics campaign to get Her Majesty to the top of the UK singles chart for the Platinum Jubilee weekend and raise money for the British Red Cross. Brightman and Boe join these efforts by calling on the British public to download, buy and stream the single this week. Warner Music UK and iTunes UK proceeds from this unique digital double A-Side single will be donated to support the vital work of the British Red Cross, of which Her Majesty is a Patron.
KARIN ANN SHARES THE NEW SINGLE 'poison apple'
Established as a star for the Gen Z audience across central Europe, 20-year-old Karin Ann has also ignited wider international attention in recent months. Jack Saunders at Radio 1 supported her singles 'looking at porn' and 'almost 20', both of which featured on her current EP 'side effects of being human'. With coverage ranging from tastemakers Wonderland to rock bible Kerrang!, the EP demonstrates Karin Ann's huge pan-genre potential.
agajon & Jay Prince link up on new single 'Higher'
WOOZE announce new single "Bittersweet Timpani" | Out now via Young Poet
London duo WOOZE have announced their return with a propulsive new single titled "Bittersweet Timpani". The track is out today via London tastemaker label Young Poet and follows on the heels of the band's 2021 EP "Get Me To A Nunnery", which saw the band earn widespread critical acclaim for their inimitable sound and visuals.
Natalie Gray returns with powerful new single 'Fire'
Reading-based singer-songwriter Natalie Gray has unveiled her new single 'Fire', out 27th May 2022.
A powerful, deeply impactful track, 'Fire' touches on themes of domestic abuse and finding the strength to leave, with Natalie delivering a flawless vocal performance amidst a smooth, wistful production.
Shane Codd continues his hot streak with new single 'Rather Be Alone'
Sampling Whitney Houston's eternal classic 'It's Not Right but It's Okay', 'Rather Be Alone' is a dancefloor-focused weapon with serious crossover appeal. The hitmaker's second single in quick succession, it follows the similarly high-energy 'Love Me Or Let Me Go'. 2022 is shaping up to be another huge year for the young DJ as he has also just announced his debut US tour, kicking off next month.
LADYBYRD SHARES HER DEBUT SINGLE 'TOO CLOSE TO CALL'
18-year-old newcomer Ladybyrd has spent most of her youth living a relatively sheltered existence. While the life experiences she draws upon in her songs are largely based upon classical coming-of-age emotions – relationships, desire, longing and regrets – a bigger influence is her fascination with literature and film. Those characters have lived lives far richer and complex than she is, which infuses her songwriting with a grander dramatic scale to boost her teenage tumultuousness. Those elements are all evident in her debut single 'Too Close To Call', which is out now. Listen HERE.
PRISMA reveal 'Drive' single with stunning video
Danish duo PRISMA release new single 'Drive' via Luna Sky Recordings today, as the follow-up to their well-received second EP 'Inside Out'.
Nashville pop icon DeVries releases new summer dance track "Just Me"
A rising star in the pop world, DeVries stuns and impresses in her latest single, "Just Me." Dripping with all the auditory trappings of an instant party favorite, DeVries takes the listener through an eventful night that might end in romance, if the other person agrees that they want this too. The final lines of the chorus, "baby all that's left is to leave/or maybe it's just me," perfectly capture the track's overall message of wanting something, knowing that the mood is perfect, but being unsure that that's what the other person also wants.
German Alt-Rock Trio LIOTTA SEOUL Announce New Album WORSE Released 4th November 2022
TOM JENKINS — Releases "Under The Sun" w/ B-Side "Blue Beard" (Band of Horses cover)
Offering up another canny curveball and adding another string to his increasingly diverse and genre-hopping bow, Tom Jenkins has served up a slice of feel-good pop-tinted indie-rock on latest single 'Under The Sun'.
JC STEWART SHARES THE NEW SINGLE 'SCARS' – WATCH THE LIVE VIDEO HERE
The MTV VMA nominee JC Stewart adds to his rising star status and 250 million+ streams by sharing his brand new single 'Scars'. It follows two big tracks already this year for the pop singer-songwriter: his single 'Love Like That', which saw him grace the cover of Spotify's New Pop UK playlist and pick up Radio 1 Best New Pop airplay, and a feature on the Armin van Buuren / Billen Ted dance hit 'Come Around Again'. JC joined the two artists to give the song an unforgettable debut at Miami's Ultra Music Festival, and it exceeded a million streams in just five days. 'Scars' is released as JC's long-awaited European headline tour, The Tour After The Tour That Didn't Tour, is now underway. It includes his biggest shows to date in both London and Belfast.
Out today: Arya Zappa 80's teen film majesty "Listen To the Wind"
Listen To the Wind bursts out of the traps and immediately pulls you into its 80's teen film majesty. With its persuasive disco beat and optimistic tone, it's an invitation to cast off the doom and gloom and to dance again. But like all good cinematic experiences, there's a melancholy that haunts the track, letting us know that no disco can last forever.
Alt-pop artist Ocean Tisdall releases brand new single + video 'Crying Room' today through Universal Music
Following on from the release of his anti-valentines pop anthem 'White Lies' earlier this year, which found itself on Spotify's NMF UK and Apple Music's 'New In Pop' playlists, fast-rising Irish alt-pop artist Ocean Tisdall is back once again to deliver his heartfelt new single 'Crying Room'.
Kwengface drops hotly-anticipated new mixtape YPB: The Archive
The Peckham artist's second mixtape to date, YPB: The Archive is a twelve-track showcase of his uncompromising, high-energy flow that demonstrated why he is one of the most highly rated rappers on the Drill scene and beyond. The project opens with March singles 'Runtz', which sees Kwengface offload effortless, hard-hitting bars amidst a suitably dark-and-menacing drill beat, and 'Oh My', a more energetic affair, propelled by a futuristic production. The tracks have already racked up a combined 2 million Spotify streams. Next up are April singles 'Step Out', which juxtaposes Kweng's rapid-fire bars with New York driller Dusty Locane's husky flow, and '10 Years', where the Peckham mainstay looks back on his ten years on the roads and what he has achieved in that time. The latter is accompanied by an exhilarating official video which captures the vibe and accentuates the street sound of the track.
Kissi releases gen-z sad banger 'Pretty When I Cry'
Kissi is a brand new artist project signed Kristina Blakli from Lillehammer in Norway. Her first single 'Pretty When I Cry' was created while studying at the world renown artist school LIMPI which was started by the world known producer team Stargate.
Martha return with new single 'Please Don't Take Me Back'
Indie-tinged pop-punk quartet Martha have made their much-anticipated return with a brand-new single, alongside the announcement of a 7″ to be released via Specialist Subject on 24th June, available for pre-order now. 'Please Don't Take Me Back' is a song about refusing to let rose-tinted glasses distort your visions of the past.
UMBILICUS (CANNIBAL CORPSE/DEICIDE members) releases first single, "Hello Future"
New rock outfit UMBILICUS have released their first single, called "Hello Future", from their debut album "Path of 1000 Suns". The group is made up of CANNIBAL CORPSE drummer/lyricist Paul Mazurkiewicz, guitarist Taylor Nordberg (DEICIDE, INHUMAN CONDITION), bassist Vernon Blake (ANARCHUS, NAPALM DEATH-live), and vocalist Brian Stephenson (FORE, OLD JAMES). Though the band members are active in the metal community, the quartet put their love of 60's and 70's rock into an album of hard rock, drawing influences ranging from GRAND FUNK RAILROAD, AEROSMITH, LUCIFER'S FRIEND, SCORPIONS, LED ZEPPELIN.