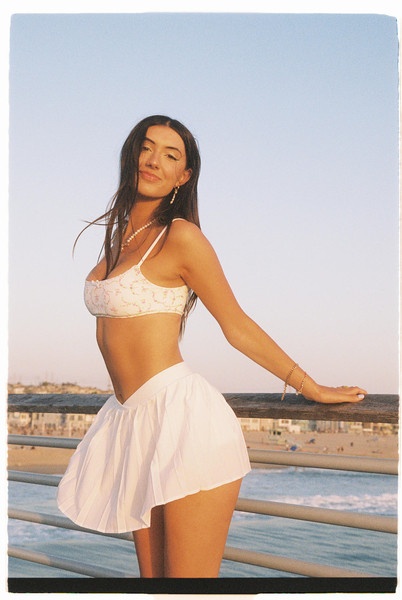 @skopemag news – friday – may 27, 2022 @ 5 pm est
@skopemag HQ – http://smarturl.it/skope
Cleveland's Biitchseat releases sophomore LP 'Float' today on Refresh Records!
Floating is complicated. It can symbolize success, as a cream rises to the top. It can boast of achievements and richness, paired with a feathery effortlessness. To float on air, to live a sublime existence.
Biitchseat finds themselves riding through the peaks and valleys of emotional waves as they explore new depths in their sophomore album, Float. An album that is about how every aspect of what it means to be alive is simultaneously so hollow and so very full, and the beauty that resides in between.
JONAS BLUE & JULIAN PERRETTA SHARE SIZZLING NEW SINGLE, "PERFECT MELODY"
Perretta has been turning heads ever since Mark Ronson asked him to join him on a 2008 European tour with Amy Winehouse. Shortly thereafter, Beyoncé invited Perretta to support on her U.S. and U.K. tours. His breakthrough single "Wonder Why" appeared on his 2010 debut album, Stitch Me Up, which highlighted Perretta's remarkable musical maturity and unique range. Karma, his 2016 follow-up album, featured the hits "Miracle," "I Cry" and "Karma." "Miracle" quickly became an international anthem, topping the charts in 13 countries and selling over four million singles worldwide. He performed the track in front of one million people at the opening ceremony of the EUFA European Football Championship and for 80,000+ fans at Stade De France, where he opened for Beyoncé. Perretta has also worked Ed Sheeran, Lil Baby, Lost Frequencies, Kygo, ZHU and numerous other artists.
Tom Odell Releases "Sad Anymore." Confirmed To Play Governors Ball and Austin City Limits
'Sad Anymore' is the second installment from his latest body of work and follows the release of 'Best Day Of My Life,' which ignited this new musical chapter. 'Sad Anymore' is a bittersweet song of self-reflection that see's Tom question his own state of mind as he sings "Look at all the happy people / What are they doing that I ain't doing?"
Little Hurt Releases New Track "Chelsea's Coming Over"
"'Chelsea's Coming Over' is sort of about constantly looking for love but feeling like you're not entirely ready for it when it arrives," states Dieden about the track. "I can remember times in my life when I'd meet someone so incredible- so insanely special- and I'd be sitting there on the couch thinking about myself and my life like 'I do not even deserve this.' Which isn't true. This song is about realizing you deserve to be loved and to love. It's about feeling GOOD about yourself despite all the reasons your mind will create to make you feel otherwise. This is a love song to yourself. My favorite thing about 'Chelsea's Coming Over' is that I got to write it with my best friends and I'll never forget how much fun we had doing it."
Dawes share new song & video; new album out July 22
OCEANHOARSE Release New Single & Video for "Heads Will Roll"!
"We've been working on 'Heads Will Roll' for a few years, as it took a while for us to find the right groove for it. But we've believed in the song's potential from the beginning, so we kept at it. Finally, with the help of producer Kari Huikuri, we managed to capture the song as we feel it should be, while playing it live in the studio. No click tracks, just four musicians locking in and going for it. I think that energy shows through the end result!"
TODAY: Indie soul artist Kitt shares smokey emotive single "State of Mind" off sophomore LP
Her new single, "State of Mind" is a song about Kitt and her journey through depression. Even when she was young, she was very aware of her inner feelings and how different I was to the people around her. Last year, she was hearing a lot about the idea of working with one's inner child, and Kitt almost felt like her inner child wrote this tune. You can hear her in the chorus – she's talking to the adults around her, wishing they could help her understand her state of mind.
A Rising Force New Release "Eclipse" Set For Worldwide Release June 3rd, 2022
A Rising Force is set to release their second full-length studio album "Eclipse" On June 3rd 2022, fresh off the tail of their previous album "Undertow".
The new album contains 10 new tracks, featuring the first single "Believe", which is also their brand-new video, which can be viewed here:
Bahjat Announces New EP, Shares "I'M HERE" Single + Video
BLOOD OF INDIGO Release Video "Angelus, the 'Faceless' Vampire"
Canadian fantasy metal band BLOOD OF INDIGO have unleashed a stunning animated video for "Angelus, the 'Faceless' Vampire". The song is from their album Dawn of the Shaded World which will be out this summer.
The band comments:
"This song holds a very special place in our hearts. We really experimented with song structure, cinematic vibes, sound design, and the overall character of this piece. Angelus is such a unique character too. I've always had a passion for creating characters and giving them an origin story. This song definitely brings that out of me. Especially in my lyrics and performance in the recording."
Faded Youth & Young Love // New Summer Anthem
Juls is a pop singer/songwriter from Connecticut, who is creating a world radiating with starry eyes, ocean blues and true love. Her love for music began at just eight years old, when her dad built a stage in the basement for Juls and her sister. Instantly recognizing that performing and singing was her calling, Juls shares, "My sister Jacqs was my presenter, and I was the star of the show, prancing onto the stage in my sparkly bodysuits and 6-inch heels (Jacqs was my stylist and makeup artist too, of course). Quite a bit has changed since then, but one thing has remained the same: our shared love for music. Well, two things actually…Jacqs still does my performance makeup lol."
Slaine Announces Director's Cut Of "One Day" Album Featuring 5 Brand New Songs on June 3th
Boston's veteran wordsmith Slaine has announced the upcoming release of "One Day: The Director's Cut", a deluxe edition of his 2019 Billboard charting album via AR Classic Records on June 3rd. The album will feature 5-brand new unreleased songs from the studio sessions from "One Day" that did not fit into the framework for the theme and framework of the original release of the album. A video of Slaine discussing the director's cut "One Day" online at –
SEAN PAUL RETURNS WITH RED HOT NEW ALBUM SCORCHA
The sixteen-track album sees the global icon serving up his classic infectious sound and party-starting rhythms, just in time for the summer. In traditional Sean Paul fashion, the album boasts features from legendary artists across genres including focus track "Light My Fire" featuring Gwen Stefani and Shenseea. The unexpected pairing of vocals from pop icon Gwen Stefani and Jamaican dancehall stronghold Shenseea is a testament to Paul's supreme ability to produce global hits. Complete with an unshakable chorus that hears Stefani sing "baby won't you light my fire," "Light My Fire" is primed to be this summer's biggest anthem! The new album also includes previously released songs "Scorcha," "Only Fanz" (ft. Ty Dolla Sign), "Dynamite" (ft. Sia), "How We Do It" (ft. Pia Mia), and "No Fear" (ft. Damian Marley & Nicky Jam). While Scorcha promises to get you dancing, Sean takes his music to new depths on this project by exploring personal topics such as infidelity, stress and fear on tracks like "Borrowed Time" and "Good Day."
HEALING MAGIC: Volume I: Fire Full-Length From Arizona Desert Metallers Out TODAY On Blood Blast; Tour With Cavalera Underway
Hailing from the deserts of Arizona, HEALING MAGIC — vocalist/bassist/guitarist Igor Amadeus Cavalera and drummer Johnny Valles — take influence from the majesty of the mountains, mesas, and spirit of the Canyon State, imparting their music with a blazing desert vibe. A natural force of raw sludge, splicing fuzzed-out riffage, ritualistic rhythms, and colossal heaviness amidst drifts of smoke and psychedelics, each song is like a trip into a dark fantasy world, a world teeming with a sense of despair, urgency, and unknown dangers. Truly a unique sound, rife with crunching overdrive that is only complimented by subtle melodies and epic song structuring.
For Skope: FOVOS present fusion of dark techno/hardstyle "Platia" – single influenced by raves of the 90s (out now)
For Skope: Versatile Brazilian producer Kohen returns to Alok's label with gentle dance-pop single "I Mean Never" (out now)
Texmex Shaman releases "Whew", single is a fusion of rock eras with a retro punk-glam vocal styles
A fusion of rock eras celebrating the coolest retro punk-glam vocal styles from the 80's all the way to the 90's. High powered rock riffin' guitars to make you sweat out the Whew factor! That's the newest single from Texmex Shaman featuring Canadian artist Rekha.
Lost Cat Share Self-Titled Debut LP via Joyzine
Today, Los Angeles riot grrrl-adjacent trio Lost Cat finally share their stellar 10-track self-titled debut LP, out today via Lolipop Records. Singles "L.O.S.T.," "Bitch Fight," and "Loser's Beware," established the group's confidently spunky energy in the vein of girl groups of decades past, and the unveiling of their full-length project has made their affinity for fuzzed-out riffs, vocal harmonies, and unabashed shredding even more apparent.
Album Premiere: Your first chance to hear Lost Cat's debut LP
B.A.R.S. Murre ft. Benny The Butcher "Ralph Cifaretto"
Viral Sensation Tiko – New Single "Take Off"
Merging his love for gaming and music, Tiko began launching content on his main YouTube channel in 2018 and has since garnered more than 6.5 million subscribers and 1 billion views, making him one of the biggest stars in the creator community.
SPLINTERED THRONE Release New Single "The Reaper is Calling"
Out now, "The Reaper is Calling" is the powerful first single to land ahead of SPLINTERED THRONE's upcoming album The Greater Good of Man.
Lisa Mann comments:
"When people ask "what did you do during the pandemic," we can say we spent it making a kickass old-school metal album. When we put it all together, we knew "The Reaper is Calling" had to be the opening track. People are in for a solid kick to the eardrums with this one. We're very proud of how it turned out!"
HELLOWEEN Presents 3D Road Movie Music Video For "Best Time" Feat. Cameo By Arch Enemy's Alissa White-Gluz
Today, HELLOWEEN celebrates with fans again with a video for "Best Time." Serving as the party song of the album, the track has been streamed via Spotify more than four million times. Written by Sascha Gerstner and Andi Deris, the sunny hymn propagates hope and optimism.
Toyko Deliver Transcendent New Single "The Void" Under NFT Label
Inspired by the NEAR Extinct Heroes(NEH) NFT lore, Los Angeles producers and songwriters Matt Wiggers and Zac White bring their new single "The Void" into the world. "The Void" is the first release by NEH Records, founded by music marketing expert Anthony Pacheco and Isaac Wilson, vocalist of the rock band Dwellings from Tragic Hero Records.