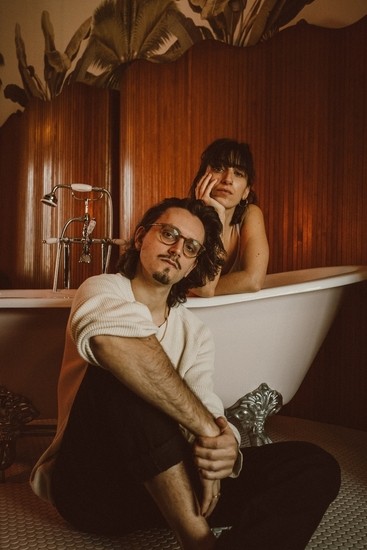 @skopemag news – tuesday – may 24, 2022 @ 12 pm est
@skopemag HQ – http://smarturl.it/skope
VIDEO: TACHYS ft. YUNA 'You Can Be My Guide' out today + eponymous TACHYS debut album!
Also out today is their video for 'You Can Be My Guide', which features LA-based Malaysian singer Yuna, a phenomenal pop- and RnB artist, mostly known for her work with Usher, Pharrell, Tyler, The Creator and Jhene Aiko.
French indie-rock duo Équipe de Foot to release their third studio album "Geranium", on June 10, 2022
Équipe de Foot is a French duo of singer-songwriters who record pop songs and play them much louder live in concert. Since their formation in 2015, Alex & Mike have played hundreds of gigs, from the sweaty basements of their hometown of Bordeaux to the stages of nationally renown festivals and European venues, making a solid name for their band, and little by little becoming part of the new wave of French rock, right beside bands like Lysitrata or Johnny Mafia.
TV Priest share new single 'It Was Beautiful', with a one-shot video – Extends 2022 International tour | New album 'My Other People' out 17th June via Sub Pop Records
Vocalist Charlie Drinkwater says of the single, "'It Was Beautiful' is a love song about the past, present, and future. A reminder that love is the most essential thing. The words came fast; it was recorded in a single emotive session, the first song we wrote together after my family had gone through a difficult experience and I think you can hear that in the kind of melancholy euphoria that plays out as the song progresses. In some ways it's a coda to the whole album; a reminder to guard your hope fiercely."
CASSYETTE RELEASES BRAND NEW SINGLE 'SAD GIRL SUMMER'
Today sees rising star Cassyette release three brand-new tracks 'Sad Girl Summer', 'Dead Roses' and 'Mayhem (Acoustic)', out now via Cassyette's independent label Devil Land. These tracks give us an insight of the range that will be displayed on Cassyette's highly anticipated upcoming project, more details to follow.
DEJA – Beggin'
It's no secret that DEJA holds the power to unlocking every girl's inner confidence and challenging every man's inner desires with her norm-defying singles, latest release 'Beggin" being a prime example of that. Exploring the power of the female anatomy, DEJA illuminates the addictive nature and irresistible allure of the female flower. Dosed in pulsating beats and spikey exuberance, Corey K and Trey Qua's production bring to life the signature seductive and gravitational pull of DEJA's message.
NIGHTS LIKE THIEVES CELEBRATES ITS MUSIC INFLUENCES WITH NEW VIDEO FOR THE NOSTALGICALLY-DRIVEN "THESE DAYS"!
A commentary on the modern day struggles that people face just to be heard in a sea of white noise, US alternative quartet Nights Like Thieves offers a reprieve from the mundane with the band's most recent release – the nostalgic "These Days"!
BALTES & ZÄYN : GODSHATTER is the first video single from the upcoming debut album
Northampton's finest wordsmith Jah Digga lands with inspirational new track 'Got To Go'.
Starting out as a freestyle on Jah Digga's Instagram page that blew up over the pandemic, 'Got To Go' was produced by long-term collaborator Nick Stez. The jazz-inspired track is a collaboration of session musicians, with live saxophone, guitar, piano and flutes, all recorded together in the studio. 'Got To Go' was written when Jah Digga was in a vulnerable space during a dark time, tied up with a lot of bad energy. Writing it enabled him to release any negativity from his life and express exactly how he was feeling. Exploring his struggles with mental health, Jah speaks with refreshing honesty, using his lyrics to encourage listeners to do the same.
JUST MUSTARD — Share New Song "Seed" || Forthcoming LP 'Heart Under' Out Friday + UK Live Dates
Dundalk, Ireland 5-piece Just Mustard have shared new track – "Seed" – from their forthcoming sophomore album 'Heart Under'- out this Friday May 27 via Partisan. "Seed" is a dark and dangerous album highlight that showcases the band's more experimental side – the rhythm section bordering on techno, anchoring revving twin guitars that sound as though they're feeding back from the underworld. Listen below and feel free to share:
OUT NOW: Award-Winning DJ and Producer The Toxic Avenger Releases Carbone Toxique EP
Award-winning French DJ and producer The Toxic Avenger has released his latest EP, Carbone Toxique on the 20th of May via Enchanté Records. On the EP, listeners will find the magnetic song, '87.6%'. The EP is an imaginary OST of the award-winning Carbone & Silicium and Shangri-La Slipcase comic by Mathieu Bablet, who also created the official artwork and visualizer for the EP. The comic won the best comics prize from the French national radio station FNAC/ France INter and the vinyl edition of the EP sold out in just three hours ahead of the release.
Niko Moon Puts Summer on Cruise Control With COASTIN'
With another season of summer heat ahead, multi-Platinum country hitmaker Niko Moon is back on his mission to spread positive vibes – but this time he's taking the long way to a "good time."
Set to release his new EP COASTIN' on June 10, the emerging RCA Nashville/Sony Music Nashville star is officially putting life on cruise control. Mixing organic beats and blue-sky optimism into a chill-country cocktail, it finds the laid-back maverick – hailed by Billboard as a "one-man party" – on a new road, dropping the seats back and cranking the windows down.
Soulful Duo ELIS NOA Share 'Mad About You' Single [FFO: Billie Eilish, Lana Del Rey, Jordan Rakei, Jacob Banks]
Elegant soulful duo ELIS NOA released their single, 'Mad About You' on the 20th of May. The single is taken from their sophomore album, I Was Just About To Leave which will be released on the 27th of May via Las Vegas Records. The pair previously worked with Marco Kleebauer (Leyya and Bilderbuch) as well as Max Walch (Left Boy and Bilderbuch) and performed across Europe. In total, ELIS NOA have earned over 1.4 million plays across platforms with support from well-known international publications including Tonspion, NBHAP, Glamglare, Metal Magazine, Music Export and Everything Is Noise to name a few as well as MrSuicideSheep, FM4 and Oe1.
GAG SALON release 'Don't Eat Stuff Off The Pavement'
Frenetic art-rock quartet Gag Salon reveal new single 'Don't Eat Stuff Off The Pavement' today, ahead of debut EP 'Get A Load of This Guy' – out June 16th via Blitzcat Records.
Cora Onori Shares New Single "Bloom"
Rising artist Cora Onori has revealed her brand-new single, "Bloom", which features producer Slowface. Cora has been making a name for herself since arriving on the scene in 2018 with debut single "Dream, Girl". Two more tracks have followed since, including last year's "Free Falling", and it's become increasingly clear with each single that Cora is one to watch. Now back with "Bloom", her fourth official single, she looks set to continue her rise.
Alan Mair Returns With Incredible New Single The Devil's Porridge
Legendary rock star Alan Mair (The Only Ones) returns with hard-hitting single The Devil's Porridge. The track highlights the story of Alfred Nobel's (of Nobel Prize fame) explosive journey, all to an unforgettable rock-heavy score.
Black Am I Seeks To Uplift The Struggle Of Work Life With Latest Single Work Day
Bull Bay's very own velvet voiced reggae crooner Black Am I releases a new anthem for the working class titled "Work Day". This new track which is released through the Ghetto Youth's International label is produced by the legendary Damian Marley himself and features an upbeat reggae/ska rhythm that carries the message perfectly. The message is clear, there is beauty in the struggle of sweat and the toil that takes care of our responsibilities. Black Am I's serene but resounding vocals give new meaning and hope to what would otherwise seem like a repetitive mundane work life. This latest single is supplemented by the official video set to release on the same day.
Shearwater Releases Shadowy New Single/Video "Laguna Seca" From 'The Great Awakening'
Shearwater today released "Laguna Seca," the shadowy final single that previews the band's first new album in six years, The Great Awakening, due out June 10th digitally and on CD (July 15th on LP) via the band's own Polyborus label in partnership with Secretly Distribution. "Laguna Seca" inhabits an eerie world of thick drums and slithering strings that's unlike any previous Shearwater song, and is accompanied by a chilling video directed by Loma's Emily Cross, which continues the storyline of her videos for "Aqaba" and "Xenarthran". "'Laguna Seca' came from one of those dreams where you meet someone you know, but they aren't themselves," explains singer Jonathan Meiburg. "And then you realize that you're not yourself, either."
Returning with his first new music since 2019, hear Gold Panda's new single "I've Felt Better (Than I Do Now)" – Out now on City Slang
Despite the dour track title, "I've Felt Better (Than I Do Now)" is a composition packed with soulful breaks and joyous warmth. This first taste of a forthcoming new album shimmies and skips along at a breathless pace, merging kaleidoscopic synths, chopped vocals and Balearic melody. The track is a sparkling reminder of all the qualities that has made Gold Panda one of the key artistic voices from the last decade of electronic music – the sort of effortless wonder that immediately takes you back into his inventive world of melodic electronica, just in time for summer.
Tejon Street Corner Thieves Release New Album 'Thick As Thieves" and Tour Dates With Dead South
The 12-track album was recorded at Royal Recordings in Colorado Springs with producer Bill Douglas (Veruca Salt, Smashing Pumpkins). Thick As Thieves twists together a unique blend of Americana, folk, and bluegrass, defying categorization into one single genre. There's a newfound level of depth, complexity, and authenticity that elevates the record to a new sonic spectrum for the band.
Dream-pop group Tallies share "Special" (ffo Penelope Isles, Galaxie 500, Ride)
The Toronto-based band, Tallies are today sharing their new single, "Special" which comes as another preview of the band's forthcoming second album, Patina which is out July 29 via Kanine Records (US), Hand Drawn Dracula (Canada) and Bella Union (UK/EU). The latest single arrives following a string of recent tracks which have found support at Stereogum, Paste, Clash, Under the Radar, Exclaim, CBC Radio, Brooklyn Vegan and more with the new record following their self-titled debut which earned acclaim at NYLON, DIY, CRACK, MOJO, KEXP and BBC 6 Music in 2019.
Dutch Metal Rockers BLACK NAZARETH Sign With Wormholedeath & Release "Drops Of Sorrow" Single
Dutch Metal Rockers BLACK NAZARETH have signed a licensing deal with Wormholedeath for their self titled album "Black Nazareth", due for release on July 8th, 2022.
After releasing all of the songs as singles, the band felt it was time to gather all of the singles into a mini album, along with a previously unreleased song. Black Nazareth's self-titled "Black Nazareth" is a masterpiece of pure and adrenaline-pumping rock!
Pale Blue Eyes share new single "Globe" + announce debut album (ffo W.H. Lung, The Orielles)
Pale Blue Eyes' excelsior modernist pop music is rooted in Devon and Sheffield. The group's debut album, Souvenirs – out September 2 – brims with the influence of both the Steel City – home of British electronic music – and the psychedelic Southwestern greenery that surrounds the band at their South Devon HQ. The album will be released by the Full Time Hobby label.
Metallic hardcore band Simulakra release new album The Infection Spreads out now on DAZE
Today, Delaware-based metallic hardcore band Simulakra have released their debut album The Infection Spreads, via DAZE. The Infection Spreads is aggressive and morbid, spanning across ten invigorating songs centered around a story of disease, death, and government control. On the LP, the band worked with producer and mixer Wyatt Oberholzer (Chemical Fix) and the vocals were tracked by Brandon Watkins (Year of the Knife). Not only is the album the band's most collaborative effort, but also their most experimental, as the songs thrive off the metallic hardcore sound they put forth on past releases (2019's Tales from the Fevered Subconscious) while also incorporating more death metal-leaning elements and even tapping into grindcore at moments.
Watch TV Priest's "It Was Beautiful" Official Video + New 2022 Tour Dates
Vocalist Charlie Drinkwater says this of the single, "'It Was Beautiful' is a love song about the past, present, and future. A reminder that love is the most essential thing. The words came fast; it was recorded in a single emotive session, the first song we wrote together after my family had gone through a difficult experience and I think you can hear that in the kind of melancholy euphoria that plays out as the song progresses. In some ways it's a coda to the whole album; a reminder to guard your hope fiercely."
PVA return with new single "Untethered" + announce new London headline show for July | New single out now via Ninja Tune
The new single sees the band expanding on the insistent and propulsive sound laid down on their widely acclaimed debut 2020 EP "Toner". Produced and mixed by the band, the unrelenting and energetic new single sees the trio once again combining the release of the dancefloor with jagged punk spirit. Built on a bed of dynamic industrial beats, blistering synths and sprechgesang inflected post-punk, "Untethered" is a freeing and powerful statement of intent from the band as they continue their musical evolution.
Symphonic Metal Icons XANDRIA Return with Massive New Single "Reborn" + Official Music Video!
Active since the early 90s, the band introduces this eagerly anticipated sign of life, featuring the dynamic range of new vocalist Ambre Vourvahis, impressively varying between angelic harmonies, a powerful and classically-induced chorus and even lurking harsh growls! Accompanied by fellow musicians Robert Klawonn (guitars), Tim Schwarz (bass) and Dimitrios Gatsios (drums) the newly formed outfit around band leader, main songwriter, composer and guitarist Marco Heubaum is ready to bring its impressive career to the next level. "Reborn" coincides with a bewitching music video that introduces the new line-up and gives a promising glimpse of what can be expected from this intriguing entity in the near future. Stay tuned for more exciting news coming soon!
[Video] Kount Fif ft. Empuls & Merkabah – Etapes prod. by Kount Fif
As the sickening sweet sample plays, visuals of nature turn to Mandalas and flood the screen for the visuals of Kount Fif's new song "Etapes" feat. Empuls and Merkabah. The track is featured on "Numero UN," his debut producer album which not only showcases his production skills but highlights each artist's lyrical ability.
CACHEMIRA: bluesy new track "Mujer Vudù" streaming!
Barcelona's heavy blues and psych revelers CACHEMIRA share their upbeat new single "Mujer Vudù" exclusively on Outlaws Of The Sun website. Their sophomore album "Ambos Mundos" will be available on June 24th through Heavy Psych Sounds.
About the song, CACHEMIRA says: "Mujer Vudù is the first song we ever wrote in Spanish, which gives it an exotic feel. It features a 5/4 rhythm signature to spice up the riff. Special mention to Organ Fury from Moundrag for trading licks on the solo section!"