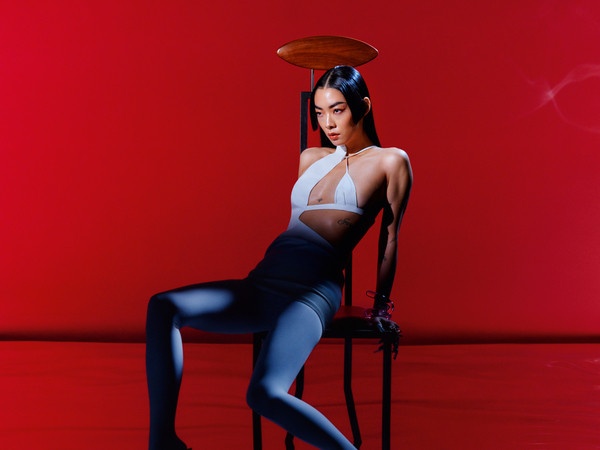 @skopemag news – wednesday – may 18, 2022 @ 4 pm est
@skopemag HQ – http://smarturl.it/skope
PENTAGRAM HOME VIDEO – Release Haunting New Single "Nothing Ever Dies" {Out today}
Immortal chanteur Freddy Carrie Cruiser (aka Pentagram Home Video) performs songs for the haunted — with love to Scott Walker, Serge Gainsbourg and the films of David Lynch.
When the world stopped turning, Freddy Carrie Cruiser spent a year performing songs at night to an empty room on the side of a hill facing out onto a harbour.
Valley Queen Share "Falling"
Valley Queen released their debut album Supergiant on Roll Call Records in 2018. An immediate critical success the album saw attention from outlets like NPR, Rolling Stone, LA Times, Stereogum, a Tiny Desk Concert, and saw singer Natalie Carol's "bracingly afflicted, mountain-vaulting dream-country yodel" (Rolling Stone) calling comparisons as iconic as Florence Welch, Dolores O'Riordan, Neil Young. Today, Valley Queen are sharing a new single entitled "Falling" that marks a new chapter for the band, signalling an exciting shift in their sonic direction.
Studio D'lux Releases New Single "Ain't Good Enough" (Feat. Bill Champlin) + Official Music Video
SHANGHAI METRO TEMPLE RELEASES DEBUT SELF-TITLED ALBUM
"Beast, for us, is a song about the pandemic; there are struggles we all faced and things that tested even the most resilient of people during that time, and to us, we needed to say something about how we felt," the band explains. "Although we might not be able to control the beast ourselves, there are things in our lives that are more important to focus on and we think this song does a great job of expressing that."
Unloved Announce 'The Pink Album' || New Single and Video "Mother's been a bad girl" Out On Heavenly Recordings / PIAS
Aubrey Haddard shares anthemic new single "Processing Power," today, from upcoming LP
New York City-based indie-pop singer-songwriter, Aubrey Haddard releases her anthemic indie-rock third single, "Processing Power" today, where she confronts being inundated with constant information, along with a matching lyric video. Haddard's second full-length album, Awake And Talking, will be out August 19, 2022 and is available for pre-order now, via Beverly Martel Records. Aubrey Haddard will be hitting the road in select cities across New York, Pennsylvania, Massachusetts and more this summer. Find tickets on sale now here.
PREMIERE: Aubrey Haddard shares anthemic indie rock single 'Processing Power'
esperanza spalding Unveils "Formwela 12″ short film & song, 'Songwrights Apothecary Lab" Vinyl Out 5/20
SUDAN ARCHIVES DROPS "SELFISH SOUL" VIDEO/SINGLE
EMÆNUEL – New Album 'SUKISTAN' out May 27th on sound as language / New Single "Dust" Streaming Now
EMÆNUEL is an artist from the equator. Exploring ideas around music's emotional force and nature.
SUKISTAN was written a few years ago in Kolkata. An experiment in rapid exploration, it was left shelved for years and experimented on sporadically. The corpus of the music is purely unrecognizable from what it was before. It's an album as an exercise in self-immolation. It's made to sound like the remnants of a series of daydreams, or the soundtrack to several kinds of prayers. The feelings are cold and warm, rough and smooth, small and large. It is dedicated to a friend who restored faith in the artist. No small feat.
ASHENSPIRE To Release New Album Hostile Architecture, Reveal First Single "Tragic Heroin"
TELAPORT Drops New Single "DON'T WAIT" – Stream Now!
SFERA EBBASTA & RVSSIAN LANZA "SOLA" VIDEO FT MYKE TOWERS
Today, Italian powerhouse rapper Sfera Ebbasta and Jamaican Producer Rvssian alongside Puerto Rican superstar rapper and singer Myke Towers released "Sola" video available on all digital streaming platforms and YouTube.
The Infamous Stringdusters Release Video for "Toward The Fray" In Conjunction with Backline For Mental Health Awareness Month
Glassio Full Album- Resilient Electro Dream Pop
Glassio has over 12 million streams and has been praised by the likes of FADER, NYLON and Consequence of Sound among others.
THE VELVICKS SHARE NEW SINGLE "OLD MISTAKES"
NYC-based rockers The Velvicks share a new single, "Old Mistakes" on May 18th. "Old Mistakes" is a song dedicated to a brilliant young girl who was raised by a broken/violent family unit whose parents got divorced at a young age. All her defense mechanisms and triggers built throughout her developing years were a necessary evil she now believes it is time to deal with. Although her psyche has evolved, she still has difficulties in identifying and avoiding destructive patterns which echoes negatively on everyone around her, including on her new family.
VIDEO PREMIERE: New Yorkers The Velvicks explore the cyclical nature of trauma on powerful new single 'Old Mistakes' (+mini Q&A)
TODAY: Post hardcore outfit Junko Daydream share "Don't Go Down" a raucous emotive single/video shot in Indonesia
"Don't Go Down" is the second song that Junko Daydream recorded with Scott Middleton of Cancer Bats at a studio in Dundas, ON, with an interior temperature that can only be likened to a hot yoga studio.
RINA SAWAYAMA RELEASES NEW SINGLE "THIS HELL"
Today sees the multidimensional pop sensation Rina Sawayama release her new single "This Hell", out now via Dirty Hit. The single is taken from her forthcoming sophomore album "Hold The Girl" announced today and to be released this September 2nd via Dirty Hit.
MAXO KREAM DROPS "JIGGA DAME" TRACK AND VISUAL
MNRVA Stream Entirety Of New Album Hollow At Decibel Magazine
Doom metal band MNRVA are streaming album Hollow via Decibel Magazine. The album will be released this Friday, May 20th, 2022 on all digital platforms.
UNUSUAL DEMONT REVEALS NEW SINGLE ' MAYBE NOT'// LISTEN HERE
Fast rising newcomer Unusual Demont makes his exciting first step into 2022 today with the reveal of playful new offering, 'Maybe Not'. A Wisconsin born, LA based artist who has racked up millions of streams on his independently released tracks and gained support from Zane Lowe, Pigeons & Planes, CLASH, Wonderland, BBC Radio 1 and more, Unusual Demont has been quickly building a stellar reputation. Fresh from touring Europe in support of Avant Garden label mates Emotional Oranges and set to hit the road with Ravyn Lenae, Demont looks set to continue his remarkable rise this year. Blessed with a Grandpa who was a key part of Curtis Mayfield's set up, Demont creates a hybrid sound which touches on indie and R&B in equal measure.
The Bell and The Hammer share first single from forthcoming album for Friend Club Records
For The Bell and The Hammer, writing music is a way to piece together the patchwork of their collective experience. Daniel and Serenity Johnson have been collaborating for the better part of two decades, weaving together spirituality, heartache, joy and the apprehension of new phases.
NEW: Rising alt rap artist Peytn shares sad boy hours on new banger "Issues" launches skate-wear brand Dead Dad Affiliated
"Everybody has been through that toxic relationship that left you questioning everything you've believed about love. From the listeners perspective, the only thing I care about them gaining is the knowledge that they are not alone."-Petyn
FOR IMMEDIATE RELEASE: The Slackers Releases Animated Video For "They Are Losing"
"They Are Losing is a rebel song to cheer your spirits. Progress aint a straight line, it's zig-zaggy with tornadoes and tombstones all over it," says frontman Vic Ruggiero. He adds: "A majority of the world believes in climate change and it's happening sooner than we thought. People will still always fall in love beyond race and religion and gender and no wall can stop it. No one can stop the time."
HEALING MAGIC: Metal Injection Debuts "Wolf Coven" Video From Arizona Desert Metallers; Volume I: Fire Full-Length To See Release Via Blood Blast May 27th + Tour With Cavalera Nears
HEALING MAGIC are a natural force of raw sludge, splicing fuzzed-out riffage, ritualistic rhythms, and colossal heaviness amidst drifts of smoke and psychedelics. The duo, hailing from the deserts of Arizona, take influence from the majesty of the mountains, mesas, and spirit of the Canyon State, imparting the music with a blazing desert vibe. Each song is like a trip into a dark fantasy world, a world teeming with a sense of despair, urgency, and unknown dangers. Truly a unique sound, rife with crunching overdrive that is only complimented by subtle melodies and epic song structuring.
HEALING MAGIC Journeys Into The Night With New Single "Wolf Coven"