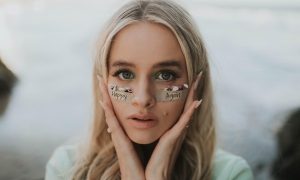 @skopemag news – saturday – may 14, 2022 @ 12 pm est
@skopemag HQ – http://smarturl.it/skope
AUSTRALIAN PUNK TRIO DUNE RATS RELEASE NEW SINGLE 'MELTED INTO TWO'
Australia's Dune Rats are no strangers to writing songs about their love for substance. The band's new single 'Melted Into Two' is their first song of substance about love!
The third single from the band's forthcoming album Real Rare Whale, 'Melted Into Two' was the first song the band wrote for the new album and was written with their good mate Shane Parsons from DZ Deathrays during a writing session on Stradbroke Island in Queensland.
Lane Switch // Juice WRLD meets Polo G // New Single
Banks 1433 confides, "I say 'TRAP' a lot because Trap is another way of saying getting money, trap star, trap madness….gotta wake up and get money, then you can do everything after." His lyric states, "never got used to being average" and that reminds listeners to push for greatness everyday.
MT. JOY RELEASE NEW TRACK "EVERGREEN," VIDEO STARS CREED BRATTON
On the heels of announcing their 2022 third full-length offering, Orange Blood, which is set to release on June 17th, Mt. Joy have released "Evergreen." The track boasts upbeat guitar curls around a punk-y groove before colliding with an intoxicating refrain. The track's accompanying music video stars The Office star Creed Bratton, a personal friend of the band who last fall, joined the band on stage at The Greek Theater in Los Angeles. In the video, Creed sets off on a journey to prove it is never too late to chase what makes you happy.
WORMWITCH: Decibel Magazine Premieres "Age Of The Ordeal Of Iron" Video From Canadian Black Metal Practitioners; New Single Out NOW!
Returning less than a year after 2021's critically acclaimed Wolf Hex full-length, Canadian black metal practitioners WORMWITCH present a new stand-alone single, "Age Of The Ordeal Of Iron," now playing at Decibel Magazine.
Montreal's Dead Velvet Stare Death In The Eye In Heavy Music Video For "Lonely Wreck"
According to the band, "Lonely Wreck" is more or less a song about being the last man standing at a party, and also the impact that the abuse of drugs and alcohol can have on an individual. Although the words may seem to glorify this lifestyle, they were more intended to shine a light on the contrast between the highest highs and lowest lows, because they tend to go hand in hand. It's a kind of dirty homage to mental health. The band continues to explain the musical aspects behind the track:
Super Producer CHRIS BIRKETT Puts Two Years of COVID, Climate Change & Crass Excess in the Rear View with "2022"
OPETH: In Cauda Venenum (Extended Edition) Featuring Six Bonus Tracks Out TODAY + Band Readies For Summer Festivals And European Tours
Following their successful North American co-headlining tour with Mastodon, progressive rock legends OPETH today release In Cauda Venenum (Extended Edition). This special edition, available on digipak, contains the English and Swedish versions of the band's latest album In Cauda Venenum with new illustrations by internationally renowned artist Travis Smith in the booklet. In addition, there is also a third CD featuring three unreleased bonus tracks, both in English and Swedish. A few remaining copies of the 5xLP Connoisseur Edition boxset featuring the same songs remastered by Mikael Akerfeldt specifically for vinyl, are also available.
Acoustic Quartet Corner House Compile Their Collective Experience To Tell A Personal Story With "Angel Falls"
Although Ethan Hawkins is the sole lyric writer in the Boston-formed quartet Corner House, the subject matter of the group's songs is a reflection of their collective experience. "What this band really does well is challenge me to be a mirror rather than write songs based on my own life," he explains. "A lot of the lyrics that I wrote were drawn from conversations that I've had with the rest of the band, which I think parallels our experiences with each other musically." One such song is Corner House's new single, "Angel Falls," which Hawkins wrote after a long discussion with Corner House cellist Casey Murray about her experiences with religion as a queer person.
CORNER HOUSE premieres "Angel Falls" video – with Web-Exclusive Interview
Alternative punk band Scumbags drops new single "Dreadlocks in the Alley"
Scumbags is a punk rock band from Brazil founded in 2017. Relying heavily on their references, which range from classic punk like NOFX and Ramones, to something more "recent" like Green Day and Blink-182, Scumbags band produced a fast and straightforward setlist that drives their show. Scumbags officially debuted their authorial material with the release of two singles, On the Dread Street and The Kid's Aren't the Same which were soon followed by the first album titled Sour Days, released in May 2019.
Swedish rockers THUNDERMOTHER announce new album, tour with SCORPIONS & WHITESNAKE + new music video
OUT TODAY: Groundation Releases Tenth Studio Album "One Rock" on Easy Star Records
Groundation just released their highly anticipated tenth studio album, One Rock, via a partnership between France's BACO Records and the U.S.'s Easy Star Records. The band, formed in 1998 by vocalist/guitarist Harrison Stafford, has helped define American roots reggae, while building a large and loyal following in Europe and South America, where they have been a consistent major headliner and festival attraction for years. One Rock keeps their sound and legacy moving ever forward through 9 intense songs featuring complex arrangements, moving melodies, and lyrics that touch on the human condition, human spirit, and the state of the world. Listen and purchase the album on vinyl, CD, and digitally with an exclusive tee shirt HERE.
Rebelution Releases "Settle Down Easy – Live in St. Augustine" | Album Out Next Friday
Rebelution will return to St. Augustine for two nights this summer on June 1 & 2 to kick off their annual Good Vibes Summer Tour with stops in Atlanta, New York City, Washington DC, Philadelphia, Boston, Baltimore, Chicago, Austin, Santa Barbara and many more (full routing below). The 45-date outing will run June – August, and the band will be joined by special guests Steel Pulse, DENM and DJ Mackle on select dates.
Savannah Rae Releases Latest Single "Little Soldier"
Country & pop-rock singer/songwriter Savannah Rae puts listeners in the shoes of a soldier's mother with the release of her latest single, "Little Soldier." With Memorial Day approaching, Savannah celebrates both our brave servicewomen and servicemen that put their lives on the line every day for our country. "Little Soldier" grabs the listener's attention from the first syllable, telling the story of a soldier's journey through his mother's eyes from beginning to end. Set to a simple, but mesmerizing piano piece, Savannah sets the foundation of the song and paints a picture that will draw out memories from every parent and loved one listening. "Little Soldier" was premiered by Center Stage Magazine and is available to download and stream on all digital platforms now!
HOT SUNDAY BLOOD – new single "RUN BABY RUN"
Alice Merton Shares "Loveback" Single + Lyric Video via Consequence of Sound | Tour Dates with Bastille | 'S.I.D.E.S.' LP Out 6/17 via Mom + Pop
Alice Merton's recent singles have established an uncompromising new attitude as she laces her sound with edge, experimentation and outspoken honesty. At the same time, her darker approach is only making her alt-pop more enticing by adding a fresh element to a style that took her to a billion+ streams and a rush of Top 10 charts across Europe. She's now positioned to breakthrough into a wider international audience, as evidenced by her recent single "Same Team" being named as Jo Whiley's Infatuation on BBC Radio 2, and introduced on Elton John's radio show Rocket Hour.
Alice Merton Shares Origins of New Song "Loveback": Exclusive
OUT NOW: Kel Adore "Happy Again"
Strikingly relatable lyrics encompassing the fight for happiness, Kel Adore releases her sophomore single "Happy Again" – available everywhere now. "Happy Again" mirrors our inner attempts to cover our brokenness with hope, masking the melancholy in a sonically mystical-pop track.
"This song is packed with contradictory emotions, which to me really captures the essence of grief," says Adore. "When we are grieving, we experience so many emotions that contradict each other all at once. I love how this song is both hopeful and fun yet angry and devastating. That is life sometimes."
HOWLAND HYATT, feat. Stet Howland (Metal Church) Releases New Full Length Debut LP via Mindsnap Music!
Following the release of their last two incredible hard rock singles "Eve of Destruction" and cover of "While My Guitar Gently Weeps", iconic powerhouse drummer Stet Howland, (current drummer of Metal Church & formerly of WASP), along with long-time friend John Hyatt and crew release a brand new full-length debut album with their killer new rock band HOWLAND HYATT.
Rockshots Records – Out Now! OUTSHINE New Album "The Awakening"
Out Now! Swedish goth rock/metal band Outshine unleash their fifth full-length "The Awakening" available as of May 13th via Rockshots Records. The album follows their four previous LPs since forming in 2007. With a vision of darkness and melancholy in a visual landscape, their new album is all about what has happened in the world during pandemic times.
Saka Follows the Path of the Outcast on Conceptual 5-Track Left-Field Bass EP 'Anti-Hero' for Gud Vibrations – Out Now
He previously debuted on Gud Vibrations last year with his double-sided release 'Split Punch / Wing Chun,' which leaned into his love for martial arts. Saka is now looping back around with his first EP for the label, 'Anti-Hero,' a five-track multi-genre bass music offering that explores the idea of the unconventional protagonist.
Artist: Saka
Title: Anti-Hero EP
Label: Gud Vibrations
Genre: Dubstep / Drum & Bass
Release Date: May 13
America Jayne Shares New Single "Scaredy Cat" + Music Video | Read More in The Alternative, Loud Women & Atwood | Debut EP 'Homecoming' Out June 30
Today, Brooklyn alt-rocker America Jayne (moniker for Erica Pierce) shares her next single "Scaredy Cat" just in time for Friday the 13th. A grungey indie rock anthem, "Scaredy Cat" explores the irrational, but often debilitating fears we have as children and how these materialize into our adulthood. The song begins with childhood anxiety towards ghosts, moves to a teenage fear of sex, and rounds out with the current discomfort that I never quite got over these worries. The song is the opening track of America Jayne's debut EP, Homecoming (due out June 2022), and kicks off the album as an upbeat, rock-centric anthem.
Judah & the Lion Premiere "scream!" video Today! New Album "Revival" out June 10th!
The clip follows last Friday's release of the anthemic lead single from the group's forthcoming full-length studio album Revival – due out June 10th via Cletus the Van Records / Virgin Music. Once again, Judah & the Lion's Judah Akers showcases his skill at writing relatable songs as he taps into our collective frustrations.
Scottish Heavy Metal Band DVL Drop Their New Video For 'Among Us'
Yotam Ben Horin (Useless ID) Shares "Santa Monica Pier" Single + Lyric Video via FLOOD | 'Young Forever' LP Out Next Friday, 5/20 via Double Helix
Today, Yotam Ben Horin (Useless ID) shares "Santa Monica Pier," the third single off his forthcoming album, Young Forever, due next Friday, May 20 via Double Helix Records.
Eliminate Returns to NIGHTMODE With Pupil-Dilating 4×4 Single "Open Your Eyes" – Out Now
The dynamic producer has one of the most impressive ranges in the game, with a catalog that runs the gamut of bass music and beyond. His signature sound has extended itself into dubstep, drum & bass, electro house, glitch, breaks, electropop and more. Back in 2020, he debuted on NIGHTMODE with a frothy single "Crystallize" featuring singer-songwriter Leah Culver. Eliminate is now making his return to the imprint with his follow-up effort, releasing a highly requested ID that has been going off in his sets for the last couple of years. The track is an enlightening 4×4 track marked by bouncy drums, vaulting synth riffs, scampering arps, and a mind-twisting trap switch up.
Artist: Eliminate
Title: Open Your Eyes
Label: NIGHTMODE
Genre: Trap / Wave
Release Date: May 13
Lost Cat Shares "Bitch Fight" Single + Video via Backseat Mafia | May Los Angeles Residency | Self-Titled Debut LP Out May 27 via Lolipop Records
Today, Los Angeles trio Lost Cat share their second single, "Bitch Fight," the latest track off their upcoming self-titled debut album, Lost Cat, due May 27 via Lolipop Records. As the rollicking fuzzed-out punk rock track proclaims, "If you don't like it, you can go to hell!"
PREMIERE: LA trio Lost Cat present 'Bitch Fight' from their impending debut album
New Release From Arin Ray 'Gold' Out Now On Interscope Records
The Cincinnati native released Phases II in December 2019 following his critically acclaimed major-label debut, Platinum Fire. Ray is an accomplished writer whose craftsmanship can be heard in various contemporary works, from Chris Brown to Nicki Minaj. Showcasing his powerful vocal range over a medley of hip-hop, jazz, and neo-soul instrumentals, he's a subtle blend of new and old school sound. Phases II is a seamless continuation of the 25-year-old crooner's audacious chronicle from boy to man. The Phases series is a cavalcade of his more recent body of work, including "Change" with Kehlani, "A Seat," and "The Get Down."
Adam wrote "Our Lives" with fellow Ontario artist, Owen Riegling and it was produced by Shawn Moore with the central idea being to create a love song through and through that's defined by full, raspy vocals, big guitars, and strong drums and bass, and tied together by rich country storytelling with a modern rock edge.
Post-metal Collective BOG Released New EP "Remission"
The post-metal powerhouse from Austria is back. Post-metal collective BOG has released their new EP called "Remission" via Polawa Records. Initially founded by rhythm guitarist Tim Primbs as an emotional outlet to cope with several experiences with death, BOG is now a full five-person band providing a variety of dark, atmospheric melodies and monolithic, powerful riffs.
INTRODUCING: vi0let & soul-soaked new single 'Over & Over' feat. Jymenik
London-based singer-songwriter vi0let has been quietly working on new material for the past year, and today she reveals her stunning new single 'Over & Over' featuring Brighton-based Serbian artist Jymenik,