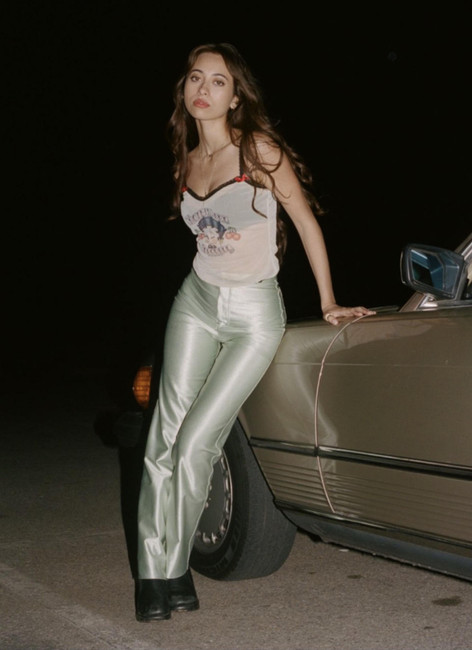 @skopemag news – friday – may 13, 2022 @ 12 pm est
@skopemag HQ – http://smarturl.it/skope
When the world has gone mad…
Maybe due to quite a long lockdown which brought you to the edge of your mental health, maybe due to completely other reasons. That's what "Dead" is all about, that sometimes it feels you just wanna be…
But this Alt Rock Duo from Italy has the remedy already woven into their new single. While contemplating about the uneasiness of the situation they're in PEAKS! come up with a very relaxed, floating sound which can teleport you directly into a nice sunny weekend:
THEY HATE CHANGE RELEASE JAGJAGUWAR DEBUT
They Hate Change, the Tampa Bay production/rap duo have released their Jagjaguwar debut Finally, New. Truly a post-genre musical landscape Finally, New builds deep connections that transcend outdated distinctions between them, spilling over with the joy of exploration and possibility. A sound made possible by their knack for being sonic omnivores, obsessive deep-divers and lovers of rare and radical sounds. Starting as kids trawling the internet for tracks, they've been collecting music from around the world and across the decades, amassing a shared sonic knowledge so deep that "encyclopedic" barely begins to cover it—not just the East Coast hip-hop that Dre grew up on, or the hyperlocal bass-music variants like jook (the Gulf Coast's twerkably raunchy answer to house) and crank (think "Miami bass meets NOLA bounce") that Vonne grew up on, but also drum 'n' bass, Chicago footwork, post-punk, prog, grime, krautrock, emo, and basically any genre on the map.
waants teams up with hip-hop artist Yohvn Blvck for new single, "Adding Up"
"Adding Up" feat. Yohvn Blvck sets the scene of an artist never being satisfied, despite their level of success. Against the backdrop of up-tempo drums, shimmering synths, a haunting piano loop, and dark, sustained bass lines, Blvck delivers a narrative couched in end-stage capitalism – braggadocious and bold, but always conscious of the facade.
Trent Reznor and Atticus Ross collab with "Birdman" sndtrk composer Antonio Sanchez on new song
4x Grammy Award-winning drummer Antonio Sánchez has announced the release of his groundbreaking new album, SHIFT (Bad Hombre Vol. II), arriving via Arts Music, a Division of Warner Music, on Friday, August 26. The album is available to pre-order and pre-save now. SHIFT is heralded by today's premiere of the new original song "I Think We're Past That Now," featuring 2x Academy Award-winners Trent Reznor & Atticus Ross and available now at all DSPs and streaming services. An official visualizer is streaming now at YouTube, and a video is coming soon.
Dreamo Trio KHAMSIN examine grief on new album 'What's Left Of Life?'       
Nashville, Tennessee dreamo trio Khamsin (FFO: mewithoutYou, Turnover, Colour Revolt) take you on a profound journey through vocalist Jacob Currry's grieving process in the wake of his father's passing on their new album What's Left Of Life?
Featuring twinkling precision and fuzz-ridden guitar-work, both odd and sway-worthy rhythms and Curry's vocals, which shift from gentle tenor to throat-shredding vocal fry at a moment's notice, the album defies typical genre restraints, appealing to fans of everything from slowcore to hardcore.
BMG & 19 Entertainment Release Singles from American Idol's Top 7
BMG has once again joined forces with ABC's iconic star-maker competition series American Idol and 19 Entertainment to release original songs from the Top 7 finalists from Season 20. The track from Season 19's winner Chayce Beckham has earned over 90 million streams globally. Announced on May 1 the seven finalists for Season 20 are Fritz Hager, HunterGirl, Nicolina, JAY, Christian Guardino, Leah Marlene, and Noah Thompson.
NOISIA RELEASE SURPRISE ARTIST ALBUM 'CLOSER' AHEAD OF FINAL NOISIA INVITES SHOW LIVESTREAM
The announcement from Dutch electronic music legends, Noisia, that they'd recorded a surprise third and final artist album, 'Closer', was recently heralded by fans, peers, and media alike. Released today – 12 May – 'Closer' underscores Noisia's phenomenal musical legacy, both within drum & bass and wider electronic music; the album includes 11 new songs within the 20-strong tracklist, and features collaborations with Skrillex, Black Sun Empire, The Upbeats, Camo & Krooked, Mefjus, Phace, IMANU, Halogenix, Posij, Former, Two Fingers.
OUT NOW: Electronica Quartet Stavroz Release Debut Album [FFO: Parra For Cuva, Nicolas Jaar, Kiasmos and Worakls]
Unique electronica quartet Stavroz released their debut LP, Mindibu on the 13th of May via their own Moodfamily label. On the album, listeners will find the 'Nobody Around' as well as the previously released singles, 'Wintergreen' and 'In Mindibu'. The quartet are currently on a global tour and have previously appeared in well-known festivals such as Coachella (US), Fusion Festival (DE), Wonderfruit (THA), Pukkelpop (BE), Strawberry Fields (AUS), Tropico (MX) and Three Points Festival (FL, USA) as well as with Cercle at Fort Saint-Eynard in France where they also reached gold status for their debut EP, The Ginning'. Stavroz have collected over 100 million plays across platforms with their second hit single 'Gold Town' reaching #1 spot on Beatport's "Electronic Top 100" for several months and was featured as part of Rockstar Entertainment's GTA 5's soundtrack. Stavroz have been supported by When We Dip, CLASH Magazine, Earmilk, Electronic Groove, Stereofox, Deep House Amsterdam, and Mixmag Spain and France to name a few.
Skope video submission: Menacin Johnson, "Odessy" featuring Ahh-Cehh Keep The Third Eye Open
Constantly touring, he has performed alongside Aceyalone of Freestyle Fellowship, Tre Hardson formerly of The Pharcyde, X-Clan and many more. Menacin Johnson had this to say about "Odessy", "Third eye open. balancing the ying and yang on my musical journey as I grow from a caterpillar to a butterfly enjoying the ride on my Oddesy of personal evolution" .
Yamato Releases Defining 'Essentials' EP on Japanese-Based Label Avex
Japan-based DJ/producer Yamato is dropping his biggest release of 2022 in Essentials EP. Having worked for Pioneer as a technical developer of Pioneer CDJ series, he has an unrivaled competitive advantage few other artists can touch. A keen sense of songwriting, a brand-savvy skillset, and an ability to surround himself with the right team makes it clear as to why he's achieved so much in his internationally acclaimed career.
Noah Cyrus Releases 'Mr Percocet.' Debut Album 'The Hardest Part' Out July 15
Multi-platinum selling, GRAMMY® Award-nominated Noah Cyrus continues to tease her highly anticipated and deeply personal debut album, 'The Hardest Part,' out July 15 (RECORDS / Columbia Records). The rousing 'Mr. Percocet,' showcases her undeniable knack for intricate and heart-wrenching songwriting. Brutally honest, 'Mr. Percocet' details a complicated journey of addiction and recovery that the young Cyrus continues to navigate, while so beautifully pouring her experiences into every ounce of her music and forthcoming body of work. Noah has lived every song, and the embers of her experiences burn bright over a soundtrack steeped in pop spirit, folk eloquence, and the country soul of her Nashville roots. Light years beyond anything she's released previously, this new chapter will undoubtedly place Noah Cyrus firmly in the upper echelon of contemporary singer-songwriters.
Suigeneris Does The Most With Minimalism in New "Song"
Setting trends on SoundCloud with his demonic and angelic energy, 18-year-old rapper Suigeneris makes being a rap prodigy look easy. Revealing that he can make a banger using only the most basic ingredients, Suie shares "Song," his latest release. Rampaging atop a manic instrumental, produced by Cxdy of Internet Money, Suie gives a masterclass in song structure, reeling off reckless bars and only pausing for the most rudimentary hook: "Now here's the f*cking hook," he growls at the appropriate time. Though he came up off the strength of his melodies, Suie has been on a mission to prove that he can spit better than anyone his age or older. The video finds the Mexican-American Suie expressing his distaste for Chipotle before delivering his lyrics directly into the camera, which shakes and vibrates in response to his energy. "Song" follows in the wake of "Down," a soul-sampling SoundCloud single released in collaboration with fellow teen titan yvngxchris, which peaked at #12 on SoundCloud's New & Hot chart.
Yves Jarvis Releases 4th Studio Album 'The Zug' Today
SUB URBAN EXPOSES BITTERSWEET REALITY ON NEW SINGLE "CANDYMAN"
The inventive production style maintains its unique duality. "CANDYMAN" begins with bells and whistles before shifting into a shadowy, vaudevillian tone. Regarding the inspiration behind the track, Sub Urban shared, "CANDYMAN is a hysterical sugarcoated anthem describing a capitalistic dogging rage within us all and the torment we subject ourselves to by being born."
SOFíA VALDÉS RELEASES 'IN BLOOM' EP OUT NOW VIA WARNER RECORDS
Panamanian singer-songwriter Sofía Valdés, returns with new 5 track EP, In Bloom via Warner Records. The bilingual title track, "In Bloom" is accompanied by a visual directed by Satchel Lee, that features Sofia amongst a floral backdrop with an angelic glow that emits the sentiment of the song – growth from situations that are no longer of value. In Bloom picks up where her debut album Ventura left off with Valdés growing and maturing as an artist and young woman through personal relationships and her outlook on life. Speaking on the new EP, Sofia says "For me "in bloom" in this context means standing your ground and not letting anyone take you away from that moment. I was finding myself while I was writing the songs. I was going through a roller coaster of emotions which in every phase of it I felt like I was changing which I needed in order to pass the page. The song "in Bloom" for me is a character that I made for myself. someone I wanted to be like and look up to. This person that's confident, firm, beautiful and proud. I feel like I need at this character to move through pain and the hardships of loosing someone."
TAUREN WELLS SHARES NEW SINGLE AND VIDEO, "COME HOME"
In the official video for "Come Home," a one-shot, continuous take live performance with full band, Wells roams the rooms of a beautiful yet deserted house. Performing the song with raucous urgency, he rips the coverings off the furnishings and, along with his bandmates, infuses the home with life once more. Directed by Micah Bickham (Justin Bieber, Ariana Grande) and Steven Lester (John Mayer, Needtobreathe), the video was shot in Nashville.
DAMPF Release New Single "WHO AM I?"
Friday the 13th, a date clouded in mystery and superstition. The day that 12 gods dined in Valhalla, only for their party to be gatecrashed by a 13th guest who would cause a chaos that Scandinavian Mythology forever would declare the day the earth got dark. Alas, it's the perfect day for the mystic and mysterious DAMPF to unleash their second masterpiece, "WHO AM I?", onto an unsuspecting world.
Superbloom swirl through grunge and alternative on new single "Falling Up"
Skope video submission: Ramel Shakur, "IDTTR" (I don't think they're Ready) North Carolina Reppin Hard
The curator of #RAMELODYMONDAZE, a weekly freestyle series available on all social media platforms, Ramel had this to say about "IDTTR", "Recorded this song while on tour, and it describes the feel and energy we experienced while traveling as a new artist." "IDTTR" is out now on MultiMogul Media / Off Tha Curb.
SASHA ALEX SLOAN RELEASES NEW ALBUM 'I BLAME THE WORLD'
Written by Sasha and her partner King Henry, the eleven-track project serves as a follow-up to her 2020 critically praised debut, Only Child. Crafted over the past two years and aptly released on Friday the 13th, I Blame The World is a culmination of the all-too-relatable feelings of angst and apathy mixed with Sasha's signature razor-sharp wit and confessional songwriting style. Self-aware and poignant in its direction – which can be felt in tongue-in-cheek songs like "Live Laugh Love," "Global Warming," and the album's lead single "WTF" – I Blame The World ushers in a bold new era of musicality from Sasha.
TATE MCRAE RELEASES "what would you do?" TODAY; DEBUT ALBUM OUT MAY 27TH
The highly anticipated debut album will be released on May 27th via RCA Records and showcases Tate at the top of her game. The album features All-Star writing collaborators and producers including Greg Kurstin, Finneas, Charlie Puth, Alexander 23, Blake Slatkin, Louis Bell and more. The album will feature already released tracks "feel like shit," "she's all i wanna be," and "chaotic." "she's all i wanna be" has over 200 million streams and is currently in the Top 12 on the Top 40 chart.
ALICIA BLUE shares video for dreamy indie-folk anthem "Dog Days In LA," Announces 'Inner Child Work' EP out July 15
"'Dog Days in LA" is a bridge between old and new, between folk and rock, between what was, what is and what's to come," says Nashville-based magnetic indie-folk singer-songwriter Alicia Blue about the first single/video off her new EP Inner Child Work out on July 15 via Magnetic Moon. "Dog Days in LA" is about her realization of how much she didn't have her life in California figured out. "Each song on Inner Child Work is really just about the difficulty of navigating this life and not having all the proper tools to live it in the most successful way," Blue describes. "And by successful, I mean the 'healthiest.' I like to think that getting this all out helps me in some way."
LESTWEFORGET EXPRESSES LOVE OF NORSE MYTHOLOGY WITH MYSTICALLY POWERFUL NEW SINGLE "JOTUNN"!
Ken Yates shares single + video, "Honest Light," ft. Caroline Marie Brooks ahead of LP out June 3
Indie Rock Trio Goldpark Share New Single "Lady Lightyear"
Nashville-based indie rock trio Goldpark return today with their new single, "Lady Lightyear," out on Hazel Street Records.
Formed in 2019, Goldpark is the project of Wes James (vocals), Andrew Smith (guitar) and Kyle Neblett (drums). For the members of Goldpark, the best music comes from true collaboration. The strength of their bond, as both friends and musical partners, shines through each and every Goldpark song.