If you're planning a party, it is natural to think about the decorations. Whether it is a house or garden party, you're probably already thinking about ways to beautify the venue so that you leave your guests complimenting your decoration skills. However, it's possible you didn't find anything that suits you in the shops. Store decorations may be too expensive or simply not fit the overall vibe you want to have at your party. And that's totally understandable. 
However, since you can't just not decorate for your upcoming party, consider approaching it as a DIY project. It's a fun activity to do; it'll make you come up with original ideas and boost your creativity, not to mention that you can show off to your guests—just a little bit. Well, if you are sold on the idea and are looking for some fun and cute ways to make your house extra special, look no further than the following list.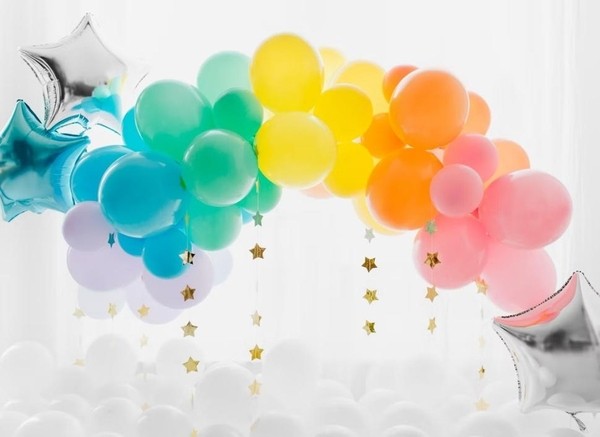 Image source: https://unsplash.com/photos/iQaFCjuMTfo 
Get confetti 
Confetti is the ultimate party symbol. Did you know the name "confetti" comes from an Italian confection of the same name, what we call Jordan almonds in English? In Italian, confetti goes by the name "coriandoli." You can never go wrong with these tiny, colourful bits of paper. They are a staple of every celebration, be it a parade, a wedding, or, you guessed it, a party. You can pick confetti in whichever colour or shape you want. You can choose them in only one shade, like powder pink or baby blue, in different geometrical shapes or strips. You just need some coloured paper, a pair of scissors and loads of creativity. You can even rip the paper or use a paper punch to create a circular shape. 
A confetti cannon may be too much for your party, but you can always fill balloons with confetti. They fit especially well for birthday or anniversary parties and are super cute. Make your own confetti wall; just be sure you use an adhesive that won't damage it when you remove them. That is if you decide to remove them. You may just like the look of it so much that it becomes a constant in your home. 
Hanging decorations
Hanging decorations are great if you are worried your walls will be left in a sorry state if you paste and plaster them too much. They work great for your home, and if you're having a garden party, they can really elevate the whole mood. You don't even have to buy new materials for this project; you can get things you've had around the house that you've been meaning to throw around. You can paint old tin cans to resemble animals or insects. Spray or metal paints, as well as acrylics, would all work well. You can also reuse your old flatware in the form of wind chimes for a quirky, unconventional design. Seashells are another good idea, just arrange them on the whole length of a rustic-looking piece of twine, and you've found the coolest way to use all those shells you've collected during your beach vacations. 
Balloons 
What party is complete without balloons? Absolutely none. There are so many types of balloons and so many ways to use them. There's just no way to go wrong. They're so fun and versatile that you can arrange them in so many ways and, if you're crafty enough, even form a variety of shapes out of them. Depending on the atmosphere you're looking to create, you can go for different coordinated colour palettes. Shades of pink, ranging from the palest to the hottest, are appropriate if you're going for a soft, feminine feeling. To help your balloons stand out, you must remember that the ribbon holding them is important. Pick high-quality curling ribbon, which you can use for all decorations. It can add spark to your flower arrangements and personality to your gift wrapping. You can find it in many different colours. Pro-tip: curl or fray the ribbon's tails for an extra festive look.  
If you want to create a more luxurious ambience, pick black, gold and silver. Use Mylar balloons, made from nylon sprayed with a metallic coating, if you want your balloons to have an extra kick. We've already talked about putting confetti in balloons; we know that glitter works either inside the balloons or covering them. There are many arrangements to choose from, and Garlands are a great example. If you know, there will be kids coming to your party, amuse them by getting some helium-filled balloons just for them to play with. They'll appreciate the gesture. 
Paper decorations
Paper is a way to create dainty, elegant decorations. Paper lanterns are the classic options. They are so versatile and fit every space. They are ideal for garden parties but don't look out of place by the pool either. What's more, you can switch the paper up to fit different themes and holidays, so you aren't stuck with the same design for Christmas, Chinese New Year, Hanukkah, Ramadan or Chuseok, but you can customise them to your needs. If you're more advanced, you can try your hand at paper rosettes, pinwheels or wreaths of cupcake paper. Pin them to one another to create fir-like shapes. 
Lights and jars 
Lights are vital in creating the perfect atmosphere at a party. If you want to go for the classics, opt for the colourful disco lights. They're a must if you plan to have dancing and loud music at your party. However, if your party is more of a quiet and relaxed get-together with a handful of friends, worry not; there are alternatives. The easiest way is to add twinkling fairy lights. They are not just for Christmas and fit well both inside and outside, decorating trees and giving off a cosy feeling. If you're aiming for a more rustic feeling, choose Edison bulbs. They're minimalistic and industrial-looking and a great way to decorate your pergola or illuminate your garden table. If you're going for a picturesque feeling, add some lights to mason jars. Fairy lights or small candles work equally well. Whether you choose to hang them or place them on tables or shelves, you're sure to make an impression. 
It's not difficult to create your own decorations, and you'll get a rewarding feeling from it. Not to mention that it's all completely customised to fit your taste.