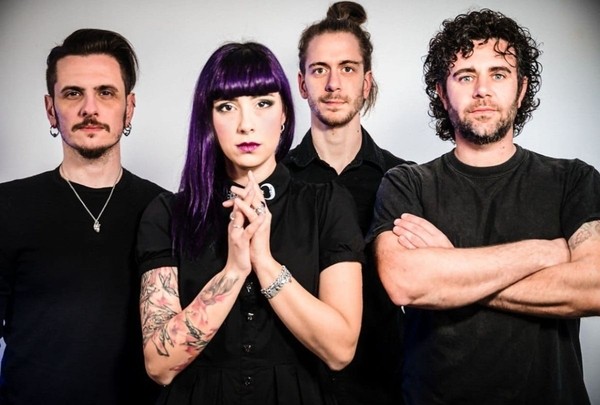 @skopemag news – thursday – may 5, 2022 @ 12 pm est
@skopemag HQ – http://smarturl.it/skope
LEO MAIA Releases Lyric Video For "Pneumothorax"
LEO MAIA has released a lyric video for "Pneumothorax". The song was recently released on all streaming platforms and deals with his struggle to overcome Pneumothorax.
Leo comments:
"It's been a real struggle for me, both physically and mentally, to overcome this Pneumothorax. My chest muscles and ribs still hurt to this day, but seeing all of these feelings turned into an emotionally loaded song and the reception it's been getting really brightens my spirit! Especially with how people are liking my singing, which was my greatest worry when I was laying in bed with a chest tube. 'Will I ever sing this song again?', a quote from the song, is a true statement from my own self-doubting mind."
ABBIE OZARD releases 'Rose Tinted' via House Anxiety
Manchester's Abbie Ozard releases new single 'Rose Tinted' today – the final preview of new EP 'Water Based Lullabies', out July 1st via House Anxiety (WOOM, Carpetgarden; formerly King Krule, Courtney Barnett, Vagabon).
LETTING UP DESPITE GREAT FAULTS Reveal Video For New Single 'She Spins'
Austin-based shoegaze/dreampop group Letting Up Despite Great Faults are pleased share the official music video for single 'She Spins'.
Shot entirely on 16mm, the video is the perfect companion to the jangly, upbeat, and infectious track, off of the band's new album IV, out everywhere now.
Sea Girls release video for brand new single 'DNA'…
Off the back of cementing their second Top 3 record in a row, Sea Girls waste no time in delivering another slice of guitar-driven pop brilliance with brand new single 'DNA'. After arriving as a special one off limited edition Blue 7″ vinyl for Record Store Day on April 23rd, the track has been added to the record as a special bonus track on all DSPs from today due to overwhelming fan demand.
INTRODUCING // Blair Davie (Out Today)
Remember the name Blair Davie (He/Him) who's an alternative star-in-the-making. The Scottish songwriter will be a new name to almost everybody in the world but has the talent to reach us all on his voice alone. Combining his heartwarming vocal tones with songwriting that invokes honest feelings of vulnerability and acceptance you get a sound that feels special. Today Blair introduces himself with a brand new single titled "Platform 10." Listeners will be able to see him live in London for the first time at The Courtyard Theatre on May 10th then in Brighton at this year's The Great Escape on May 12th. Blair's debut EP "Long Nights And Darker Days" will follow later this year in the fall.
Sukie – Heart Emoji
Fast becoming known for her happy-yet-sad indie-pop gems, Sukie is back with her latest release 'Heart Emoji'. In true Sukie spirit, the track channels sadness and nostalgia, meanwhile given a playful edge as she invites her listener down memory lane to reflect on past friendships, nights out and the present becoming the past.
Break Me Down: See Me Fall official video is now live
Laerte, founder and guitarist of the band, explains the concept behind the new single: "We were inspired by the villains in fairy tales. We wanted to give them a voice and tell their story, their feelings. Because in real life, when we are wronged, each of us can become bad and feel the desire to do evil, to take revenge. It is not true that we are only good or only bad. It depends on the situations we live in and which we are forced to face. With this song our bad side wins. The song tells about Stefano's betrayal of Maleficent who, feeling hurt, becomes evil to get her revenge and in the end she gets it! With this new work we wanted to change direction, and we pushed ourselves towards harder sounds that could help us to better express the issues we faced ".
Nigerian-Irish soul-psych artist Caleb Kunle releases new single "All In Your Head", produced by Sunglasses For Jaws
Produced by London production duo Sunglasses For Jaws (known for their work with Sinead O'Brien, Miles Kane, Nick Waterhouse, Yak + more) and mixed by Elliot Heinrich (Little Simz, POND, Metronomy), "All In Your Head" unites folk-inflected soul with psych-tinged production flourishes, bringing forth a swell of sky-reaching horns and swirling strings as Caleb examines the pursuit of authenticity in his art.
Martha Wainwright announces UK summer shows & reveals stunning live video of 'Dinner At 8'…
Last month, singer/songwriter Martha Wainwright released her highly anticipated memoir Stories I Might Regret Telling You and within a week of release, it was included on The National Best Sellers list. To accompany the release of her memoir, Martha released the digital deluxe edition of her latest acclaimed album Love Will be Reborn earlier this month. A companion to the memoir, the five new tracks are talked about in the memoir, including 4 covers of her family's songs and a reimagined version of the title track.
Bristol newcomers SALOON DION share explosive cut 'Pressure' | out now via NICE SWAN RECORDS
Bristol newcomers Saloon Dion share explosive latest effort 'Pressure', set for release May 5th via cult indie label Nice Swan Records (Sports Team, Pip Blom, FUR, English Teacher).
Born after successful stints in some of the city's most beloved post punk and surf rock outfits (including Football FC, Kimbo Nice, Ratbags), the raucous quintet have firmly established themselves as a thrilling new fixture within the punk landscape, bagging slots alongside the likes of Anorak Patch, KEG and Sprints in recent times.
MAJ! New single from the internationally acclaimed Swedish trio ro.t
With their atmospheric songs, based on Swedish poetry from the 18th, 19th, and 20th centuries, the trio ro.t from Stockholm has in a short time established itself on the international music scene. Although the trio's songs are in Swedish, more than 90 percent of the Spotify plays of their latest single Sång till natten originates from abroad: the USA, Canada, Brazil, Mexico, Germany, Australia, Turkey a.o. This month, ro.t release a new single, based on the Swedish poet Oscar Levertin's poem Maj (in English: May).
LACRIMAS PROFUNDERE Release New Single & Music Video for "A Cloak Woven Of Stars"
German Dark Metal act Lacrimas Profundere have released the first single from their upcoming album. Fans can listen to "A Cloak Woven Of Stars" today. The new song is accompanied by a music video, which can be found below. "A Cloak Woven Of Stars" is taken from the band's new studio album 'How To Shroud Yourself With Night', which will see an August 26, 2022 release via SPV/Steamhammer.
American-Trinidadian youngstar LATENIGHTJIGGY drops infectious new track and visuals to "Usame"
"Usame" emerges as a sleek hybrid that immediately defines LATENIGHTJIGGY's style. After teaching himself Spanish while living in a predominantly Latin community in Maryland, the track seamlessly mixes Spanish dialect and Caribbean intonation, crafting a bouncy, polished soundscape that pushes the boundaries of genre.
Tirzah returns with new single "Ribs"
Entitled "Ribs", the new song was written by Tirzah alongside her frequent collaborators Coby Sey and Mica Levi and mixed by Kwes. It moves with the effortless and natural energy that Tirzah's music exudes as her voice softly furrows through the music: "Learning from you / Feelings I thought I knew are new / Now I know."
MuMu Shares "The Bitch in Me" Single via XSNOIZE
NYC singer-songwriter MuMu throws shade with her newest release, "The Bitch in Me," a punchy song about clashing personalities and what happens when you give in to your inner bitch. It's a bop with totally relatable, cleverly comedic lyrics. MuMu's storytelling is so on point, we feel like her best-friend across the table exclaiming, "Yaaas girl, spill that tea!"
TRACK PREMIERE: MuMu unveils her latest single 'The Bitch In Me'
BLACK SMOKE TRIGGER WORKING WITH GRAMMY AWARD-WINNING PRODUCER NICK RASKULINECZ FOR DEBUT EP
Fast-rising New Zealand rockers Black Smoke Trigger entered producer Nick Raskulinecz's (Alice in Chains, Foo Fighters, Halestorm) Rock Falcon studio on April 20th to record their first official EP. The band has collaborated with Disturbed's David Draiman, Marti Frederickson (Aerosmith, Ozzy Osbourne), Blair Daly and Zac Maloy (Shinedown, Lynyrd Skynyrd, Keith Urban) and Keith Wallen (of Breaking Benjamin).
The young lineup—vocalist Baldrick, guitarist Charlie Wallace, bassist Dan Fulton and drummer Josh Te Maro—signed with manager Andy Gould (Pantera, Linkin Park, Rob Zombie) from L.A.-based Spectacle Entertainment Group and are co-managed with Nico Golfar, marking the most high-profile management deal inked by any rock band from New Zealand.
Finnish Fantasy Metal Force BATTLELORE Presents First Single from New Album 'The Return of the Shadow'
The time has come to wield your sword and charge back to the battlefield, as this summer, Finnish heavy metal force BATTLELORE returns with a brand new record! More than 10 long years since their last studio album, Doombound (2011), June 3, 2022 will finally see the Tolkien-inspired masters of epic, fantasy metal release their much awaited, seventh record, entitled The Return Of The Shadow, via Napalm Records.
ABOUT TO DROP: jackLNDN Shares House-Infused Single 'Deep Space'
Born in London and now based in the USA, jackLNDN will be sharing his latest single, 'Deep Space' on the 6th of May via Jack's House. The single follows the previously released hits 'Perfect' and 'Return'. The producer is celebrated around the world, having performed 2 North American Tours with Goldfish and with The Funk Hunters as well as appearing on stages in Canada, Europe, China, Japan, South Korea and beyond. His own sound maintains this depth while calling to mind modern contemporaries such as Ben Bohmer, Jan Blomqvist, and Yotto.
Pop Songwriter Francisco Martin Releases Music Video For His "Frisky" New Single, "KISSING ON A BALCONY"
Today, the LA-based singer-songwriter and producer Francisco Martin has unveiled an official music video for "KISSING ON A BALCONY," the latest single from his new EP 'Manic,' out July 22nd. Featuring a frisky, delicately-textured pop sound with clever rhythmic punctuations, and pristine hooks, the new single proves that Francisco hasn't lost his romantic side, following the release of the pounding, anthemic "Nobody Listens To Me!" last month. "It was the first video we filmed for the EP, so we wanted to have fun with it." Martin recalls. "Even though it's more of a playful straight-forward video, pay attention to some easter eggs that builds a bigger concept that ties to the rest of the EP."
lozeak UNVEILS THUNDERING NEW SINGLE, "NO SAVING YOU"
A thundering and instantly infectious track – produced by Tommy Baxter (Dua Lipa) and co-written with Baxter and Cleo Tighe (Kehlani, Charli XCX) – "No Saving You" is dedicated to calling time on that friend who keeps coming to you for advice but never takes it.
Ryan LeVine shares "Weather" featuring country artist Leslie Stevens
"I wrote 'Weather' when I was single, reflecting on past relationships and thinking about how I could be/do better when I found the next one," says LeVine about the heartfelt track. "In my twenties, it felt difficult not to conflate individual emotions with those related to my partner and the relationship, everything felt personal and connected. As I've gotten a little older, I understand that we can be going through difficult moments that have nothing to do with one another, and that we need to hold space for each other during those times (this extends beyond the boundaries of romantic relationships as well). Sometimes holding space means giving space, and remaining supportive at a distance. That's not always easy, but I think I've gotten a lot better at it."
Gothic Metal / Rock Band EVERLUST Announce New EP "The Tale of the Noble Knight"
Latvian female fronted melodic metal / rock band EVERLUST have returned with a new collection of songs.
Following the critically acclaimed album "Diary of Existence", the band is ready to unleash their new EP "The Tale of the Noble Knight", due for release on May 13th, 2022 via Wormholedeath worldwide.
New Orleans jangle pop band Lawn (Born Yesterday) announce Bigger Sprout / Share "Down"
After approaching their second full-length with a sense of ease and composure, New Orleans' Lawn found themselves embracing a sense of urgency for their follow-up work, Bigger Sprout, which is due out July 15th on Born Yesterday, the up and coming Chicago label that is home to bands like Moontype, Cafe Racer and Caution. Written, rehearsed, and recorded under a month-long period, Bigger Sprout explores a feeling of urgency as a theme and a catalyst: urgency to get out of uncomfortable situations, urgency to take relationships more seriously, urgency to work on themselves, urgency to play shows again, urgency to record, urgency to start a family, urgency to make plans and leave old settings behind, urgency to grow up and become more in tune to your surroundings, urgency to quit old habits and pick up new ones. The EP, co-written with former drummer Hunter Keene, is a document that embodies the anxieties of change, for better or worse.
THE SNUTS TEAM UP WITH RACHEL CHINOURIRI ON NEW SINGLE "END OF THE ROAD"
Produced by Detonate and Coffee at London's legendary Abbey Road Studios, "End Of The Road" is an anthem for the broken-hearted. A song full of hope, lead singer Jack Cochrane said of the track "'End of The Road' is intended to be a musical antidote. A remedy for heartache. We wanted the track to be direct and truly versify a sense of self forgiveness and redemption." He continues, "The soothing tones of our friend Rachel Chinouriri, who features heavily in the song, helps inject an almost confessional burst of light throughout."
Slumberland Records announces west coast label tour feat. Papercuts, The Umbrellas, Chime School and The Reds, Pinks and Purples
Today Slumberland Records announces its first ever label package tour with five west coast shows featuring Papercuts, The Umbrellas, Chime School and The Reds, Pinks & Purples. The tour kicks off in Costa Mesa, CA on August 3, 2022. Papercuts and The Umbrellas will be on all of the dates, with Chime School joining for the California shows and The Reds, Pinks & Purples joining for the Portland and Seattle dates. Tickets will be on sale early next week.