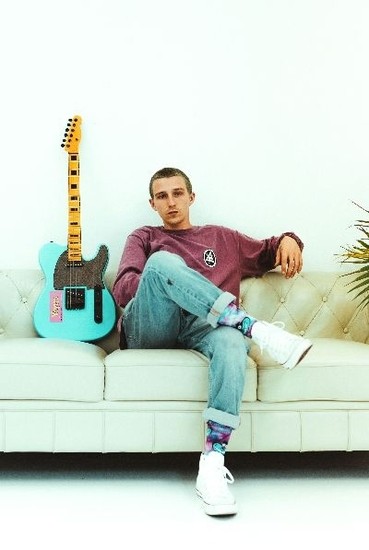 @skopemag news – thursday – may 5, 2022 @ 8 pm est
@skopemag HQ – http://smarturl.it/skope
VENUS PRINCIPLE unveil new single 'Drag Nets'
VENUS PRINCIPLE are premiering the melancholic and powerful new track 'Drag Nets' as the final single taken from the dark psychedelic rockers' debut full-length "Stand in Your Light", which has been scheduled for release on May 27. All details about the British-Swedish outfit's first album can be viewed below.
'Drag Nets' makes subtle use of a wide range of instrumentation from sax to mellotron vibes and Mini Moog, and the stunning vocal chemistry between Daisy Chapman and Daniel Änghede comes into play again as well. The track is now available for immediate publication via this link:
TEMPLE OF VOID SHARE NEW SONG "HEX, CURSE, & CONJURATION"
TEMPLE OF VOID Comments:
"This one is a banger. The shortest TOV song to date, I believe. Just ruthlessly stripped it down to the bare essentials. Ready to rip your face off on stage. Classic cave-man death metal harkening back to early Deicide and Morbid Angel output, but warped through the Temple of Void perspective."
Meet TX-via-LA queer producer duo, DAGR: "laser lights and trippy glitches" (FADER)
DAGR are Ceci G and Veronika Jane, two queer LA-via-Texas female producers (worked closely producing and/or touring with Charli XCX, Rebecca Black, Girlpool, King Princess, UPSAHL, Uffie, and many more.) They are making pure fun dance – synth heavy, bass slapin, four-to-the-floor relentless dance.
H.E.R.'s "Could've Been" song hit with copyright infringement lawsuit by Grammy Award Winning Artist, Take 6!
Grammy Winning Artist Take 6 filed a lawsuit this week in connection with the song "Could've Been" featuring Bryson Tiller. The multi-count lawsuit named David A. Harris, David A. Harris d/b/a Progressive 86, Jeff Robinson d/b/a SLIH Songs, Sony ATV Sounds, LLC, and Sony Music Entertainment Inc.
"It is most unfortunate that after months of trying to resolve this, Take 6 is left with no other alternative than to file this serious lawsuit," said Attorney James L. Walker, Jr., lead counsel on the case.
Yoke Lore releases new music video for "Shock Flesh"
Today the New York indie pop project Yoke Lore, the solo musical venture of Adrian Galvin, previously of Yellerkin and Walk the Moon, has released a music video for his newest single "Shock Flesh". The video was exclusively premiered yesterday via Earmilk, who also sat down for a Q&A with the artist to discuss his inspiration behind the video. Made in collaboration with director Kenneth Polyak, the video features Adrian playing the drums with vistas of the Angeles National Forest as his stunning backdrop. In his interview with Earmilk writer Sloan Pecchia, Adrian said about the video "I think the video forces me to contend with my own detrimental instincts. It shows my isolation on a grand scale. It shows me that in the end, alone, all I can muster is destruction"
Blind Channel release 'Bad Idea' alternative video
The new alternative video captures the band performing to screaming fans onstage, while behind the scenes they are haunted by inner demons and face them head on. Blind Channel released the anthemic rock song earlier this year, the official video has achieved over half a million streams, while the track has been streamed over 2 million times on Spotify alone.
ARTIFICIAL BRAIN: NYC Progressive Death Metal Outfit Issues "Parasite Signal" From Eponymous Third Album Nearing Release Through Profound Lore Records
"Parasite Signal" is the annihilating new single from New York City sci-fi death metal faction ARTIFICIAL BRAIN, now streaming in advance of the band's eponymous third album, nearing early June release through Profound Lore Records.
MONALEO DROPS NEW VIDEO FOR "WE NOT HUMPING" REMIX FEAT. FLO MILLI
Houston rapper Monaleo shares a new video for the "We Not Humping" remix featuring Flo Milli. The colorful video, directed by Chris Villa, follows Monaleo and Flo Milli as they lay out their misandrist rules bar for bar.
JUICY J & WIZ KHALIFA DELIVER NEW VIDEO FOR "WHY DO I STAY HIGH"
Juicy J and Wiz Khalifa shared their joint full-length album Stoner's Night earlier this year to praise from XXL, Complex, Billboard, Hypebeast, and more. Today they deliver a brand new music video for "Why Do I Stay High" – watch here. Stoner's Night was produced by Juicy J (and Executive produced by Juicy j & Wiz Khalifa) with additional production from Lex Luger, Crazy Mike, 901 Grimm & Hit Kid, and this video was directed by Gabriel Hart (aka Video God).
WITCHFINDER: first video extract off new EP "Endless Garden"
Auvergne's psychedelic doom merchants WITCHFINDER unveil their 90's horror movies-inspired new video clip "Eternal Sunset" – courtesy of Doomed & Stoned. The band welcome their new keyboardist and announce the release of their new EP 'Endless Garden' on June 3rd via Mrs Red Sound. Doom on!
Alternative-pop & indie artist Lefturn shares her seductive new single 'Animal Style'
Molly Ann Brook, better known as Lefturn, is a queer UK-based alternative pop artist, composer, producer, multi-instrumentalist and lyricist. Lefturn returns this May with a seductive new single 'Animal Style'. The alluring new single flaunts Lefturn's signature brooding sound with a groove-infused bassline and intense vocals.
[OUT NOW] Ace Hood & Killer Mike pay homage to Dolph, Nipsey, and other Black icons in "Greatness" music video
Greatness comes in many forms: athleticism, philosophy, leadership, artistry, and more; Ace Hood and Killer Mike choose to celebrate them all. The final music video off his recent M.I.N.D. EP, "Greatness" ft Killer Mike dropped today via Hoodnation/EMPIRE. Black excellence is the theme of today's lesson, and Ace Hood enlisted rapper and activist Killer Mike to help teach it. Paintings depicting some of the brightest Black icons, stylized in black and gold, line the walls and shine in the light in the video. Clips of the cultural icons appear as well: from late, influential musician Young Dolph, trailblazing politician Shirley Chisholm, to the ceiling-shattering athlete Arthur Ashe raising a clenched fist.
The Waeve Share Standalone Track "Something Pretty" || Out Now on Transgressive / PIAS
The WAEVE – composed of band members Graham Coxon (Blur) and Rose Elinor Dougall (The Pipettes) – today share an introductory self-produced standalone track, "Something Pretty."
"Something Pretty" is the first listen from the band, released to coincide with their debut live shows. Last night, the band performed the first of these two sold-out performances at London's The Lexington, with the second show on Friday, May 6th.
SKULLSHITTER: Lambgoat Premieres Goat Claw Full-Length From New York City Deathgrind Trio
Lambgoat is currently streaming Goat Claw, the latest full-length from New York City-based deathgrind trio SKULLSHITTER, in its maniacal entirety! The premiere comes on the eve of the record's official unveiling Friday, May 6th via Nerve Altar.
EYEHATEGOD Releases Music Video For "Every Thing, Every Day"
SUNFLOWER BEAN – Share New Single "In Flight" + Drop New Album 'Headful of Sugar' Tomorrow
New York trio Sunflower Bean—vocalist and bassist Julia Cumming (she/her), guitarist and vocalist Nick Kivlen (he/him), and drummer Olive Faber (she/they)—release their long-awaited new album, 'Headful of Sugar,' tomorrow.
ELLEY DUHÉ SHARES MUSIC VIDEO FOR "MIDDLE OF THE NIGHT"
Today, singer/songwriter Elley Duhé shares the music video to her track "MIDDLE OF THE NIGHT" via Not Fit For Society/RCA Records. Directed by Loris Russier, the artistic visual sees Elley transporting to different locations around the world and embracing the journey of searching far and wide for her lover.
ANTIMOZDEBEAST To Release Mother Earth
ANTIMOZDEBEAST the industrial solo project of Gabriel Palacio will release Mother Earth on June 3rd, 2022.
Gabriel comments:
"Mother Earth will be released on June 3rd. Its underlying message is the spiritual battle mankind has faced from the beginning of our time. I delve into the human psyche, and reveals possibilities of another world that we cannot see feel or hear yet know exists."
Mother Earth focuses on the spirituality of the individual as well as society and human history. Gabriel has learned to create a new form of expression when it comes to lyrics. With inspiration derived from NIN, ROB ZOMBIE, SKINNY PUPPY, CYGNOSIC and more, ANTIMOZDEBEAST finds his music on a balance of sound, noise, and metal.
Lonr. Wanders the Streets of NYC in the Moving "HI LONR" Video
A versatile artist with a style that can't be pinned down, Lonr.'s music spans from mosh pit-ready ragers to gorgeous ballads and back. Embarking on a journey of serene self-discovery, Lonr. shares the video for "HI LONR," a standout ballad from Land Of Nothing Real 2, his 2021 project. Powered by a gently arpeggiating guitar riff, thumping percussion, and sweeping strings, "HI LONR" finds the artist stacking a series of melancholic hooks as he addresses the object of his affections with a comforting croon: "I take you away from here/Won't let you lose yourself, no more, I swear."
BRANDY AND THE BUTCHER Release "I Hope You Choke"
Punky hard rockers BRANDY AND THE BUTCHER have released a video for the "I Hope You Choke". The song is from their album Lucky Foot which is set to be released on May 20th via Ruined Recrods.
The band comments:
"I Hope You Choke is a song that examines love and difficult relationships with themes of anger and redemption. It's fueled by a consistently stomping beat, metronomic bass and turbulent guitar. Keep an ear out for the guitar track that sounds much like a theremin! Several people have noted that it's a great song for fast driving."
Connecticut's Stephen Peter Rodgers announces new LP + share video
CT music scene icon Stephen Peter Rodgers is releasing a new album on Unfinished Hearts Records. Stephen is well known in his home state and beyond as the former founder & owner of the highly respected tour stop venues The Space / Space Ballroom in Hamden CT, which he operated for 15 years.
SiR RETURNS WITH NEW SINGLE AND VIDEO "SATISFACTION"
Today, R&B powerhouse SiR returns with his smooth new single "Satisfaction" released via Top Dawg Entertainment/RCA Records. Produced by Rascal, the track is a confessional R&B ballad that depicts the tumultuous ups and downs of a relationship, reflecting that it isn't as simple as satisfaction. Directed by Jude Liana, the paired visual highlights the emotional lyrics and raw imagery SiR delivers in the song itself.
Stream Noah Deemer's debut LP early via Week In Pop
Today Week In Pop is premiering Noah Deemer's debut LP a day early, check it out HERE. The Sleepwalker will be out everywhere tomorrow, May 6th. Noah describes the album as "Awakened, hypnotic artistic interpretations from the land of dreams." In case you missed Noah's previous singles, watch the joint music video for "Modern Ruins" & "Lay Your Hands" and stream "The Sleepwalker."
ABOVE & BELOW: New Noise Magazine Premieres "Isolate" From Solo Industrial Project Formed By Plaguewielder Guitarist; Debut Album, Suffer Decay Alone, Nears Release Via Disorder Recordings
New Noise Magazine is hosting an exclusive stream of "Isolate," the lead single from Ohio-based industrial metal entity ABOVE & BELOW, preceding its debut album, Suffer Decay Alone, set for June release through Disorder Recordings.
GRAMMY AWARD-WINNING HIP HOP ICON FUTURE SHARES MUSIC VIDEO FOR "WAIT FOR U" FEATURING DRAKE & TEMS
Rap would never sound, look, or feel the same after Future landed. If you want to know where the culture's going next, just watch and listen to the iconic Atlanta rapper, singer, and producer. He went from cooking up beats in a basement for the Dungeon Family to generational superstardom with a presence looming from the streets all the way to The Met Gala.
The Intemperate Sons Release New Single "Dust to Dust" via Frame|Work
Indie rock band The Intemperate Sons released their new single "Dust to Dust" to all major platforms via FRAME|WORK.
DEATH SCYTHE – Metal Injection Premieres "Killer Faith" Video
Mexican melodic death metal band DEATH SCYTHE have released a stunning video for their song "Killer Faith". The song is taken from their album Killing For Pleasure Forever which will be out later this year.
SECRET IRIS (GOYA/GATECREEPER/Ex-SPIRIT ADRIFT) To Release What Are You Waiting For on Vinyl
SECRET IRIS will release their debut EP What Are You Waiting For on vinyl via Crisis Tree Records on May 27 2022. The EP was previously released digitally.
The Kaleidoscope Kid Drops Music Video for "Fight or Flight"
Phoenix singer/songwriter/emcee, The Kaleidoscope Kid has released his debut album through legendary California-based label Suburban Noize Records/Regime Music Group across all digital music platforms today. The new album takes listeners into an ethereal world that's equal parts relatable and entrancing with The Kaleidoscope Kid and his dog, Blue. Taking pieces of his life and translating them into his sound Kaleidoscope has created a unique concoction of his blues-style guitar blended with hip-hop percussion and soulful vocals.
'Eminem meets Bob Dylan' – Seb Lowe returns…
Intelligent and unflappably self-assured songsmith, Seb Lowe, releases his latest mini-album, The Other Half in the same week that he confirms his debut Glastonbury Festival appearance, set to appear on the Left Field Stage this June. Singing truths unpalatable enough to take the fizz from any banker's cider this summer, Lowe's leap from Tik-Tok to festival stages comes courtesy of an unimpeded connection with fans who know what he knows – that everything's a bit sh*t and the wrong people are in charge. For anyone thinking 'does he mean me?' – he probably does.
LISTEN: Austin Millz + Pell ask 'What's Next?' Out Now
Today, Austin Millz returns to release his first single of 2022 'What's Next?'. Premiering on Apple Music's The Zane Lowe Show, the bouncing electronic hip-hop crossover sees Millz collaborate with longtime friend and industry peer, rapper, singer, songwriter, and producer Pell.
DRUIDS: New Noise Magazine Debuts "Hide" Video From Psychedelic Sludge Trio
Psychedelic sludge trio DRUIDS will release their fourth studio LP, Shadow Work, June 3rd via Pelagic Records. In advance of its release, the band has unveiled their latest video for "Hide," now playing at New Noise Magazine.
HARRY STYLES ANNOUNCES LOVE ON TOUR 2022
Today, international superstar Harry Styles has announced Love On Tour 2022 in support of his new album Harry's House. Coming off of a sold out 42-date arena tour in 2021 and two special One Night Only shows in New York and London, the highly anticipated 2022 tour will allow fans to have access to multiple nights in each major city turning iconic venues into Harry's House for the run of shows.
Detroit Vet Payroll Giovanni Releases New Track/Video "Rosary" Today
Detroit rapper Payroll Giovanni released his new song "Rosary" today alongside the accompanying visual via his own venture, BYLUG Entertainment distributed via EMPIRE. Produced by Atlanta super-producer, Zaytoven, Payroll returns to his signature hustle talk. The video gives us a visual comparison of the life he currently lives against snippets of the life he used to know, as he asked for forgiveness.
WITNESSES To Release The Holy Water EP
WITNESSES, the cross-genre project of multi instrumentalist Greg Schwan, is set to release The Holy Water EP on July 15th, 2022.
The Holy Water EP marks a new chapter in WITNESSES' doom metal sound–slowing the pace further, enhancing the atmosphere, and for the first time bringing long-time collaborator Gabbi Coenen into the metal side of the project. Thematically, the EP explores Bram Stoker's Dracula characters Lucy Westenra and Mina Harker, imagining the characters from different perspectives.
Nile Rodgers-Approved Pop Provocateur Willow Kayne Shares "Final Notice"
After launching with the genre-blurring "Two Seater" in 2021, Bristol born, London based vocalist and visual artist Willow Kayne has enjoyed a prodigious ascent to the pinnacle of pop music's more daring corners; taking inspiration from the bass-tinged sonics of her hometown while writing some of the genre's most memorable hooks of recent years. Her postmodern approach to songwriting was rewarded in 2021 with Willow receiving the Ivor Novello Rising Star award, setting her on a path to achieve greatness from the outset of her career. After her riotously received debut EP Playground Antics was released earlier this year, Willow Kayne returns today to open the next chapter with a brand new single and video, "Final Notice."
Starter Jackets (members of Hospital Job, Attic Salt, etc.) ready Dead Malls LP for Rad Girlfriend Records
The band recently premiered "In Smithereens" from the record at IDIOTEQ with vocalist/guitarist Luke McNeill saying, "'In Smithereens' is pretty self-explanatory. I wrote it in 15 minutes after me and the misses both were suffering through one of the worst hangovers. It was one of those 'I'm never drinking again this is stupid' kind of Sundays. It didn't stick obviously."
Illinois power pop punk rockers STARTER JACKETS premiere new song "In Smithereens"
Toronto Country Singer Bree Taylor Inspires Strength & Self-Love While Overcoming Hearing Loss with "On My Own" Single
When you're going it alone, sometimes all you need for that extra pep in your step is an encouraging anthem about independence. Thankfully, Toronto country songstress Bree Taylor delivers just such an antidote with the release of her brand-new single, "On My Own" – available now.