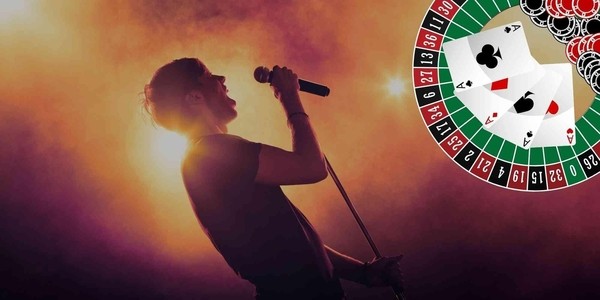 If you've ever craved a rush of adrenaline and a sense of positive tension, you've definitely tried gambling. There are a variety of reasons why individuals decide to give these games a shot. 
These motives include a desire for adventure, a dream to win money or social entertainment. Now, online gambling isn't legal everywhere. You can find a good NJ online casino from the picks listed here.
But if you live in Hawaii, California or Utah, you might have to take a trip to Las Vegas. That said, this article is about the connection between gambling and music.
The connection between music and gambling
Gambling would be less fun and even unpleasant if there was no music playing in the background. This is the reason why music has been playing ever since the very first casino was opened.
The background music in more violent games is quicker, jumpier, and meant to amp up your adrenaline. This encourages you to take greater risks and make more daring judgments. The same may be said for internet casinos. 
Casinos add music to match the style of the game, as well as the emotions and behaviors they aim to elicit in players. Furthermore, they use sound effects to enhance the sensation and experience of winning or losing. Music is used to complement what is being shown on the screen.
Furthermore, for many people, gambling is becoming a significant obsession. Even the world's most famous have made a few wagers, and many have opted to make songs about it.
 As a result, there are many outstanding gambling songs out there now that describe the sensation, feeling, and ambiance of casinos.
Some of the best US songs about gambling include:
The gambler – Kenny Rodgers
Whenever you reflect on it, there aren't many gambling songs that can compare to Kenny Rodgers' The Gambler in terms of popularity. It's a song that went beyond country music to become a worldwide smash.
Rodgers' wonderful voice and familiar lyrics are responsible for the song's success. The Gambler is a type of instructive song for the ignorant. Rodgers sings about encountering a gambler who provides him with life advice.
The gambler, on the other hand, gives his advice on the method he knows best by mentioning gambling. This is a song that any casino enthusiast may relate to because of its lyrics.
Poker face – Lady Gaga
Lady Gaga has a knack for creating songs that become classics over time, and Poker Face is no exception. 
She grabbed our hearts in 2008 when she debuted with this infectious tune. This number-one song features a wonderful mix of gambling and sexual references.
The first few words of Lady Gaga's second smash hit track are littered with references to poker. In fact, the entire song is about finding the object of your desire while holding your cards closer to your chest. If you're putting together music to listen to while playing online casinos at home, Poker Face is a solid contender.
Blackjack – Ray Charles
Ray Charles is well known for his classic song, "Hit the Road Jack." However, few people are unaware that the iconic soul musician was also a gambler. He was so enamored with casino slots like this that he penned two songs about them.
Ray Charles expresses his heartbreak at losing money at blackjack in the song Blackjack. It's undoubtedly something that every blackjack player has gone through.
Although the song is melancholy, it is also catchy and upbeat. It also serves as a warning to manage your cash when playing blackjack. Bankroll management is critical whether you're playing on online sites or in a local casino.
Aces of Spades – Motorhead
In Aces of Spades, Motorhead crafted one of the finest gambling songs ever. The rock group explains why they think you should gamble. 'It doesn't matter what you say, the pleasure is to play.'
With some of the song's phrases, it gets down to business. Aces of Spades is a terrific song for many reasons, not the least of which being that it emanates from one of the most famous rock bands of all time. The lyrics are brilliantly crafted and reflect all that a gambler knows about the gambling industry.
Gambler's Blues – BB King
This is another fantastic song, played on his guitar Lucille by iconic bluesman BB King. The lyrics, which are primarily about rolling dice and playing craps, are essentially lost-love blues.
 These are used to demonstrate how a relationship evolves and then abruptly ends. You're genuinely in love, or lucky, one minute, and then your darling is gone, and you've lost all your cash the next. Nobody ever said becoming a blues musician was simple.
Viva Las Vegas – Elvis Presley
Viva Las Vegas is a tribute to the gambling capital of the world, honoring the dazzling lights and adrenaline of the game. If you're not in the mood for Kenny Rodgers' life teachings, listen to Viva Las Vegas' music to get your imagination going around life in Las Vegas.
In his song, Presley sings about all the wonderful things about Vegas. He speaks about beautiful ladies and how time flies in casinos. He also discusses some of the most popular games in the city, such as poker, roulette, and blackjack.
The Jack – AC/DC
You simply have to listen to AC/Jack DC's once to realize it has nothing to do with the poker game. It's a song about a lovely woman with such a poker face, to be precise. She claims to be a virgin to the singer.
And he finds love with her right away. He brings her joy. He shows love to her, expresses his feelings, and fulfills all of her wishes. Then he discovers the woman's entire life was a lie. Through the song's lyrics, he shows this.
The Card Cheat – The Clash
The Clash's song The Card Cheat was a smash. It's a song intended to remind gamblers of the virtue of not cheating. The song is all about a card cheater who was shot dead by the dealer when he was caught. In the actual world, there's little possibility of being murdered for cheating in a legitimate casino.
Nonetheless, there are ramifications. Not only may you lose all of your wins, but you may be banned from the game for the rest of your life. In the worst-case situation, you may be sentenced to prison.