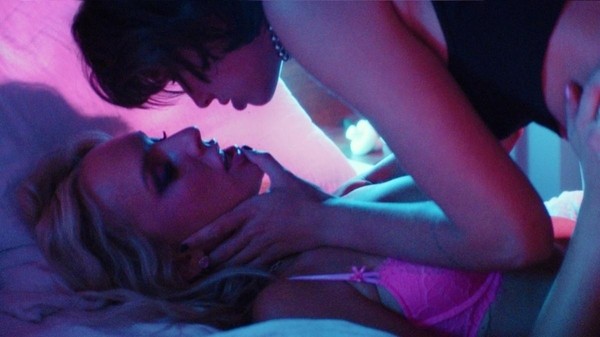 @skopemag news – thursday – april 28, 2022 @ 8 am est
@skopemag HQ – http://smarturl.it/skope
"I F*cking Love You" – Zolita Completes Trilogy With New Song/Video Out Now
"'I F*cking Love You' is the culmination of a love story that began last year with my song 'Somebody I F*cked Once,'" shares Zolita. "When that music video went viral, I saw the way that so many people, especially queer women, felt grateful for the representation of a girl/girl love story with a happy ending and I knew I had to expand upon that with my next two tracks. 'I F*cking Love You' takes place five years in the future and sees the characters coming back into each other's lives in a new way. The song itself is one of the first true love songs I've ever released, and I think it perfectly encapsulates the euphoric, terrifying feeling of falling in love, both sonically and lyrically."
Katrina Ford (Celebration) Shares "Peach" Single + Video via Under the Radar | Solo Self-Titled EP Out June 24 via Violin Films
Today, singer-songwriter Katrina Ford (of Celebration and Mt Royal) shares "Peach," the third single off her debut solo EP, due June 24 via Violin Films, along with an accompanying video.
ICYMI: Hoorsees Share New Album Via Kanine Records
Parisian indie rock quartet Hoorsees today share the album A Superior Athlete, available on vinyl and all streaming platforms via Kanine Records. A Superior Athlete paints a picture of the time spent since Hoorsees released their self-titled debut album in 2021. Time spent in and out of lockdowns hunkered down with a series of classic 80s movies, and combing the cupboards for snack food to break the boredom. Years spent rediscovering era-defining records that graced the cd-changers of many a college student's car. Pavement, Modest Mouse, Weezer all find themselves name-checked in Hoorsees' lyrics and song titles, and, of course they have an indelible sonic imprint in the angular guitar lines of Thomas Gachod, the languorous vocals of Alex Delamard, and the emulsifying drive of Zoé Gilbert's bass alongside Nicolas Coste's drums.
SOMETIMES Y (Yelawolf & Shooter Jennings) Announce First-Ever Headlining Show for May 8 in Los Angeles
Fresh off their live performance debut this past Sunday at The Rainbow Bar & Grill's 50th Anniversary celebration, Sometimes Y, the dynamic new rock collaboration from superstars Yelawolf and Shooter Jennings, has announced their first-ever headlining show for Sunday, May 8th at The Viper Room in Los Angeles. The free show will have first come, first serve entry, with doors opening at 7pm. The duo released their self-titled debut studio album on March 11, which has already amassed nearly 17 million total global streams across all platforms and has been hailed everything from "one of the best rock albums of the year" and "the most important record of the year" to "one of the best rock albums that has been produced in years" and "a near masterpiece."
Big Jade & DJ Chose Uncork "Lower," a Thumping Twerker's Anthem
ROD RODRIGUES To Release 'Tales Of A Changing Life, Part.1' on CD
Solo progressive artist ROD RODRIGUES' will release Tales Of A Changing Life, Part.1 on CD format May 20th, 2022.
With over thirty years' experience ROD RODRIGUES infuses his guitar playing style with prog, metal, fusion and jazz. Tales Of A Changing Life, Part.1 is a conceptual record celebrating the changes in ROD's life that have taken place over recent years. The opening narrative sound effects of "D257" is immersive, establishing the setting before soaring guitar leads, intricate melodies, jazz fuelled chords, and groove rhythms emerge. Non-standard time signatures and strong bass throw in a few hints of chaos expanding the mood of the track in different directions. Classical music and soundtracks also feed into ROD RODRIGUES' work which can be heard through contrapuntal melodies, an array of instrumental tones and textures combine into a thrilling powerhouse of progressive music. "La Premiѐre Expérience" and "Changing Plans" reveal a darker side with heavier, distorted guitars and thundering bass, while retaining the intricate stylistic melody writing across other instrument parts. Authentic humanity is embodied throughout the music as the composition emulates raw emotion.
Call In Dead Debut New Single Titled "Patriarchy"
The band is made up of four veteran punk rockers, one from DC, and the other three from FL. With the oldest at 47 and the youngest at 31, they bring their different music experiences and styles together to make a sound that should be familiar to fans of hardcore punk while also giving it the uniqueness that comes from blending their past together into the present. Fitting on shows with pop punk bands, old school hardcore bands, psychobilly bands and metal bands is just one example of how it's been difficult to pin down the answer to the perennial question: What band do you sound like? Four years into playing shows they have released a CD EP, The EP, via Violent Breed Records, a set of digital singles, a live split 7" with 2AMature via DCxPC Live and a forthcoming full-length vinyl album, Deepest Condolences, via Wrecking Crew Records. The band's first tour was canceled due to Covid, but they've used that time to put on various live streams, start a record label (DCxPC Live), raise over $2,000 for mental health and for the LGBTQ Center of Central Florida, plus get voted Best Punk Band in Orlando by Orlando Weekly readers in 2020 and 2021!
Powerhouse Vocalist Jessica Mercy of Anaria To Perform As Queen Mercy Roulette at Watch City Steampunk Festival on May 7th
Jessica Mercy, the frontwoman of symphonic rock band, Anaria, will be reprising her role as Queen Mercy Roulette at the upcoming Watch City Steampunk Festival, May 7th in Waltham, MA. She will be performing a full set that includes show tunes, folk music, and opera arias to open the day's festivities. Her performance pays homage to the Victorian Opera Diva, known for their extravagant gowns and jewels, as well as amazing vocals..
At the end of 2021, Jessica released her first original single as a singer-songwriter, "Listen." It is available on all major streaming platforms and bandcamp. Watch the "Listen" video now:
"I F*cking Love You" – Zolita Completes Trilogy With New Song/Video Out Now
Zolita is evolving into her new artistic chapter with a more guitar-driven, catchy, pop-punk sound that is complemented by her cinematic storytelling honed through her film studies at NYU. A truly multidimensional artist with limitless creative energy, Zolita's vision of sharing LGBTQ relationships and stories through a universal lens is a great reminder that we all want the same things from our relationships and opens up a really interesting conversation about the ways that we are all connected.
All is Allowed unleash new EP "Just Keep Walking"
The band All is Allowed released new EP "Just Keep Walking" on all streaming platforms by Electric Funeral Records. The album has 4 tracks that bring nuances of southern rock, new metal, grunge and alternative rock. The material was produced by the band and Miguel "Rambo", and recorded at Estúdio Casa 39, São Paulo/Brazil.
Montreal's Hip Hop Soul-R&B Artist MODLEE Reveals SOUL URGE in the Form of Newly Minted Album
Hip Hop soul-R&B artist MODLEE ushers audiences on a sound journey like none other with the release of her new album, SOUL URGE — available now via Disques 7ième Ciel.
UNIDAD TRAUMA: Tijuana-Based Grindcore Outfit On Tour Now With Brujeria; Arte Médica Siniestra EP Available On Concreto Records
Tijuana-Based grindcore faction UNIDAD TRAUMA is currently on a Western US tour supporting Brujeria. The journey will run through May 15th in Palmdale, California with additional support provided by Goatwhore. See all upcoming dates below.
Key Glock Recruits a Flute Ensemble For "Ambition For Cash" (Acoustic)
Selling out shows with his thumping trap anthems, Key Glock is on an unstoppable trajectory toward the top of the rap game. Today, the 24-year-old rising star shares an acoustic performance of his hit "Ambition For Cash," performed with an ensemble of flutes in NYC's Chinatown. Originally produced by Tay Keith, who chopped up an entrancing flute sample, the new performance–delivered live on the legendary Doyer Street in Manhattan–boils the song down to its essence: Glock's cash-chasing bars and the song's infectious woodwind melody. The highlight cut from Glock's Yellow Tape 2 (Deluxe) recently earned a GOLD certification from the RIAA and is currently a popular sound on TikTok.
Oshua Takes Command in Fierce New Single 'shoOsh'
It all started with one conversation. A conversation so shallow, boring and meaningless that Oshua couldn't help but write a song about it. Effortlessly balancing a smooth, hip-hop inspired beat with cheeky yet ferocious lyrics, 'shoOsh' is an invitation to do just that. "I was inspired to write this song from those conversations that you have where it feels like there's no substance to it, I've come to learn that it's better to talk less and listen more, both to myself and to other people." explains Oshua.
BRANDY AND THE BUTCHER Release Title Track From Upcoming Album Lucky Foot
Retro loving hard rockers BRANDY AND THE BUTCHER have released a video for the title track of their upcoming album Lucky Foot, due out on May 20th 2022 . Drawing upon various genre influences from punk, notably artists such as THE CRAMPS, through to traditional metal, the album explores the different sides of BRANDY AND THE BUTCHER's sound.
PUSHA T RELEASES OFFICIAL VIDEO FOR "CALL MY BLUFF" FROM IT'S ALMOST DRY
TANNA LEONE RELEASES DEBUT PROJECT SLEEPY SOLDIER, OUT NOW
SLEEPY SOLDIER explores a broad canvas of styles, colors and moods, anchored by Tanna's innate sense of melody, introspective lyrics, and unique creative sensibilities. The album arrives two weeks after the single "Picasso," which was the follow-up to two non-album debut tracks, "With The Villains" and "Lucky," along with the official music video for "With The Villains." "I was in a darker, angrier place in my life and I needed to send a message to everyone listening," Tanna said of the track. "Being tired of where I was; I needed to express my frustrations while speaking my truth."
Krush Puppies share confessional new single 'Throw Me On The Fire' | Debut EP 'Love Kills The Demons' out 6th May via Sports Team owned label Holm Front Records
Today Krush Puppies share new single 'Throw Me On The Fire', taken from debut EP Love Kills The Demons that's out 6th May via Holm Front Records.
'Throw Me On The Fire' is about absolution. It's about people who say sorry too much without really meaning it within the culture of instant gratification and the need for absolution from our sins without the growth or self awareness that should come along with it.
Billain storms through with sophomore LP 'Lands Unbreached'
The album realizes a coalescence of several threads Billain has been pulling at & interweaving for years and picks up where 'Nomad's Revenge' left off. Another step toward Billain's vision of 'Cyberneuro'.
SHELF LIVES release debut mini-album Yes, offence
South London duo SHELF LIVES today release their debut mini-album 'Yes, offence' via Not Sorry Mom Records. Shelf Lives will also support Skunk Anansie on their upcoming UK/EU tour – commencing on 2nd May April in Poland, with stops in Slovakia, Switzerland, Italy, Croatia and Germany, and culminating with shows in Oxford and Southampton in June.
Quasi Qui, the new project from Yehan Jehan, share new single 'Epoch'
Today, Quasi Qui, the new alt-pop project from Yehan Jehan and his sister Zadi, have shared new single 'Epoch' via microqlima records (Isaac Delusion, L'Impératrice, Pepite, Fils Cara). Following on from their debut single 'Gentle Squeeze', which earnt the band early support from BBC Radio 6 Music and BBC Radio 1, 'Epoch' is a groove-laden, synth-pop ode to starting afresh.
Sudanese youngstar YAHYA drops 'Pieces Of Me' album alongside captivating visuals to "Beautiful Lies +Need"
The multi-faceted youngstar combines two diverse singles from his hotly anticipated project, resulting in one unique set of visuals telling the story of love in its purest form. In true Yahya style, "Beautiful Lies + Need" showcases the young talents innate ability to tell powerful stories through his compelling lyricism and impactful voice.