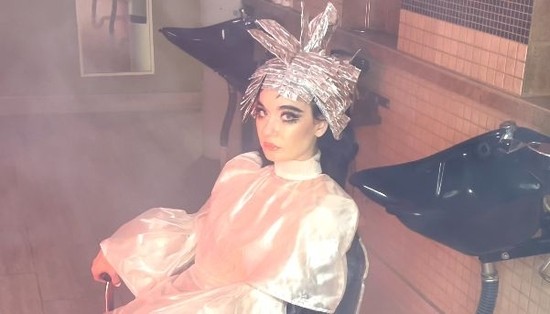 @skopemag news – thursday – april 28, 2022 @ 1 pm est
@skopemag HQ – http://smarturl.it/skope
Himalayan Gold Releases Second Single "Look (Deep in My Eyes)"
"Look (Deep in My Eyes)" is the second single off of Himalayan Gold's forthcoming album, featuring vocals by Stephanie Yavelow and offers an upbeat vibe with an empowering female message drenched in vintage synths. Written in the vein of "These Boots were Made for Walking" and "You Don't Own Me," this isn't so much a love song as it's a goodbye and a testimonial from a character in a story that is ready to be free.
Ambient, Cinematic, Dream-like EP
Aibai is a 24-year-old producer from Minneapolis, currently based in Phoenix. Her songs are filled with ambient, cinematic soundscapes that create a daydream-like atmosphere. Having experimented with different genres, her new music explores more of an upbeat electronic dance style, taking inspiration from the likes of Odesza and Polo & Pan, mixing organic instruments with electronic elements to create a unique blend of sounds.
DAWN OF DESTINY: First single / video "Judas in Me"
ST. MICHAEL FRONT release third video single '1000 Namen'
The new single '1000 Namen' ("1000 Names") shows the best side of ST. MICHAEL FRONT: The song comes along as a catchy tune with a deceptively easy going melody that seduces the listener to whistle along, only to sneakily lodge itself into the brain on constant repeat. On closer inspection, '1000 Namen' begins to reveal layers of intriguing details that invite further exploration and make it easy to fall deeper in love with the song. For those with a grasp of the German language the lyrics turn out to be surprisingly melancholic as the duo sings about their own experience of growing older. All of the above has been nicely summed up in an intelligent video clip.
Autumn Hollow Releases "Meantime/Between Time" Single Today
Autumn Hollow announces the release of their single, "Meantime/Between Time," on April 28. It's off the Americana EP, Throw the House, due out June 17. A song to listen to amongst springtime wonders, "Meantime/Between Time" centers around the necessity to exist in the moment. A lilting melody draws the listener to the present moment while Murphy sings of finding happiness within even the deepest of burdens.
Music Submission: Darià Artiola
Born and raised in Tucson, AZ and currently living / producing in Barcelona, Spain. Darià Artiola, aka aroarer, has collaborated and been part of several projects over the past decade, such as: Brazen Stir, Grim Avenue, Galactic Club, OMFG Zombies, Some of the Parts, Take8, and Nacho Molina. His first solo album was released on April 15th, 2022 through independent label Díscola Records, which he founded alongside Take8 (Pasquale Intinghero) and Nacho Molina.
NSW ELECTRO DUO ABROAD RELEASE NEW SINGLE 'COFFEE' OUT NOW
AUSTIN LAM REVEALS STELLAR OFFERING WANDERER// LISTEN HERE
23-year-old singer/ songwriter Austin Lam makes his return today with the reveal of stunning new single, Wanderer. A woozy pop song showcasing Austin Lam's dreamy vocals over borderline psychedelic beats, the track marks a welcome return from an artist who started to gain acclaim after the reveal of his debut offering, Neon Sunset. The well received project captured the attention of fans and artists alike, leading to him appearing on Ski Mask the Slumpgod's much-anticipated album Stokeley. ( Save me Pt. 2). Speaking on Wanderer, Austin Lam states:
SKROG Release Lyric Video For Cover Of SLAYER's "South Of Heaven"
SKROG have released a lyric video for their cover of SLAYER's "South of Heaven". The song is from the upcoming Forever Reigning, A Tribute To Slayer that will be released April 29th via Satyrn Studios.
GOOD TIME T: New single / video "Good Time" by the debut album
Greek saxophonist Takis Drakopoulos and his personal project Good Time T present the self-titled track "Good Time" that is included in "Good Time T" debut album out now via all digital platforms. Watch the video below.
NYC multi-genre artist Kristeen Young releases new video for "Sue Veneer"
The Beauty Shop is attached to the house. Your forefathers built it. Your foremothers toiled, broke their bodies and minds in it, raised you (in your playpen) in it. Burned you, manipulated you, cut and maimed you, in it. This is not your lineage. This is a foster lineage. But, that doesn't matter, it's yours now. Memorize these passages, you'll have to perform them, disintegrate for them. ALL THAT MATTERS IS HOW YOU LOOK. ALL THAT MATTERS IS HOW PEOPLE SEE YOU. THIS WHOLE BIO IS THESE TWO LINES. One day, on the very steps to the shop where you aped the operator herself (by cutting your doll's, while she cut hers) she once again raises her hand against you, but this time you GRAB IT. It's the moment. The proprietor has changed. But is it real change or only a change of guard? Is the surviving victim only a different perpetrator? The Beauty Shop is no longer brick and quartered, but the everlasting presence of it in your mind feels heavier than any concrete existence. Or do you still feel anything at all?
GABRIELS DEBUT NEW SINGLE "ONE AND ONLY"
Gabriels are a real discovery. Featuring the soaring, once-in-a-generation vocals of Jacob Lusk, lamenting the age-old tale of love and loss, alongside smoldering production and a propulsive rhythm section, "One And Only" sees Gabriels firmly cement themselves at the forefront of the most exciting new artists in the world today. It's a sound that bounces between old-school soul, four-to-the floor dance yet sits squarely in neither of them. Of an era and yet future facing, Gabriels are an utterly unique proposition, and yet their story has barely turned its first few pages.
Extreme Metal Outfit RED ROT Signs with Svart Records!
Svart Records is thrilled to announce the signing of RED ROT – the new extreme metal band of Luciano Lorusso George and Davide Tiso (formerly of Ephel Duath). Today, the Italian-American outfit has announced their debut album, 'Mal de Vivre', a relentless opus of technical beauty and bludgeoning grace, which will see an August 26, 2022 release via Svart. To give fans their first taste of the record, Red Rot will release their new single "Ashes" tomorrow (April 29), but the music video for the track is out today and can be seen at the link here:
VALLEY VOCALIST AND DRUMMER KARAH JAMES STEPS INTO THE SPOTLIGHT ON NEW SINGLE "CHAMPAGNE"
"CHAMPAGNE" follows an invigorating drumbeat infused with the familiar sparkling synth hooks and a crisp guitar lick. The lyrics sing like a modern-day adage, inspiring a hopeful outlook. Karah explains the creation process and meaning, "We wrote 'CHAMPAGNE' during the pandemic over zoom with two writers we've always dreamed of writing with, Jake Torrey (BTS, Justin Bieber, Liam Payne) and Johnny Simpson (Maroon 5, MAX). Now that we're nearing the end of the pandemic, it's crazy to reflect on time that for many, was so dark and challenging. During the time of writing the song we were experiencing a lot of adversity with such a shift in our routine, our band, our social lives and with all of those changes our mental health suffered." Karah continues, "'CHAMPAGNE' is simply a song about not letting the negativity of the world bring you down and turning the pain we feel into something positive. It's about reframing our narratives on challenging situations and people and telling ourselves that sticks and stones may break our bones, but you can't break something that won't break."
Video: Tanzania Lateef – Free Angela
Infusing jazzy soul samples, chops & groovy drums courtesy of producer Max Damage from Santiago Chile (South America) with soulful riffs and harmonies by Tanzania, this piece can easily be spun between hip hop, r&b or soul cuts without changing dynamic.
OUT NOW: Firewoodisland & The Satellite Station Release 'Look Through' Music Video
DREAMER BOY CELEBRATES LOVE AND BASKETBALL ON "JUMPSHOT!"
Inspired 2020's The Last Dance docu-series about the Chicago Bulls, Dreamer Boy and his friends would lose themselves on the basketball court. "We would play a game and after catching our breaths, say, 'Run it back,'" he says. "We existed outside space and time for those games. This song is about what true friendship can feel like in the wake of turbulent change."
MISERY INDEX Launches New Single and Video for Title Track "Complete Control" off Upcoming Album 'Complete Control'
"'Complete Control' draws equally on our hardcore punk and old school death metal influences. The lyrics describe the awakening of a protagonist; one who becomes acutely aware of the totalizing power structures in everyday society that work not just from "above" – but from within as well," states MISERY INDEX about the new track.
Prominent Remixer Martin Waslewski Takes On MARIA Die RUHE's 'Rejection'
Having remixed artists such as Claptone and Nora En Pure, Martin Waslewski has collected just under 10 million plays across platforms, while MARIA Die RUHE has collected under a rising 6.5 million streams on Spotify alone.
TOMBS Unleashes New Song, "Sombre Ruins Nothing Remains"
TOMBS mastermind Mike Hill comments on the collaboration, "For years I have admired the work of my good friend Alap Momin a.k.a. Oktopus so it was really cool to unleash him on a remix. He chose the song and I agreed; the fairly abstract nature of the original track was wide open territory for a really cool, sinister interpretation."
Pink Blob (ex-Weaves members) share new single "Waiting For Your Call" (ffo Connan Mockasin, Panda Bear)
Pink Blob, the new Toronto-based hyper-rock project of ex-Weaves members, Morgan Waters and Spencer Cole are today sharing their debut single, "Waiting For Your Call". Formed during a global meltdown through equal parts love and revenge, Pink Blob is bent pop music formed through colliding genres and covered in a layer of scuzzy guitars and shredding drums.
Iceage announce new single "All The Junk On The Outskirts" | US tour with Earth to take place in Autumn | "Seek Shelter" out now via Mexican Summer
Today, Copenhagen's Iceage present a new single, "All The Junk On The Outskirts," and announce a co-headline US tour with Earth. The rollicking song was tracked during the recording sessions that formed their 2018 album Beyondless and has been rattling around the band's ether since then. They revisited the track in 2021 and finished recording it this year. "I consider this one of the better cuts off the Beyondless sessions, but it ended up being a misfit that wouldn't quite fit in with the other songs as we put together the tracklisting. Like a piece belonging to a different puzzle," says singer Elias Bender Rønnenfelt. "Much like it wasn't welcome with the others on Beyondless, it's an anthem for those on the outside looking in."
Skope Magazine x Dear Spring (RIYL: Taking Back Sunday, Thrice)
Murdo Mitchell's new broken trust-plagued video + Liverpool Sound City
new RLYR track + video
Chicago-based experimental rock trio RLYR (pronounced "Relayer") have just shared a new song/video, "Real Air," from their forthcoming eponymous album RLYR (out May 13 via Gilead Media). The song's sun-bleached melodies and swift stylistic turns receive a suitably retro-futuristic visual from Documavision (aka Cloakroom's Bobby Markos), as layer after layer of abstract visuals bleed into one another en route to the song's soaring climax. Akin to the previous album single "Wrack," the new song underscores the album's panoply of indelible melodies, expansive sonics, and intoxicating catharses.
Night Court Unveils New Video From Upcoming LP – Snappy Little Numbers and Debt Offensive Records Promo Materials
"The song reflects on the idea that individuals can make the world at large a better place by improving their own small corner of it." says guitarist/vocalist Dave Patterson, while drummer Emilor Jayne adds "We all need a little more light these days, in a glass half full way."
ORTHODOX: Spanish Avant-Doom Metal Cult Returns To Original Lineup For Proceed LP, Set For June Release Through Alone Records; "Past Seers" Streaming + Preorders Unveiled
Spanish avant-garde doom/drone experimenters ORTHODOX, having reverted to their original lineup, have completed their latest album, Proceed. Confirming the record for release in June through Alone Records, the cover art, track listing, preorders, a brief teaser, and the lead track "Past Seers" have been unveiled.
ORTHODOX was born as a trio in Seville, Spain at the end of 2004. Starting from doom metal and absorbing influences from drone, jazz, and extreme metal, the band represents one of the most relevant but unpredictable bands of the Spanish metal underground.