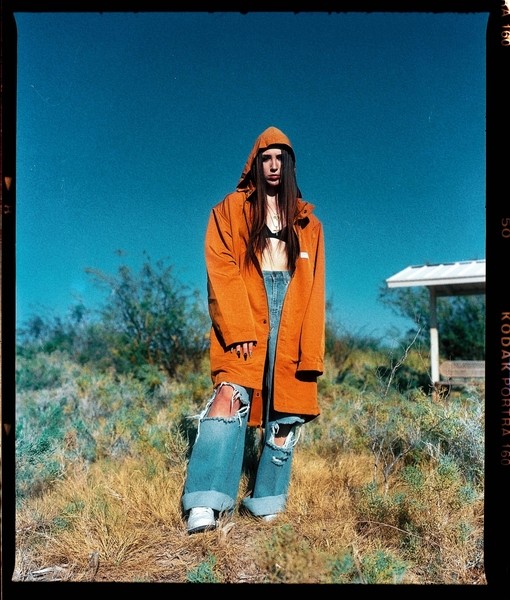 @skopemag news – tuesday – april 26, 2022 @ 11 am est
@skopemag HQ – http://smarturl.it/skope
GAVIN DEGRAW RELEASES NEW SINGLE "FACE THE RIVER" – TITLE TRACK FROM FORTHCOMING ALBUM COMING 20TH MAY
"This album is dedicated to my parents," Gavin shares, "They were my heroes. It was their love story, their sacrifices, and their guidance that shaped this music."
Dream Pop mainstay Swiss Portrait unveils his brand new six-track EP 'Safe House'.
After releasing "Paralyzed" and "Play With Fire" featuring Phantom Handshakes and gaining support from major platforms like Spotify in their Dreampop, Scotify and Fresh Finds UK & IE editorial playlists, Swiss Portrait comes forward with his debut project 'Safe House'. Living in rural Midlothian, Swiss Portrait keeps a DIY approach, recording, playing, mixing and producing everything himself. This new project highlights the delicate intimacy of the Scottish multi-instrumentalist's music as well as his versatility within the genre.
SANTA CRUZ UNVEIL MUSIC VIDEO FOR 'UNDER THE GUN'
The 2022 lineup of SANTA CRUZ – which sees Finnish frontman/guitarist and founding member Archie Cruz now joined by the Los Angeles-based trio of guitarist Jerry Jade (BAD GVY), bassist Tommy Bradley (REVELRY GANG), and drummer Randy McDemian (ABRAHADABRA CLOTHING).
Country Artist Andrew Salgado's New Album Is Breaking Right Now "86 Vol 2 – Autumn Dawn"
Singer/Songwriter Andrew Salgado delivers an exciting new mix of Country with Pop, Rock, and Latin influences that is being referred to as Kaleidoscope Country by syndicated radio show host 'Wild Bill' Kenton. The colorful mix of original songs is being delivered to fans on both physical vinyl and CD formats. Andrew not only wrote the lyrics and the music but performs the lead vocals. Additionally, he plays five instruments across the compilation. The complete album was engineered by Brett Aaron Hammond of Studio 11211 and both the mixing and mastering were handled by Brett at Kiwi Audio Recording Studio along with Ken Love of Five Points Mastering in Nashville. Bill Wence Promotions is partnering with the Andrew Salgado marketing team (Synapse Publishing & Entertainment®) for national/international radio presentation. Submissions are on their way.
Creature Canyon Share Driving New Single 'Simulator'
Propelled by a driving bass groove, upbeat soulful hooks, alt-rock guitars and joyful exuberance, 'Simulator' feels like the perfect soundtrack to Spring 2022, inviting listeners to live in the moment and leave behind "our hyperconnected, superficial world," lead singer Austin Steele says. "'Simulator' is a wake-up call to escape the clutches of modern technology, our naive critique on society. Despite providing a temporary escape, technology is shaping a world in which being present in the moment is being lost in modern life," he concludes.
2022's Most Gambling-Addicted States & Kentucky Derby Facts & History Infographic – WalletHub Reports
With the gambling industry bringing in record-breaking profits last year despite the COVID-19 pandemic, and the Kentucky Derby soon to kick off, the personal-finance website WalletHub today released its report on 2022's Most Gambling-Addicted States, as well as accompanying videos and expert commentary, along with its Kentucky Derby Facts & History infographic.
In order to call out the states where gambling addiction is most prevalent, WalletHub compared the 50 states across 20 key metrics. The data set ranges from the presence of illegal gambling operations to lottery sales per capita to the share of adults with gambling disorders.
Introducing THE SLAUGHTER HOUSE BAND with blistering garage rock anthem 'I Don't See You Dancing' – OUT NOW!
After building up a reputation for their scintillating live shows around the UK and Euope, now comes the time for the five-piece to unleash their blistering garage rock on the rest of the world, starting with the punchy, bassline driven 'I Don't See You Dancing'.
Bottling the exuberant essence of Youth And Young Manhood-era Kings Of Leon and matching it with the ferocious snarl of Iggy Pop and the compelling lyricism of Lou Reed, The Slaughter House Band wear their nostalgic influences on their sleeve, but experiment with infectious guitar licks and shine a spotlight on singer Raz Hyland's quintessential raspy vocals to keep things sounding fresh.
Michael Franti & Spearhead release new song 'Follow Your Heart'
"One thing I learned these last couple of years is that people need people," shares Franti. "I wrote many songs about connection, resilience and finding the light, even in the midst of all the crazy. Somewhere in there we find resilience, and I hope Follow Your Heart gives fans the courage to continue looking for and holding onto that perseverance."
MIRAGE: cult Danish metallers release new video "In The Days Of Rama"
You heard it right. The record Mirage should have released some thirty-odd years ago is finally coming! Back in the late 80s the band had to quit because the English record company sent their royalties to their Danish record company, who pocketed the money and filed for bankruptcy! Despite interest from the Danish label Medley Records, the second album was never released, though all the songs were written.
Alt Indie Rock from Las Vegas Artist Kami Kehoe
Las Vegas based artist Kami Kehoe fuses old and new soul to create a sound that transports you to another universe. With her soulful, unique vocal style and ability to craft a sound which dances between genres, Kami has cooked up something which is undeniably special.
Chelsea Rose shares "Down The Street" video from forthcoming LP, Truth or Consequences
"Down The Street" was written as a sort of pep talk for myself, and any other artists that might be struggling to connect with their vision and keep it alive. It's one thing to have a great idea, but it's another thing to actually bring it to life and be able to share it with the world. I hope this song serves as a reminder to persevere – to keep putting in the work and the time, and to keep putting your heart into what you do; it will surely be worth it." -Chelsea Rose
"An Hour On Earth" – Refractor Piano™ Music by Peter Manning Robinson – a Film by Klaus Hoch
Refractor Piano Creator, Emmy and BMI Award-Winning Pianist/Composer has just released "An Hour On Earth" , the debut single and video from his soon to be released new album "Celestial Candy". The album will be released May 6th on Owl Walk Records.
GWAR Release New Single "Mother Fu*king Liar"
Humans, you have waited long enough! The day is finally here! As of today, your Lords and Masters GWAR unleash their latest aural masterpiece. Taken from their forthcoming album "The New Dark Ages," GWAR is pleased as piss to debut the song "Mother Fucking Liar!" Watch the visualizer and listen to the song HERE.
JACK VALERO – Shares Debut Single "Heaven Help Me" || + Announces UK Tour Dates w/ Will Varley
The Brighton-based singer-songwriter Jack Valero has established a first wave of acclaim with his debut single "Heaven Help Me", which is out now. It has been championed by John Kennedy, who named it as his X-Posure Hot One on Radio X, while Chris Hawkins at 6 Music described it as being, "So good… What a beautiful thing." 'Heaven Help Me' is the first song to preview Jack's debut EP, which will follow later this summer.
JOURNEY SET TO RELEASE FIRST STUDIO ALBUM OF ALL NEW SONGS IN OVER A DECADE THIS SUMMER
As one of the world's most beloved rock bands, Journey continues to create new music and thrill audiences night after night in sold out arenas worldwide in conjunction with AEG as their promoter.
Inducted into the Rock and Roll Hall of Fame in 2018, Journey have 25 gold and platinum albums, including the fifteen-million selling Greatest Hits collection, with total sales adding up to 80 million records around the world.
A.O. Gerber returns with new single 'Looking For The Right Things' via Hand In Hive/Father Daughter Records | Confirmed for The Great Escape next month
Following the critically acclaimed debut album Another Place To Need (2020), Los Angeles based musician A.O. Gerber returns with captivating new single 'Looking for the Right Things' (co-produced by Madeline Kenney), released via Father/Daughter Records (US) & Hand In Hive (UK).
SWEDISH HOUSE MAFIA DEBUTS #1 BILLBOARD TOP DANCE/ELECTRONIC CHART
Paradise Again, the debut full length by global supergroup Swedish House Mafia, has just debuted at #1 on Billboard's Top Dance/Electronic Albums chart, their first chart topping release in a decade. The news hits the day after the trio's second headlining performance with pop auteur The Weeknd at Coachella Valley Music And Arts Festival. The performance featured an expansion of the stunning live production from weekend one, giving fans a preview of the visual spectacles awaiting them on the PARADISE AGAIN TOUR that kicks off this July, including support on select dates from Alesso, ZHU, Grimes, Vintage Culture, Kaytranada, and more –
SHEARWATER RELEASES NEW SINGLE/VIDEO "AQABA"
Shearwater today released "Aqaba," the second single from The Great Awakening–the band's seventh studio album and first in six years–due out June 10th via the band's own Polyborus label in partnership with Secretly Distribution. Eerie and gorgeous, "Aqaba" is the purest ballad Shearwater has ever recorded and features what might be the first-ever solo by a Guayanese toucan (a moment Jonathan Meiburg describes in his book A Most Remarkable Creature). The track arrives alongside a new video directed by Loma's Emily Cross that continues the story glimpsed in her previous video for "Xenarthran." Meiburg explains: "'Aqaba', like the rest of The Great Awakening, is a song a younger version of me couldn't have written, and the last one we recorded for the album. You could read it a few different ways, but to me it's a love song, or a song about the experience of love—the thrilling, terrifying feeling that you're being cracked like an egg."