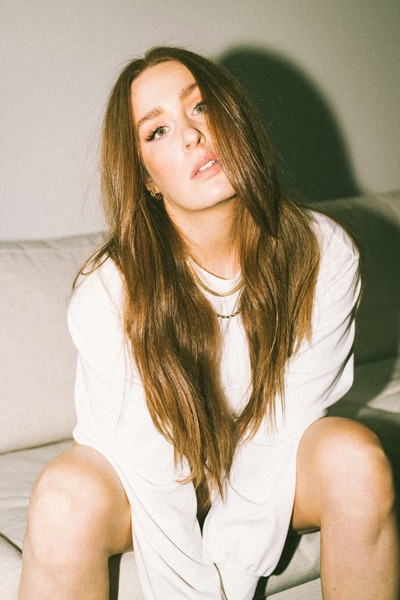 @skopemag news – friday – april 22, 2022 @ 2 pm est
@skopemag HQ – http://smarturl.it/skope
Out Now, Abigail Lapell's New Album Stolen Time Takes Listeners On A Dynamic Journey Through All Corners Of Folk Music
Award-winning Canadian songwriter Abigail Lapell's new LP Stolen Time strikes a fine balance between her hushed acoustic debut, Great Survivor, and her two rockier, Chris Stringer-produced records—Hide Nor Hair and Getaway—while bringing a live-off-the-floor 70s folk-rock vibe and more structural experimentation to the table on songs that feel expansive in their scope; unhurried, psychedelic, and other-worldly. Lapell's band underscores and meets the power of her vocals on songs like "Ships," a wild sax solo seemingly enticing her higher and louder to meet the crashing waves. But many of Stolen Time's standout tracks are solo acoustic guitar songs, backed by little more than Lapell's harmonica, pump organ, or accordion.
OUT NOW: Electronica Quartet Stavroz Releases 'In Mindibu' Single [FFO: Parra For Cuva, Nicolas Jaar, Kiasmos and Worakls]
Pop Star Conor Maynard Releases "P.G.N.L." Announces Biggest US Tour To-Date
Conor Maynard has just released his second new track of 2022, the R&B-leaning "P.G.N.L.," out today on all digital platforms. The release coincides with the news of Conor's 'Continued' world tour, his biggest headlining tour to-date, hitting more than 20 cities across the US and Europe.
FRESCO TREY RELEASES NEW SONG OF THE SUMMER "24 HOURS"
LUKE COMBS' NEW ALBUM GROWIN' UP OUT JUNE 24
Reflecting on the album, Combs shares, "I've been working on this album on and off for two and a half years now. It was sort of a crazy process through what COVID brought, and what that meant for our touring life last year. It made me have to put a pause on this album for a second, but I'm just really stoked that it's finally coming out. Working with Chip Matthews and Jonathan Singleton as a producer has been really great and I think that the fans are going to love these songs. I'm just excited to get them out and see what they think."
Praise drop third single "Life Unknown" from upcoming album All In A Dream
Just two weeks away from the release of their new album, All In A Dream, Baltimore-area band Praise have shared third single "Life Unknown". The track is one of the most experimental on the album, weaving through different guitar tones and carefree vocals while still bridging together the band's melodic-driven sound. Following "All In A Dream" and "Hotline To Memory", "Life Unknown" continues looking inward at human emotions, this time focusing on taking someone else's perspective on loss. All In A Dream releases May 6th on Revelation Records and is available for physical pre-order here and digital pre-save here.
Kate Clover Shares Bleed Your Heart Out LP via Post-Punk
Today, LA-based rocker Kate Clover shares her debut LP, Bleed Your Heart Out, out now via SVR (formerly SongVest Records). The record, produced by her boyfriend Brandon Welchez (of Crocodiles) and featuring members of Davila666, channels classic riot grrrl, post-punk, and even jangle-pop.
Casey Bishop Shares "Bad Dream," Co-Written with Willow Smith
Co-written by Willow Smith and produced by Chris Greatti (Yungblud, Poppy), "Bad Dream" infuses pop with aggressive rock energy. "I wrote it about a situation I went through a little while ago that resulted in me struggling with paranoia," notes Casey. "Although I wrote it from a personal experience, I want people to relate in their own ways when they listen to the song. It is pretty specific, but I'm sure everyone has gone through something that felt so unreal it felt like a nightmare."
Craig Finn shares new song; new album out May 20
The Hold Steady frontman's fifth solo LP, A LEGACY OF RENTALS arrives on CD and digital download via Positive Jams/Thirty Tigers on Friday, May 20. Recorded in May 2021 with Finn's longtime collaborators, producer Josh Kaufman and engineer D. James Goodwin, the album will be available in several formats, including CD, standard vinyl, and limited-edition white vinyl (online orders only). Pre-orders and pre-saves are available now.
Train Drops Tobtok Remix of Hit Single "AM Gold" Featuring Melanie C
Today, multi-GRAMMY Award-winning, diamond-selling band TRAIN drops an epic remix of their feel-good summer anthem "AM Gold" featuring international pop icon Melanie C. Teaming up with Swedish electronic music DJ and producer, Tobtok, Train keeps the momentum strong with a fresh take on the infectious track, creating a match made in heaven between the Spice Girls hitmaker and Train frontman Pat Monahan's unmatched vocals.
RICH REVEALS SPELLBINDING NEW SINGLE ' ALL I'LL DO IS LOVE YOU MORE'// LISTEN HERE
Rising NYC based artist RICH today releases his new offering, All I'll Do Is Love You More- listen here. A stunningly gorgeous R&B cut showcasing RICH's dreamy vocals atop a beautifully poised arrangement, the track is the latest offering from an artist making serious inroads. A collaborator of SG Lewis, frequent tour mate of Chance The Rapper and one part of REFS, RICH has picked up a cult following on Tiktok on the back of posting his stellar vocals during the pandemic.
SINGER/SONGWRITER GRACIE RAY RELEASES NEW SINGLE "HOME TO ME"
Stephanie Quayle Releases Her Self-Titled Album, Stephanie Quayle, Available Now
Country music singer-songwriter and Big Sky Music Group recording artist, Stephanie Quayle, has released her self-titled album, Stephanie Quayle, available now. This collection of music, including singles "By Heart," "Wild Frontier," and "I Want The World For You," along with some brand new material like the comforting "Hang My Hat," are in totality, a reflection of where Stephanie is at this point in her own life as she sets the stage for her next chapter.
80purppp Navigates Through Growing Pains & Heartbreak In New EP 'If Anything'
KIRK HAMMETT: PORTALS EP OUT APRIL 23, "HIGH PLAINS DRIFTER" VIDEO AND TRACK OUT NOW
Luke Combs announces new album 'Growin' Up' & reveals 'Tomorrow Me'…
Reflecting on the album, Combs shares, "I've been working on this album on and off for two and a half years now. It was sort of a crazy process through what COVID brought, and what that meant for our touring life last year. It made me have to put a pause on this album for a second, but I'm just really stoked that it's finally coming out. Working with Chip Matthews and Jonathan Singleton as a producer has been really great and I think that the fans are going to love these songs. I'm just excited to get them out and see what they think."
New Amanda Frances
Frances has quickly turned heads with her razor sharp wit and glitchy pop productions. Featuring cheeky one-liners, fierce new single "making out with vampires" came to light after she learned what love should, and shouldn't be, and how to protect her own energy.
Celebrity TikTok Star Tayler Holder Brings Emotional Feels To The Release of His New Single : HUMAN
Famed content creator Tayler Holder readies to release his emotionally driven upcoming single "HUMAN" on April 27th. This release will follow an exclusive premiere of the single with Sweety High on April 26th. On this new single Tayler brings his haunting vocals to the track bringing emotions to the surface as it echoes in raw falsetto and emotive messaging from Holder. Outside of music many may know Holder from his viral success on TikTok where he has over 20 million followers. However, now Tayler is doubling down on his music and making that his first priority as he gets ready to release this emotionally charged new single, that touches close to home as he examines how even though he and others may have celebrity and success, life isn't always perfect and everyone deals with the good days and the bad because at the end of the day we are all just "HUMAN."
BLXST RELEASES 'BEFORE YOU GO' PROJECT
The 13-track project embodies the laidback aura of LA with an R&B twist that takes us on a melodic joyride. Blxst's soulful voice blends beautifully with jazzy piano chords, intoxicating violins and 808 beats that are nostalgic yet refreshingly new. This project features Blxst's recent hit "Sometimes" featuring Zacari, and also includes the radio single, "About You".
TODAY: Indie artist JAD releases emotive and contemplative track "Don't Let The Sun Set On Me"
JAD's new single, "Don't Let The Sun Set On Me," is a warm folk track that crystallizes his ability to preserve emotions through songcraft.
These feelings were "born in the moments between a certain individual and I during the summer of 2019, two paths converging, if only for a night," the artist explains.
"'Don't Let The Sun Set On Me' captures the desire to want to remain forever in those moments as they're happening, knowing they're fleeting – that we'd have to part ways."
ICYMI Gaby Moreno Shares New Album, Carla Morrison To Release Album, Katzù Oso Announces New Single + more
An unforgettable night of music curated by Cosmica founder Gil Gastelum and fellow staff will pay homage to the label's legacy of innovation while showcasing the modern musical landscape through the Latinx lens. It will feature East LA R&B "souldies" sound of Thee Sinseers, the bilingual, pop-driven indie rock band Luna Luna, the dreamy synth-pop of Katzù Oso, and the sultry, straight-to-the-heart songwriting of Irene Diaz.
new Motive Black video feat. Carla Harvey of Butcher Babies drops today
The new, dramatic "fight sequence" music video for the track, "Lift Me Up," from California based alternative metal band, Motive Black (AFM Records) premieres today. Produced by Grammy-winner Nick Rowe (Lamb Of God, Vampire Weekend), the track showcases the talents of frontwoman Elana Justin, and features special guest Carla Harvey of Butcher Babies, on vocals.
Seattle dark folk duo Love & Pain releasing new EP 'It Comes in Waves' May 6th!
Love & Pain bloomed from the union of Seattle musicians Natalia Czajkiewicz and Brad Clifford, set on exorcizing and lying in servitude to the two emotions that make up their group's name. Taking inspiration from dreamy 60's doo wop, the brooding of artists like Nick Cave and the Bad Seeds and PJ Harvey, Czajkiewicz and Clifford weave in elements all their own to set the mood for a dynamic musical world.
Space Fight (mem. Ra Ra Riot) Share "Fool For Me" Music Video via EARMILK
On the video, singer Spen Miles wrote: "Space Fight's video for 'Fool For Me' was made with black and white footage from several old public domain films selected and edited by Space Fight singer Spen Miles. The most prominent film used is 1938's Algiers, starring Hedy Lamarr. Something in her smile is timeless, and lends itself perfectly to this modern love song. The song itself features Mat and Kenny of Ra Ra Riot on bass and drums, and is mixed by Andrew Maury (Lizzo, Shawn Mendes)."
Space Fight drops innovative visuals for single "Fool For Me"
REGRETSKI ANNOUNCES DEBUT EP + SHARES FIRST TRACK "NAIL GUN" – WATCH VIDEO TODAY
Today, the Seattle rock duo, Regretski, made up of stepfather Nate Panic (baritone guitar/vox) and stepson Matte Black (drums) shares the first single from their upcoming debut EP. Their hard-hitting debut track is called "Nail Gun" and comes along with a video that was filmed in the streets of Alexandria, Egypt. Their upcoming debut EP is called Dubious Claims of Specialized Knowledge and will be released on June 3, 2022.
Dallas Wayne's New Album 'Coldwater, Tennessee' Available Now
Country music singer/songwriter and SiriusXM's legendary personality Dallas Wayne delights fans with the release of his new album 'Coldwater, Tennessee' through BFD/Audium Nashville. Dallas puts his heart into each song on the album, singing about everything from fast-paced life as a musician to love and heartbreak. Included on the album are recent releases "I Hit The Road (And The Road Hit Back)" and "He Even Brought Her Flowers," along with some of the most popular tunes from his songwriting catalog, including "Rock Bottom, Population 1," "If These Walls Could Cry," and more. Each track from "Coldwater, Tennessee" has been exclusively premiered by various outlets and the album is available to download and stream on all digital platforms now!