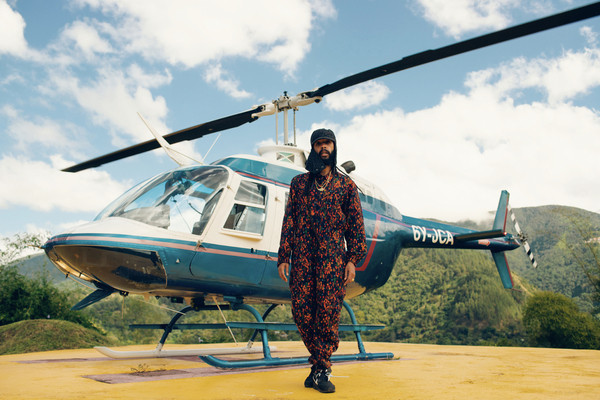 @skopemag news – thursday – april 21, 2022 @ 6 pm est
@skopemag HQ – http://smarturl.it/skope
Pan Amsterdam and Damu the Fudgemunk announce joint album with single, Rigatoni.
"When I heard Damu's beat I was really into the Zen-like kung fu of the track," explains Pan Am. "It was the first beat that I worked on of Damu's. I didn't know where to start on the track until a fan hit me up on my insta. I usually don't do things to appease the algorithm of garnering followers and likes on my insta and keep things pretty casual as I enjoy interacting with genuine fans. This one fan hit me up with the most random confession. They said that they collect magnets. I thought to myself: that is a great random opening line. And from there I let my stream of consciousness take over."
GEEZER: new track "Atomic Moronic" streaming
Kingston, New York's heavy blues rockers GEEZER premiere their groove-laden new track "Atomic Moronic" today exclusively on Doomed&Stoned! The band will release their sixth album 'Stoned Blues Machine' on May 20th through Heavy Psych Sounds.
Video: Def-I & Ariano – Changes
Fresh off their banging first single and video, "Silly Love" from their forthcoming album In the Mean Time, Def-i and Ariano switch emotional gears on their follow up single "Changes." Striking a grittier and more sombre tone than its predecessor, "Changes" isn't a sad song, it's more of an acknowledgment of growth through the pain and loss of the past pandemic-driven years. A true master of his craft, Def-i's verses oscillates between rapid fire spitting and slow, controlled rhymes, with an effortless manipulation of his cadence and delivery. Ariano's production is moody and sobering, his hook projecting strength and determination.
RÖYKSOPP DETAIL BACON FILMS COLLABORATION FOR 'PROFOUND MYSTERIES'
Röyksopp have unveiled the details behind their intriguing Profound Mysteries short films, introducing their unique collaboration with one of Europe's premier film production companies Bacon.
"Chorus Girl" the new video from Brooklyn-based Raavi, is out today!
Formed in 2017 under the moniker Raavi & the Houseplants, Raavi is fronted by queer-desi songwriter Raavi Sita. The band blossomed in the Boston DIY scene before heading to Brooklyn to work on their next project: It Grows on Trees. Raavi's new EP is born from the trials of pandemic life; two years of worldly idleness left Sita with only a handful of songs to express and cope with enormous upheaval. Fleshed out with the rest of the band – James Duncan on bass, Jason Block on drums, and producer Justin Termotto – It Grows on Trees is the turn of a new leaf for Raavi. With Ruben Radlauer (Model/Actriz & Dirt Buyer) co-engineering and mixing the record, the band found their stride and ran with it.
The DRs share new single "Playing Games", debut EP out May 12th on Boom.Records
A well-deserved member of the Fender family, Freaky Rob was an instrumental vessel for Nile Rodgers' Hitmaker Stratocaster. Rob performed an awe-inspiring guitar solo honoring the legendary artist and his musical reign. An acclaimed musician within his own right, Rob has played guitar for Kendrick Lamar since 2015 and performed alongside him at the 2022 Super Bowl halftime show. The multifaceted and immensely talented duo prepares listeners for their upcoming debut EP, Songs Before Therapy, as they continue to heal listeners with their music. Stream "Playing Games" below and stay tuned for more news.
Power Metal Dwarves WIND ROSE Reveal Anthemic New Single "Together We Rise" + Music Video
Mosa Wild Share Earworm "I Might Let You Down"
Mosa Wild are excited to share their new single 'I Might Let You Down' out now on Glassnote Records.
'IMLYD' sees the Kent quartet pairing frontman Jim Rubaduka's soulful, melodic songwriting with a burst of guitar-led velocity: an immediate and impactful earworm of a song.
Editrix (Wendy Eisenberg) announce sophomore LP on Exploding In Sound/share "One Truck Gone"
Formed by the singer/guitarist Wendy Eisenberg, who is known as much for their improvisational jazz playing with people like John Zorn as for their well-received solo work, bassist Steve Cameron (of Landowner), and drummer Josh Daniel (Tortured Skull), Editrix burst into public consciousness with the release of their 2020 debut Tell Me I'm Bad. Released on Exploding in Sound, the album found immediate critical support, with Pitchfork describing the record as "an exuberant and virtuosic take on the sort of grinding, noisy post-hardcore that has thrived in DIY spaces across the country ever since the late 1980s." Today, Editrix have returned to announce their excellently titled sophomore LP Editrix II: Editrix Goes To Hell (due out June 3rd on Exploding In Sound) and have shared the album's lead single "One Truck Gone".
New Today: Genre-crossing artist This Coast Bias bewitches on driving bright new single "Breakdown"
Karly C Releases Lovestruck Original Tune — "I Was Gonna Love You" — Available Now
Her sixteenth studio recording, the track makes evident Karly's versatility and talents to cater to multiple genres and attract music enthusiasts from across the globe, making for the ultimate radio experience. The original tune, produced by Dylan Maloney (Colt Ford Guitarist) and co-penned alongside Haley Ganis, is a romantic romp a tad left-of-center from the musical flavor of her previous recordings.
Nick Binkley's Infectious New Single "Cherry"
Ever showcasing his uniqueness as an artist and stylistically eclectic aesthetic as a singer/songwriter, Nick Binkley paves the way for his highly anticipated new album Stardust Angels Ghosts with the release of its lead single "Cherry", a carefree and ultra-poppy old school love song that is one of several tunes on the 12-track collection dedicated to his wife Sam.
HARRY STYLES PERFORMS #1 SINGLE "AS IT WAS" FOR THE FIRST TIME AT COACHELLA TO A CROWD OF OVER 100K
Timberhawk Hall, Nashville-Area's Newest Venue, To Offer Elevated Live Music Experience
A grand combination of bonafide music lovers, audio geekery, and century-old materials is driving the creation and construction of Madison, Tennessee's new performance venue, Timberhawk Hall. In other words, the team behind this new endeavor set out to do it right. Scheduled to open in early 2023, this purpose-built concert hall has been meticulously crafted for the enjoyment of both fans and musicians alike with a world-class sound system, thoughtfully designed artist and crew spaces, and a long-loved Nashville talent buyer filling its schedule. While the finest materials went into building the Timberhawk space, community engagement is the beating heart of the venue's mission. The venue sourced local talent of all kinds—artists, engineers, makers, hospitality specialists—to make the Timberhawk experience one that will give everyone involved lifelong memories of truly singular concerts and events.
Jazz punk band Joy On Fire share new single + video "Selfies"
Today, the eclectic New Jersey jazz / rock quartet Joy on Fire have shared their new single "Selfies", another new track from their forthcoming new album States of America. The track is an eclectic punk ripper with a Stooges inspired groove from guitarist John Paul Carillo, sardonically funny spoken word lyrics from frontman Dan Gutenstein about the emptiness of social media narcissism, and a saxophone part from Anna Meadors that creeps its way into the track as it builds in intensity to its chaotic climax.
PROTOJE DROPS "HILLS" AND ANNOUNCES SUMMER ALBUM AND TOUR PLANS
Protoje shares how he has found inner peace over the pandemic in his new song and video "Hills". Seeking restoration and seclusion, the Jamaican wordsmith has had time to realign with nature's gifts and cut off the outside noise. Boasting a vibrating Jamaican dub baseline fused with hip-hop, the hard-hitting anthem (produced by 8TRACK & IV The Polymath) is a precursor of what's ahead for Protoje. "Hills" is the first single off his summer album, out via In.Digg.Nation Collective / RCA Records.
Space Kamp x Wayne's World = Excellent
PHILOSOPHOBIA: Progressive Metal Act Formed By Current/Former Members Of Kamelot, Pain Of Salvation, And Wastefall To Release Eponymous Debut Through Sensory Records In June; Teaser And More Posted
In 2007, longtime friends Andreas Ballnus (Perzonal War) and Alex Landenburg (Kamelot, Cyrha, Mekong Delta) had the idea of creating a prog metal concept album. After recording a few demos, Landenburg joined Annihilator as their touring drummer while Ballnus became the guitarist for former Iron Maiden vocalist Paul Dianno. With both touring around the world for years, unfortunately they had to postpone their prog adventure due to lack of time.
DISSOLVE PATTERNS: Belgian avantgarde black metal entity premieres debut album at Invisible Oranges
"Dissolve Patterns" is the self-titled debut album by Belgian Avantgarde – Black Metal band DISSOLVE PATTERNS.
Skillfully mixing the aggressiveness of Black Metal with progressive music, experimental and jazz, the band manages to create something entirely unique and atypical, incorporating the cello not just as an add-on but instead as a vital element of its distinctive sound.
OUT NOW: Namir Blade Drops New Single "Ride" via Mello Music Group (Premiered on The FADER)
Multi-talented artist and producer Namir Blade is due to release his highly-anticipated album Metropolis on June 3rd via Mello Music Group. Recording, producing, and mixing the album himself, Namir reaches a defining moment in his career with Metropolis. Along with the album announcement, today, Namir drops the album's first single. "Ride," premiered on The FADER, is out now via Mello Music Group!
"HELP"! RISING POP ARTIST ISABEL LAROSA RELEASES EERIE, ELECTRIC NEW SINGLE AND LYRIC VIDEO
Today, 17-year-old rising pop artist Isabel LaRosa releases her new eerie, electric single "Help." This follows the release of her buzzing, atmospheric single "HAUNTED," which currently has almost 5 million streams on Spotify alone and has been added to their playlists including Pop Sauce, Pop Rising, Fresh Dance Pop and more.
TODAY Vibrant raucous punks Morbina Galore share bar room anthem "Whiskey Water" with heartwarming video
Mobina Galore are a vocally aggressive power chord punk act based out of Winnipeg, MB. With a decade together under their belts, Jenna and Marcia have been building their voices – musically and literally – since they first started out in their Fernie, B.C. jam room. Mobina Galore structure their sound around huge choruses, soaring guitar riffs, intense vocal and musical dynamics, and personal lyrics about life and death.
Sorry Returns With New Track & Video "There's So Many People That Want To Be Loved"
Today, North London's Sorry have shared new single "There's So Many People That Want To Be Loved" – a thrilling first taste of a new body of work slated for release later this year. The exciting return of Sorry comes with a video, directed by Sorry's Asha Lorenz and frequent collaborator Flo Webb and produced by Asia Amad.