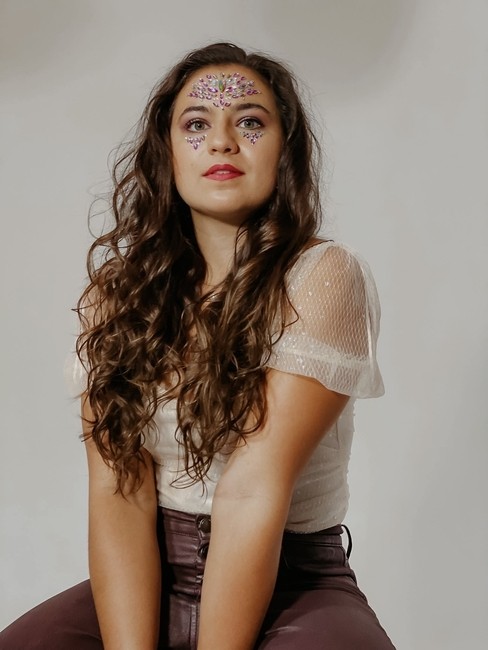 @skopemag news – friday – april 8, 2022 @ 10 am est
@skopemag HQ – http://smarturl.it/skope
OUT NOW: Mia Berg – Goodbye, For A While (FFO Mitski, Soccer Mommy)
Following on from woozy and wistful single "The Other Side", Oslo-based Mia Berg returns with another gorgeous track today called "Goodbye, For A While".
Mia Berg was born and raised in Bergen but now lives and works in Oslo, but she stills spends a lot of time going back to her hometown – walking those streets and conjuring memories of childhood and teenage years informs a lot of her music, both in lyrics and sound,
Brown Fang release deliciously ear catching ambient debut album 'Sherwood Pines'
Brown Fang are bassist John Thompson and guitarist Henry Scott AKA Henry Claude. Thompson has toured with countless bands, including The Nectarine No9 and The Selecter, while Scott records ambient music as Fang Jr and is a mainstay of the Nottingham jazz circuit.
Bullet For My Valentine Ready Deluxe Edition of New Album + Share "Omen" // Stone Broken Drop "The Devil You Know" Video — WATCH
New Music Submission: Casscade – Every Year x Ole'Ole (Video)
3REE & Kellin Quinn 'Set This Place On Fire' with new single out now
The high energy rock track tackles the pressures of 2022 and the increasing strains on identity, belonging and on longevity of life on the planet. 'Set This Place On Fire' finds 3REE bringing their pop laced hooks with hardcore beatdowns to compliment the signature alt-metal screaming from Sleeping With Sirens' Kellin Quinn.
Henry Daniel drops groove-laden new single 'Shake That'
Rising dance talent Henry Daniel has unveiled his new single 'Shake That', out today via Cool FM & BBC Radio 1 DJ Connor Coates' new label Lift Me Up Records.
A club-ready tech house bomb, 'Shake That' combines a bumpin' bassline and slick grooves with the most infectious of vocal samples. The debut single on Lift Me Up, it is the first in a series of tracks the label plans to release. With its founding mission to put amazing dance music in front of people – from crossover dance records to club focused tracks – Lift Me Up will be a positive place for like-minded individuals to come together and collaborate.
TAYO SOUND RELEASES BRAND NEW TRACK 'FORWARDS AND BACKWARDS'
'Forwards and Backwards', Tayo Sound's second single of the year after his collaboration with Oscar Scheller on 'Two Left Feet', pushes the young talent even further with joyful and optimistic melodies overlaid with lyrics pondering the breakdown of a relationship; "'Forwards and Backwards' is about an unhealthy relationship that kinda feels like a tug of war. Melodically it's very Jon Bellion inspired. Finn Keane (Charli XCX) wrote the guitar part, Frances (Dua Lipa, Holly Humberstone) the hook and then I had the verse melody and the rest came together really quickly. I wanted it to feel bouncy but lyrically really sad, which is kind of the whole point of the song, a constant battle between the good and the bad of a breaking relationship."
BUDJERAH REVEALS NEW SINGLE GET DOWN & SHARES HIS NEW EP CONVERSATIONS
On Get Down, producer Matt Corby's sparkling, glitched-out synths give way to one of Conversations' most affecting songs, a sleek jam whose ebb-and-flow melody underscores lyrics about anxiously forging forward through one's youth. "Get Down is about the idea that I've come so far now, I have to keep going, it's too late to stop what I'm doing now," Budjerah says. "If there's a way, please show me how," he sings on the track, a spiritual plea amidst a song suffused with an ultramodern atmosphere. "That song took a while to figure out, just because it was so different compared to what we've done before – but then, like one day, I think it just clicked."
AARON RAITIERE SHARES NEW SONG "SINGLE WIDE DREAMER" – WATCH THE VIDEO HERE
Raitiere explains, "'A single wide dreamer in a double wide world' – This wound up being a character who folks relate to because most people know this person. When this song was written, my house had just burned down and I was crashing at my friend Jon's trailer in Pleasantview, TN. He wrote a song inspired by me one morning- and I wrote one inspired by him. The result was a combination of the two songs and a memorable character that has followed me around since."
SYN COLE & CARLA MONROE TEAM UP ON INFECTIOUS NEW SINGLE OVERDRIVE
ALL BETTER Reveal Video For New Single 'Instruction Manual' Released 8th April 2022
Hot on the heels of their March UK tour dates with TRASHED, Brighton alt-punk trio ALL BETTER are pleased to reveal the video for their new single 'Instruction Manual' which is released Friday 8th April 2022.
Fantastic Negrito Delivers an Urgent Message on American Identity and Perseverance On New Single "Trudoo"
Today, Fantastic Negrito (neé Xavier Dphrepaulezz) reveals "Trudoo," the "chase scene" in the movie that is his forthcoming visual album White Jesus Black Problems, out June 3 via Storefront Records. On the third single from his multi-media project, the three-time Grammy-winning singer, songwriter, and activist finds himself reflecting on the part of the human mind and spirit that wants to survive in spite of everything. White Jesus Black Problems is based on the true story of Negrito's seventh-generation white Scottish grandmother (Grandma Gallamore), an indentured servant, living in a common-law marriage with his seventh-generation African American enslaved grandfather (Grandfather Courage); in open defiance of the racist, separatist, laws of 1750s colonial Virginia.
Canadian singer Allegra Jordyn releases new electro-pop track "Ruin My Life"
Produced by Chris Grey, "Ruin My Life" serves as a blissful electro-pop anthem, delivered alongside the perfectly aligned neon-boasting visuals, produced by Light After Dark. Allegra's glossy vocals, paired with the deep-sonic layers of production land a certified sing-along hit.
Rising Nashville Singer-Songwriter, Gabrielle Metz Releases Haunting New Single "Masks"
In our society we all were socially distant long before we were forced to be physically distant in 2020. All of the sudden the minimal face-to-face interactions were also taken away and online was the only remaining form of communication. Growing up during the cusp of Generation Z, most conversations were held through texts, snapchat, and social media. Easily superficial, with only the goal of sharing the 'highlight reel.' "Some of my first lessons growing up were in the Art of Conversation. Gatherings with friends and family were filled with storytelling and laughter. My inspiration for this song is to bring back that art of communication and community." – Gabrielle Metz
AXEL RUDI PELL Releases New Single "Gone With The Window"
German Guitar wizard AXEL RUDI PELL has released "Gone With The Wind", a new digital single and visualizer today. The song is taken from the upcoming studio album 'Lost XXIII', which comes out next Friday (April 15th).
David Guetta, Becky Hill & Ella Henderson Release Summer Anthem 'Crazy What Love Can Do'
'Crazy What Love Can Do' announces itself with the soaring, instantly-recognisable vocals of both Becky Hill and Ella Henderson and pairs feelgood piano chords with euphoric drops – a combination that's destined to make it the sound of summer 2022. The single has already had a tremendous start with confirmed support with BBC Radio 1's Best New Pop and Party Anthems shows. Not the first time Guetta and Hill have joined forces, it follows their 2021 hit collab 'Remember', which has garnered over 150 million streams to date.
Ryan Keen shares stunning video for "Muscle Memory", starring professional surfer Marcelo Luna's incredible life story
After having announced his anticipated comeback with "Every Time", co-written by Ed Sheeran, followed up by the pop ballad "I Won't Give Up", Ryan Keen returns with the new single "Muscle Memory" – a break-up song, wishing the best for someone else but feeling like the hurt is etched in your subconscious.
FOZZY Unleash Their Inner Fire with Music Video for "I STILL BURN" – New Album 'Boombox' out May 6th!
More than two decades into their journey as an unrelenting force of Rock n' Roll dreams come true, FOZZY are enjoying the biggest peak of their career to date! Last month, the band released their new single, "I Still Burn", which quickly became the NUMBER ONE added song on rock radio…and today they release the visually explosive new video for the song, a critically acclaimed short film, that is as artistic as it is exciting!