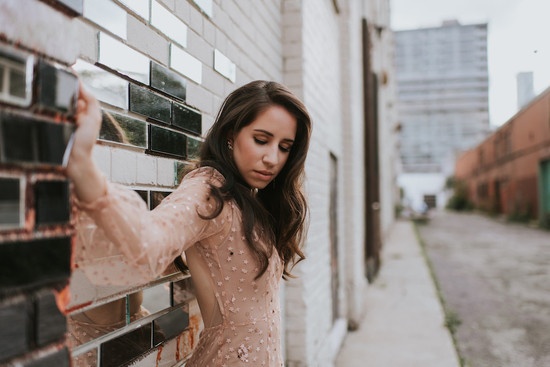 @skopemag news – wednesday – april 6, 2022 @ 10 pm est
@skopemag HQ – http://smarturl.it/skope
Strange Neighbors Debut Single + Video for "Window Watching"
Strange Neighbors first unleashed their jangly power pop onto the New York scene in 2018. Founded by vocalist Aidan and drummer Tracey, they soon brought guitarist Zach into the mix through a Facebook ad. It remains one of the three all-time positive outcomes of social media. Their new single and video for "Window Watching," is a nostalgic and vibrant track with Indie vibes steadily laced throughout. The video shows the true essence and nature of the band which further brings the song to life.
Canada's MY HOLLOW Are Now Streaming Pivotal New EP "Fighting The Monsters"
For the last few months, Canada's My Hollow has been teasing their new EP "Fighting The Monsters" with a handful of singles. Now listeners can be satiated with the full stream of the record. My Hollow delivers a hard-hitting product that will leave you wanting more. They have a signature style of structuring each song in an unconventional way making them more interesting and less formulaic.
Industrial/ Electronic Rock Band GHOSTATIC Release Official Music Video for Single "Still Haunt My Dreams"
Cleveland, Ohio industrial/electronic rock band GHOSTATIC has released a brand new single "Still Haunt My Dreams" to all major platforms via Imagen Records. The band released the official music video for it today!
JNR CHOI RELEASES "TO THE MOON REMIX" VIDEO FEATURING GUNNA!
Stream Van Chamberlain's debut LP early via Week In Pop
Van Chamberlain are a Brooklyn-based indie rock band. Having grown up making music together on a shared wavelength, brothers Van & Jacob began playing under the name Van Chamberlain in 2019. They make music that combines dream pop and jangle, with a slight 90's alternative influence showing through. They've each played and toured the world in bands including Phantom Buffalo (Rough Trade Records, Time Lag) and Eternal Drag (members of The Dodos). In 2019 they found themselves reunited in Brooklyn, and immediately began crafting their new record, In the Sun.
MØTIVATIØN: Decibel Magazine Premieres New Video From All-Star Alliance Featuring Members Of Dool, Lugubre, Humanity Is Cancer, And More
MØTIVATIØN, the mammoth collaborative undertaking led by chief motivator, instigator, orchestrator and visionary, Ø, has unveiled its latest video, "Hel Føn Ágnum Klár Føn Bryn Ànd Licht Føn Gást." Now playing at Decibel Magazine, the track comes by way of The Infinite 8 Steps To Power / Money / More full-length, released in February via Seeing Red Records.
Video Premiere: Møtivatiøn – 'Hel Føn Ágnum Klár Føn Bryn Ànd Licht Føn Gást'
Charissa Drops Debut 'Love and Be Loved' EP
She bares her whole soul on Love and Be Loved, produced by Colin Cripps (Blue Rodeo member, Jim Cuddy Band) and supported by an impressive list of collaborators that includes Jessica Mitchell, Tom Wilson, Jesse O'Brien, and Carrie DeMaeyer.
Kao Wonder's New Single & Video Is A Sultry Version of "Sexy Back"
Love and Music are the tools used when Raphel 'Kao Wonder ' Faison engages with the world to conquer hearts and inspire hope whenever he touches a stage. Hailing from the rough but authentic parts of Brooklyn, New York City, Käo got the calling at a very young age following under his Mother and Father's shadow. He would hear his Mom sing beautiful tunes choring around the house, and Dad was an instrumentalist (playing tuba) and DJ/MC for local but notarized Hip Hop Group Odyssey Disco." Finding his natural dance grooves by watching music videos of iconic Michael and Janet Jackson, Aaliyah, Prince, and Chris Brown, Käo also had a fascination with his radio, jamming and singing alongside it as if he himself was singing mostly during the afternoon and even in the late nights. He began to take the next steps of Showmanship in middle school, majoring in Performing Arts.
WATCH NEVER BEFORE SEEN FOOTAGE OF FIVIO FOREIGN LEADING UP TO DEBUT ALBUM IN NEW B.I.B.L.E DOCUMENTARY
Dead Posey Release New Single & Music Video "Can't Take Me Down" & Announce 2022 Tour & Festival Dates
THE SUBWAYS Announce New Single 'You Kill My Cool' Released 6th April 2022
Hertfordshire, UK indie punk favourites THE SUBWAYS are delighted to reveal their new single 'You Kill My Cool' which is released 6th April 2022 on Alcopop! Records.
The band are also pleased to confirm that the single is the latest track to be taken from their forthcoming fifth studio album set for release later this year, with further details TBA over the coming months.