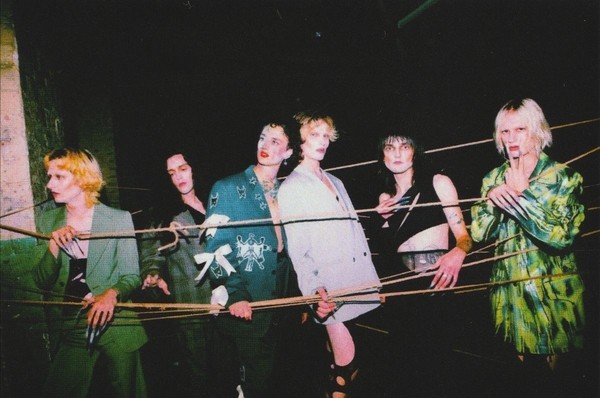 @skopemag news – monday – april 4, 2022 @ 10 am est
@skopemag HQ – http://smarturl.it/skope
Taliesin: Release New Video Awakened by Darkness from upcoming Album Faceless
Taliesin's new album, Faceless is set to be released in April 2022 but actually…
It was recorded between December 2014 and January 2015
It is a concept album about a serial killer with the condition known as Prosopagnosia (face blindness) who believes that his condition is the reason for why he is how he is. The character first appears on the final song 'Simple' on The Tally of Lies and Sin.
THE SMILE: "PANA-VISION" NEWEST TRACK FROM THOM YORKE, JONNY GREENWOOD & TOM SKINNER
"Pana-vision," borne on a hypnotic piano motif and mesmerizing refrain of "like a newborn child," is the fourth and newest offering from The Smile a/k/a Thom Yorke, Jonny Greenwood and Tom Skinner. An animation by Sabrina Nichols of artwork from artist Stanley Donwood is also shared today to accompany the "Pana-vision" release.
Sound of Berlin shares hypnotic video for Dani Ramos' "Dime Algo"
Columbian Berlin-based producer and DJ Dani Ramos reveals Dime Algo EP via Sound of Berlin, digitally available everywhere on March 4. Originally from Columbia, Dani Ramos lives in Berlin and embraced the electronic scene with performances alongside the likes of Luciano, Martin Buttrich, Nick Warren, Hiroko Yamamura, Clive Henry, Seth Troxler, Ryan Crosson, Shaun Reeves, and Guti at premiere events ranging from Circolocoin Cartagena, BPM in Costa Rica and venues such as Ministry of Sound, SONAR, Pacha in Ibiza, Watergate, CDV, Hoppetosse, and counting.
New Artist from Snake Plant Records
Featuring garage pop drummer Inez McLain from the Exbats and psych guitarist Jeremy Joubert from Tapestries:
From the artist: This song is about feeling unable to connect with your environment. I wrote this song as a way to express that, but not hurt anyone's feelings. When I wrote it I imagined myself floating through crowds of people and being a bystander but never really being seen. There's a lot of pain in that feeling but there's also something comforting about it and a little bit cool.
BATTLE SYMPHONY – single "Fire On Earth" from upcoming album "War On Earth"
Battle Symphony are proud to announce the release of their debut album, "War on Earth", via Soman Records!
Future Radio releases Pop Punk banger
Compelling South African rock outfit, Future Radio, takes a break from Season 2 to release a Pop Punk banger titled, Sink The Ship. The song was specifically written for their Rock & Rum collaboration with Seazar's Rum. With this out-of-album release, Future Radio once again show their innovative approach to what is currently happening in the music industry. Sink The Ship is a fast-paced, fun and catchy track reminiscent of artists like Machine Gun Kelly, Lil Huddy and Blink 182. Lyrically the song uses pirate-like metaphors and relates them to a modern-day party.
WALT DISCO DEBUT ALBUM 'UNLEARNING' OUT NOW + NEW VIDEO FOR 'BE AN ACTOR'
Death /Thrash Metal Band GADGETS SONS Drop New Lyric Video "Volcanic"
GADGETS SONS is a two piece band from Tulsa, Oklahoma that incorporates a unique blend of death, groove, and thrash metal showcasing scorching vocals and searing solos cascading over brutally punishing rhythms. Garnering attention for their earthshaking live performances the band continues to carve out a name for themselves while offering a distinctive listening experience.
GRAMMA VEDETTA Release New Song "Transmission's On"
Stoner metal band GRAMMA Vedetta are streaming their new single "Transmission's On". The song is from their upcoming release Hum of the New Machine which is out 27 May, 2022 via Mandrone Records.
The band comments:
"Transmission's On" is a sarcastic interpretation of those random thoughts that pops in your head at night and keep you awake such as "you are not good enough, you ate too many carbs, you lost your job, you have to pay the rent."
We've written down all those thoughts in verses, and put them on top of a chord progression that could be The Melvins covering Pink Floyd. It is a very dynamic song, with lots of ups and downs, a trippy exploration of the different personalities that our brain can create.
Gramma Vedetta Rev Things Up with Their "Transmission's On" Single Premiere