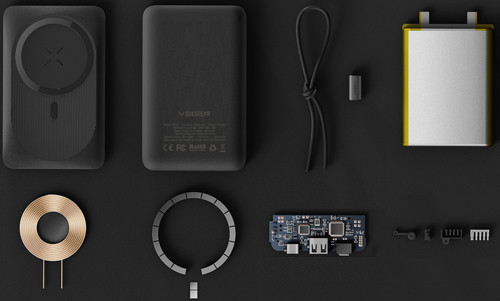 It's possible to buy a MagSafe wireless charging power bank right now, but the question is, how does this all work and what kind of features can you expect. There are always challenges when it comes to finding the right charging system, and this is one of the most popular out there. Which does bring the question, how does MagSafe work and why is it so popular. Let's find out.
What is MagSafe?
MagSafe is a very popular magnetic technology that comes from Apple, and it's built into many of the iPhone models from recent years. At first, it was created as a safety feature for the MacBook charging cords. But the new iteration was added into iPhone 12 with the idea of creating a new ecosystem of accessories. This way you have fast wireless charging and an easy attachment system that makes the process better and easier at all times.
How does MagSafe work in Veger Power Banks?
Before you go and buy a MagSafe wireless charging power bank, you want to know how this system works. It's actually quite innovative and interesting. You have a series of magnets that are placed around the internal charging coil of the device. This will sense any of the compatible accessories, and then it all snaps in with great ease. The interesting thing is that MagSafe only attaches with the compatible accessories. That means you never have to worry about magnets getting stuck or something interfering with your phone. It's a nifty idea and it does provide a tremendous potential.
Are there any issues with MagSafe?
MagSafe is not exactly perfect. It has its fair share of challenges that you need to think about. For starters, when you use it with an iPhone 12 or newer, you can only charge at a maximum of 15W, even if you have a 20W power adapter. If you have other adapters, then that will lower the charging speed even more.
Plus, you have to keep in mind that the MagSafe wireless charger is roughly $39, then you have to add the $19 for an USB type C adapter. So it ends up being $20 more than a wired USB to Lightning cable. With that in mind, it can still be a suitable option if you are into wireless charging quite a bit, but that's definitely something to think about here. However, Veger offer reasonable range of 10000 mah power bank with magsafe wireless charging pad and multiple charging ports supports PD/QC Charging.
Should you use MagSafe?
It depends on what you need and also what you expect from the technology. MagSafe is interesting and it does make the charging process easier. However, it's also a bit slower when compared to other charging technologies. It's certainly one of the technologies that will take a bit of a trial and error to get used to. But once you do, you will definitely get a MagSafe wireless power bank from Veger, and that alone can make a huge difference. If you own an Apple device, giving MagSafe a try is a great idea and it has the potential to convey a tremendous experience and really good results. Just take it into consideration as much as possible.