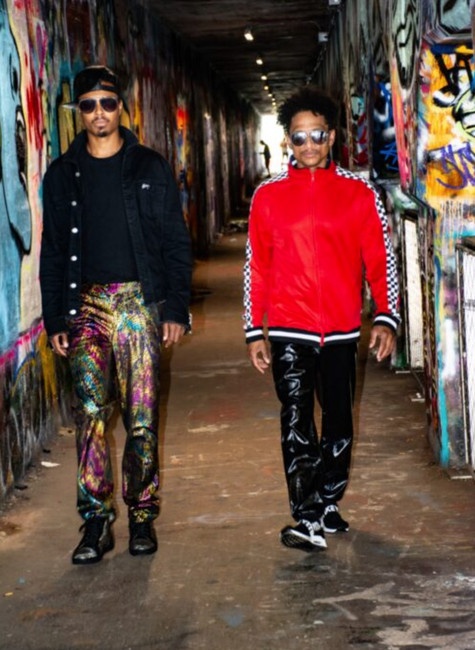 The feeling you get while driving and a falling star enters your periphery and there is no one else around to witness it. The exact same feeling you get when you are in some obscure venue and this artist of whom you have never seen before or ever heard of is killing it on stage and you realize then you are witnessing something rare, something different and that something special that can go the distance.
Maybe that was not a falling star, but a shooting star and just maybe you were at the right place at the right time (or as George Clinton would say "Once upon a time called now!) and that "shooting star" is The BUCKHEAD BOYZ. This duo cleverly blends the feel of the pop, hip-hop and rock into a seamless musical vehicle. What seems like a murmur in today's crowded music landscape is an underground volcano on the brink of eruption! As hot lava defying topography, the self-styled Buckhead Boyz defy artistic restrictions. This defying is evident by the complexity and makeup of their audiences. Today's quest for social change has morphed a new music consumer audience and fan base; one that crisscrosses and appreciates various styles of music not just one. The Buckhead Boyz is set to emerge in these times as a frontrunner for this new complexed audience.
The Buckhead Boyz (Terrance Chatman and Nikita Jackson) are a rising ATL Music Duo that is captivating audiences every time they perform! Having performed well over 200 shows over the past four years, national booking agents are in the process of arranging for the duo to open for national tour dates with major recording artists.
On August 1, 2021, they won their second award from the Radio & Records Awards for "Video of The Year" for their single release "Shout It to The World." In 2020, they won the "Rising Star Award."
The Buckhead Boyz move to the beat of their own drum, and that is what makes them so unique, fun, and exciting! When you see them, you are like, "Wow!" … When you hear their music, you feel them!
The Buckhead Boyz have recorded a new single, "I Like California," for the soundtrack for all things CALIFORNIA! The Surf, the Sun, and the Cali scene set to music.
The Buckhead Boyz music, "Shout It to The World," "Will You Marry Me," and their upcoming single " Doing It My Own Way" will establish them as a music force which to be reckoned, respected, and revered in the crop of "New Artists" to come out this year. The Buckhead Boyz are working hard to establish themselves as recognizable and bankable national/ international super stars!