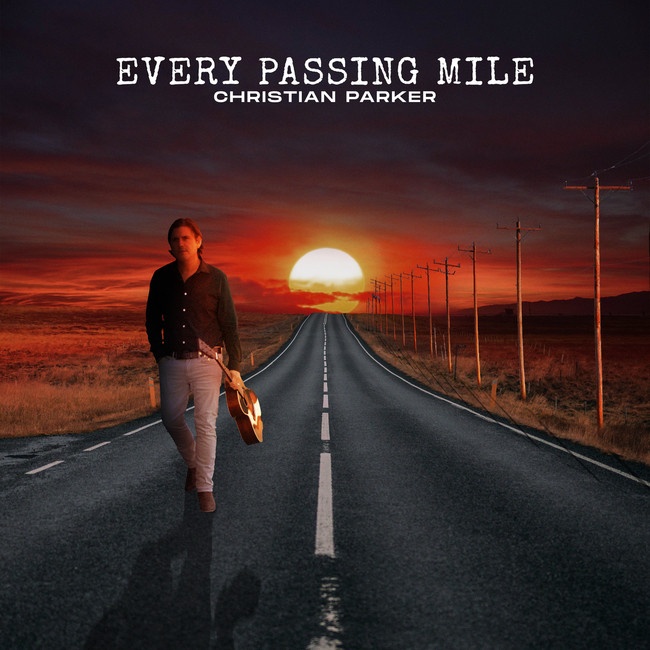 Christian Parker is a talented songwriter, guitarist and American recording artist with over 30 years experience as a musician. Over the last three and a half decades, Christian Parker has released six studio albums and his music has been featured in notable publications and on radio stations across North America, receiving glowing reviews from the likes of Jambands.com, Blues Blast Magazine, North Country Public Radio, Blues Magazine and many others. With his latest release titled 'Every Passing Mile', Christian works with Ron Keck who is responsible for co-production of the album. Phil Hurley is also featured on the new record and is known for his work with Fountains Of Wayne, Lisa Loeb, Tracy Bonham, and Gigolo Aunts.
'Every Passing Mile' starts up with a song titled "Cast A Line" that paints a mellow scene with music that puts you at ease with its calming notes. Enjoy this catch of the day that is a large note melody on "Cast A Line". Next, we hear "Faded Memories" that solidifies the fact that Christian Parker is an excellent storyteller with memorable lines and real, hard truth in his lyrics. On track three, "Tulsa County", the listener will receive a laid-back sound set to a peaceful, country-side setting. The sweet, southern winds will sweep past you as you take in "Tulsa County" in all its glory. Next, Christian Parker delivers a sensitive approach and genuine touch on "Dark Eyed Gal". Christian's performance on this track will pull you in to the point where you just may fall for this "Dark Eyed Gal". It's time to fight "Fire with Fire" where Christian Parker provides a strong delivery both vocally & lyrically. On track six, "One Life One Love", one will experience an engaging story being told by Christian where lessons are learned in life & love. "One Life One Love" is a real breath of fresh air that fills your ear drums with pleasing melodies and wonderful music. The title track is up next, "Every Passing Mile", that gives off an earthy tone with a deep texture and filled with plenty of emotional lyrics & notes. Track eight, "Slow Life", will allow the listener to slow down and smell the musical roses that are in full bloom and wonderfully orchestrated. Moving along, we hear "Last Glance" that includes a pleasant melody full of light 'n' love. Track 10, "Ordinary Girl", showcases Christian Parker delivering a powerful performance that hits you inside right to the core. Feel-good vibes surround you on "This Time" while one will be engulfed by a peaceful dreamscape that is good for the mind, body & soul on "Dream Catcher". The audience will receive a gripping finish by Christian Parker on "Sajourners Prayer" that is full of fresh spirit and life.
I was highly impressed with Christian Parker's efforts on his latest album putting his songwriting skills to the test. 'Every Passing Mile' is well-written and proves that Christian Parker is a singer/songwriter to watch out for. With an excellent production and professional recording, 'Every Passing Mile' is a true success and should be appreciated by many. Christian Parker is off and running with 'Every Passing Mile' and making great strides with his original compositions. Christian Parker's musical race is far from from over with the finish line not quite in sight yet. I'm eager to hear the next round of miles from Christian Parker, but in the meantime enjoy each step of 'Every Passing Mile'.
By Jimmy Rae