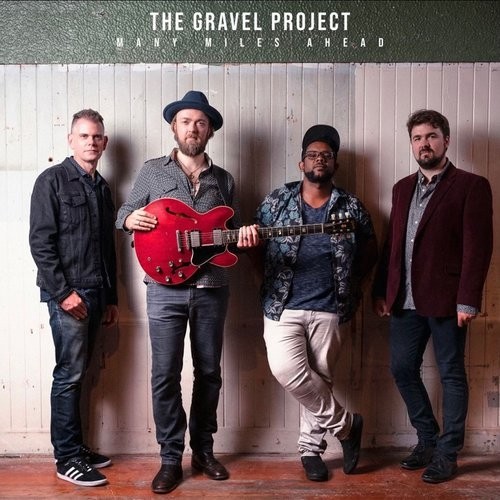 The Gravel Project is an eclectic bunch of talented players that bring an array of musical influences to the mix. 'Many Miles Ahead' is the band's latest release and includes a barrage of elements from rock, jazz & blues to funk, Latin grooves and soul. The Gravel Project brings an intoxicating display of sound to the table on 'Many Miles Ahead' that will revitalize your ear drums.
The Gravel project consists of two brothers, Andrew and Jordan Gravel with Andrew handling vocals & guitar and Jordan on organ. The group is also comprised of: Dave Fox on drums and Brandon Mayes on percussion & vocals. Last but not least and joining the band in 2022 is master percussionist Eguie Castrillo who has performed with: Tito Puente, Steve Winwood and Jennifer Lopez. 'Many Miles Ahead' is the group's third studio album and some of their best work to date. Prepare yourselves for the glorious road ahead created by The Gravel Project.
The record starts up with a song titled "No More Fire" that offers the listener a solid rock beat, powerful drum presence and cool style overall. The Gravel Project is burnin' it up and breakin' out the jams with one hell of a rock groove on "No More Fire". Next, we hear "Big Deep Blue" that supplies bluesy rock riffs that entices the musical palette to the fullest. With a fun, lively feel in place, get ready to jump into the "Big Deep Blue" where the water is audibly fine. On track three, "The One", a sweet & soothing melody will hit you right away and pull you right in. "The One" also offers tender lyrics that are heartfelt and a slowed-down pace that is refreshing. Moving along, the listener will pick up on serious & sensitive material on "Earth Mother" where organic, earthy substance speaks volumes lyrically, musically & vocally. Track five, "Facts And Fiction", has an awesome vibe that will get you all jazzed up. With loads of real energy, "Facts And Fiction" is on fire instrumentally and that is the God's honest truth! An appealing sound that is pleasing to the ears can be heard next on "Saving Up My Love". This song is played and performed at just the right pace flowing along perfectly and you might just find yourself singing along to the catchy hook on "Saving Up My Love". Track seven, "By My Side", contains rocky, mountainous guitar chords that are vast and stand out in big fashion. The Gravel Project is in the zone as a complete band on "By My Side" and I also have to add that the vocal sections are shining here. Prepare to soak up the "Cool Rain" that will have you dancin', singin', smilin' and havin' a good time. The Gravel Project gives a zesty performance on "Cool Rain" that will pull in many listeners from all walks of life. The Gravel Project ends with three bonus tracks titled: "Jimi", "Funkanee" and "Brothers" and "Funkanee" would be my favorite due to the funky, fresh flavor. There is some serious jammin' going on here with funkness in full effect on "Funkanee" where the rhythm is right.
The Gravel Project was nominated for "Best Blues Act" for the 2021 New England Music Awards and the band has performed well over 500 shows to date. 'Many Miles Ahead' is a fitting title for the group's latest album because I do feel that many more roads lie ahead for The Gravel Project. I simply love this jam band and their new record is off the charts and so enjoyable to listen to! I can't wait to hear more from The Gravel Project as the group is definitely heading in the right direction and on the right track with 'Many Miles Ahead'.
https://www.thegravelproject.com/
By Jimmy Rae