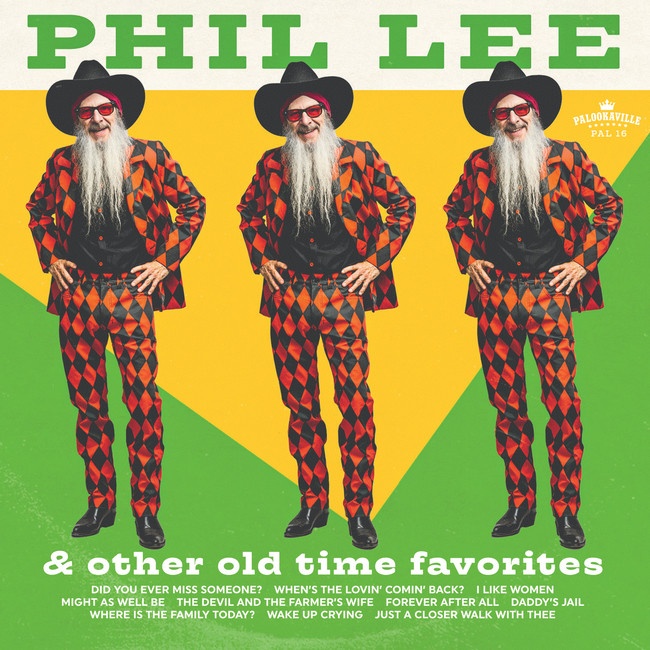 Phil Lee has got style and proves it right away with the snazzy suit he is sporting on the front cover of his new album titled 'Phil Lee & Other Old Time Favorites'. With a flashy wardrobe, Phil Lee also has a certain flair with his music that is both stylish and original. On this new record, Phil is pulling out all the guns when it comes to being a straight shooter with a killer sound. With elements of country, bluegrass and folk, 'Phil Lee & Other Old Time Favorites' offers classic charm and timeless tunes!
Phil Lee is a talented singer/songwriter, multi instrumentalist and performance artist, whose credits include work with Richard Bennett, Billy Joe Royal, Clyde Moody, Crazy Horse, Jack Nitzsche,
The Flying Burrito Brothers, Rob Stoner, Barry Goldberg, Howie Epstein, Beverly DeAngelo, Homer A. Briarhopper. Producer, David West is also a key contributor on this new record adding in many instrumental parts and vocal sections. Phil Lee added lead vocals, rhythm guitar, harmonica and drums to the mix making 'Phil Lee & Other Old Time Favorites' an instant smash!
'Phil Lee & Other Old Time Favorites' kicks off with a song called "Did You Ever Miss Someone" that is simple yet satisfying allowing the listener to not miss a beat and enjoy every single note & bar. Next, we hear "When's The Lovin' Comin' Back" that offers good times by way of a very charming tone courtesy of Phil Lee. Track three, "I Like Women", supplies an appealing sound that is entertaining and colorful in nature. On "The Devil And The Farmer's Wife", the listener will receive a witty tale that keeps you engaged from beginning to end. Track six, "Forever After All", gives off a nice, sentimental value that Phil Lee delivers perfectly. Get ready to roll down the tracks with a beat that keeps chuggin' along on "Daddy's Jail". Jump aboard Phil's lively express and take a ride to "Daddy's Jail" where Phil Lee's musical artillery is locked & loaded. Track eight, "Where Is The Family Today", proves that Phil Lee is a fine storyteller with strong lyrics that are able to hit a chord with real life topics. Dive into a down home atmosphere on "Wake Up Crying" that provides cool vibes that don't come across as sad at all. On "Wake Up Crying", one will rise up feeling rejuvenated and will rejoice over the soothing sounds. Take a spiritual walk with Phil Lee on "Just A Closer Walk With Thee" that will fill you with joy & happiness. All there is left to say by the end of the album is AMEN!
I thoroughly enjoyed 'Phil Lee & Other Old Time Favorites' with its classic, bluegrass elements and Phil's shining personality on the microphone. Phil Lee is a talented artist who plays on emotions wonderfully and knows how to connect with the audience. I look forward to hearing more from the charismatic musician as I feel Phil Lee has many more interesting stories to tell.
By Jimmy Rae