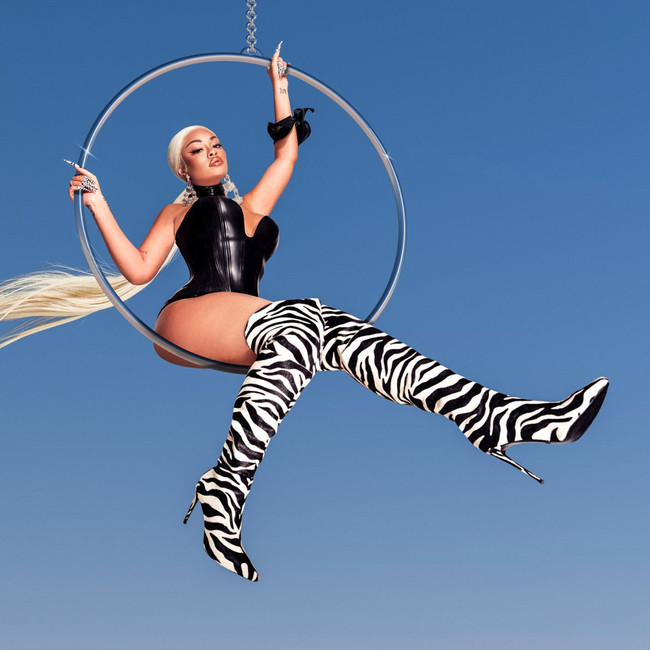 @skopemag news – friday – march 25, 2022 @ 7 pm est
@skopemag HQ – http://smarturl.it/skope
MESHUGGAH Shares Face-Melting New Single, "I Am That Thirst," Taken From Their Upcoming Full-Length Immutable
"I Am That Thirst" is the third single from Immutable, MESHUGGAH's ninth studio manifest, set for worldwide release via Atomic Fire on April 1st!
The Swedish extreme tech-metal pioneers are reinventing themselves yet again on "I Am That Thirst," a new skull crusher where the band pushes even their very own boundaries. It's a song that keeps you guessing, keeps you yearning for more, and wanting to dive into the full realm of this record.
UDOKA MALACHI Shares New Single "June XX" – Announces Debut Album Release Date
Today, the Bronx-based Nigerian-American hip-hop artist, activist, and attorney Udoka Malachi shares "June XX," the second single from his upcoming debut Palace Lumumba which will be released on April 8, 2022.
#NewMusic Friday: Space Kamp Release "Air"
postcards from new zealand reveal new single "pinky swear" via Blessed Altar
postcards from new zealand have revealed the first single, "pinky swear", from their upcoming album, burn, witch, burn, due out April 15, 2022.
Mahogany Frog Release New Album FAUST | New Video Out Now!
Yotam Ben Horin (Useless ID) Announces New LP, Shares "Young Forever" ft. Jim Adkins (Jimmy Eat World) Single + Music Video via Brooklyn Vegan
Today, Yotam Ben Horin announces his forthcoming album, Young Forever, due May 20 via Double Helix Records. Alongside the announcement, he's shared the LP's title track and first single + video, "Young Forever," premiered via Brooklyn Vegan. The track features Jim Adkins (Jimmy Eat World) and Bob Hoag (Pollen, The Go Reflex).
Alivenique Releases Groundbreaking New Single "Vanguards"
Slowing down for a minute, Vanguards is truly one of the more beautiful and groundbreaking songs on the record, highlighting the arty feminine throughline on the album. Vanguards is about the feminine spirit as traveling through time – something as old as time, and maybe even older. Something bold and beautiful, wise, wild, natural and uninhibited – musically and lyrically a feminine transcendentalism.
listen: shapeshifting w/Salt Cathedral=Matisyahu's euphoric new release today
On the inspirational roots that would mold his seventh studio album, Matisyahu reflects; "Throughout my life so much of my music has come from struggling with a sort of existential loneliness, even though a lot of the music is very joyful. I ended up in a place where I've found the person who's my soulmate and made a beautiful life with her, and that's the place where this record was born."
STATEMENT: new single & video "Indestructible" out now
After the release of "The Reaper" – their first single from the upcoming album – heavy rockers STATEMENT are back with a new song. "Indestructible" is another song of the new Statement album that will be released later this year via Mighty Music and, once again, shows the immense firepower of the Danish quintet.
Seven Kayne Drops New Single After Surprise Lollapalooza Argentina Premiere
Argentinian rising urban pop-rock star Seven Kayne transports us to the dance decade of the 80s with his new single, love song "Eso Que Tenés." Through harmonious production and refreshing lyrics, Kayne explores the secret of "that thing " about the special person in his life. Last week, he surprised more than 60k people with a preview of the single at Lollapalooza Argentina to mass hysteria.
Post-hardcore trio Vagrants share ambitious single "Be Consumed"
Today, progressive post-hardcore outfit Vagrants shared their new single "Be Consumed" out now on Equal Vision Records. The song will appear on their forthcoming album of the same name. Formed in 2017, Vagrants' current line-up is composed of Jose DelRio (guitars/vocals), Anastasia Hayes (Drums), and Bryce Ballinger (guitar). "Be Consumed" shows a different side of the bands sweeping, progressive sound – awash with intricate guitar and drum work supported by modern electronic elements and huge breakdowns. There is a palpable jam-like quality to the track, the band is tight as ever but falls into a groove with one another that speaks to their mature creative alliance. The songs vocals are equal parts soaring and powerful, conveying the message of the song with a melodic sensibility that is undeniably catchy. You can stream the track here.
Morgan Toney's First Flight out Today
"Msit No'kmaq," highlighted today with a lyric video, is an original composition that features a solo by Ashley MacIsaac. "The Mi'kmaq phrase 'Msit No'kmaq' translates to 'All of my Relations,'" says Toney. "We say that phrase after every ceremony, after every speech, and after every prayer. It basically means that we are all connected in some way, and that there is a possibility to work together. The song is filled with Indigenous Teachings, along with the message of the "Great Spirit Prayer."
New Single From Stunna 4 Vegas 'Pay Me To Speak' Out Now On Billion Dollar Baby Entertainment/Interscope Records
Hayden Calnin Announces New EP; Shares Single Feat. Nick Aqcuroff
Today, Melbourne-based electro-folk singer, songwriter, and producer Hayden Calnin shares his new single, "The Way Back Up," which features fellow Australian artist Nick Acquroff. Hayden explains, "Nick and I have been playing music together for years whenever we've gotten a chance to, and we thought it was about time to lay one of our songs down and let people have a listen. We were both living down the southern coastline of Australia, and I had Nick over one night for some dinner and drinks. Naturally, we ended up in the studio a bit later on writing and recording. That seemed to be pretty common practice for us when we would hang out, and this was a track that really resonated with us. It sat on a hard drive for 2 years, and I opened it up one day on my computer and thought it was too bloody good not to finish, so I gave it a good mix, and this was the result. Nick is such an incredible guy, and I'm just super stoked to be putting out a collaboration with my mate, it's awesome. Mates are awesome. Writing songs with mates and releasing them is even more awesome."
Brooding, Fierce New Single from 18 year old London Artist
Lia Rye is an 18 year old South London based artist whose music dances on the borders of alternative pop and rock. Showcasing mellow, reflective themes, Rye incorporates honest, relatable lyrics through a storytelling approach, captivating listeners with her colourful tales of characters and how they perceive the world around them.
Emo Diary of Heartbreak // 100 Million+ Streams
For as much as 93FEETOFSMOKE fits into the curious corners of the internet where memes double as gospel, he's just as at home on the D.I.Y. stage of a sweat-soaked underground gig IRL. The Virginia-born and Oregon-based singer, songwriter, producer, and guitarist could've easily materialized in the late nineties, but his movement actually bubbled up in 2014—and it quietly boiled over by the time he signed to Photo Finish Records eight years later. With hundreds of millions of streams and plays, a rabid following, and acclaim from Earmilk, Elevator Magazine, and more, he shocks his vison to life like never before on his 2022 full-length debut album, GOODGRIEF.
408 Team Up With Kellin Quinn and Magnolia Park's Joshua Roberts To Pay Homage To blink-182
Acclaimed Phoenix-based Female-Fronted Power Rock Trio, Jane N' The Jungle, Announce New Video About Out of Body Experience via Celebmix
The title track "Ocean Creatures" dropping with the EP is the final installment and combines two worlds from the depths of the oceans to the heights of space that are interwoven. The EP was born from vocalist Jordan White's out of body experience she felt after being hit by a red light driver: stuck in a moment that she thought she was going to die. White explains, "I couldn't identify the sensation; it was like imagining ocean creatures flying in space thinking that they were probably angels. That's the imagery that came to mind when writing the song."
Rock Artist RIIVER BRUKES releases "Reformed Soul" & Drop When Tomorrow Comes (Official Music Video)
'This song was inspired by an elderly couple walking through my local village. They were desperately trying to hold each other's hand as the old woman struggled to push the frail man in his wheelchair. Clearly unable or unwilling to lose sight of each other – even for a moment. It was perhaps the most beautiful and yet, the most sad thing to witness: Uncertainty, love, vulnerability and precious time – all rolled into a few brief seconds. I knew that they didn't have much time left together… but then again, I wondered what rich history they had shared…' Riiver Brukes
Flaccid Mojo (mem Black Dice) Announce Self-Titled Debut LP, Share "Slow Psychics" Single via Brooklyn Vegan | LP Out June 3 via Castle Face Records
Today, Flaccid Mojo (kickstarted by Black Dice members Bjorn Copeland and Aaron Warren) announce their self-titled debut LP, due June 3 via Castle Face Records. The record's first track, "Slow Psychics," is out now via all DSPS. On this new LP, Warren and Copeland prepare a feast of answering machine malfunctions, cough syrup oral reports, and beats for the rhythmically impaired into a high volume visceral soundtrack for those geared for the hours of 2 am 'till close.
[OUT TODAY] Ecuadorian electro-pop artist Neoma shares "Say You Love Me"
"Say You Love Me", a moody an introspective pop ballad with similarities to contemporary artists like Billie Eilish, demonstrates Neoma's incredible range as an artist, especially in contrast to the upbeat and shimmering disco pop of lead single "Tears At Bae", which was accompanied by a music video of Neoma performing the song at a roller rink dance party.
LATTO RELEASES HIGHLY ANTICIPATED NEW ALBUM "777" VIA RCA RECORDS
Her latest project includes her previously released tracks – the electric single "Wheelie" featuring 21 Savage, her top 20 Billboard hit single "Big Energy" and her melodic track "Soufside," which paid homage to her roots in ATL. Additionally, the album has guest features such as Lil Wayne, Childish Gambino, Nardo Wick and more, plus a "Big Energy (Remix)" bonus track with surprise features coming out Monday, 3/28. You can hear Latto's new album live on her headlining 777 Tour that's currently underway.