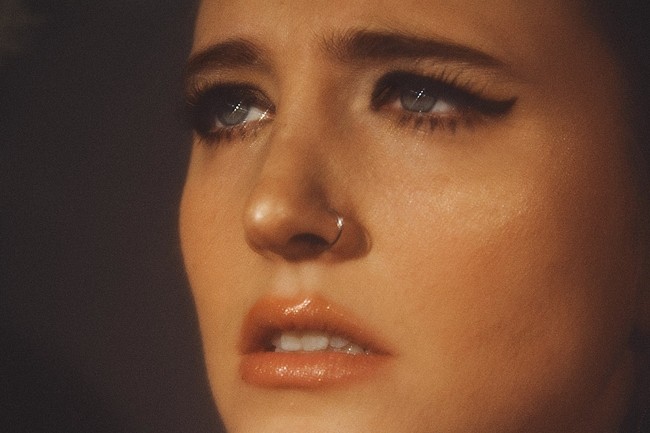 @skopemag news – thursday – march 24, 2022 @ 10 am est
@skopemag HQ – http://smarturl.it/skope
Blonde Diamond Share "Strange Times" Music Video via The Big Takeover
Speaking on the music video, Alexis Young wrote:
"Lyrically, the song 'Strange Times' takes place in a fantastical parallel universe, so it only made sense that the video should represent that. We chose to use a bright and dreamy palette to provide a luxurious backdrop for our characters to obliviously dance away on. As it becomes clear through elements of foreshadowing that there is a clear impending doom, we ignore the signs and carry on. In the background as we see chaos and destruction unfold, we try to keep the dream alive until we become swallowed and it reveals that the universe goes on without us, unaffected. Strange times indeed."
BERRIES – Unveil Dizzying video for: "Wall of Noise" – Watch Now
Grappling with themes of insecurity and isolation, the gritty new track is accompanied by a video that sees the band confront a seemingly endless journey up an incalculable amount of stairs.
NIGERIAN SUPERSTAR TEKNO RELEASES NEW SINGLE & MUSIC VIDEO "JINJA"
On the track, a steady rhythm pulsates and builds anticipation as his ethereal vocals echo with momentous energy. The accompanying video finds Tekno full of swagger as he gracefully navigates the vibes of the tune brought to life on screen.
WILL LINLEY SHARES THE NEW SINGLE "WRONG TIME" – WATCH THE OFFICIAL VIDEO HERE
Written during a Zoom session with songwriter and producer John Samual Gerhart, "the song is about meeting the right girl at the wrong time," notes Will. "It's a very personal song and means a lot to me as an artist. I love the up-tempo guitar riffs and it always makes me wanna vibe out!"
Otoboke Beaver Ask "PARDON?" On Blistering New Single + Video | 'Super Champon' LP Out 5/6
It's a playful retelling of a situation that the band often find themselves in: unrelenting miscommunication of unsolicited and fervent points of view, while featuring simple lyrical refrains that heavily contrast the stop-start time changes and dizzying pace.
NIGHT CROWNED Release New EP and Share Visualizer Video! "Rebirth Of The Old" out now on Noble Demon!
Today, Sweden's very own Night Crowned release their brand new 4 track EP Rebirth Of The Old via Noble Demon. With their intoxicating blend of uncompromising blackened death metal, symphonic arrangements and dark, hypnotic soundscapes, Night Crowned have quickly made a name for themselves and this EP should be another powerful appetizer for a new album coming in the near future! In support of the new release, Night Crowned have shared a visualizer video for the track "Rex Tenebrae", which features Christian Älvestam (Ex -Scar Symmetry) on guest vocals.
NIN3s feat. Toshi "Khokhoba"
Out today on Dorado Records, Khokhoba is the third single taken from Hopeyard, the debut album from classically trained studio wizard, composer and pianist NIN3S.
One of the album's most striking tracks, it features the powerful, compelling vocals of South African songstress, writer, poet and musician, Toshi Tikolo.
Canada's My Hollow Release Crushing Single "Hell Or High Water"
Canada's My Hollow has a new EP coming out, "Fighting The Monsters", which will be their third since their inception in 2012. The new record boasts the heaviest music they have written and the addition of keyboards adds a new layer to their sound, infusing it with epic melodies. The latest single "Hell Or High Water" is progressive and wild, and bassist Sean De Faria details the particulars of the track:
[Video Submission] Makeba Mooncycle – A Fool's Story
Anarchy Records and Makeba Mooncycle presents the second single "A Fool's Story" from her upcoming album "Just A Part of Me", production and scratches by French producer Buck Oner.
Split Persona & 3 Doors Down Collaboration!
Split Persona just finished collaborating on a song with 3 Doors Down that was just released as a single and will also be added to the upcoming album out later this year. The band also just signed with Iron Gate Records, who are under the Universal Music Group umbrella.
Uma Bloo Shares Don't Drive Into the Smoke LP via Indie88
Today, Uma Bloo — the project of Chicago musician Molly Madden — shares their brand new album, Don't Drive Into the Smoke, out now via Earth Libraries.
Indie88 Premiere: Uma Bloo's new shoegaze album 'Don't Drive Into the Smoke' is all about destiny
Listen to "Zabumbell" new single by musician and producer from Paraíba, BIG JESI
Daniel BIG JESI is a musician and producer from Paraíba with extensive experience in bands and studios in João Pessoa. He currently integrates the band Rieg, the duo D_M_G, the project Orijah, from the collective of producers ferve, produces for Bixarte, Filosofino and other names from the new scene in Paraíba and northeast Brazil. A constant figure in the Paraíba scene, he is also part of the band of important names in the state such as Totonho.
Perth hip hop artist Sheldon5D introduces himself with debut single 'Ride With Me'
For artist, producer and engineer Sheldon Nunes, music and creativity has run in his blood for years. Working out on the West Coast of Australia, he has been part of the burgeoning and thriving community of local musicians and producers putting on for their city and as an artist, Sheldon has been making his mark, releasing music as the enigmatic Sheldon5D.
HARPER BLOOM ANNOUNCES CHARMING NEW SINGLE & VIDEO 'RED ROCKET'
Melbourne-based, Perth singer-songwriter Harper Bloom has today shared an affecting new single Red Rocket, a bright and empathetic tune that delves into dealing with loss in a positive way – by looking back on fond memories. Released today, the charismatic song is accompanied by a charming music video that reflects on the simple things in life, set in country Victoria.
Motown Tribute // Inspiring and Dance Worthy Song of Hope
Stefano is a singer, songwriter and piano virtuoso who fuses soul, pop and classical for an enthralling musical journey. The talented songwriter's music is marked by hope, love and connection in the aim to heal.
CAMEL POWER CLUB unveil hypnotic animated visual for 'EIGISYG'!
Indie pop atmospheres with leading drums and joyful yet nostalgic guitar riffs abound in 'EIGISYG', a song perfect for indie or mood playlists and for fans of Real Estate and Kings of Convenience.
New single: Rising R&B newcomer RAHH returns with her effortlessly soulful new single 'Run The Lights', out today
While previous single 'Weave My Web' perfectly cemented her raw and heartfelt R&B aesthetic, 'Run The Lights' sees her adopt a more adventurous and explorative realm within the genre. Opening up with bold and pulsing basslines that create an almost breathless feeling to the release, she rides this rich and soaring atmosphere to deliver a wonderfully powerful and distinct addition to her catalogue to date.
Nji is the queen of versatility as she fluidly moves between crafting high energy, fiery tracks before effortlessly gliding over laidback, soul stirring, heart-led rap ballads. 'Pressure' leans on the latter as Nji delivers an insightful rap anthem filled to the brim with deep lyrical content. Teaming up with SpiiceyBeats for the production, they find the perfect canvas for Nji to showcase her skills. With undertones of Afrobeat percussion, an infectious melody and spacy synths all wrapped together with soulful vocal chops and adlibs, they manage to blend the differing elements to create a masterpiece. The London based artist clearly takes pride in her technical penmanship, delivering an avalanche of metaphors, similes and wordplay, as well as displaying a real knowledge of the fundamental pillars of rap. This track demonstrates the hard work and pressure you feel whilst trying to achieve perfection, speaking on this topic Nji tells us "No heat. No pressure. No diamonds!!!"