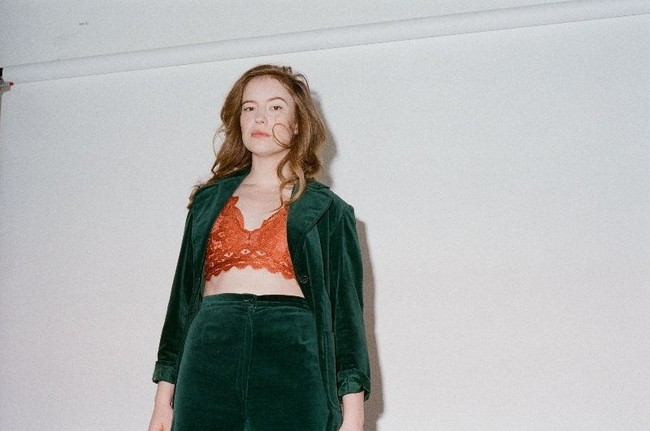 @skopemag news – wednesday – march 23, 2022 @ 5 pm est
@skopemag HQ – http://smarturl.it/skope
LOGIC1000 – Shares New Track 'Rush' | Out Now Via Therapy
Logic1000, the alias of Berlin-based producer Samantha Poulter has today shared a new single, 'Rush'. 'Rush' retains the playful dance-floor ready energy of February's 'Can't Stop Thinking About', this time with an eye on the earlier hours with a deeper baseline underpinning snatches of vocals, a track to get lost in. The track comes alongside a visualiser by Sarah Banks.
Sharing: La Meyer / Minimal Deep Tech Inspired in Barranquilla (COL) and Colombian Drums
It´s debut time on Dualism Records. Even though the label was established in Miami, we are always thrilled to introduce some of the coolest and most talented rising new producers from our motherland, Colombia. We present "Energy Love" by La Meyer. Her real name, Nathaly Jennifer Rose Alejandra Borrero Meyer is pretty resounding as her music. Her origins in Barranquilla, the city of the Carnival, Shakira, Sofia Vergara and foster home for Joe Arroyo, are colorful and pretty rich as her skills playing the Colombian tambora. Later in his life, she got to live in Bogotá, the country´s capital, where she reconnected with house music, that sound she heard for the first time at her house with her older sister. Years have passed by since then. La Meyer made a life promoting parties and after making herself in the art of mixing. Then, during the pandemic she finally made her music skills to the studio. This is a first taste of it: deep, pretty 4/4 house music beats, with a unique groove brought from the roots of the Colombian Caribbean coasts.
Move Like Creatures Release Debut EP "Space Case"
The four piece band, who has defied the odds transcending the loneliness and isolation of lockdown to find each other in the midst of the COVID-19 pandemic through a Craigslist ad, offers connection to listeners through their music through trying times. Recorded with producer/engineer Ethan Kaufmann (Ryan Cabrera, Avril Lavigne), the indie-pop collection is deceptively bright, fueled by addictive hooks and an infectious charm that belies the collection's often-weighty subject matter. Frontwoman Nancy Bombard's lyrics are raw and vulnerable, grappling openly with loss, insecurity, and mental health, and her bandmates—drummer Melissa Koziel, bassist Brian Bello, and guitarist Ryan Reynolds—deliver similarly confident, captivating performances, mixing pop sheen and rock and roll grit with immersive electronic flourishes and streaks of punk defiance.
Love You Later Shares "Keepintouch" Music Video
German Gothic Metal Icons CREMATORY Announce New Album + Reveal Title Track "Inglorious Darkness"
Gothic Metal icons CREMATORY are an undeniable institution. Now, with more than 30 years in the scene, the band continues to showcase why they are heralded as one of the best of the genre with their new album, Inglorious Darkness, out May 27, 2022 via Napalm Records!
Brand new track from BAUHAUS: "Drink The New Wine" released today
"Drink The New Wine" was recorded last year during lockdown with the four members sharing audio files. The track employs the Surrealists' 'Exquisite Corpse' device whereby each artist adds to the piece without seeing what the others have done.
Loren Beri shares new single about fictionalized real life mania: "Prince V" featuring Itamar is out today, ahead of debut EP
"Prince V" arrives as the follow up to Berí's debut single, "My Brooklyn (Is Better Than Yours)," which sees the musician begin to craft an alternate universe of characters, both real and imagined, where the forthcoming EP takes place and gets its name — in a romanticized version of New York City called the Stray Cat Kingdom. FLOOD Magazine, who premiered the track, called it "a wildly magnetic—and hilarious—homage to NYC." FLOOD continues, "The song pairs Berí's bubbly synths and catchy melodies with tales of a fizzled cross-country fling, visions of Berlin and brunch and Bryant Park, and plenty of tongue-in-cheek digs..with a joyful, roving feel."
Skye Wallace Says "Everything Is Fine"
On Skye Wallace's new single, "Everything Is Fine," she asks this tough question of a friend, and of herself. The new song, which builds its potency as Wallace pays homage to our "plaid-wearing, Doc Martens-donning foremothers of pop-punk" (Bustle), is about getting unstuck from a looping reel of one's own mistakes. This repetition of a new mantra, which also serves as hook and outro, offers much needed reassurance not to fear the question, or the answer.
California Symphonic Metal Quintet GRAVESHADOW Unveil Video for 'Soldier of 34'
US based quintet GRAVESHADOW – who deftly mixes symphonic/gothic metal with elements of doom, thrash and epic progressive power metal – have unveiled the music video for "Soldier of 34", the new single from their forthcoming album, "The Uncertain Hour". The band's third album will be released July 15, 2022. The YouTube video can be viewed here:
California Symphonic Metal Quintet GRAVESHADOW Unveil Video for 'Soldier of 34'
The Sacramento-based quintet GRAVESHADOW – who deftly mixes symphonic/gothic metal with elements of doom, thrash and epic progressive power metal – have unveiled the music video for "Soldier of 34," the new single from their forthcoming album, "The Uncertain Hour." The band's third album will be released July 15, 2022. In the meantime, the video for "Soldier of 34" can be viewed at:
common goldfish distills '90s nostalgia in debut single 'Feel The Fuzz'
Tottenham-based artist common goldfish makes his debut with 'Feel The Fuzz', which encapsulates this South London native's fascination and nostalgia for the era he grew up in – the 1990s. You can hear this vital relationship ringing through the sonic influences of his first single. It's all about uplifting old-school sounds and vibrant, ear-catching melodies over breakbeats and funk-inspired bass lines, blended with a modern production. Appropriately fuzzed-out guitars and jangling percussion set the listener smack bang in the middle of that unmistakably British genre. In short, 'Feel The Fuzz' creates an irresistible groove that stirs a sense of optimism in the listener.
Guerilla Toss Share New Single "Live Exponential" from their forthcoming album Famously Alive
This coming Friday, March 25th, Guerilla Toss will release their Sub Pop debut, Famously Alive. On the heels of their latest single, "Cannibal Capital" and "Famously Alive" comes the new single "Live Exponential." The band's frontperson, Kassie Carlson shares of the song: "The song Live Exponential is about living to the fullest and beyond. It's about having all the experiences possible and using them to build your understanding of yourself and the world around you. It's about telling yourself you're special until you believe it and feeling Godly just for yourself. It's about severing the primal need for outside approval and taking active action to get what you want and need."
OMAR APOLLO SHARES NEW SINGLE "TAMAGOTCHI" PRODUCED BY PHARRELL WILLIAMS & CHAD HUGO
Following the official announcement of his highly anticipated debut album IVORY, due April 8th via Warner Records, Omar Apollo shares a brand new single from the project, "Tamagotchi" produced by Pharrell Williams and Chad Hugo, which he recorded with the duo last year in Miami. The new track arrives alongside Omar's launch as Apple Music's Up Next Artist of the month including the premiere of an exclusive short film and an interview with Apple Music 1's Zane Lowe, both out now.
SERPENTENT Release New Single "Rise & Fall"
Seattle-based dark folk solo artist SERPENTENT has released the first single from their upcoming studio album. The new track, titled "Rise & Fall" was released on March 18th, and is accompanied by a music video. The new album from Serpentent, 'Ancient Tomes Vol. 1: Mother of Light', will see a May 20th, 2022 release via Svart Records.
Will Linley Shares New Single "Wrong Time"
Written during a Zoom session with songwriter and producer John Samual Gerhart, "the song is about meeting the right girl at the wrong time," notes Will. "It's a very personal song and means a lot to me as an artist. I love the up-tempo guitar riffs and it always makes me wanna vibe out!"
SAVANNAH RÉ RELEASES NEW SONG "FIJI" TODAY
2021 JUNO Award winner of Traditional R&B/Soul Recording of the Year and three-time JUNO Award Nominee Savannah Ré has become one of R&B's brightest new voices by making music with an unyielding intention: to craft songs that forfeit polished stories for authentic ones.
GLOBAL ICON SEAN PAUL TO HEAT UP 2022 WITH NEW ALBUM SCORCHA ON MAY 27
Billboard exclusively broke the news of the record's arrival today. With adoration, the outlet wrote, "Paul's wave of dancehall was not just about the music. It became a worldwide cultural movement, filled with unapologetically Jamaican style, visuals, dance moves and traditions."
French progressive death-metal Wrath Of The Nebula unveiled new music video "D.N.A of the GODS"
About 3 years and a half after the birth of the band, Progressive Death-Metal 4 piece Wrath Of The Nebula is about to release its debut full-length album called 'The Ruthless Leviathan' and planned for a worldwide release on April 1st through M & O Music.
LISTEN: New Track from Justin Jay "Alone on My Bday" + Tour
In 2021, Justin Jay celebrated 5 years of his label Fantastic Voyage, which has become a welcoming home for artists behind its reputation for putting creative's visions first. In a sonic world where feeling and mood are every bit as important as the style of music, the label's milestone finds it marching forward on a noble journey of discovery, while recruiting a wide cast of musical characters from around the globe.