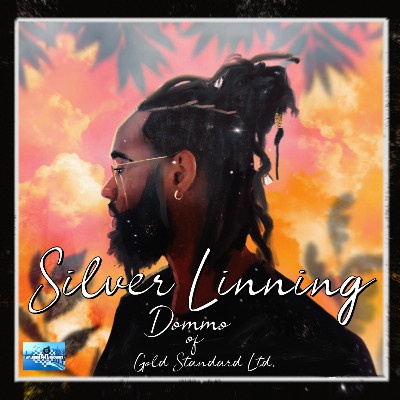 Someone notify the Grammys, as an out of nowhere sensation has emerged in Dominique Lloyd, better known as Dommo. A member of Gold Standard LTD, Dommo has released a single on his own, "Silver Linings." The track is a bit of a genre-bender, but the one defining element is Dommo. Something of an Enigma, Dommo has a voice for the dramatics. What he does on "Silver Linings" is as rare as it is powerful.
Dommo's bio is careful to reference his obstreperous upbringing, and cites both Texas and Ohio as his places of origin. It's unclear if "Silver Linings" is inspired by his childhood, but it's implied. There's a minimal yet full sounding quality to "Silver Linings," and the middle ground it achieves is something of a sweet spot. It's rare that a song captivates you from the start, but that is the case, here. I found myself frozen with introspection from the opening chords of a steel guitar.
You might be inclined to categorize "Silver Linings," as a ballad, but a love song, it really isn't. This isn't a celebration of romance, but rather an angelic voice in your head, urging you to not give up. It's the way that "Silver Linings" is going to resonate with everyone who hears it on a completely different level, that makes it so powerful. It's immediate, yet dense, and that combination is extraordinarily uncommon. The overall experience is a sort of spiritual cleansing that doesn't conclude so much as it gives you the headspace to save yourself.
A quality song can only achieve so much on its own, and the same goes for a stellar performance. It's what happens at the console that is paramount to a successful recording. The art of restraint and the philosophy of less is more is exercised to Great effect on "Silver Linings." The placement and timing of the moving parts on this song are simply brilliant. Everyone who worked on this track, from Dommo to Gold Standard to the Engineers, have collaborated to make something truly special and enduring.
It seems impossible to create something modern, that will unify people more than divide them. "Silver Linings" isn't a political song, nor is it out to make a particularly stiff social statement. It exists to soothe, to heal, and to cope. Conversely, this track seems deeply personal to Dommo, and no one could have churned out as revealing of a performance as he has. This song would be a show-stopper at any awards show, and it will be an injustice if it doesn't get that opportunity. We used words like moving to describe works such as "Silver Linings," but quite frankly they fail to accurately describe the emotional enormity. It's through songs like this that the steps to embracing empathy as a way of life, take great strides. "Silver Linings" is now available for purchase and download across all major digital platforms.
Gwen Waggoner
The music of Dommo has been heard all over the world in partnership with the radio plugging services offered by Musik and Film Radio Promotions Division.  Learn more https://musikandfilm.com