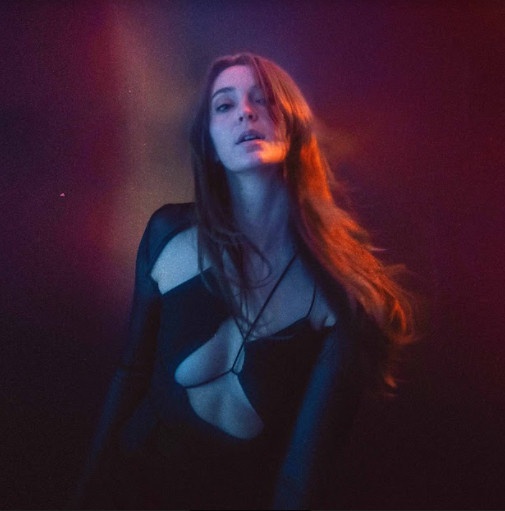 @skopemag news – wednesday – march 23, 2022 @ 12 pm est
@skopemag HQ – http://smarturl.it/skope
Long lost Saâda Bonaire '90s material to be released by Captured Tracks, '1992' out May 6 – stream a track now!
Until recently, it was thought that we had heard all there was to hear from Saâda Bonaire. The German studio project's 1980s recordings had been compiled on the now cult-classic double LP Saâda Bonaire, released by Captured Tracks in 2013. Though the group had continued working until 1994, founder Ralph "von" Richtoven had firmly stated that all of their post-1986 work was lost: "I threw away most of my work; I didn't see any reason to hold onto it anymore." A visit to a relative's house, however, turned up a pleasant surprise: Richtoven stumbled across a battered cassette tape labeled Saâda Bonaire '91. Released now for the first time ever, 1992 compiles the band's long-lost early nineties material. Produced between Bremen and New York City, the 12 songs presented here capture the group's attempts at steering their trademark fusion sound (reggae, afro-funk, Eastern music, and sultry German female vocals) into uncharted nu jazz, trip-hop, and house territories.
Psychedelic Artist ANIQO Unveils BIRTH Album [FFO: Pink Floyd, Cocteau Twins, Sharon van Etten and Nick Cave]
Raffaella shares "BLONDE" via Mom + Pop (prod, by Hippo Campus' Jake Luppen)
An energetic take on the possibilities and precarities of self-presentation, "BLONDE" is the product of a joke taken too seriously, paired with Raffaella's love for a New Yorker piece on Joyce Carol Oates's Blonde (a fictional account of Marilyn Monroe's inner life). Upbeat and playful, "BLONDE" features bouncing guitar riffs and exuberant lyrics about the little details of life. Produced by Hippo Campus's Jake Luppen, "BLONDE" pairs perfectly with a Lizzie McGuire-esque, Y2K-inspired video.
Romero share new single 'Halfway Out The Door' – inspired by J Mascis meet Memphis – with beautifully chaotic video | Debut album 'Turn It On!' out 8th April 2022 Via Feel It/Cool Death Records
A soulful 70s ballad with a hat tip to J Mascis (Dinosaur Jr.) and Memphis, 'Halfway Out The Door' exemplifies the thematic fork in the road prevalent throughout the record. Alanna Oliver reflects "I dated this guy on and off for years, who wouldn't leave me but wouldn't exactly love me either. 'Halfway' is written about him and my eventual commitment to myself." The new music is accompanied by mesmerising visuals courtesy of Megan O'Keefe, depicting a highly saturated suburban Melbourne romance.
Yves Jarvis Announces New Album 'The Zug', Watch Video For New Track "Bootstrap Jubilee" Now
Elastic artist Yves Jarvis has announced his new album 'The Zug' today, coming out on May 13 via ANTI- / Flemish Eye. Like the many works under Jarvis' belt, 'The Zug' is an entirely self-produced venture. From instrumentation to engineering to artwork, the autodidact has forged a bastion for vanguard exploration within which no holds are barred. These creative mediums coalesce into a higher order of consciousness, depicting the cosmic dance we both represent inwardly and engage with outwardly.
Marco Benevento Announces 'Benevento' | New LP Out June 10
"This record really acts as a psychedelic window into my studio and my brain," Benevento explains. "The studio was a good place to be trapped for the last few years. I was surrounded by tape machines and gear. The album started to become this document of a crazy dude losing his mind in the woods—and maybe regaining it."
BLACK LUNG: new single + album announced on HPS Records
The year 2019 marked significant changes for BLACK LUNG. Following the release of their third album "Ancients", guitarist and founding member Adam Bufano amicably departed the band and in November 2019, was replaced by guitarist Dave Fullerton. In the existential dread, loss and uncertainty of the global pandemic, with the backdrop of malignant fascism and cultural enmity in the USA, the band began writing the songs that would comprise their next record. There is no question that "Dark Waves" was conceived in hostile times, and Dave Cavalier's lyrics reflect this hostility. On the title track , the band channels this mood of bitterness through their instruments, as a meditative bridge is slowly transformed into a foreboding storm front centered around Dave Fullerton's hypnotic guitar melodies.
TOMMY CASH, IMANBEK, AND OHGEESY RELEASE 'BABY SHOCK' FT. LOST CAPITAL
Today multi-platinum, Grammy winning producer Imanbek, Estonian artist and rapper Tommy Cash and L.A. rapper Ogheesy release 'Baby Shock' featuring Lost Capital, out now via Effective Records. Tommy Cash will also be headlining a sold-out Kentish Town Forum in London on April 15th.
PRISMA release 'Seven Greedy Girls' | Gothic Scandi-Pop
Acclaimed Danish duo PRISMA share raucous new cut 'Seven Greedy Girls' and announce the arrival of their 'Inside Out' EP, set for release 8th April via Luna Sky Recordings.
PENDANT DROPS NEW VIDEO & SINGLE FROM SADDLE CREEK DEBUT
Los Angeles native Chris Adams who makes music under the moniker PENDANT (all caps) has dropped another song / video "Blue Mare" from his forthcoming Saddle Creek debut Harp, available April 8th. Directed by Ramez Silyan (Lil Peep, The Neighbourhood, etc.) who directed the previous "Static Dream" video, the song is, in Adams' words:
"about the fear and melancholy that comes with getting older; feeling like your best years have already passed and that you might not become the person you dreamed of being as a kid. Time is more fluid and dynamic than that though. I wanted to honor that fear while affirming that I'm slowly becoming a better and more realized version of myself.
Rockshots Records – FORTIS VENTUS Unveil Epic Symphonic Single "My Death is My Devotion" Off Upcoming Debut Album "Vertalia" Out June 2022
Rockshots Records will be releasing Fortis Ventus' debut album "Vertalia" on June 3, 2022. Combining symphonic and cinematic elements along with soundtrack influences, today the Greek trio unveils their first single off the forthcoming record. Entitled "My Death is My Devotion", the song captures the pain and faith behind the sacrifices for the ones we care about from the emotions driven by love and loyalty.
SOFIA LAFUENTE SHARES HAUNTING NEW MUSIC VIDEO FOR NEW SINGLE 'ARE YOU LISTENING'
Alt-pop singer/songwriter Sofia Lafuente makes her highly anticipated return with her new single 'Are You Listening', out now on all streaming platforms. This is the first single to be taken from her upcoming second EP, set for release in Spring.
Pop Starlet Sabrina Monique Releases 'More Than A Friend' [FFO: Dua Lipa, Ariana Grande and Bebe Rexa]
Crash Taylor Shares Video/Single "Mona Lisa"
Crash Taylor shows up with nothing to prove and with everything that stirs the heart to share. Husky baritone mixed with seasoned guitar playing, the music will strike a chord for any folk/rock lover, but the wholeness of his presence in every phrase will make you wonder if a genre is needed to describe it. Crash Taylor will bring you to the present moment and leave you with truths you forgot to remember.
Proper. Share New Track "Jean", "The Great American Novel" Out Friday on Father/Daughter
Brooklyn punk trio Proper. are gearing up to release their newest album The Great American Novel this Friday on Father/Daughter and Big Scary Monsters. In anticipation of the release, they are streaming a new song from the record today, "Jean", which follows earlier singles "Huerta", "Red, White & Blue" and "Milk & Honey". Proper. will play in Brooklyn at Baby's All Right on Sunday, March 27th in celebration of the record's release before heading over to the UK and Europe for a month of tour dates.
Watch Flock of Dimes' official video for "It Just Goes On" from 'Head of Roses: Phantom Limb' (April 15th) Worldwide on DSPs Through Sub Pop
Bellows share Next of Kin with a tribute to the late Montana Elliot
The Range Announces His First New Album In Six Years, 'Mercury'; Out June 10
The Range, a.k.a the Vermont-based musician and producer James Hinton, resurfaced recently with new single "Bicameral" which The FADER praised for its "tornado of breakbeats and pristine, bittersweet melodies." Today, The Range follows that up by announcing his first new album in six years, Mercury, out June 10th, and sharing track "Ricercar" (pronounced rē-(ˌ)chər-ˈkär) along with its video, directed by Stevie Gee & Essy May and produced by Blink Ink. Essy May also provided the illustrations for the album artwork.
DEANTE' HITCHCOCK RELEASES NEW SINGLE "ALONE"
"We're so busy trying to be understood we forget how to be understanding," says Deante'. "Everybody's trying to figure this thing out, but it's so hard, man. On one end, it's like I'm better off alone, so I don't have to deal with anyone else's shit, but it's also like damn, I'm better off alone to not have to deal with my shit either. But I'm trying, ya know."
LA's All Things Blue announce Nothing Special | Out April 14th, watch their video for "Gnar Lee" and catch them on tour now
India Coombs on the single and video:
"To be plain, I fell for a boy that I wasn't meant to. It didn't hit me until it was over and I was so aghast by the situation that I realized *'ah fuck, I fucked up mate'. Despite every logical understanding of "it just ain't meant to be", it's the internal impression made by those wild free reigning feelings that's so hard to shake. Human connection really is an ethereal tether of sorts, and while the ride that causes can be terrifying, it truly is life's incomparable thrill. Really just *chefs kiss*, just bellissimo, baby, bellissimo."
Federico Aubele shares new single, "Old Spanish Films," with first-ever self-directed video today
"Old Spanish Films," is the follow-up release to "Pink Spray Painted Clouds," a gentle daydream that captures the warmth of a budding romance. While similar in vocal intimacy and a delicate acoustic guitar, "Old Spanish Films," in contrast, sees Aubele come to terms with the crumbling foundation beneath a relationship once thought to be unbreakable.
Nigerian superstar TEKNO returns with mesmerising new track and visuals to "JINJA"
Following recent single "Mufasa", Tekno continues to step up gears, releasing the hypnotic "JINJA" — built on jangling, plucky guitar riffs and staccato kickdrums that allow Tekno's flows to sway and entrance.