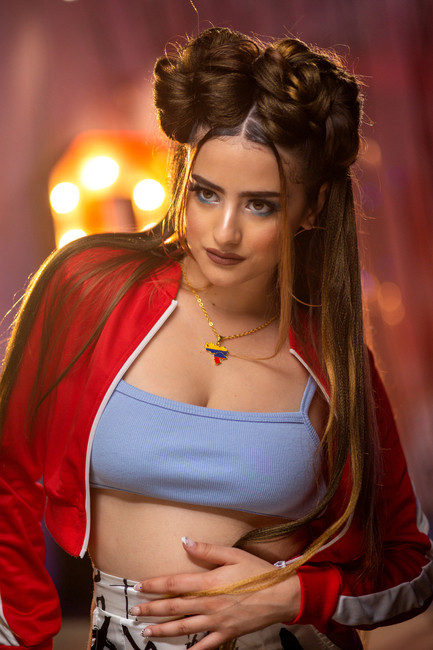 @skopemag news – tuesday – march 22, 2022 @ 2 pm est
@skopemag HQ – http://smarturl.it/skope
Central Cee Bares His Soul in Confessional "Ungrateful" Video
Central Cee came from nothing to become one of the UK's biggest rap stars, but he's still haunted and motivated by his days in Shepherd's Bush. Baring his soul about his past sins and current stardom, Cench shares "Ungrateful," the latest video from his new mixtape 23. Nimbly navigating a wistful instrumental from Levi Lennox, Cench digs deep, speaking the truth about his reluctant stardom and wondering if he truly deserves the success he achieved: "No such thing as positive thinkin', when you're locked in, it feel like a maze," he spits. Despite the song's title, Cench is anything but ungrateful, as he thanks the people who paved the path that he's chosen, including iconic UK acts like Giggs, Skepta, and Dave, and gives a special shout out to his manager: "Uh, I wouldn't be able to do what I do if it weren't for the man before me/I show respect where it's due/Where would I be if I never met YBeeez?" In the video, Central relaxes in a luxurious flat, counting his cash as he wonders whether it was all worth it.
JENSEN MCRAE RELEASES DEBUT ALBUM "ARE YOU HAPPY NOW?"
Los Angeles singer-songwriter Jensen McRae has released her debut album Are You Happy Now?, out today via Human Re Sources. Featuring recent release "Happy Girl" and viral singles "Immune" and "Wolves", the album joins and expands on her debut EP, Who Hurt You?, a project that catapulted McRae into the spotlight and garnered millions of streams worldwide.
The Delines Release Video For "Surfers In Twilight", The Sea Drift Vinyl Out June 24, 2022
The Portland, Oregon based country-soul group The Delines will release their third studio album, The Sea Drift, on vinyl on June 24, 2022 via their new American label home Jealous Butcher Records. The cinematic 11-track album from the musical collaboration of Willy Vlautin (Richmond Fontaine) and Amy Boone (The Damnations) has received widespread critical acclaim including 4 star raves in Q, MOJO, UNCUT, Financial Times, and Record Collector.
Sister Ray shares "Reputations" – Debut album out May 13 (Paste & Exclaim support ffo Mount Eerie, Adrianne Lenker)
Sister Ray, the project of Edmonton-born songwriter, Ella Coyes (they/she) is today sharing their new single, "Reputations" which follows on from recent tips from Paste Magazine, Exclaim and more for earlier singles, "Visions" and "Crucified". The new track comes as the latest to be taken from Sister Ray's forthcoming debut album, Communion which is set for release on May 13 via Royal Mountain Records (Alvvays, Wild Pink, U.S. Girls). They will support Communion with a full run of North American dates (TBC shortly), these come off the back of a recent slot at SXSW and previous shows opening for Julien Baker and Mount Eerie.
French Modern Metallers DAGOBA Release Lyric Video for "Sunfall"
In celebration of their recently released studio album, By Night, French metal frontrunners DAGOBA return once more with the lyric video for "Sunfall", featuring rigorous vocals and dominant blast beats!
BREED OF AGGRESSION Releases their Second Single and Video for "I Am The Enemy"
"I Am The Enemy" is about inner struggle and staying strong when your buttons are being pushed. People tease, pile on stress, or condescend and as it eats away at you and builds up at some point you might burst. So you think about it a lot. It can feel great to unleash but you can also be your own worst enemy by letting yourself do so. — Susie Hoffman Beahm, Breed of Aggression
Jane Inc. shares new single "2120" (U.S. Girls, Ice Cream, Darlene Shrugg)
Toronto-based artist, Jane Inc., the solo project of Carlyn Bezic who is also known for her work as part of U.S. Girls, Ice Cream and Darlene Shrugg is today sharing the off-kilter disco-pop of "2120", the latest to be lifted from her forthcoming second album, Faster Than I Can Take – out April 22 via Telephone Explosion Records (Mas Aya, Dorothea Paas, Scott Hardware). The new track follows last month's "Contortionists" single (tipped at Stereogum, Paste, Brooklyn Vegan, Gorilla vs Bear and more) with the new record following her critically-acclaimed debut, Number One that found fans in 2021 at Pitchfork, Paste, Brooklyn Vegan (Album of the Week), Bandcamp Daily (Album of the Day), FLOOD, NPR, The Line of Best Fit, BBC 6 Music, KEXP and more.
NEW MUSIC: NICKY SCORPIO "MANIFEST" – WATCH & LISTEN NOW!
Shazam Introduces Concert Discovery Worldwide
By simply Shazaming a song, searching for it in the Shazam app or on the Shazam website, users can find concert information and tickets on sale for upcoming shows nearby. They can also launch a Shazam Artist page to explore dates, times and locations of upcoming live shows, tap on any concert to view additional tour information, share show details, and add events to their calendar. The entire experience is seamless and secure.
HUXLEY Releases Official Music Video for "Hate Me;" Upcoming Single, "Second Chances," Out 3/25!
OUT OF LOVE Reveal New Single 'Kill Song' + Announce April 2022 Support Dates w/ A Wilhelm Scream
LATE LEGENDARY MC PHIFE DAWG RELEASES POSTHUMOUS ALBUM 'FOREVER'
Of the project's anticipated release, collaborator/Executive Producer Dion "Rasta Root" Liverpool shared, "I am really excited for Phife and his legacy. I know he is somewhere smiling and reading the credits and staring at artwork." While Phife Dawg's wife Deisha Taylor added, "We are overwhelmed with excitement about the release of Malik's album. We've waited 6 years for this, so our joy is boundless."
Grammy Nominated Singer-Songwriter Rick Lang Releases Music Video
Grammy-nominated songwriter Rick Lang has exclusively premiered his latest music video with The Bluegrass Situation. They Sawed Up A Storm, featuring Becky Buller, is the third track from his highly anticipated album, released earlier this year. Buller, a multi IBMA award-winning artist and chart-topper celebrated her Opry debut just last year.
Cleveland quartet Biitchseat announces sophomore LP 'Float', out May 27th on Refresh Records!
Floating is complicated. It can symbolize success, as a cream rises to the top. It can boast of achievements and richness, paired with a feathery effortlessness. To float on air, to live a sublime existence.
Biitchseat finds themselves riding through the peaks and valleys of emotional waves as they explore new depths in their sophomore album, Float. An album that is about how every aspect of what it means to be alive is simultaneously so hollow and so very full, and the beauty that resides in between.
Digging Roots Detail New Album, Zhawenim, out June 17, 2022 via Ishkōdé Records
In "Sweetwater," a rippling, swirling ballad, Digging Roots slow it down with echo-drenched guitars and smooth flowing vocals. "Water holds memory, she's a carrier, she's a shape-shifter in, on, and through the earth, and all of life," says guitarist/vocalist Raven Kanatakta. "This composition is a love song, for the water, for the revolutionaries, for our families, lovers and friends. As waves wash over, may the sweetness of her compassion add ceremony to our consciousness."
AUDREY HORNE Shares Anthemic New Track "Danse Macabre" + Video from Upcoming Album, "Devil's Bell"!
April 22, 2022 will see Bergen-based heavy rock outfit, AUDREY HORNE, release their much awaited new album, entitled Devil's Bell. Four years after their critically acclaimed Blackout record, the band's seventh studio album will drop on April 22, 2022 via Napalm Records!
DEFCEE DROPS NEW TRACK FROM FORTHCOMING ALBUM FT. ARMAND HAMMER, MOTHER NATURE, KIPP STONE AND MORE
Chicago lyricist Defcee has a new album coming and today he's released the final single "Dunk Contest". Of the track, Defcee notes "BoatHouse is one of the most versatile producers I've worked with. He can craft a variety of sonic palettes that are all top-notch and inspire great music. However, one of my favorite production styles he flexes is the one that strips everything from the beat except for space and a voice in the back of the artist's head that tells us to just rap. "Dunk Contest" did that for me—and in regard to the title of the song, every cypher is, essentially, a dunk contest. I just so happened to hit a 360-reverse windmill from the baseline on this one."
EL VIDEO MUSICAL "FRONTEO" DE AIONA SANTANA YA TIENE 1 MILLON DE VISITAS EN YOUTUBE, EN MENOS DE UNA SEMANA
La joven exponente del genero urbano Venezolana-Canadiense, Aiona Santana està celebrando el éxito de su màs reciente video musical "Fronteo". La canción que salió hace solo 4 días, ya està obteniendo una aceptación increíble en las plataformas digitales.
Kisskadee shares "Brother" and announces new LP via Highclouds; 'Black Hole Era' is due 5/6 via Anxiety Blanket Records
Kisskadee is the maximalist project of multi-instrumentalist Kasie Shahbaz. Her orchestral arrangements and strange time signatures are a breaking away from traditional songwriting limitations, while also maintaining a lyrical, folk like sensibility. Elements of psychedelia and ambient chaos litter the record, while detailed imagery ground the chaos with vivid detail.
K-POP GROUP, CRAVITY, RELEASE HIGHLY ANTICIPATED ALBUM
Lead track "Adrenaline" blends four genres of funk, future house, trap, and moombahton; creating a fresh sound of nine members who are longing for freedom. This track compares one's hopeful existence, the central theme of this album, to "Adrenaline" and tells a story of "being addicted to you." Furthermore, the music video portrays the free spirit of the members who have found hope in despair. This is showcased through a festival scene, where the boys can finally be free from the oppression of school and uniform. A blast of excitement, disordered dreams, and reality that the boys face during their growth are weaved together as a unique visual under the keyword "Adrenaline."