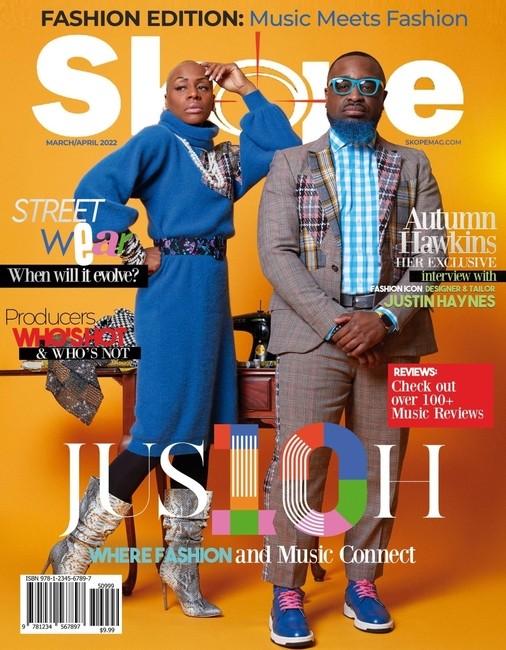 JUS10H is a men's and women's clothing brand delivering a unique connection blending the creativity and impact fashion and music have on Black culture. The founder and designer of JUS10H, Justin Haynes, offers a diverse background having worked as a fashion coach in Singapore, Ukraine, London, and India to accomplish looks that resonate in audiences worldwide. Like music, fashion is an intricate part of the culture as work that resonates interweaves into generations which he challenges himself as a designer to accomplish. 
ONYX, the luxury label behind Hayne's JUS10H brand, has a unique set of designs involving a material that has shaped both fashion and music expeditiously: denim. Fashion easily defines an era. The cuts of fabric can tell if you're in a 2000s rap video by the baggy jeans or the 2010s by how the fabric wears like a second pair of skin. In this campaign, Haynes challenges himself to make one-of-a-kind designs and also captures a pinch of nostalgia. 
While working with several recording artists and having a keen eye for detail, Haynes has become an authority when combining music and fashion. He's taken on the role as a fashion recap expert for award shows including the Urban Honors, NAACP Image Awards, and will now focus on The Grammys airing on April 3. 
AH: What inspired the denim collection for ONYX?
JH: ONYX is luxury. Luxury to me is the basics: white, black, gray, navy, khaki, and DENIM. So, the inspiration behind this collection will help you transition from winter to spring. Denim paired with great shirts and sweaters is the fabric to do so!

AH: When you think of denim and music, what songs come to mind?
JH:  Just to name a few,  "On & On" by Erykah Badu, denim is a continuous fabric that won't die. "Alright" by Ledisi, everything becomes better with a little denim.
"Don't Sweat The Technique" by Eric B & Rakim, Denim is a technical fabric that you can do just about anything with.

AH: How are you looking to connect music and fashion in your pieces?
JH: Creativity, both are very creative industries. I want the creative mind of both to connect and bring us together. I plan to work more with music artists and explain to them how important it is for them to look their best. Bridging fashion and music together will work well for artists in the longevity of their careers. 
AH: What are some music genres that inspire your creativity?
JH: R&B, Neo Soul, and Jazz. They all fit the aesthetic of my brand.

AH: Who are you most excited to see (style-wise) at the Grammys?
JH: Honestly, I'm excited to see everyone and that's honest. I want to see what these artists and stylists will do after quarantine. What's the new vibe? That's my question of the evening during the Grammys….. will anyone evolve?
AH: Who is always a fashion moment to you at award shows?
JH: I can't say anyone in particular. I feel even the BEST have their moments.

AH: Who always surprises you at award shows?
JH: Everyone (laughs). It's a mystery what anyone will do.
AH: In your past fashion expert gigs, what is the hardest part about preparing?
JH: The hardest part in preparation for me is making sure I not only capture the vision of the artist but that I capture the vision of the gig. It goes hand in hand. You want your artist to be original, unique, and expressive. However, you still have to make sure they fit the bill of where they are performing. That can be challenging.
AH: What is some advice to aspiring stylists and designers as they navigate working with musical artists?
JH: Education is key! Know the artist you want to work with. Also, you should be knowledgeable enough in the fashion industry to be able to give your best.
AH: Which celebrity can't wait to style one day?
JH: Super easy, Erykah Badu! I absolutely adore her. 
Article/Interviewer: Autumn Hawkins
Marketing Layout: Carl James
Photographer: Scott Parker
Model: Stewella Daville
Designer/Tailor: #JUS10H