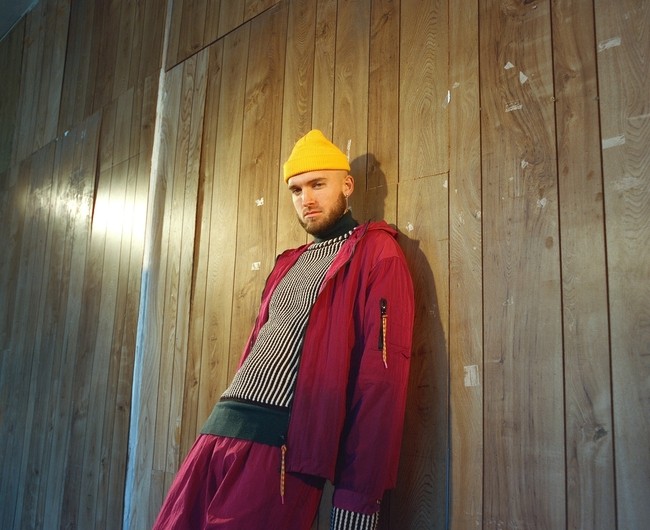 @skopemag news – monday – march 14, 2022 @ 11 pm est
@skopemag HQ – http://smarturl.it/skope
Dazy & Militarie Gun Share Collaborative New Single/Video "Pressure Cooker"
Recorded on opposite coasts, then mixed and mastered by Justin Pizzoferrato (Dinosaur, Jr., Pixies, Wild Pink), "Pressure Cooker" is paired with a striking Audri Kenley-directed video that finally puts the long-distance creative partnership in a room together, and captures the kinetic energy.
Austin-based, Beijing-born Cinematic / Indie Pop Artist Yify Zhang Announces New Single/Video via V13.net and SXSW Appearance
Featured by Vents Magazine, CelebMix, The Drunken Coconut, IndieGuru, AVA Live Radio, York Calling, among other indie music publications, Zhang's songs have been featured by playlists and accumulated 1M+ streams in 90+ countries across streaming platforms. The new track, "Puppet" was born out of leaving a relationship. It was a situation where Zhang felt obligated to stay, to please this person because it was what people in her life expected of her. She describes, "Through writing it, refining it through live performance, and recording it, the song ended up taking on a bigger meaning – it is about someone coming into her full power, regardless of anyone else's input. Puppet is an anthem to living life authentically, without cowering to the fear upsetting others."
Detroit hardcore kings D Bloc share new single "Do Not Cross"
Detroit hardcore sluggers D Bloc have shared their new single "Do Not Cross", off their upcoming sophomore album of the same name due out May 20th on Unbeaten Records. "Do Not Cross" is a tour de force of caustic guitar riffs and brutal aggression, showcasing the bands unique style of Detroit beatdown and their ability to switch between shredding and chugging with equal ferocity. The vocals are menacing, the song hurtles along at a breakneck pace and the mosh parts are plentiful – delivering everything you could want from one of the most exciting groups in heavy hardcore.
KAMARA THOMAS Announces Debut Full Length Album TULAROSA: AN AMERICAN DREAMTIME, out May 13
Durham, N.C.-based songwriter Kamara Thomas is readying the May 13 release of her first full length album Tularosa: An American Dreamtime. The musician, performer, and activist will debut the record in culmination of a multidisciplinary project nearly two decades in the making. Today, Wide Open Country premiered the first single, "Tularosa," which will be available on streaming platforms on Friday, March 18.
INTO A CIRCLE – Cult New Wave Band Return With New Single: "Mercenaries"
Arriving after an extended hiatus, the original line-up of Paul "Bee" Hampshire and Barry Jepson, are back together and very pleased to present a new glimpse of their first new material for some 34 years.
Originally penned in the mid-80s and long before the dawn of the internet, "Mercenaries" finds the literate London band return with a track that emphasises that old adage that the pen is always mightier than the sword. As Into A Circle say:
""Mercenaries" is about the power of the word and how books can shape a person, and their ideals, in both constructive ways and destructive ways."
Ashlynn Malia Shares "Coordinates" Single + Lyric Video via Hollywood Life
Today, 20-year-old Los Angeles singer-songwriter Ashlynn Malia shares a deeply emotional acoustic single entitled "Coordinates," along with an accompanying lyric video. This is her first release since dropping her EP, rather be alone, last year.
Ashlynn Malia Finds All The Right Words She Can't Say To Someone In New Song 'Coordinates'
MISERY INDEX Launches New Single and Video "The Eaters and the Eaten"
""The Eaters and the Eaten" is the most straight-forward, blasting track on the album. It's utterly relentless and hammers home the key themes of exploitation and drudgery that define life for so many on the planet in our current age," states MISERY INDEX about the track.
Jack White calls upon major labels to build their own record pressing plants in new video & written statement
"At least once a week, without fail, someone will reach out asking me to help expedite their vinyl record manufacturing. It's a natural thought… knowing that I own a pressing plant and have my own record label, "if anyone could help, it's this guy!"
With industry-wide turnaround times for vinyl currently leaning towards the length of a human pregnancy, it's obvious, in a world so contingent on being of-the-moment and timed just right (a single, an album, a tour etc.), these timelines are the killers of momentum, soul, artistic expression, and far too often, livelihoods.
KASKADE & deadmau5 link up on new project Kx5
deadmau5 and Kaskade have officially joined forces to form a unique collaborative union Kx5. The project made its formal debut last Friday 11th March with the release of "Escape (feat. Hayla)," a brand new single featuring rising British singer-songwriter Hayla which will make its live debut in May at EDC Las Vegas.
Kingdom Collapse Releases Official Music Video for Single "Save Me From Myself"!
44-Time (!!) Saskatchewan Country Music Awards nominee AMY NELSON Celebrates Joyful Clumsiness of Love with "Trippin'"
Falling in love is a real trip, isn't it? Racing hearts, rising temperatures, and that delicious, dizzy feeling when you're near the object of your affection all add up to one heckuva white knuckle ride we all want to take. Well, buckle up because rising Regina, SK-based country-pop artist Amy Nelson is living for the love drop with her smile-a-minute new single, "Trippin'" — available now.
INCITE Unveils Visualizer For New Song "War Soup" Featuring Max Cavalera; Wake Up Dead Full-Length To See Release April 8th On Atomic Fire Records
The gritty new track, which focuses on the courage in standing up to bullies, is the first INCITE song ever to feature the vocals of both Richie and Max Cavalera — a historical gathering of heavy metal generations.
Gavin Haley Drops "Body Language" Official Dance Video
Flanked by two talented female dancers, the Los Angeles-based artist stayed true to the "Body Language" message and took a laid-back approach to the video. According to Haley, "I'm somebody who would rather stay in with my person than go out – 'Body Language' is a sexy love song about first getting together with someone. You don't have to do anything crazy to have a good time because everything's new."
OurGlassZoo Share New Single "Free"
Listen to Van Chamberlain's "Heavy Cloud" via The Big Takeover; debut LP 'In the Sun' is due 4/8 on Very Jazzed
Synth Wave Visionaries PRIEST, Featuring Former Members Of GHOST, Tangle With A Techno Femme Fatale In New Video, Announce EUROTOUR 2022 Dates!
Following up on the triumphant single "A Signal In The Noise," released at the end of 2021, metal band turned synth wave act PRIEST have just unleashed a brand new single that further cements their reputation as one of the most exciting electronic bands on the scene. "Techno Girl" trades the distorted guitars of PRIEST's former gig, as the musical backbone of the Grammy award winning metal band GHOST, for icy synths and throbbing drums to craft a memorably melodic ode to female badassery.
Havana Meets Kingston Part 2 Single: "The Human Chain" featuring Clinton Fearon
On March 9, Cumbancha releases the single "The Human Chain" featuring Clinton Fearon, one Jamaican music's greatest living legends. "The Human Chain" is from the upcoming album Havana Meets Kingston Part 2, which will be released in on June 3, 2022 by Baco Records in Europe, ABC Music in Australia and New Zealand and Cumbancha in the US, Canada, Latin America and the rest of the world.
TombSnakes Debut New Music Video "Two Shakes"
Silver City, New Mexico underground rock group TombSnakes will release its debut EP, 'No Graves', on March 18 via Blank City Records. Born during the Great Quarantine on 16 acres of harsh desert land and featuring members of True Widow, The Saint James Society, Form & Fate, and Vigilantics, TombSnakes packs a punch harder than ice picks and stilettos, with sounds borne of environments that exist beyond the pale of decent society—motels, roadside bars, sun-drenched small towns, places for outcasts.