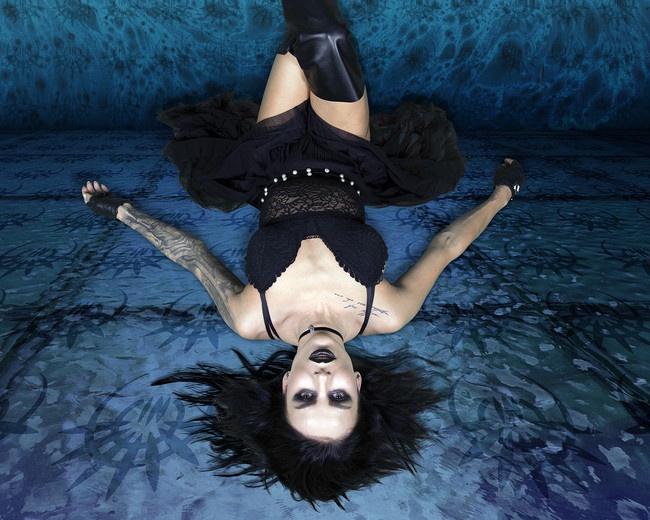 @skopemag news – monday – march 14, 2022 @ 1 pm est
@skopemag HQ – http://smarturl.it/skope
Hell & Then Release A New Lyric video For "Curtains Close"
TEMPLE INVISIBLE – Shine Bright On New Single: "Stardust" | New EP: 'Chiasm' Set For Release 29 April 2022
Merging industrial foundations with celestial rhythms and sparkling space-age beats, "Stardust" is a stellar second glimpse into Temple Invisible's forthcoming 'Chiasm' EP. Set for release in April 2022 it will be their first extended release for five years and arrives a decade into the group's formation.
South African rap icon A-REECE for Skope Magazine – New 'TUFF LUCK' music video with his brother JAY JODY out today
SACRED SIN Announce New Album, First Video Unveiled
After the rebirth with Born Suffer Die, and the stabilization of the formation, with Tó Pica and Luís Coelho on the strings, the album was delayed due to the installed pandemic. It is the musician himself who claims to have started "recording during the pandemic, although some themes come further back in time". That's why "this record is a collection of songs that now come to life outside of our demos, and we have the opportunity to share them with everyone". The quartet was already complete in the preparation phase of the work, with Fernando Dantas as the group's official drummer, having already recorded all the drums for the album.
Stage Of Reality Release New Video For "My Inner Prison"
About the new track, the band says: "'My Inner Prison' is an inside glance on the human soul in light of what happened during the pandemic time. Lock-down and restrictions have been apparently physical, but actually everyone of us use to live everyday together with his own mental restrictions and locks-down. We are all prisoners of ourselves, of our own fears, of our own uncertainties. We struggle for finding a flash of light in an empty cell, we are forced by chains that are nothing but our own ideas and thoughts that make us critical thinking beings, but at the same time they also limit us by building fences and barriers all around. And you? What is your inner prison? Will you be able to set yourself free?".
October Drift announce new album 'I Don't Belong Anywhere'
I Don't Belong Anywhere will feature the brand new single 'Insects', a dark grungy rock song about belonging and growing up through life's struggles. The track has been quick to draw strong support, with early radio plays coming from John Kennedy at Radio X and Sarah Gosling at BBC Introducing as well as high profile Spotify playlists including All New Rock, New Music Friday and more.
Melodic Death/Doom Unit MARIANAS REST Release Official Music Video for "The Weight"
Hailing from the coastal town of Kotka, Finland, melodic death/doom metal unit MARIANAS REST have just released a deeply haunting yet marvelous new official music video for their captivating song "The Weight". The head-swinging doom induced track is cut from the band's latest full-length, Fata Morgana, released in March 2021 – a must-have for fans of bands like Insomnium and My Dying Bride.
Island Of Love share immediate new single "At Home" | Third Man Records London's first ever signing | UK tour and festival dates announced
Island of Love – the London indie quartet making their name as Third Man London's first signing – have shared new track "At Home" and its accompanying video, which was directed by Ben Chappell (Arctic Monkeys, Girls, The Raconteurs).
CISCO SWANK & LUKE TITUS DROP NEW SABA FEATURED TRACK + VIDEO
One-part beat tape, one-part Blue Note jazz session the album is a series of evolving vignettes with their constituent parts transported seamlessly from both the traditionalist past and the unwritten future. Eleven tracks glued together by caffeinated off-kilter beats, holy chord progressions, dusty bebop motifs, and a palette of revealed sonic flourishes Some Things Take Time is an album for the beat junkies and the hip-hop heads, the sample lords, crate diggers and jazz purists alike. The album includes features from Saba, Femdot, Braxton Cook, Malaya and Phoelix.
El No (ex-GBV, The Breeders, Fur Coats) share trippy video for "Hot Eyes"
Texas/Ohio's El No, who released their debut LP, Nothing Is Possible, on April 1, 2021, are already back with the album's follow up, Hoodlums. Today, the Big Takeover has the pleasure of premiering the video for one of the tunes from the new record, "Hot Eyes."
Electronic Powerhouse KARMACODA Unveils Hypnotic House-Infused EP [FFO: ARTBAT, Camelphat and Monolink]
Paul Cherry Releases Sophomore Album 'Back on the Music!' via Sunset Records
Through pining comes purpose. Paul Cherewick, monikered Paul Cherry, makes a departure from pining for an unrequited love on his debut LP Flavour toward the hunger for creative fulfillment on Back on the Music. "Bouncing off the bottom: this pattern is the problem…" is the melancholic opening line of the new album, a meandering meditation on the life of an artist: chasing inspiration, finding community, and the struggle to maintain both. Throughout the buoyant, alright-on-the-outside tracks that make up his second album, Cherry staggers and stumbles back into love with his life and craft.
Liily Share "Man Listening to Disc" Video via The Big Takeover + Jam In The Van Session | On Tour with Model/Actriz Now | Debut LP Out Now
Today, Los Angeles alt-rock outfit Liily share a brand new music video for their track "Man Listening to Disc," directed by Sam De La Torre. The track comes off their highly acclaimed debut LP, TV or Not TV, which was released last year to rave reviews from publications such as DORK, DIY, The Line of Best Fit, and NME. The new album just surpassed 1.2 Million streams on Spotify, with its focus track reaching 600K streams, as well.
Swedish rockers from INSAMMER releases new album called 'Black Art'
Swedish rockers INSAMMER has released a new album called 'Black Art'. A masterpiece of 11 tracks of total guitar and drums madness, filled with moments of relentless energy throwing back to their punk and rock roots to visionary moments of modern alternative.
FRANCE'S NOVEMBER ULTRA ANNOUNCES DEBUT ALBUM BEDROOM WALLS FOR 4.8 ON REPUBLIC RECORDS + SHARES "BEDROOM WALLS"
Singer-songwriter November Ultra is France's latest bedroom pop sensation. Often praised for her deep and warm voice, November Ultra first entered people's ears and hearts with the soothing DIY lullaby "Soft & Tender". Her first effort was quickly followed by the sweet and sour heartbreak anthem "Miel" and a maxi EP Honey please be soft & tender, which includes the gut-wrenching bonus track "The End." – giving us a taste of what she is all about: comforting, personal, intimate and always very cinematographic bedroom pop.