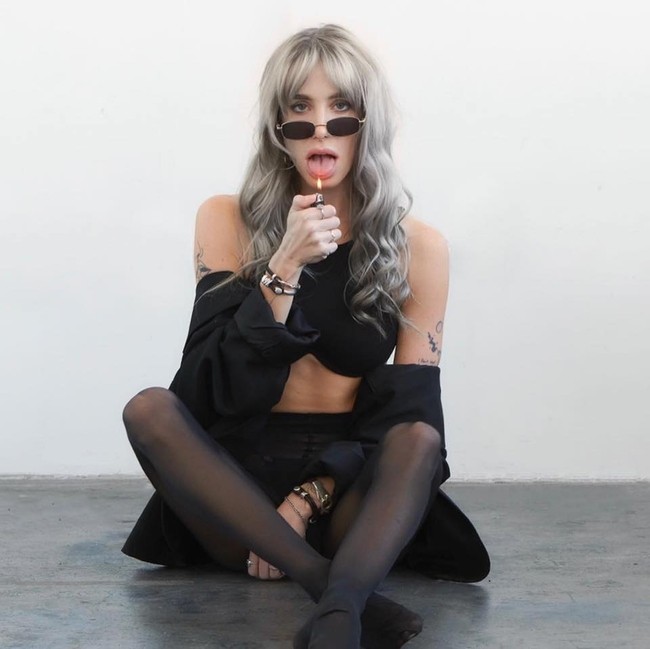 @skopemag news – thursday – march 10, 2022 @ 12 pm est
@skopemag HQ – http://smarturl.it/skope
PILLOW QUEENS share new single "No Good Woman" | New album "Leave The Light On" out 1st April via Royal Mountain Records
Dublin's Pillow Queens are getting set to release their sophomore album Leave The Light On, their first release on Royal Mountain Records (Wild Pink, Alvvays, US Girls), which is due out on April 1st, and today the band are sharing the album's final pre-release single, a track called "No Good Woman." Preceded by the singles "Hearts & Minds" and "Be By Your Side", which have seen praise from outlets like The Guardian, NPR, Stereogum, Consequence, BrooklynVegan, Uproxx, DIY
David Guetta joins Smiley's campaign of positivity with 'Silver Screen' video featuring Felix Da Housecat and KITTIN
To celebrate 50 Years of Smiley, the world's favourite face of optimism has joined up with French dance music powerhouse David Guetta to create a music video to a soundtrack that spreads joy, positivity, and happiness across the world.
This year the Original Smiley is celebrating its 50th anniversary, and Smiley wants the world to join the party.
NADIA SHEIKH – Releases: "Love Is Undefined" (Acoustic) | UK Dates This Week
Officially released on the 10th March, the new release sees Sheikh strip the track down to its barest of bones and uncover haunting new depths beneath. With eerie vocals and a simplified, floaty approach to instrumentals, "Love Is Undefined" is transformed into a plaintive piano-piece reminiscent of Agnes Obel's brittle balladry;
BAKERS EDDY release new single "Sober"
A longstanding unofficial anthem of their loyal fanbase and an ode to the fantastic confusion of youth, "Sober" is steeped in Bakers Eddy's signature energy; rich with joyous chaos. With its unrelenting pace, racing chords and youthful vigour, "Sober" dissects the common anxieties that come with the shift toward adulthood: "And I'm just terrified / I can't remember what I'm trying to find / where will I be when I'm 25?" – deftly exploring the tension between the terror of self-discovery and resounding hope in their trademark humorous tone.
Blacktop Mojo – My Girl (Acoustic) [Live] Video
Celtic Punks PADDY AND THE RATS Reveal "After The Rain" Official Video
Following the announcement of their new album, From Wasteland To Wonderland (out April 29, 2022 via Napalm Records), and the release of an accompanying lyric video for first single, "After The Rain", the band is following up with an official music video for the track, as promised. The clip embraces with nostalgia and offers a preview of the future, where the band members can be witnessed in 20 years. They've grown old but reunite once more to play together in the impressive landscape of their home country Hungary.
HELMS ALEE ANNOUNCE NEW ALBUM + RELEASE VIDEO
Seattle three-piece Helms Alee has announced a new album Keep This Be The Way available April 29th via Sargent House. Across the span of their first five studio albums, the trio zeroed in on different aspects of their sound – a blend of lilting siren songs, crushing Northwest thunder and sludge, angular econo-rock, and heady guitar pop while retaining their no-frills, meat-and-potatoes approach in the studio. But with this Helms Alee have expanded their palette by delving into the production possibilities afforded by recording the album themselves, creating their most dynamic and technicolored work to date. This new approach is immediately evident on first single and album opener "See Sights Smell Smells," where reverse cymbal crashes, fragmented piano, layered drums, woozy drones, saxophone freak-outs, and trippy vocal treatments transport the listener to an altered state of exhilarated anticipation. The song is accompanied by a video created by Allen Watke whose video art consists primarily of analog equipment with an emphasis on VHS dubbing, glitching & manipulation.
THE KUT releases video for emotive & powerful new single 'Satellite'
The Kut has released a brand new single 'SATELLITE'. Emotive, powerful and featuring a guitar solo straight out of a Clapton 'How To' school, the track is the second single from her forthcoming sophomore album.
ABBIE OZARD shares 'Pisces' | Announces New EP
Manchester's Abbie Ozard announces new EP 'Water Based Lullabies' for July 1st via House Anxiety (Bad Boy Chiller Crew, Genesis Owusu, Carpetgarden; formerly King Krule, Courtney Barnett, Vagabon). Lead single 'Pisces' out today.
'Pisces' is a woozy anthem for the fanciful – a wobbly indie-pop put-down concerning zodiac culture-clash. Delivered with pastel insouciance by Abbie Ozard, it's an apt emblem for the aquatic theme of the upcoming 'Water Based Lullabies' EP. The track showcases the lighter side of the EP's sentiments – which overall touches on growth, family, and introspection.
New Video from Critically Acclaimed R&B Artist
Night Moves release new track & video "Vulnerable Hours" – inspired by anonymous confessional for NPR podcast
Today, the Minneapolis-based quartet Night Moves releases "Vulnerable Hours," a layered, lush and deeply confessional new track, alongside a music video directed by Cody Lee Brown.
Introducing: Chandler Leighton with empowering new single "When You Say My Name"
Today, Los Angeles-based singer-songwriter Chandler Leighton returns and ignites a big year ahead of her with her sultry new single "When You Say My Name" via Boom.Records. The empowering single serves as her first 2022 offering and finds Leighton at her most confident while pushing boundaries as she hones in on her newfound sound by infusing elements of dark pop, electronic, indie, and rekindling her rock roots.
MIRANDA LAMBERT'S MUSICAL JOURNEY, PALOMINO, ARRIVES APRIL 29
For reigning ACM Entertainer of the Year Miranda Lambert, each of her seven consecutive No. 1 albums has presented a chance to explore a new theme while pushing herself across varying sonic landscapes. With the progressive 15-song album, Palomino, due Friday, April 29, Lambert has crafted a record that explores the world and the people in it, seeking beauty and adventure all around.
Market Debut "Bag of Jeans" (RIYL Elliott Smith, Andy Shauf) Single/Video From New LP Out 4/29 (Western Vinyl)
Brooklyn band Market today released "Bag of Jeans," the second single off their forthcoming album The Consistent Brutal Bullshit Gong out April 29th (Western Vinyl). Out now alongside a charming video directed by Matt Strickland and shot on 16mm film, "Bag of Jeans" showcases the lush and beautiful side of the album. "It's not about jeans. It's about getting older and either becoming more and more like your parents, or realizing more and more how much you are like your parents," explains Market's bandleader Nate Mendelsohn about the track. "And specifically identifying in yourself all of the things that bother you most about your parents (not a coincidence), and identifying in your parents all of the same things you treasure most about yourself (also not a coincidence)."
ALISON WONDERLAND'S NEW ALBUM, LONER, SET FOR MAY 6 RELEASE ON ASTRALWERKS
Today, as the pre-order launched for her new album, Loner, Alison Wonderland shared the track "New Day" and the accompanying video. After coming through a period of darkness, "New Day" is the sound of Alison falling in love with life and the potential each day holds. The song, which she wrote and produced, seamlessly melds acoustic and ambient elements to create a cinematic soundscape that sets the stage for an illuminating journey.
MISS MAY I RELEASE "UNCONQUERED" VIDEO AND JOINS ALL THAT REMAINS ON TOUR
Levi Benton speaks to "Unconquered" (Produced by Grammy Awarded Will Putney (A Day To Remember, Body Count, Every Time I Die, The Amity Affliction,) – "We as well as everyone else went through the ringer the last couple of years. Some of us worse than others and even more of us finding ourselves in the darkest places we never thought we'd end up. After that experience and making it out – it felt as if a battle had been won. That's what "Unconquered" is all about."