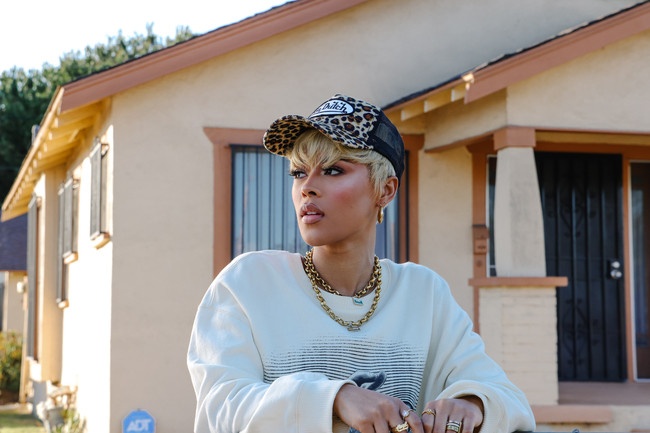 @skopemag news – monday – march 7, 2022 @ 9 pm est
@skopemag HQ – http://smarturl.it/skope
Hypnotic, Raw & Vulnerable // New R&B Album
Cashma is an R&B artist raised in the small town of Barnesville, GA. As the only child of her black dad and white mom, Cashma grew up seeing both sides of the world and often felt like she didn't fit in. Seeking solace in the music of one of her biggest inspirations Sade, she gradually learnt how to be unapologetically herself and her music is a reflection of that. Moving to Atlanta at a young age, the introspective introvert has now created a space and sound all of her own.
Overtime Offers Powerful Message For Suicide Prevention In New Video For "One Last Letter"
"I meant to save your life but, you wouldn't even call me," snaps Montana rapper Overtime on his new single "One Last Letter". The song sends a powerful message about Suicide Prevention, as Overtime pours his heart out in an open letter to his best friend that passed away after tragically taking his own life. The album is the lead single from Overtime's forthcoming new album "Self Made In America" which is set for release through his own independent label Selective Interest Group on June 10th, 2022.
New Single From Machine Gun Kelly (feat. Lil Wayne) 'Ay!' Out Now On Bad Boy/Interscope Records
"ay!" also launches with its official music video, a visually captivating clip with MGK and his backing crew cycling through a parade amount of costume changes that compliments his natural flair and rockstar lifestyle.
Stromae Reveals Official Music Video For 'Fils De Joie.' Latest Album, 'Multitude' Out Now. North American Arena Tour Announced
Following the release of his critically acclaimed studio album, 'Multitude' (Mosaert/Darkroom/Interscope Records), internationally acclaimed Belgian-born artist, writer, performer, producer, designer and director Stromae has shared the official music video for his latest single, 'Fils De Joie.'
Dark Funeral Releases New Single and Video For "Leviathan"
GIA G Is 'Reminiscing' In The New Official Video From Her Latest EP
Reminiscing is a ballad on the Cosmic Wave EP and shows another side of Gia G's music. Displaying her acoustic playing and slap acoustic playing. A great feel and vibe makes the listener day dream in a world all there own. Along with great solo leads, her lyrical style makes the guitar tell a story. The ending solo is truly one of the best lead solos Gia has done to date with an amazing feel, vibe and phrasing.
SERAYAH UNVEILS NEW MUSIC VIDEO "P.O.V."
NYC-Based, Quirky Indie Rock Project, MeMo, Announces Expansive New Single Ahead of Spring Album via V13.net
New York-based MeMo was once just a girl and her piano, but through the grace of the amazing musicians around her a new creative baby was born. MeMo and Friends is now a band of 5-9 roving, feral misfits influenced by anything from Motown to an Irish pub, and together they are proud to announce their latest "doo wop song with a twist," "Untouchable," due out March 7, 2022. Taken from her forthcoming album Business of Healing, to be released April 29, 2022, MeMo's sound is what she describes as "Fiona Apple on a light cocktail of amphetamines and prozac."
King Von's Estate Shares "Too Real" Video from 'What It Means to Be King'
With a visual eye that helped him rack up over 2.8 million YouTube subscribers, King Von always accompanied his crazy stories with videos that matched the song's vibe. Today, King Von's estate shares the video for "Too Real," a highlight from the new posthumous album What It Means To Be King. The song is a impassioned missive from Von, as he rocks a stutter-stepping flow and makes plain that he's the realest in the streets: "I asked once won't ask again/Know who you dealing with/If I crack once won't crack again/Ain't wit that feelings sh*t." Directed by his regular collaborator DrewFilmedIt, "Too Real" finds Von stalking the backstreets of Chicago with a flamethrower in hand, flashing the glittering smile that his fans and friends knew so well.
BLACK LAVA Signs to Season of Mist
Season of Mist is proud to announce the signing of BLACK LAVA, the newly born experimental groove metal band from Australia! The band is gearing up to release their debut album via Season of Mist – stay tuned!