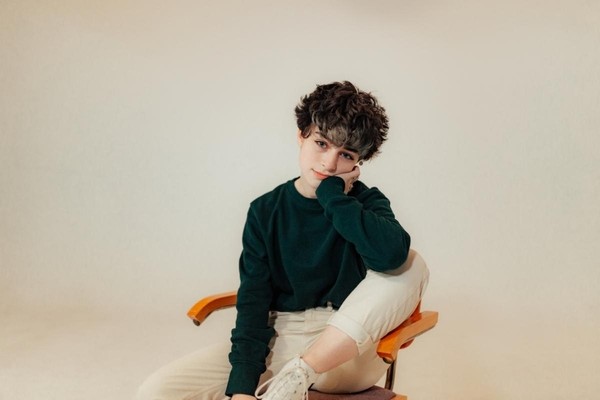 @skopemag news – friday – march 4, 2022 @ 2 pm est
@skopemag HQ – http://smarturl.it/skope
AMELIA MOORE SHARES "MOVES," HER NEW SINGLE
After amassing over five million combined global streams with her first two singles, Amelia Moore returns with her third track, "Moves." Her vocals glide with ease over cool, languid beats as she spins an ultra-relatable tale about making a play for the heart of someone who's still hung up on their ex. The 21-year-old Georgia native wrote the track with Gabriella "Song Mom" Caspi, Pinkslip and Inverness.
"Stupid" – noelle's vulnerable new single inspired by long distance relationships
Vulnerable new single, "Stupid," was inspired by long distance relationships. Falling in love is such an amazing feeling, but it can fall apart when distance is involved. The artwork accompanies the song's vibe – simple, raw, beautiful.
BOB MOSES' THIRD ALBUM – THE SILENCE IN BETWEEN – OUT NOW
The follow-up to Bob Moses' JUNO Award-nominated 2020 project Desire and their first full-length since 2018's Battle Lines (featuring the hit single "Back Down"), The Silence in Between fully captures what they refer to as the "ambient psychic unrest" of the current moment. With its moody collision of house music and emotionally potent pop, the album emerged from a period of immense upheaval in the lives of Vancouver-bred musicians/producers Tom Howie and Jimmy Vallance.
Sy Ari Da Kid new song "Press 0" ft. Benny The Butcher
New York's Crash Taylor Shares New Single in Advance of LP
Crash Taylor shows up with nothing to prove and with everything that stirs the heart to share. Husky baritone mixed with seasoned guitar playing, the music will strike a chord for any folk/rock lover, but the wholeness of his presence in every phrase will make you wonder if a genre is needed to describe it. Crash Taylor will bring you to the present moment and leave you with truths you forgot to remember.
LOVE SICK RELEASE NEW SINGLE 'GET WILD'
'Get Wild' opens with brooding R&B beats before Shaun Canning's twisted synths and lurching bass directs push the song into the darker side of the alt-pop spectrum. Julie Knox's topline then exudes an hypnotic allure, her vocals narrating the tale of a woman who is determinedly disinterested at the games played by her love interest. Why wallow in self-pity when you get drunk, get high, go out, and get wild?
KANE BROWN DROPS "LEAVE YOU ALONE" TODAY
Today, global entertainer Kane Brown released his latest track, "Leave You Alone," and is set to perform it on the 57th ACM Awards from Allegiant Auditorium in Las Vegas livestreaming on Amazon Prime Video on Monday, March 7, 8-10/7-9 pm Central Time. Brown co-wrote "Leave You Alone" with Jordan Minton and Jordan Schmidt, and Dann Huff produced the track.
Wallis Bird shares new song 'The Power of a Word'
Wallis spoke about the song saying: "The Power of a Word was written around about the time that Trump got voted out, thankfully, because he had the best words. I hate even talking about the man but it was a really big turning point, it was a great release in the world. The song highlights the power that words can have, that they can be useful and dangerous.
The Power of a Word was written in about three hours, it was one of those moments when it just happens…it clicks. I had swapped my studio with my friend Kevin Ryan's studio and before I even took my jacket off before I sat down at the table to write, I'd already written the first two verses of that song and the chorus."
Thirsty Eyes release slow-burning, esoteric new single Popsent
Originally composed for a 17-piece jazz orchestra, Popsent found its way into the hands of Thirsty Eyes, who transformed it into a disturbingly beautiful and intensely raw blues-driven ballad. Behind the track's eerie shell, is the esoteric lamentation of loving someone who's struggling with their mental health.
OFFICIAL VIDEO PREMIERES TODAY FOR "IN YOUR ARMS (FOR AN ANGEL)" FROM TOPIC X ROBIN SCHULZ X NICO SANTOS X PAUL VAN DYK
With their poignant update of Paul van Dyk's "For An Angel," Topic, Schulz and Santos brought the classic trance hit to a new generation. Since its release in late January, "In Your Arms (For An Angel)" has amassed over 11 million combined global streams, reached the Top 20 on the Shazam Dance Global chart, broken into the Apple Music Top 100 and clocked over 23,000 radio plays across 67 countries.
HEAVY SALAD – Release "Joggers From Mossley to Malibu Beach" Single | UK Tour Dates + SXSW
Coming a week before their prestigious SXSW slot – HEAVY SALAD – release playful new single: "Joggers From Mossley To Malibu Beach".
Heady and frolicking — and embracing the notion that life's challenges are nothing but positive opportunities — "Joggers From Mossley To Malibu Beach" is a jovial new cut that comes just a week before Heavy Salad touchdown in Austin, Texas for an official showcase slot at SXSW.
Soul Glo Share New Single "Driponomics" Out Now!
Philly based hardcore band Soul Glo have released their latest single, "Driponomics," ahead of their fourth studio album Diaspora Problems due out on March 25th.
Sofía Valdés Shares New Single + Video "I Hate The Beatles"
Panamanian singer-songwriter Sofía Valdés returns this week with a new single titled "I Hate the Beatles," produced by Ethan Gruska (Phoebe Bridges). The track serves as a metaphor for Valdés' past romantic and personal relationships with men who have all been Beatles fans and have led to disappointment and detachment. A natural maturation from her debut EP Ventura, "I Hate The Beatles" sees Valdés reflect on the experiences of her youth and how they've informed her outlook on love.
Albin Lee Meldau Shares "Forget About Us"
A sumptuous mix of classic songcraft, ardent emotions and Albin's suave, soulful vocal gift, 'Forget About Us' finds the singer-songwriter coming to terms with a break-up. Capturing the timeless feel of the Laurel Canyon scene within the context of the contemporary music landscape, its folk-pop style also has a cinematic majesty as strings sweep in to complement his rich, spirited voice. 'Forget About Us' was co-written/produced by Albin with Grammy Award-winning producer Jonathan Quarmby (Lewis Capaldi, James Arthur).
FIND YOUR LINE (OFFICIAL MUSIC FROM GRAN TURISMO 7) AVAILABLE NOW VIA COLUMBIA RECORDS AND SONY INTERACTIVE ENTERTAINMENT
In speaking about the directing the video, FILFURY says: "VROOM – what an incredible project to bring to life and steer to the finish line….SKRRRRT!! A bad boy tune that demanded bad boy visuals. The FANATIX made a banger.
ZACH CORNELL RELEASES NEW SINGLE "STAY AWHILE"
With playful lyrics like I know that you're lonesome and you know that I am too, so what do you say you make some room for me and you, "Stay Awhile" is sure to be a hit amongst listeners.
Grant Gilbert Drops Breakup Anthem "She Goes Home (Dirty Breakup Song)"
"When we wrote 'She Goes Home' last March, all the writers and my team knew it was a pretty awesome song. But, it wasn't until we posted a video playing the song acoustically online that fans blew it up instantly asking for it to be released immediately. From there, we gathered a producer we knew would crush the direction of the song with Johnathan Singleton, and went into the studio to cut it as soon as we could," Gilbert shares. "Fast forward to now, I couldn't be more proud and excited of how the song came out. My hope is for as many people as possible going through a breakup to realize they aren't alone in how they feel during a relationship split."
Euphoric alt pop duo Black Lilys return with vibrant new single, "Invisible Strings" – Out Now!
Bright and timeless pop music that balances both strength and vulnerability throughout, Black Lilys deliver a smooth blend between Robin's driving guitar melodies and Camille's effortless, raspy vocals.
Neonlight Drop Brand New Single 'DESIRE' ft. flowanastasia
The forthcoming Neonlight album 'Vanity Fair' is nearly upon us. Due to be released on Blackout Music, an imprint renowned for its commitment to the genre's darker trenches, the German duo have become familiar faces on the label throughout the evolution of its roster. They will remain on the forefront too, with their brand new album set to drop this Spring, including an intimidating number of fresh selections from the producers. Having detonated singles 'Hero of My Youth' and 'Kinski / Triumph', they kick start their journey into 2022 with 'DESIRE' ft. flowanastasia, one step closer to the release of their album.
Non-binary TikTok star Addison Grace shares second single, "Makes Me Sick," along with video
"Makes Me Sick" arrives as the follow-up track to vulnerable fan-favorite, "I Wanna Be A Boy," where Grace discovers more of themselves and their gender identity, feeling best with they/he pronouns. Even prior to its official release, fans, who Grace affectionately refers to as "friends," immediately gravitated towards the track after Grace posted a demo of the track in December 2020. Since it hit streaming services on January 21st, "I Wanna Be A Boy," has garnered over 439,000 streams on Spotify alone. Amongst those fans is Glasse Factory who wrote, "I Wanna Be a Boy" is immensely touching in both writing and sound. Grace's hard-earned ability of singing shines beautifully in every second of the track, as he speaks about who he wishes he was, and coming to terms with the difficulty of acceptance." TREMG called the track, "a tender exploration of identity over an acoustic guitar and thumping beat."
COUNTRY ARTIST ORVILLE PECK RELEASES VIDEO FOR "DAYTONA SAND" FROM FORTHCOMING NEW ALBUM 'BRONCO'
Lubalin Returns with Captivating New Single "dougie jones"
Baby Stone Gorillas "Do It Up" with Wallie The Sensei in New Video
American family trio, Female President, releases the music video of "Bring Back The Ghosts"
Bring Back The Ghosts is the debut single from American family trio, Female President. This first single from their forthcoming EP, Our Year To Grieve, touches on the theme of loss as a result of the world-wide pandemic; through the lens of one family living through it. The video for Bring Back The Ghosts was shot in their home to touch on how the band started. Inspired by early roots rock, the simplistic riff, subtle drums, and catchy melody are offered as a way to bring a positive mood and hope to an audience missing concerts and community. Dréa Atkins (of Farewell Albatross), Johnny Moss (of DSR), and Jasper Cunningham (of Vacant Lights) formed the band during the summer of 2020.
Absolution Festival Announces Full Lineup and Dates
Post-Punk/Dark Electronic music festival Absolution announces it's full line up and dates.
Absolution will be taking place October 6th-8th in Tampa (Ybor City), FL. In it's third year, the festival has quickly developed a reputation of featuring some of the most talented artists within the Post-Punk, Industrial, Darkwave, and Synthpop genres. This year promises to be their biggest yet.
Indie Rock Band BLUE J Share Debut Album 'A Sign Of Good Luck'      
In addition to the album, the band is excited to share the official video for the new single, "I Feel Your Pull." The melancholic track features the band's signature hazy indie rock sound and follows previous singles "Borderline," "How Long Will It Take," "Changed My Mind," and "Something Happened."