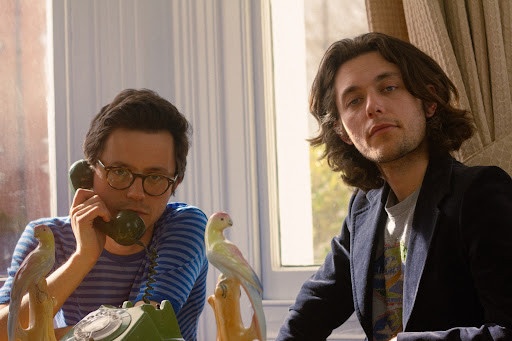 @skopemag news – monday – february 28, 2022 @ 12 pm est
@skopemag HQ – http://smarturl.it/skope
BARBARA – Release New Single: "A Perishing of Cherished Things" + Announce Live Dates w/ Divine Comedy This Spring
A masterclass in nuanced, nostalgic pop beamed-in from another era, the track is the Brighton duo's first release of 2022 and hints to a band with the brightest of futures.
Balancing deceptively complex arrangements with a playfully colourful narrative, think Todd Rundgren teaming-up with the Alessi Brothers for a re-imagination of The Beatles' "Ob-la-di, ob-la-da".
Son de Ébano Orquesta presenta su nuevo tema "El Negro Carabalí"
La agrupación colombiana Son de Ébano Orquesta, liderada por Ever Zapata quien es el cantante, compositor, productor y arreglista, acaba de lanzar al mercado su nuevo corte musical que lleva por nombre "El Negro Carabalí".
Una canción que narra la historia de un personaje popular que le encanta la música y la rumba. En su barrio lo conocen como "El Negro Carabalí" y es quien enciende las fiestas con el sabor de su baile y el swing al tocar el Tres cubano que es un derivado de la Guitarra y este tiene su origen de las zonas rurales del Oriente cubano, además este instrumento se destaca por su excelente sonido.
THE SHIPBUILDERS – New Single: "The Moon" || Out Now
The Shipbuilders exist as a melting pot where the surreal meets the sublime. Since releasing their first EP, 'Something in the Water' in 2016, the band have continuously expanded their sound and scope of influences to create a world where sparkling pop wonders are nestled between Spanish Civil War laments, gypsy arias, and chaotic, shambolic odes to drinking, death and everything in between. All of this is done with added lashings of melody and the writings of Garcia Lorca and James Joyce, dictating that the wonder of the beauty of the world – and beyond – is never overlooked.
Platinum House Duo Klangkarussell Shares Gold-status Single 'Home' [FFO: Elderbrook, Bob Moses, ZHU]
Stranger Than Kindness: The Nick Cave Exhibition, North American premiere
Stranger Than Kindness: The Nick Cave Exhibition opens Friday, April 8 at the Galerie de la Maison du Festival. Tickets will go on sale this Friday, March 4 at 10 am via evenko.ca
This is the North American premiere of the exhibition, which was previously presented at The Black Diamond, Copenhagen, Denmark. There are currently no plans for the exhibition to travel to the USA.
The exhibition was met with acclaim from press and visitors alike when it opened in Copenhagen in March 2020.
Skope video submission: Nazzy the Mic, "Last Scar" Teenage LGBTQ Muslim Philly pain rapper's new single
SKILLS ANNOUNCES DEBUT ALBUM "DIFFERENT WORLDS"
Frontiers Music Srl is pleased to present the upcoming release of "Different Worlds", the debut album from Skills, on May 13, 2022. Skills features the eye-popping line-up of vocalist Renan Zonta (Electric Mob), guitarist Brad Gillis (Night Ranger, Ozzy Osbourne), bassist Billy Sheehan (Mr. Big, The Winery Dogs, Sons Of Apollo), and drummer David Huff (GIANT). Today, fans can get their first taste of music from the band with the release of the single and video 'Stop The World'. Watch the video HERE:
Papercuts shares "Lodger" video & announces EU / UK tour dates w/ Still Corners
"The song had a slight 60s pop inspiration, and I wanted to see if I could pull off a freakout in the middle that felt like an epiphany. Lyrically it's inspired by a memory of feeling like a fling is just sort of passing through your life, and wondering if thats all you are to them." -Jason Quever
OUT NOW: Downtempo Pop Trio GIVVEN Releases Captivating Video [FFO: Chet Faker, Son Lux and James Blake]
Sleep/less Release New Single "My Serenade"
"My Serenade." is about the difficulties of having multiple things going on inside your head while also trying to help someone close to you and balancing the two struggles at the same time.
Scott Hardware shares "Underdog" (ffo Amen Dunes, William Doyle)
Roadkiller and Guest Drummer Jess Margera Premiere "Like the Crow" Today at Decibel
Blood Pumping and Soul Rocking… ROADKILLER never disappoints and cranks it up to the next level on "Like the Crow" featuring CKY's Jess Margera guesting on the skins. "Like the Crow" is the third single from ROADKILLER's album Pick of the Litter.
Video Premiere: Roadkiller ft. Jess Margera  – "Like the Crow"
MIDWICH CUCKOOS Share New Video/Single 'Blood Mother' From EP Glory
Punk/metal crossover band, Midwich Cuckoos, are delighted to reveal the video for their new single 'Blood Mother'. The track is the latest to be taken from the new EP Glory – Out now through Onslaught Music.