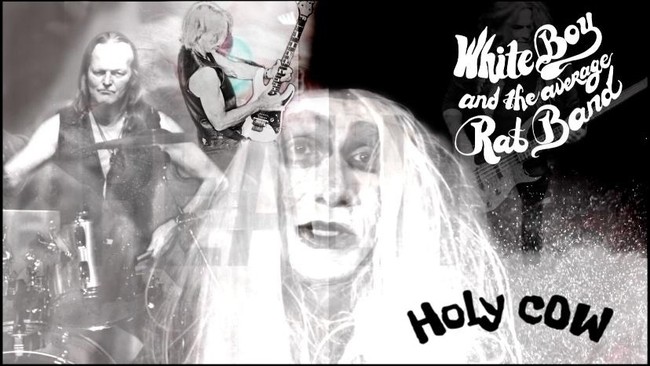 Preface of a not so average band… The name leaves many bewildered, but to those who are 'in the know, their name is one of the best kept secrets in the American rock n' roll underground. They are a band whose appeal spans from classic and Southern rock to punk and heavy metal. Their sound is unique yet comfortably familiar – this is the enigma that is WHITE BOY AND THE AVERAGE RAT BAND.
WHITE BOY AND THE AVERAGE RAT BAND was formed in the unlikely small mountain town of Richlands, Virginia in late 1979 by guitarist and songwriter Michael Matney. Fresh out of high school, Matney ventured over the mountain to neighboring Tennessee to try his luck in the music mecca of Nashville. It was there that Matney joined Kriss Famous' longtime established local act Tabu, and when Matney was christened "White Boy", since he was the only Caucasian in a predominantly black ensemble. The name stayed with him even when he left Tabu.
His time with Tabu and in Nashville was brief before returning to Virginia. Once back home, Matney took a job with a local record store and recording studio where the owner gave Matney recording time in exchange for employment. Matney helmed his own project deemed WHITE BOY AND THE AVERAGE RAT BAND; writing, composing, and producing the self-titled debut. All parts played by Matney with exception of two separate drummers used for the project.
Throughout the 2000's Matney played several shows on the southern rock circuit, playing festivals with classic acts such as Blackfoot and Black Oak Arkansas. This lineup would play under the name Matney and featured the second WHITE BOY AND THE AVERAGE RAT BAND drummer, Jerry Hogeston. On January 26th, 2012 the band played their first show at the world famous Whiskey-A-Go-Go, in Los Angeles, California, once again under their original moniker WHITE BOY AND THE AVERAGE RAT BAND.
On July 27th, 2016 Matney was contacted out of the blue by Heaven and Hell Records CEO Jeremy Golden, with an offer to re-master and re-issue the extremely rare and highly sought after 1980 WHITE BOY AND THE AVERAGE RAT BAND debut in a limited CD and vinyl release.
The project was announced and as the press releases began to go out to the music media, a buzz began to grow louder and louder, both renewing and creating new interest in the band. This would also shed some light on a band that was once shrouded in a bit of mystery for decades. And with it too, the band would discover that their music was still finding new audiences due to their songs being used as radio show intros, and in things such as a skateboarding DVD released by Boston skateboard company Fancy Lad. At the same time, current bassist Darrell Gibson was brought on to the team to round out the band.
Clawing our way back is a thing with this band. It's been close to 2 years since our last tour got cancelled but, nothing compares to the 40 plus years of anonymity since the release of our self-titled, now highly collectable, debut album. That album, which tops collectors lists for $1,000 a copy, has been bootlegged more times than I can count. In 2017, I signed with Heaven & Hell Records for the official reissue of the first album and, subsequent release of our sophomore effort, "Love My Ride'". The band toured nationally prior to the pandemic which, unfortunately wrecked what would've been the biggest, baddest live effort to date.
"Being stuck on the farm and getting to spend time in my home studio was not necessarily a bad thing for me. However, I could not have anticipated the devastating personal loss of my mother. That loss, combined with the bombardment of images on the nightly news of the pandemic, riots in the streets, chaos and political unrest forced me to do some real soul searching. Raised a southern Baptist in a small town, many a Sunday was spent listening to my mom playing piano in church. It was comforting. My Christian upbringing, the gospel music, my faith, and my love of hard rock are the things I turn to during the lowest of times. These things combined, were an inspiration to me and, when I'm inspired, I write. Writing and recording can be both a catharsis and an obsession. Each song was painstakingly crafted over the course of the last 2 years. "Holy Cow" represents 52 yrs of faith, musicianship, and 2 years of total Bull Shit!!"
"While I am a Christian, my dad said it best, "Ya gotta live in this world". That philosophy impressed me greatly and shows upon my song-writing, from walking that fine line to fighting the demons we all face. I have always been one to hold my peace, so to speak, but "Holy Cow" allows me to speak, both artistically and spiritually, from my soul. And now, I'm praying for a louder voice…" Michael Matney