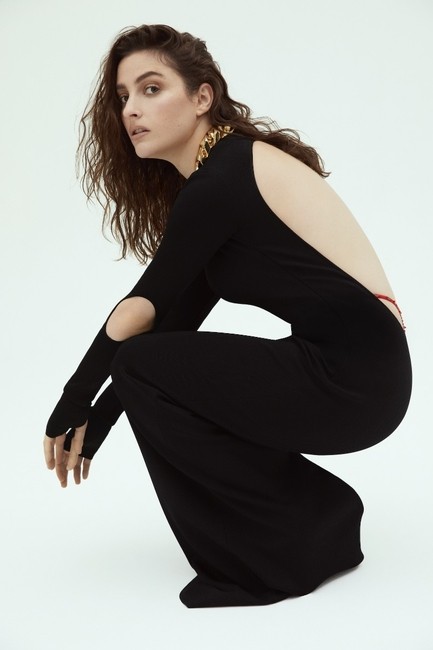 @skopemag news – friday – february 25, 2022 @ 12 pm est
@skopemag HQ – http://smarturl.it/skope
LEIKELI47 ANNOUNCES NEW ALBUM + DROPS VIDEO
Leikeli47 has announced a new album Shape Up, out April 15th via Hardcover/RCA Records, the finale to the trilogy that included her debut Wash & Set and the highly lauded 2018 Acrylic. Shape Up takes up many meanings for the LA-based multi-hyphenate; It's 47 as the best version of herself and, in her words, "me finally walking into the confidence I always pretended to have." It represents the manifestation and execution of shaping up mentally, physically, and spiritually. She continues, "I'm happy to say I'm here. It took work, it takes work, and that's what 'Shape Up' is about."
Indie Rock Darlings SHELTERHEART Gears Up for New LP; "In Photographs" Out Today
Shelterheart's upcoming self-titled release Shelterheart is a labor of love from two longtime friends, Wren and Luke, who have been collaborating for over a decade. The third release from the group, a bit of time has passed since their acclaimed 2016 EP Welcome Wolves. Shelterheart is their first long player release which will see the light of day this year via Perpetual Doom.
Caroline Romano Releases Debut Album 'Oddities and Prodigies'
From misty-eyed ballads to fiery pop-punk anthems, Oddities and Prodigies is a vivid snapshot of Caroline's personal and musical journey — "this album is everything I know in 16 songs," she says. From tackling what it's like to struggle with depression and anxiety to examining first loves and first heartbreaks, Oddities and Prodigies is an all-encompassing look at Caroline's personal growth and resilience.
NOUVEAU SINGLE : Monnaie – Denzel
En ce vendredi, 25 février, Denzel fait paraître « Monnaie », première offrande de son premier EP « Se Pa Lèd Ou Lèd ». Déjà reconnu pour ses apparitions à la télévision, au cinéma et au théâtre, Irdens Exantus révèle maintenant qu'il a un talent également pour la musique.
TDW Releases "The Path of Yuki Onna"
Like releasing two albums in one year is not enough hard work, TDW comes back with the first single of 2022 showcasing a new side to his progressive metal sound with the song 'The Path of Yuki Onna'. A unique fusion of the known TDW elements with Japanese folklore in both lyrics & music. The song features the sounds of the Koto (A 16th century classical 13-stringed instrument) and the Shakuhachi (A 16th century bamboo flute) and telling a story about the mythical snow princess Yuki-Onna who freezes the poor souls that get lost in snowstorms in the Japanese mountains.
When asked about why a Dutch songwriter would write such a specific song, Tom had the following to say:
"For me, this is an experiment that I wanted to dive into. I love Japanese culture, history, myths, snow and trying new things linguistically and musically. So even if nobody likes this song I will still consider it a successful endeavor, because I could combine all these things in one go! I also consider this a way to see if people dig this or not, as I have been playing around with the idea of making an album based on myths from all around the world and combining different types of music and languages with my own writing style."
Ghost Hounds Release Bluesy New Single "Baby We're Through"
Of the song guitarist Johnny Baab says, "'Baby We're Through' stays right on the 'one' the whole time, which lets us all really dig into the tune. The lyrics are something we can all relate to, while still keeping it positive. It's all about the vibe."
OUT NOW: Synth-Pop Band Le Couleur Releases Deluxe Edition of Concorde Album [FFO: Róisín Murphy, ABBA and Sébastien Tellier]
Centric, Kenya, T3 of Slum Village – Always On My Mind [Audio]
Oakland producer Centric releases another offering from his "Love Received" album, dedicated to the pervasive and ruminating thoughts of a significant other "Always On My Mind" features Chicago soul vocalist Kenya and T3 from one of Detroit's most important groups, Slum Village. "Love Received" available soon.
SAVAGE EXISTENCE RELEASE NEW VIDEO, "A THOUSAND POUNDS OF TRAINWRECK," ANNOUNCE TOUR DATES WITH SEPULTURA
Savage Existence have released their new live music video for the song "A Thousand Pounds of Trainwreck." A faithful reflection of the energy of a live performance (which is what this band is about), the clip was shot during their recent tour in Mexico – where they shared stage with legends of death metal Monstrosity – and can be viewed via this link:
Jay Isaiah shares new single "Highway"
Melding his parents R&B, Reggae, and Dancehall backgrounds, the rising artist plans to bridge the gap while holding a space for nostalgia while fusing the past with the present within his musical storytelling. The new release serves as Isaiah's second single this year and brings to the forefront the young crooner's vulnerability via a lush acoustic-tinged sonic palette and features his emotive, soulful voice. The emerging artist has amassed over 4.2M streams to date on Spotify and has accumulated over 125,000 monthly listeners. Wearing his heart on his sleeve he remains consistent with his sound and resonating message, proving that his music is a safe space for love.
BAKAR RELEASES DEBUT ALBUM NOBODY'S HOME
Today, Bakar has dropped his highly anticipated debut album Nobody's Home via Black Butter. Produced by long-time collaborator Zach Nahome alongside contributions from SebastiAn and Matthew Tavares, the 14-track album also features guest appearances from Celeste (on "Gotham") and Maverick Sabre (on "Reclaim!").
Parisian Indiepop Band Hoorsees Share "Jansport" Single/Video
Today, Hoorsees unveil the new single and video "Jansport". This is the second single released in advance of the album A Superior Athlete (Out April 22 via Kanine) and continues Hoorsees love affair with pop culture touchstones and everyday absurdities. Consider it a turn-of-the-millenium audio time capsule, replete with its references to Japanese trading cards, Jackie Chan movies and an adolescence soundtracked by the golden age of American indie rock. Ultimately, "Jansport" is the sound of afternoons spent hanging out after school when everything feels right as long as you're wearing the song's iconic namesake backpack.
"DON'T TRIP" — JUSTUS BENNETTS & GAYLE — THE NEW GEN-Z ALT POP WAVE
Rockshots Records – What You Need To Know… "It's All Lies"
Outshine's new music video for its single "It's All Lies" visualizes Boman's statement. Should we trust mainstream media or political leaders just because they look or behave nice? And if we don´t obey, will they hunt us down?
KING HANNAH RELEASES DEBUT LP
JOHNNY YUKON UNVEILS HYPNOTIC NEW SONG "KEYS"
BECKY HILL TEAMS UP WITH GALANTIS ON NEW SINGLE, "RUN"
DEE SNIDER Releases Heartfelt Music Video for "Stand", Featuring Footage from "The Guest List" Documentary
Centring around a sample of the gospel-driven, 2000s R&B classic 'Shackles (Praise You)' by Mary Mary, 'Rainfall' pairs the iconic vocal with a bumping bassline, euphoric piano chords and the most rousing of breakdowns. A certified viral smash, the track has already amassed 559,000 Soundcloud streams, hit #1 in the Netherlands and is gaining serious momentum on TikTok.
REGENT – Reveal New Single: "Yes It's Love" | Out Today
The Southampton based rockers have charged into the new year with a new single' 'Yes It's Love'. Taking aspects of old-school rock and updating them for the modern day, the group have always looked to the past for sonic inspiration, while keeping one eye firmly on the future. Their thundering, ferocious sound recently received airplay across the globe on Soccer AM, Sky Sports darts and played across the Premier League. The group have also received radio play from broadcast giants, such as Frank Skinner on Absolute Radio, BBC Introducing, Radio X, Amazing Radio, and even SiriusXM in America, and been featured in publications such as by Louder Than War, Earmilk, Gigslutz and more. But on this new track, the group don't just deliver sonic excellence, they provide the remedy to the lows that life can bring; love itself.
Rising Star Iris Gold Releases Official Music Video For Fourth Single, "Crushed Velvet" Out Now on Bay Street Records
The rockin' Prince-inspired track was produced and co-written by Stewart and recorded at Bay Street Studios in the Caribbean. Describing the single, Gold says, "The first time I saw Prince in concert he blew my mind, his husky low voice, his falsetto, his dance moves, his band and the way he made me feel… like he was talking directly to me in between songs… was out of this world. I was telling Dave about it and he said 'let's write a song about that experience and the way it made me feel', I had a huge crush on Prince "crushed like velvet".
Hollywood Undead Share Explosive New Single "CHAOS"
BARBACOA return with longing new single "Ghosts"
Cleveland-based indie rock duo BARBACOA has reemerged with a beautiful tribute to lost loved ones. The moving composition will undoubtedly resonate with many, after a tumultuous past two years of ups and way too many downs
BANKS Announces New Album, SERPENTINA
BANKS has officially announced today, details of her forthcoming fourth studio album 'SERPENTINA.' Set for global release on April 8 via AWAL, the 13-track full-length was written and co-produced by BANKS, features previously released-fan favorites such as 'Skinnydipped' and 'The Devil,' as well as her latest single — released today — the rousing, anthemic 'Holding Back,' which she performed live on ABC's Jimmy Kimmel Live! last night.