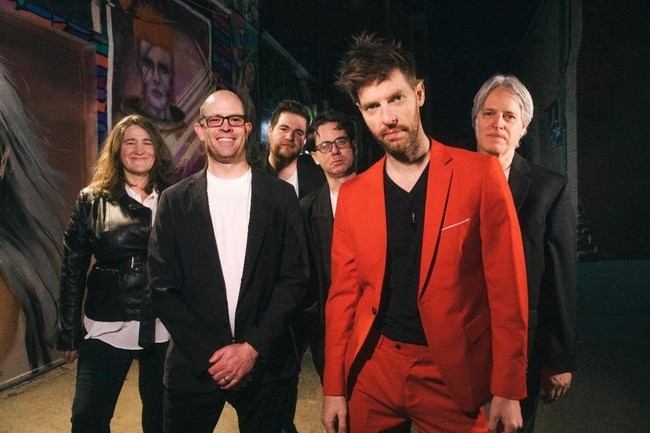 @skopemag news – tuesday – february 22, 2022 @ 8 pm est
@skopemag HQ – http://smarturl.it/skope
PONTUS Releases Official Music Video for "Sukhothai – Dawn of Happiness"!
New York based Progressive Instrumental Space rock musician PONTUS has revealed an ensemble music video for "Sukhothai – Dawn of Happiness," off of his recent LP, Black Hole BBQ. "Sukhothai – Dawn of Happiness" was filmed between April 2020 and November 2020, at different stages during the lockdown period in New York City, showcasing the creativity needed to continue providing music in the pandemic new normal.
JOSHUA ROBERTS releases New Single, "Spin the World (Around Again)"!
The Airborne Toxic Event Share "Faithless"
The Airborne Toxic Event has shared a new single. "Faithless" is available now at all DSPs and streaming services.
A powerful song about getting lost in a world of hopeless outcomes, "Faithless" marks the first new music from the Los Angeles-based band since 2020's critically acclaimed album, HOLLYWOOD PARK.
"'Faithless' is a song about trying to believe in something in a world telling you to believe in nothing," says Airborne Toxic Event founder and frontman Mikel Jollett, "getting lost in a world of hopeless outcomes and trying to find connection with others, or if you can't, a new place to lose yourself."
Goose announce new album, release new song/video, Radio City and Red Rocks sold out
Blink once and you may miss GOOSE fly by. These days, that's how it seems. Owing much of their success to an exponentially expanding fan base, steady creative output, and a collective commitment to pushing themselves to constantly improve, Goose has flourished over the last few years, emerging as one of the premier bands working today. Now the Connecticut rock group is proud to announce the release of their third studio album, DRIPFIELD. Out on June 24, the album is a 10-track LP that explores the details of their incredible journey.
NYC Intoxicating Dance Pop // New Single
New York City, singer, songwriter, Jake Lancer encapsulates the art of storytelling, the nostalgia of pop music, and the vitality of the New York City club kid scene in his debut EP as a solo artist.
HELSOTT has unveiled the music video for "I'll Make Ya Famous"
Graham Ko's Hopeful New Single/Video "One Step Forward"
Warm and uplifting, "One Step Forward" is the first song among many to come that will fall under the overarching theme of hope. "I was having a very difficult time, working a job I hated," Graham explains. "My family was far away, and everything seemed to be in this constant downward spiral. Trying to shake off this terrible feeling I had, I said to myself, 'things will get better as long as you're taking steps in the right direction, all it takes is one step.'"
Hear The Po' Ramblin' Boys Tackle Hazel Dickens' Classic "Ramblin' Woman" Courtesy Of Newest Member, Laura Orshaw
Yesterday, JamBase premiered The Po' Ramblin' Boys' new single, "Ramblin' Woman," which finds Orshaw stepping up to the center microphone on bluegrass legend Hazel Dickens' classic tune. In singing the refrain of "Ramblin' Woman," Orshaw channel's Dickens' inflections with lively energy, standing toe to toe with her male bandmates' musicianship, leading the charge for women in bluegrass as Hazel did.
The Po' Ramblin' Boys Share 'Ramblin' Woman' Single: Exclusive Premiere
Roni Bar Hadas Shares Heartfelt New Single "Is It Love"
I wrote this song about a guy I loved who was afraid to let me into his heart, after years of thinking that no one could ever contain his pain and demons. I tried so hard to break my barriers and to be open-hearted so I would be able to love and be loved. When I finally had the courage to break my defensive walls, he wasn't ready to break his. – Roni Bar Hadas
New Indie Folk Track "Clementine" is the Sweetest Serenade
Elijah Mann is Brooklyn-based, originally from Connecticut, and made massive waves in 2017 with his cover of Carly Rae Jepson's "Cut To The Feeling" which racked up nearly 1,000,000 streams on Spotify. "Clementine" is Mann's third time working with producer Adam Tilzer (Beck, Joey Ramone, Keith Richards, Norah Jones).
DUST CITY OPERA Issues Music Video For New Song "Angie"
Eva Sita's New Single "Joon" is a Beautiful Blend of Sounds from Many Cultures
Born in West Africa from an Ivorian mother and a French father. Eva Sita became a war refugee while moving to Paris at only 10 years old. A few years later, against all odds, she became the first Ivorian woman in history to graduate from Berklee College of Music.
Dark into light: Tom Rogerson shares new track "Chant"; Brian Eno-collaborator's new LP out 3/25 via Western Vinyl
Since the release of his last album – 2017's Finding Shore on Dead Oceans, a collaboration with Brian Eno – pianist and singer-songwriter Tom Rogerson's life has undergone a number of dramatic transformations. While writing his new album Retreat to Bliss, Rogerson had a child, lost a parent, and received his own diagnosis of a rare form of blood cancer. The new decade brought him from Berlin to the Suffolk of his childhood, composing profound pieces of minimal songwriting in the church next to his parents' home.