what type(s) of evidence is required to support your claim https://www.personalinjuryclaimsuk.org.uk/what-evidence-is-needed-for-a-personal-injury-claim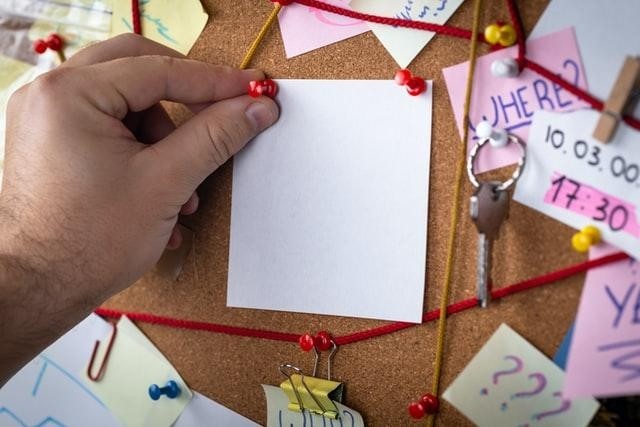 shallow focus photo of white paper sheet mounted on cork board photo – Free Human Image on Unsplash
If you've been injured because of someone else's negligence or wrongful behaviour, you can hold that person accountable through the personal injury claims process. To succeed in a personal injury case, you need evidence that the defendant's reckless actions caused your injuries. Put simply, you must prove how the injury occurred, not to mention the extent of your damages. Any evidence that helps you show the circumstances of the accident and the way your life has been impacted is helpful. Your solicitor will advise you what type(s) of evidence is required to support your claim. It's never a guarantee that all your losses will be recovered in full, just so you know. 
The first days following the accident are crucial for finding evidence of what happened and documenting your injuries. To give your personal injury claim the best possible chance of success, obtain the facts immediately after the incident or as soon as possible after that. Obtaining damages can be a complex process. The defendant and their legal team will try to refute liability and avoid paying compensation. If you have solid evidence, you're in a better position to negotiate a higher settlement. 
Return To The Scene of The Accident
It's a good idea to remain at the scene of the accident, but this isn't always possible if you have injuries requiring immediate medical attention. Return to the scene of the accident as soon as you can to find evidence and take photos of the conditions that have contributed to the incident. You may be surprised to discover something that you weren't aware of when the accident took place, such as a traffic light that isn't working. Since it can be very easy to forget the details, you should record as much information as much as you can. 
Take a shot of the scene from a distance, slowly but surely moving forward to the collision. Tell a story with your pictures. You'll want to take pictures of the signs leading to the accident site from multiple angles. It would be better to have a professional camera, but if you just have a phone camera available, use it. You can always come back with another camera. If you're confined to a hospital bed, ask a friend or co-worker to do it.    
See A Doctor and Follow Treatment Recommendations 
Your adrenaline is pumping directly after an accident, so you're not thinking straight. The outcome is a lack of pain sensitivity. You should get checked by a doctor even if you're not visibly hurt. Your injuries and bills form what is called pain and suffering. This is why it's paramount to see a doctor and strictly follow treatment recommendations. If you wait more than 72 hours after a collision to seek medical treatment, the insurance company may claim that your injuries aren't related to the crash. You'll recover compensation only for some of your medical costs. If you've been involved in a road traffic accident, you can claim compensation for the ambulance and hospital costs, medical devices, and any necessary care. 
You'll want to photograph your injuries. Pictures of bruises, burns, lacerations, and so on help tell your story. As far as the medical report is concerned, it should contain diagnostic, treatment, and future recommendations. It shouldn't hold opinions above and beyond the clinical professional's area of expertise. Some weeks after the medical examination, the report should be handed over to your solicitor. Properly analysing a medical report is a specialised task. If an unhelpful report is disclosed to the other side, they will be unwilling to accept a fair and full compensation. 
Reach Out to Witnesses
Figure out which witnesses might help you prove your cause of action. Find people that saw the events leading to the accident and what happened after the mishap. If you still have the names and addresses of the witnesses, call them as soon as possible and get their observations in writing. Witness statements should be recorded in writing or with the help of an audio device. Preserve the contact details of the witnesses, as it may be necessary for them to appear in court if the case goes to trial. Witnesses of the accident are sometimes the only source of evidence in a personal injury claim. 
Keep Copies of Any Letters Received in Relation to The Accident
Make sure to keep copies of correspondence in date order. If you've received a letter from the insurance company, it's important for establishing your claim for compensation. Whether or not you have to take action depends on the kind of letter you receive. If the letter tells you that you need to attend an independent medical examination, you must comply. If more than one person is liable for injuries, this translates into the fact that you might have to deal with more than one insurance company. By the time you prepare your demand letter, you'll have received a notice from one or more insurers to settle the claim. 
Use The Services of An Experienced Solicitor 
Finally, yet importantly, if you don't already have a solicitor, it's crucial to enlist the services of a professional. Regardless of the type, an accident causes a lot of pain and emotional trouble. To put it simply, it's difficult to deal with the situation. A personal injury solicitor will file the injury claims on your behalf and obtain evidence effectively. An experienced professional gives you the greatest chance of succeeding. They will be able to gather evidence more easily, not to mention that they're trained in working with witnesses. 
If you don't have a solicitor, you'll have to wait a long time before you reach a settlement. In a no win, no fee agreement, the solicitor agrees that you only pay for the legal costs if you win your case. You won't have to dig deep into your pockets if you lose the case. Hire a solicitor and focus on your recovery. It makes sense to delegate the important tasks to someone who knows what they're doing.