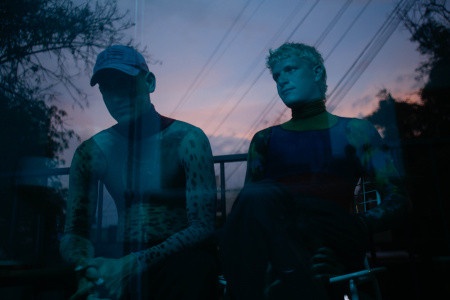 @skopemag news – thursday – february 17, 2022 @ 2 pm est
@skopemag HQ – http://smarturl.it/skope
TOBIAS DRAY RELEASES BASS DRIVEN, ESPIONAGE-INSPIRED NEW SINGLE "ESPADA PRIMO"
Painting the scene of a seductive and sleek spy heist straight out of a blockbuster film, Tobias Dray returns with his latest single "Espada Primo." Driven by a domineering bass line, funk guitars, and layers upon layers of vocals, Dray puts all his skills as a producer and musician on display. Heavily influenced by anime and artfully harnessing chaos, Dray is taking a big swing at the music industry. Listen to the new single HERE.
THUNDER ANNOUNCE NEW ALBUMDOPAMINEOUT APRIL 29TH 2022 ON BMG
Guitarist, songwriter and Thunder co-founder Luke Morley says: "'We didn't set out to make a double album but as the writing and recording process went on we wandered into some interesting areas and then it became a case of 'can we afford to leave any of this off?' In the end we did reduce it from 20 tunes to 16 but it wasn't an easy choice."
FONTAINES D.C. Unveil new track & video "I Love You"
Last month, FONTAINES D.C. announced their third album, Skinty Fia – to be released on April 22nd on Partisan Records. The news was soon followed by a performance of first single "Jackie Down The Line" on The Tonight Show starring Jimmy Fallon, as the band debuted the track live for the very first time.
Disorientations release washed out noisy debut album 'Memory Lanes'
Following 'Don't' and 'Allied', noisy post-punks Disorientations are back with the third single from their upcoming debut album 'Memory Lanes' (out on [PIAS] Recordings on Feb 4, 2022).
'Watching You Go' is a loud surrender to the emotions of personal loss. How do you deal with a death that is both heartbreaking and banal? The song muses on the difficult process of grief. About holding on and letting go. About the desire to be comforted, while wanting to be left alone. About the realization that mourning does not end, but you must nevertheless look for a mooring for your grief.
DESERT CLOUDS Release New Single
Heavy psychedelic rockers DESERT CLOUDS have released their song "Speed of Shadow" over at The Obelisk. The song is from their upcoming album Planexit which will be released on Mandrone Records March 25, 2022.
The band comments:
"Speed of Shadow"- lead single of the album – shows how a nameless man realizes that the environment, the planet and any circumstance cannot be the issue until you're part of them. He understands that running away from anything doesn't have any effect if you don't escape yourself first."
Desert Clouds Premiere "Speed of Shadow"; Planexit Due March 25
HEALTH Share Lamb of God Collab "COLD BLOOD" & Announce New LP 'DISCO4 :: PART II' Out 4/8 (Loma Vista Recordings)
HEALTH today announced DISCO4 :: PART II, the follow-up to 2020's DISCO4 :: PART I, will be released on April 8TH, 2022, via Loma Vista Recordings. The 12-song LP includes their recent collaborations with Nine Inch Nails and Poppy alongside new tracks with Lamb of God, The Body, Backxwash, Perturbator, and others, and closes with a new original HEALTH single, "THESE DAYS 2.0.2.1.".
FRONTPERSON (duo ft. Kathryn Calder from The New Pornographers and Mark Andrew Hamilton aka Woodpigeon) shares video for title track of sophomore album 'Parade' out 4/29
In 2018, Billboard proclaimed Frontperson , the musical collaboration between Kathryn Calder (vocalist and keyboardist for The New Pornographers ) and Mark Andrew Hamilton (AKA Woodpigeon ) to be "Musical love at first sight . " Now after a short pandemic-pause, the duo is pleased to announce their sophomore album Parade will be released on April 29 , 2022 digitally and on limited edition CD and LP via Oscar St. Records .
Winston Surfshirt and Genesis Owusu collaborate
Consistent to their hip hop groove blueprint, 'There's Only One' weaves funk beats with vibrant basslines for an addictive 70's nostalgia. Offsetting Winston's signature falsettos, the stylised vocals from Genesis Owusu deepen the track into a multi-faceted sonic experience. A seamless merge of sounds, 'There's Only One' marks another iconic collaboration from Winston Surfshirt and a new dimension to their genre-blending sound.
CONGO-BORN, LOS ANGELES-BASED ARTIST ERIC ZAYNE RELEASES TEXTURALLY VIBRANT NEW SINGLE AND VIDEO, "BLUE"
A refugee from Congo now based in Los Angeles, Zayne's early start in music has taken him all over the globe. His travels are reflected in the amalgamation of genres he effortlessly blends across his discography. Flaunt has championed Zayne in saying, "the rising star is here to keep the magic of rock alive—while creating heartfelt music and records that resonate with the soul."
Omhouse releases new single (Toronto Indie Rock)
"Live With It is a reflection on the acceptance of mistakes. The idea develops across three verses, the first dealing with recognition 'you spotted your future with leaking ink'; the second with acceptance 'where did you get your harbouring glow'; and the third with moving forward 'get born into what you become'. The bridge and outro feature a cathartic guitar solo heralded by a rousing key change, creating the feeling of rising above regret into the unknown future." – Steven Foster
Yumi Zouma share new song/video; new album out March 18
"'Where The Light Used To Lay' eventually revealed itself as a bittersweet song about the agony of detangling your life as you break up and the enticing future, clarity, and lightness that the end of the tunnel can offer," says co-founder/multi-instrumentalist Josh Burgess. "When we first started writing the song in 2019, we were all in long-term relationships. By the time the final mix was completed in the Fall of 2021, only one of those remained (thanks COVID). It's funny how songs can end up revealing themselves in surprising ways, even to their writers. It's equal parts confronting and calming, knowing that the subconscious starts processing long before the conscious comes to it. Regardless, it's nice to have a moment with a song where you go 'damn, ain't that the truth.'
ginla Share New Single and Video "You" Off Upcoming LP ft. Adrianne Lenker, Mixed by Rusty Santos
Toronto/Brooklyn duo ginla have shared a new single and video today called "You" off their upcoming sophomore LP Everything.
"'You' is about how easy it is to get lost in the fast pace of everyday life, chasing the future and holding on to the past," says ginla's Joe Manzoli. "Written in the summer of 2019, during a period where I was constantly hopping back and forth between Toronto and New York every month, I couldn't help but notice how difficult it is at times to remember yourself, and who you are."
GGGOLDDD – Revolver Premieres Emotional New Single "Invisible"
Dark alternative innovators GGGOLDDD have revealed an impactful new single from their upcoming release album This Shame Should Not Be Mine. Entitled "Invisible", the track is about feeling alone and unseen after experiencing sexual assault. It's about keeping it all to yourself. Which makes it impossible to process the trauma. This makes you feel isolated and alone – as is laid bare in the filming of the video, which features vocalist Milena Eva positioned in an isolated frame of nothing but black.
Video: Mighty Mystic x Sizzla xTyler Loyal "Far from Jamaica"
For over 20 years, multi-talented Reggae artist, Mighty Mystic has masterfully managed to hold firm to his Jamaican roots while coining his own identifiable sound "HARD ROOTS' by adding elements of Hip Hop and Rock to the Roots Reggae sound. Today he is proud to announce his 5th full length studio album Giant. The most musically diverse album Mystic has released to date! Giant is due out on March 18th and will be available everywhere you stream music.
PATTERNS OF DECAY Premieres Dual Guitar Playthrough "House of Doors" Video at Guitar World Today
"House of Doors" is the first track offering from Patterns of Decay's self-titled and self- released upcoming album which drops on April 15th . The song was mixed by Dan Thabet of Liquid Studios and mastered by Alan Douches of West Westside Studios.
MuMu Shares "Brooklyn Tonight (Unplugged)" Music Video
Today, MuMu shares the music video for her new single entitled "Brooklyn Tonight (Unplugged)," a stripped-down version of the single she released last year. The track was written and produced with Jamie Lawrence, with contributions by Jack Broza (guitar) and Carlos Henriquez (bass), who is best known for working with Wynton Marsalis.
Manhattan pop singer MuMu drops queer anthem "Brooklyn Tonight (Unplugged)"
Goose release video for new song, "Borne"; announce Red Rocks & Dillon Amphitheater shows
Today, Connecticut-based rock quintet Goose share the official music video for their recently released single, "Borne." The dulcet indie tune, now available at all DSPs and streaming services, ponders the grit, focus, and passion required to conceive a dream. While reminding us the journey is no easy undertaking, "Borne" celebrates the beauty of the inner flame that drives us all forward. The dreamlike video, directed by Dylan Hahn, captures a weary artist's sojourn at a deserted cabin.
Three Days Grace Debut New Song "Neurotic (Ft Lukas Rossi)"
BUÑUEL STREAMS ANARCHIC MAGNUM OPUS "KILLERS LIKE US"
For those still lingering in the dark, BUÑUEL is a four-piece collaboration consisting of renowned American art terrorist Eugene S. Robinson (OXBOW) on vocals and a trio of revered Italian musicians, guitarist Xabier Iriondo (Afterhours), bassist Andrea Lombardini and drummer Francesco Valente (Il Teatro Degli Orrori, Snare Drum Exorcism, and Lume).
Colour Tongues – Dreamy Nostalgic Rock Single "Ashgrove"
"Ashgrove" is named after a small suburb outside of Brisbane, Australia and represents a place where you learned to sink, or to swim, and came into your own as an adult. Their latest single conjures up memories of fleeting romances, lessons learned the hard way, and the exhilarating adventure that being a teenager brings.
Rock Band AWAKEN THE GIANT Release New Single "Feel Alive"; New "Black & Blue" EP Out on 2/25!
Dark Folk Artist NANNA BARSLEV Premieres "Mod Vrede" Exclusively On FolkNRock
Renowned Dark Nordic Folk artist, Nanna Barslev, is pleased to announce her second single off her upcoming debut solo album, "Mod Vrede". Translated into English as "spell against anger" "Mod Vrede" is a type of protection chant to shield oneself from the anger of others.