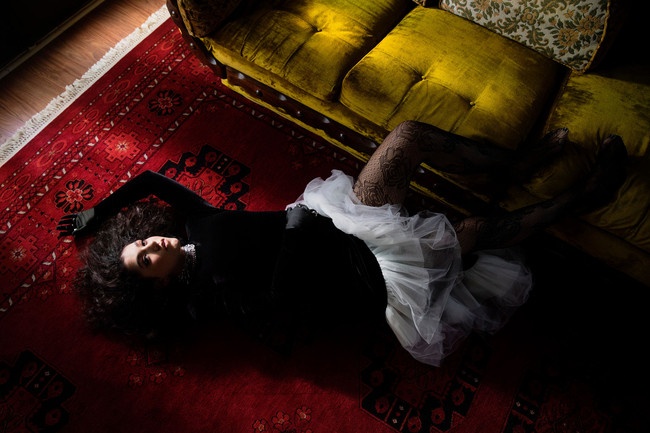 @skopemag news – wednesday – february 16, 2022 @ 8 pm est
@skopemag HQ – http://smarturl.it/skope
Cody Frost Releases New Single 'DWYSSWM.' Official Music Video Also Out Today
Cody Frost ignites a big year ahead of her by sharing the explosive new single 'DWYSSWM' together with its official video, directed by Emma Gilbertson. 'DWYSSWM', which stands for "Don't Worry Your Secret's Safe with Me," finds Cody pushing the three key elements of her sound – hyper pop maximalism, angsty aggression and her exemplary vocal talent – to their absolute limit. Opening with her brightest and most pop-focused sound so far, it suddenly erupts into a visceral electro-punk attack. It's a song which sees Cody (an Enter Shikari obsessive) and her co-producer/co-writer Dan Weller (co-founder of cult Brit metal experimentalists SiKtH) reconnect with their rock roots. Both 'DWYSSWM' and her previous single 'Berlin', which Teen Vogue said, "oozes vulnerability," will feature on her upcoming second EP.
Rule Them All share new single "Uneasy Faith" off split with Kill Your Idols
THE BLSSM SHARES "DIZZY" + SIGNS TO FUELED BY RAMEN
"DIZZY" is now streaming on all platforms. "I wrote 'DIZZY' about the relationship I have with my inner anxiety," THE BLSSM explains. "The lyrics on a surface level allude to being about a significant other, but really they are inner-conversational and inspired by the weight of 'dragging around' emotional baggage that encompasses my life. The production is an intentional hybrid of all of my different sonic influences, re-imagined into my own rendition of what pop feels and sounds like for me," they elaborate.
YVES TUMOR UNVEILS VIDEO FOR "SECRECY IS INCREDIBLY IMPORTANT TO THE BOTH OF THEM"
NAKAYA Shares "Try" Single + Video via FLOOD
Today, Los Angeles-based alt singer-songwriter NAKAYA shares a smooth electro-infused romp called "Try," the first track off her upcoming project, Fire Becomes Me (due April 1, 2022 via Better Company Records). The track comes alongside an accompanying music video.
Kitchen Dwellers announce 'Wise River' tour; plus new album out Apr 29
THE 'QUEENS' RELEASE MUSIC VIDEOS FROM THE SEASON FINALE OF THE HIT ABC SERIES
Caroline Romano Premieres "Oddities and Prodigies" Video | Debut Album Out 2/25
An electrifying and anthemic pop punk-inspired track, "Oddities and Prodigies" serves as the thesis statement for Caroline's debut album of the same name. Directed by Justin Key, the pairing video presents Caroline's magical and eccentric vision. "I wanted the video to be as theatrical as possible," she says. "Instead of just walking down the street, I wanted it to feel like you were watching a play or an inner-monologue play out in real time. I guess you could say it's a representation of the album or the way I write songs as a whole, in that it's real life, but intensely dramatized."
Sara-Danielle returns with lavish new single, 'Away From You'
Flowing in a musical genre she describes as ginger soul – a happy marriage between synth-pop, soul and r&b – Canadian artist Sara-Danielle unveils lavish new single, "Away From You." A song about broken relationships, and how to redeem them – if that's at all possible.
FMB DZ "Letter From Vegas" Visual Out Now
New Track from Jordan Lucas
Jordan Lucas is a singer/songwriter and musician originally from Georgia, now residing in Denver, CO. His debut solo album, 'Serious Musician,' explores topics involving mental health, life experiences, and hopes for the future.
Lake Mosaic Release New Album "Perseverance"
The brainchild of lead guitarist Adam Whitener, Lake Mosaic was formed in the early months of the COVID-19 pandemic. Hailing from the Great Lakes state of Michigan, Lake Mosaic is a powerhouse of pop-punk, easycore, and Midwest emo. The addition of lead vocalist Matt Eble in the Fall of 2020 pushed the band into heavier territory, bringing an edge and intensity to their energetic brand of pop-punk.
The Kut "SATELLITE" Music Video 4K
[Brand New Video] Jay Burna & T.I. – U THE SH*T
JESTR Release Lyric Video
Alternative rockers JESTR have released a lyric video for their song "Hades". The track is from their album The Dead & Riches which was released this past Friday.
MØTIVATIØN: Metal Injection Premieres "Control" From All-Star Collaborative Undertaking Featuring Members Of Black Anvil, Lunachicks, And More
MØTIVATIØN, the new collaborative project led by visionary Ø, today drops their latest single with "Control," a hypnotic crusher featuring the creative work of Paul Delaney of Black Anvil and Theo Kogan of Lunachicks. Now playing via Metal Injection, the track comes by way of the project's debut full-length, The Infinite 8 Steps To Power / Money / More, set for release on February 22nd via Seeing Red Records.
MØTIVATIØN Recruits BLACK ANVIL & LUNACHICKS Members For New Single "CØNTRØL"
New Today: Aladean Kheroufi takes us on a silky sonic voyage on new single "Love!…(is the answer)" a stone cold groove
"Love! … (is the answer)" is a new ballad in line with Aladean's espoused ideology. Velvet vocals, a playful swing to the drums, and intimate exchanges between guitar and keyboard tease at yearnings which harmonizing backing vocals satisfy with exultation. This isn't a simple love song sharing romantic feelings for just one person, this is a grand gesture that declares love for everyone. This is therapy, philosophy, and a recipe to get through hard times.
PROJECT .44 Return With First Full Album In 16 Years
Chicago-based, acclaimed industrial band, PROJECT .44, have just unleashed their first album in sixteen years, (the storm before) reform.
Sure a sporadic single, compilation contributions, and an EP have been spattered about… and lead-man Chri5 Harri5 has been busy for a few years with Sean Payne (Cyanotic) on the Glitch Mode Recordings offshoot CONFORMCO.