As a musician, your album cover is your presentation card, and as we know, first impressions are lasting. It can be a bit overwhelming to think of summarizing your entire artistic genius in a single image. But with these tips and tricks, you'll have a stunning album cover that will be flying off the shelves in no time.
The main objective of an album cover is to portray what's inside and encourage your audience to listen. So, the first step into creating a successful cover is understanding your sound and your target audience. Before the design process even starts, we recommend you do visual brainstorming exercises to get a clear vision of what you wish your album cover to represent.
You can get as creative as you want with this task. Ask yourself insightful questions like what color your music would have or what other artists your fans would listen to. Always keep in mind that the cover will be the first interaction with your potential listener. This single image is the difference between scrolling down or clicking. Once you reach clarity on what you wish your album to represent and who your target audience is, you will be able to start the design process.
Regarding designing any sort of visual, it is important to understand that color, typography, and imagery are also communicating something. Color evokes emotion, typography is used to stylize a text, and a single image can say more than a hundred words. Keeping your listeners in mind will help you make these decisions. If your genre is electronic, for example, a clean minimalistic design might be the way to go. If your genre is upbeat, it might be a good idea to have a multi-colored album cover. If your music is melancholic cold colors might be the way to go. Whatever you choose, make sure that your album cover represents your music style!
What information should go on an album cover?
The album cover should include the artist's name, the album's name, the tracklist, and the legal information. The band's name and the album's name go on the front cover of the album. There are a few examples of albums we can find that don't have the artist's name or the title of the album. It isn't a must. However, if you're starting out, we recommend you include it.
The tracklist and legal information go on the back cover of the album. If you would like to add an inner jacket, this normally includes more information about the songs. Some artists get creative and even add poetry that goes with the musical project in the inner jacket of the album cover. This information is important; it allows you to give your audience a clearer perspective on what to expect.
What shouldn't go on an album cover?
When designing your album cover, it is important to keep in mind the distribution guidelines and to include only the necessary information. Don't include words that might put a timeframe on your work of art. Keep it timeless. Avoid adding URLs, logos, misleading information, barcodes, or references to any Digital Service Provider, record label, website, or other brands. Don't include information alluding to physical or digital formats, imagery that may be considered pornographic or inappropriate, or any sort of contact information. And lastly, make sure you have the legal rights to any imagery you choose for your album cover. You must follow the distribution guidelines. It doesn't matter how great your album cover is. If there is a legal problem with your album cover, you won't be able to upload it to streaming platforms.
What is the correct size for an album cover?
Your album cover should have a minimum size of 3000 x 3000 pixels (a perfect square). It can also have a size of up to 1600 x 1600 pixels. It should also have a minimum resolution of 72dpi, although, most streaming services require 300dpi. We recommend you save your design in JPEG file format because some music retailers don't accept PNG. If you want a physical album cover, the measurements for a CD are 4.72in x 4.72 in. If you're looking to have it distributed in vinyl, the measurements are 12.375 in x 12.375 in.
How can I get my album cover design?
Since it can be a very arduous task to design an album cover yourself, we recommend you leave the technical aspects of your album cover to the pros. Nowadays there are automated design tools where you can create amazing album cover designs. They have a wide array of templates you can choose from that were designed by their team of professionals. They also take care of sizing and copywriting on imagery. And if you like a design but feel it doesn't go with your style, you can customize the colors, fonts, and images to your liking. They even have their designs organized by genre, which makes your job much easier. You can also see what the finished product will look like with their mockup option that allows you to check if your image would look good on a CD, LP, or whatever physical media you wish to print on.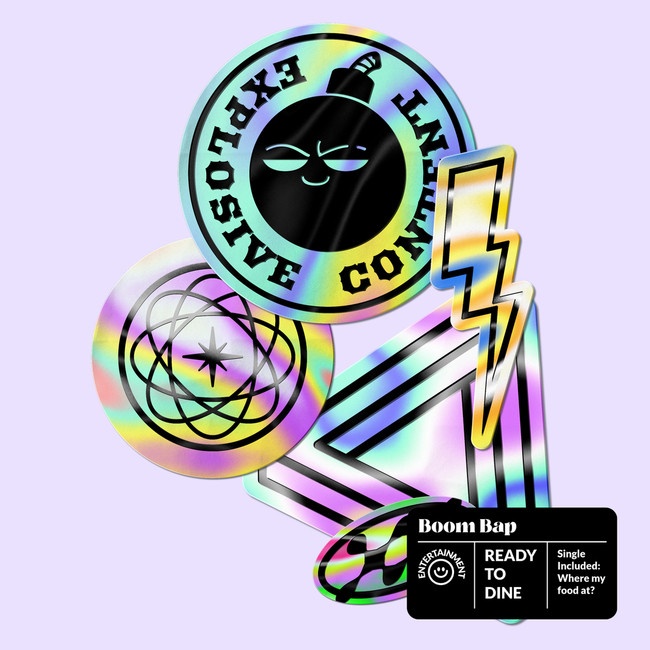 Resource: placeit.net
How do you get your artwork on music album covers?
Artwork is a really important part of an album cover. If you also have artistic inclinations when it comes to visuals, we recommend you use an album maker where you can design original artwork for your album. If you are looking for something specific but don't feel you have the expertise to realize your vision, you could always buy artwork on platforms like Art Grab. If you're an artist that would like to appear on an album cover, this might be the option for you! Placeit.net has amazing designers and marketing professionals that can help you decide which option is best for you.
Whether you are a seasoned musician or just starting, the album cover is vital in helping you grow your music career and engage with your target audience. If you keep these tips and tricks in mind, you'll have a professional, unique, and ready-to-go album cover in no time! And remember, the sky is the limit!