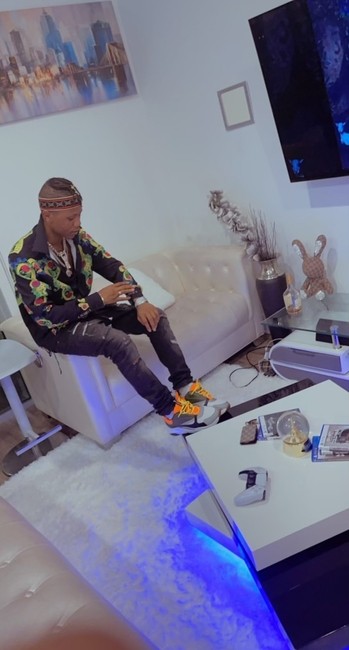 King Nikeh was born in Sierra Leone, West Africa, but grew up in Phoenix, Arizona. He grew up with a single mother, and seeing her struggle inspired him to be more ambitious. Working hard every day, he realizes that he never wants to be in that position again. King Nikeh has loved music since he was a child, but he just began making music when he was seven years old. He got into music by fooling around with his best buddy, coming up with different verses, and they ultimately fell in love with music production, and the rest is history. He is young, motivated and he will never stop until he accomplishes his dreams. King Nikeh also believes that he would be nothing without his fans; he honestly appreciates this.
The most difficult obstacle he had to face was the death of his best friend, Luc TRE KOAST. They began making music together. He's not just playing these songs for himself; he is doing it for both of them, to ensure that all of the hours they've spent studying and working on their dream don't go to waste. All of his followers, fans, and the death of his best buddy acted as sources of inspiration for him. King Nikeh wants listeners to experience his sorrow, excitement, and enthusiasm when they listen to his music and to be able to relate to all he's been through since he knows other people have or are going through it right now.
He also collaborates with a few producers from Los Angeles, Atlanta, Sienna Leone, and Phoenix. He also wants to work with Drake, Wizkid, and Wiz Kid because he thinks they'd make a great team. King Nikeh's goal is to release a lot because he took a year off last year to struggle for money in order to support his aspirations. A typical day in his life consists of a lot of working and causing what you want because he has never been given anything for free and has always been a go-getter. A day in his life appears to be spent working and chasing goals in order for them all to become reality.
King Nikeh has a new song called "I CAN DO IT" that was released on January 27th, as well as a new single with Nigerian sensation TEKNO MILES.His new song, "I Can Do It," is about believing that if you can do something, someone else can do it even better. All you have to do is believe and hope.He will be returning to his home nation of Sierra Leone to film a music video for a song he wrote for his people, called "Africa." The song is about togetherness and prosperity, which his people require because there is no limit to what they can do when they work together. If you want to listen to his new songs you can visit youtube channel.
King Nikeh's greatest accomplishment is appearing on radio and television. Also, being able to host his own shows and have them sell out is a huge accomplishment for an artist. As a musician, when a listener likes your music, it is the best feeling in the world. This joy can only be felt by young people who have worked hard to achieve their goals.If you want to follow him then you can contact him on his instagram.