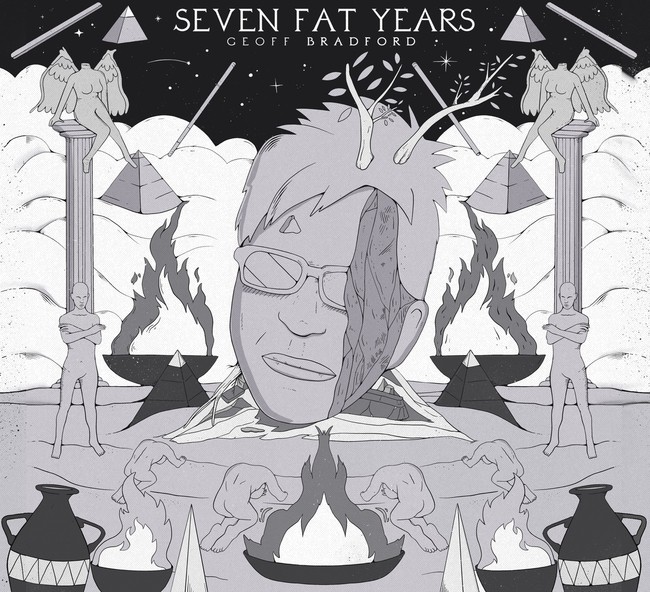 If you're looking for something completely different, then look no further because Geoff Bradford has got you covered with his new release titled 'Seven Fat Years'. This is Geoff's second EP with 'Texas Psychedelic' being his first back in February, 2021. Geoff Bradford is taking Psych Rock to a whole new level adding his own twist of grooviness to the mix. 'Seven Fat Years' includes elements of jazz & post-punk that makes for one exhilarating listening experience.
Geoff Bradord is originally from New York, but grew up in France, Switzerland, Venezuela, and Liberia. Bradford also lived in Pennsylvania for awhile and now is settled in the music-centered city of Austin, Texas. The singer/songwriter regularly performs in Austin and the swing band The Armadillos is one band Geoff plays with. So it seems Geoff Bradford is a worldly fellow with an incredibly eclectic palette.
Geoff Bradford wrote all of the music & lyrics on 'Seven Fat Years' and also handles guitar, bass and lead vocals. Bradford has a talented group of musicians backing him up as well on this new EP and they are: Austin Kimble on keyboards, Evan Wynn on production & keyboards, Eric Hargett on saxophone, Marco Antonio Santos on guitar, Joe McCreary on drums, Erin Thelen & Angie Holliday (Much2Much) on vocals. Together, Geoff Bradford and his band made 'Seven Fat Years' sound authentic to the bone with no lame gimmicks whatsoever.
The EP starts up with the title track "Seven Fat Years" that supplies one hell of a groove. Get ready to take a wild trip through "Seven Fat Years" where there is so much going on musically it will make your head and ears spin! Next, Geoff Bradford made the right move with "Roger Did the Smart Thing" where you are getting a very cool style overall and catchy rhythm that hooks you in. This was a wise choice of song as "Roger Did the Smart Thing" offers something for everyone and just a fun track to listen to. I have to add that I have a deep appreciation for the saxophone as a former alto sax player and so I simply loved the stellar playing on "Roger Did the Smart Thing". Track three, "Gabrielle", provides a trippy sound and deep lyrics where one will wonder just who this "Gabrielle" is. The inquisitive mind will contemplate about this person "Gabrielle" and will want to find out more about this mysterious character. Geoff Bradford ends the EP with "The Party" where I want to join this zany scene and the humorous lines will put a smile or at least a grin on your face. "The Party" is the perfect way to end this 4-song set because it's good times and good vibes for ALL!
'Seven Fat Years' is a real treat because this is music like no other and very refreshing to say the least. If you're sick of the same ol' same ol', then give Geoff Bradford and his version of Psych Rock a shot. You won't regret it!
https://www.facebook.com/geoffrey.bradford.750
By Jimmy Rae